Computer Camps
by Deboah Burns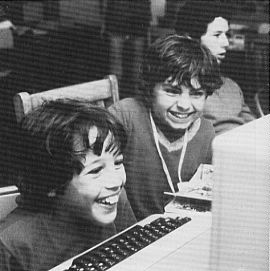 If you are trying to decide whether to send the kids to summer camp this year, the Atari-sponsored computer camps may be the answer. The first summer camps last year were so successful that Atari has expanded the 1983 program to seven locations across the country.
Boys and girls ages 10-16 may spend from two to eight weeks at the camps, which run from mid-June to midAugust. Each camp is designed to "give young people an opportunity to learn about computers, at whatever level, with an outstanding curriculum in an informal camp environment," according to Raymond E. Kassar, Atari chairman and chief executive officer.
Tke Atari Computer Camps provide the traditional summer camp experience with activities such as team sports, tennis, swimming, drama, aerobics, arts and crafts as well as computer education. Campers receive computer instructions at two sessions per day, six days a week, and during "free time" may choose to participate in the traditional activities or to work/ play with the computers.
Atari has chosen seven beautiful sites for the '83 camps: New England (Greenfield, Massachusetts), Poconos (East Stroudsburg, Pennsylvania), Chesapeake (Glencoe, Maryland), Smokey Mountains (Asheville, North Carolina), Midwest (Faribault, Minnesota), Old West (Danville, California), and Pacific (San Diego, California).
Each camp admits 96 children at a time. The computer education- is directed by accredited school teachers assisted by graduate students in computer science. There are twelve ATARI systems per class, serving a group of 24 students. Other activities are supervised by experienced camp counselors.
"It's a unique way for children to be introduced to computer literacy," says Linda S. Gordon, Atari vice president ŃSpecial Projects. "Our experiences last year convinced us that something remarkable--almost magical--happens when you put children in this sort of learning environment."
Parents interested in signing up their children may contact ATARI COMPUTER CAMPS, 40 E. 34th Street, Department APT, New York, NY 10016 or call (800) 847-4180 (New York State and Canada call collect (212) 889-5200). The minimum stay in all camps is two weeks, which costs $890. Each additional week costs $425. A deposit of $100 is due when you sign up and the balance is payable i on or before June 1.