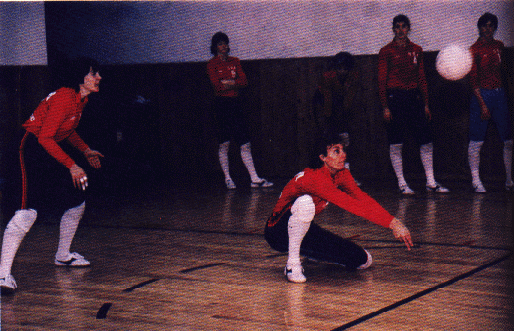 According to Coach Selinger, the U.S. Women's Volleyball Team is one of the three best in the world.
ATARI'S OLYMPIC TEAM
U.S. women go for the gold medal
by DAVID F. BARRY
According to the coach of the Atari-sponsored U.S. Women's Volleyball Team, Dr. Arie Selinger, the team has reached what he calls "the seventh dimension," and this might be just the extra boost it needs to capture the gold medal at the 1984 Summer Olympic Games in Los Angeles.
"The seventh dimension is the team dimension," Coach Selinger explained during a recent interview with ANTIC at the team's training camp in Southern California. "You know when a team has it - you can feel it. In volleyball we have six players on the court, so we call it the seventh dimension."
A CHANCE AT THE GOLD
In eight years as head coach, Selinger built a solid framework within which this added dimension can flourish; and in so doing, he has brought the U.S. team, once unranked and unrespect to its current standing as one of the five top teams in the world. And because 1984 Summer Olympics will be held on U.S. soil, many suspect that this team will do what no U.S. Womens Volleyball Team has yet done: win an Olympic gold medal. "When we beat China 3-0 in the 1982 World Championship games," Selinger recalls, "I felt that the U.S. team was the best in the world, even though we didn't win the tournament."
With the 1984 Summer Olympics just months away, Coach Selinger excudes a sense of cautious optimism. He knows, only too well, the calibre of competition at the Olympics.
"In this Olympics," he notes, "there will be eight volleyball teams competing. The differences between these eight teams are small, and on any given day, any team can beat another. This is very different from the time when teams like Japan and the Soviet Union were far ahead of everyone else. At this point, I can identify three teams that seem to be slightly ahead of the others: China, Japan, and the U.S.A."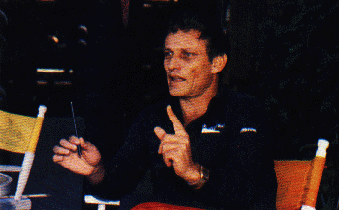 Dr. Arie Selinger, coach of the U.S. Women's Volleyball Team
STUNNING PROGRESS
Whether or not they win the gold medal this year, the team's progress over the past eight years has been stunning. Three years after Selinger's arrival, the U.S. women unexpectedly captured fifth place in the 1978 World Championships. Four years later, they took the bronze medal. In between these triumphs, the team began a rigorous schedule of international competition that was unheard of before Selinger came on the scene.
"Before I started," Selinger explains, "a team like Japan would play the U.S. maybe once a year. We now play about 70 international matches annually, and every top team wants to play us." Formerly the head coach of the Israeli Women's Volleyball Team (1965-1969), Selinger has brought a much-needed international perspective to the U.S. team. A thoughtful, intelligent man with a granite jaw, Selinger says that this is unquestionably the best team he's ever coached. He gives much of the credit for the team's good fortunes to the United States Volleyball Association (U.S.V.A.).
THE BENEFITS OF EXPERIENCE
Thanks to the support of the U.S.V.A., the U.S. team is entering an Olympic volleyball competition with tremendous depth of experience for the first time this year. Between them, four of the teams members (Flo Hyman, Sue Woodstra, Debbie Green, and Carolyn Becker) have - at eight years apiece -- 32 years of international experience. Flo Hyman, at 6'4", is thought of by many as the best female volleyball player in the world. She joined the National Team in 1975 and has since participated in every major competition for which the team has qualified. Her searing spike is studied by teams around the globe.
Debbie Green, though only 5'4", makes up in speed and agility what she lacks in height; she is considered one of the best setters in the world. Sue Woodstra, the team's captain, is best known for her serve reception and defense. Carolyn Becker, 6'O", shares setting duties with Green.
The team has also been strengthened by the addition of some younger players! At 5'8", Rita Crockett has the highest vertical jump on the team, and Paula Weishoff's dominant net play helped USC win the NCAA championship a few years before she joined the National Team. Clearly, the U.S. has a team of great depth and diversity.
AID FROM ATARI (& OTHERS)
With the aid of sponsorships from corporations such as Atari, Ford, and Misuno, the U.S. Women's Volleyball team has been able to practice year round at training facilities in Southern California at Coto de Caza. The team trains six hours a day, five days a week. Without corporate involvement, this kind of schedule would be impossible. Before corporate sponsorships were instituted, U.S. Olympic teams often came together only a few weeks before the Games began, and were able to practice only intermittently.
COMPUTERS TO THE RESCUE
In addition to inaugurating a more rigorous training schedule, Selinger has turned to computers to help improve his team. Atari computers are used to keep track of many of volleyball's dizzying array of statistics, which include variables such as the percentage of successful spikes per game, as well as the number of blocks, kills and other important plays. These statistics are fed into an Atari 800 computer in the coach's office, and analyzed by the coaching staff. Using this information, charts are reduced which graphically represent an athlete's performance (and compare it to statistics from earlier matches, to the performances of other athletes, or to a standard unit of measurement). These charts hang on Coach Selinger's office wall and are carefully studied by team members.
Additional computer assistance is provided by Coto Research Center, which is two doors down the hall from the Volleyball Team's office. There , as a result of the brilliant work of Dr. Gideon Ariel, computers are employed in the study of biomechanics (the analysis of human movement). In this process, particular movements are photographed with high-speed cameras and then "digitized." This allows a movement to be programmed into a computer and studied.
"In 1981," Selinger recalls, "we took three cameras to the World Cup in Japan and filmed all of the contests there: China vs. Brazil, China vs. the U.S.A., the U.S.A. vs. Japan, and so on. After the computer had analyzed the data, we were able to isolate certain crucial situations for study. Say the U.S.A. hits the ball against China in a particular spot. How does China respond? For example, at what point did we set the ball at such a height and at such a speed that the Chinese could not close in for the block!
"The computer makes this data immeiately available. You know how high the ball was set, how much time you had, how fast the Chinese block moved, and how fast the ball was going. All the information is there."
As a result, Selinger has been able to make subtle alterations to his game plans for specific opponents. Against China, for example, he may install a quicker offense. Against the Soviet Union, he may sacrifice speed for solid defense. The options given to him by the computer are invaluable.
THE GAME'S THE THING
Selinger admits that even if his team doesn't win the gold medal in Los Angeles, he will have accomplished the goals he set for himself when he joined the team: to establish a top-notch volleyball program, to promote volleyball in this country, and to bring a higher level of skill to the sport in the U.S.
"In my opinion," Selinger concludes, "the game of volleyball brings out all of the qualities you like to see in an athlete, both physical and mental. It also encompasses many other sports: track & field, gymnastics, and basketball, for example. And there is no more social sport than volleyball, because in volleyball no one person can possess the ball. You are totally dependent on your teammates. This brings out the best in you: the ability to share. To me, it's the perfect game."
THE 1984 U.S. WOMEN'S VOLLEYBALL TEAM:
Seven members of this year's thirteen-member U.S. Women's Volleyball squad were on the Olympic Team that boycotted the 1980 Summer Games in Moscow. These women (Sue Woodstra, Julie Vollersten, Flo Hyman, Debbie Green, Laurie Flachmeier, Rita Crockett, and Carolyn Becker) are joined by newcomers Jean Beauprey, Linda Chisholm, Rose Magers, Kim Ruddins, Tauna Vandeweghe, and Paula Weishoff. All of the women on the squad, with the exception of Kim Ruddins, played on the 1982 team that won the bronze medal at the World Championships. In 1982, the team's starting line-up included Flo Hyman, Rita Crockett, Debbie Green, Sue Woodstra, Laurie Flachmaier, and Paula Weishoff.
#1 Paula Weishoff
Hometown: Torrence, California
Birthdate: May 1, 1962
Height: 6'1"
College: University of Southern California
Position: MIddle Blocker
#2 Sue Woodstra
Hometown:Colton, California
Birthdate:May 21, 1957
Height:5'9"
College:University of Southern California
position:Hitter/Blocker
#3 Rita Crockett
Hometown:San Antonio, Texas
Birthdate:November 2, 1957
Height:5'8 1/2"
College:University of Houston
position:Hitter/Blocker
#4 Tauna Vandeweghe
Hometown:Bel Air, California
Birthdate:February 7, 1960
Height:6'3"
College:Universty of California, Los Angeles and USC
position:Middle Blocker
#5 Laura Flachmeier
Hometown:Garland, Texas
Birthdate:January 28, 1957
Height: 6' 1/2"
College:Texas Lutheran College
position:Hitter/Blocker
#6 Carolyn Becker
Hometown:Norwalk, California
Birthdate:November 8, 1958
Height:6'0"
College:University of Southern California
position:Setter
#7 Flo Hyman
Hometown:Inglewood, California
Birthdate:July 29, 1954
Height:6'5"
College:University of Houston
position:Hitter/Blocker
#8 Rose Magers
Hometown:Big Srings, Texas
Birthdate:June 25, 1969
Height:6' 2 1/2"
College:University of Houston
position:Blocker
#9 Julie Vollersten
Hometown:Palmyra, Nebraska
Birthdate:March 18,1959
Height:6' 1/2"
College:Orange County College
position:Hitter/Bolcker
#10 Debbie Green
Hometown:Westminister, California
Birthdate:June 25, 1958
Height:5'4"
College:University of Southern California
position:Setter
#11 Kim Ruddins
Hometown:Los Angeles, California
Height:5'11"
College:Universty of Southern California
position:Setter
#14 Linda Chisholm
Hometown:Van Nuys, California
Birthdate:December 21,1957
Height:6'2"
College:Pepperdine University
position:Right-Side Hitter
# Jeanne Beauprey
Hometown:Mission Viejo, Californina
Birthdate:June 21, 1961
Height:6'0"
College:University of California, Los Angeles
position:Right-Side Hitter
David F. Barry is a technical writer in the computer field, and the author of an upcoming book on the word-processing program Wordstar.