PRINTER SURVEY
Sooner or later every computer owner wants a printer. Printers are expensive, and each make and model is subtly different from the others. It's probably as hard to pick the right printer as it is to pick the right computer. This survey examines a number of printers suitable for use with the Atari computers. We hope it is helpful to you.
by ROBERT DEWITT
Managing Editor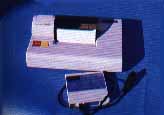 ALPHACOM 42
Alphacom
2323 So. Bascom
Campbell, CA 95008
(800) 227-6703
In CA (800) 632-7979
The Alphacom 42 is a small utllity Printer that offers good value -- if you can accept its limitations. It is especially useful for printing listings, and is capable of graphics if you can do a little programming. It cost only $99.95, complete with cable.
The main limitation of the printer is the 4 1/2" width of the-paper it uses, which comes on rolls that will hoId about 10,500 lines of print. This is just the right width to present lines of text or code as they appear on the video display. The printer is "thermal," which means that the image is created by a heated element. This is the same technology that has worked reliably and safely in Olivetti calculators for many years. However, the thermal paper has been treated with chemicals, and some people may be allergic to it. Two types of paper are available - blue image or black image. Blue-image paper will not xerox well. The paper costs about $3.00 per roll.
The appearance of the letters produced by the Alphacom is quite acceptable, and letters requiring descenders are clearly readable - a quality not always found in expensive printers.
The happiest feature of the Alphacom 42 is its ability to depict the complete Atari character -set, including graphics characters, accurately in both normal and inverse fashion. This is accomplished by incorporating a special ROM in the interface Cartridge. Many printers either cannot print Atari graphics characters at all, or can do so only with special software in a graphics de.
The Alphacom is fast enough for most purposes. We clocked it at about two lines (80 characters) per second, and it is quiet. This is not a printer suited to business purposes, nor to word processing. Most word processors rely on nonprinting control characters as formatting commands, but the Alphacom prints any control character for which Atari specifies an image. You may be able to program around this problem, but the Alphacom manual says nothing about it. If document size or shape must be standard, you are also out of luck with the Alphacom.
On the plus side, the Alphacom sets up easily and goes right to work without much fuss. The Atari cable is simple to connect, and the instructions are adequate for any patient user. The printed product is legible and handy for many purposes - including casual correspondence.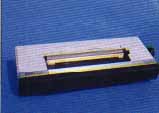 ATARI 1027
Atari, Inc.
1265 Borregas Ave.
Sunnyvale, CA 94086
(800) 538-8543 or
(800) 672-1404 in CA
A new printer on the scene is the Atari 1027, a letter-quality printer that costs less than $350. It is designed to work directly with Atari computers, and does not require an interface or unusual cable. Cartridge-based word processors like AtariWriter can produce documents in RAM and dump them to the 1027 without using a disk drive or cassette recorder. Of course, this means you will have no copy of your work on media, but a hardcopy record is satisfactory for many purposes, such as correspondence and schoolwork.
The 1027's elite (12-pitch) letters and numbers look like the typical typewriter's characters, which is very desirable when the recipient of the document may react unfavorably to dot-matrix characters. Control codes can elicit a variety of accent marks that are common in European languages. This thoughtful feature enhances the machine's use as a school tool.
Operation is simple. The paper slot accommodates single sheets up to 8 1/2 " wide. Fan-fold roll paper can be used if the tractor holes are stripped off, but this printer is really made for friction-fed single sheets.
The mechanism for typing resurrects an old technology that was used on teletype machines. Five wheels on a spindle carry the character faces. These spin rapidly over the paper. When the printer receives the code to print a letter, the mechanism positions the correct wheel at the tractor spot to be typed, stops the wheel at the correct letter, presses it against the paper and returns to print the next letter. There is no ribbon. All are inked continuously from a pad.
This technique is not as elegant as a daisywheel, but it's cheaper and it works. However, one of its problems is speed. In our benchtest, the 1027 required more than nine minutes to type the copy that most dot-matrix printers printed in one minute. Its durability is also questionable. This mechanism looks and sounds like it will go berserk at any minute. In fairness, though, we should report that it did not fail during our brief experience with it.
The 1027 matches the new XL design, and will look nice with any Atari gear. It is a reasonable choice for limited uses in which speed is not important, but the appearance of the output is.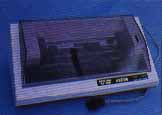 AXIOM AT-100 (SEIKOSMA)
Axiom Corp.
1014 Griswold Ave.
San Fernando, CA 91340
(800) 232-9466
In CA (213) 365-9521
It's easy to find fault with the Axiom AT-100 dot-matrix printer (made by Seikosha) -- it's slow and noisy, it only uses computer paper, and its only font has no proper descenders. But it does have some redeeming virtues. It only costs $299, it is easy to use, and the builtin cable that connects it to Atari computers bypasses the expensive and hard to find 850 Interface.
There is room for this printer in the market, and it makes a good "starter" printer for the student or hobbyist. The print quality it provides will have limited acceptability for most readers, however, so give some thought to the probable uses of your printouts before you buy.
The AT-100 is really a Seikosha GP-100A printer that has been specially configured for Atari systems. The same printer is marketed as the Gorilla Banana, the Panasonic JR-PO2U, and in versions specific for the Commodore and Spectravideo computers. It is a very popular device in all its guises, but these other versions do not work directly with the Atari as does the AT-100. Further, Axiom Corp. offers a GraphAX package for $15 that substantially improves the graphics ability of the AT-100 for Atari owners. Even without GraphAX though, you can still print screen images of text and high-resolution drawings by using BASIC screen-dump routines furnished by Axiom.
The AT-100 does not take single-sheet paper such as letterhead, but does accept computer stock as narrow as 4 1/2" labels, for example. Its only control is the power switch at the rear. Two lights on the front indicate POWER and ERROR. The normal font provides 10 characters per inch, but enhanced (double-wide) characters can be invoked through software commands.
One big drawback with this printer is its speed. It is said to print 30 characters per second, but required 235 seconds to print our benchmark material of 4000 characters (about 17 characters per second). The discrepancy is apparently accounted for by its carriage return time of about one second per line. Many more-expensive printers are not only faster in absolute terms, but they also print in both directions, thereby saving return time.
Paper feeds into the printer forward only, and damage could occur if you attempted to pull it out backwards. This is not a major problem, but it does mean that you must waste a sheet of paper between documents to set the next job up properly.
The generic instruction manual for the Seikosha GP-100A is supplied with the printer, and is atrocious. Luckily, Axiom has added several decently-written pages that will help you learn to operate this essentially simple machine.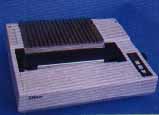 EPSON FX-80
Epson America
3415 Kashiwa St.
Torrance, CA 90505
(800) 421-5426 or
(213) 539-91460 in CA
The Epson FX-80 with Graftrax plus is probably the most coveted dot-matrix printer in computerdom. Epson developed the features that others in the indusrry emulate, and the company is still the leader in high-resolution graphics printing for the microcomputer market.
The Epson offers nicely-formed characters in regular and italic fonts, single strike or doublestrike (boldface) formats, and in three different piches: l0-pitch (pica), 12-pitch (elite) and 16-pitch (compressed). Each can be expanded to double width, so it is possible to have combinations like "doublestrike expanded-compressed italic" letters that are also underlined and subscripted. You can also download your own customized character set and print with it, Sanskrit, anyone?
As a graphics printer, the Epson excels, featuring a dot density as high as 240 x 240 per square inch. Graphics are usually accomplished with seven or eight pins, depending on the computer originating the signal. The Epson can use all nine pins at once to print graphics, and this can speed up the process significantly. Graphics-utility programs are amost always wriiten to work with other printers if you're lucky. It is the fastest printer we tested - rated at 160 characters per second and benchtested at 69 CPS.
Controls on the FX-80 include line feed, top of form and select. A paper-out sensor stops operation, lights a warning lamp and rings a bell. The FX-80 prints bidirectionally and uses short line logic. A buffer holds about one line of text.
The Epson User's Manual is an excellent Support tool - really a course in computerized printing. It is written for the non-technical owner and is filled with examples and exercises. It virtuaIly assures the motivated owner of full access to this printer's many features.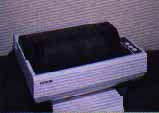 EPSON RX-80
Epson America
3415
Kashiwa St.
Torrance, CA 90505
(800) 421-5426 or (213) 539-9140
This little printer just might run away from the field. An inexpensive unit from an industry leader, this dot-matrix machine offers quality and features previously available only on much more expensive equipment.
The RX-80 draws on proven Epson MX-series technology and introduces several new functions, including real italics that can be mixed with its other text styles. Its most serious drawback is that it is limited to tracktor-fed computer paper. Friction feed of single sheets (such as letterhead) is available for $150 extra, but at that price other printers are equally attractive. The cable also costs extra.
The printhead has nine pins (seven is more common at this price), and the appearance of the letters it produces is quite suitable for all but the most formal needs. Schoolwork, for example, should certainly be complemented by the subscripts, superscripts, italics and underlining made possible by the RX-80. It is rated at 100 characters per second, but it tested a bit slower in action - 55 CPS. Still, that's plenty fast enough for most uses.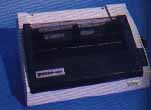 GEMINI 10X
Star Micronics
#3 Oldfield
Irvine, CA 92714
(714) 768-4340
This is an Epson lookalike, and a good buy in the medium-priced dot-matrix market. It accepts any kind of paper, including rolls (for which it provides the rigging), and has friction feed along with fully-adjustable tractor feed, down to two and half inches.
The Gemini 10X is rather noisy, and tested significantly slower than its fated 128 characters per second. We got only 59 CPS on our benchtest, but that included carriage returns and line feeds. However, 59 CPS is not especially slow in comparison to other printers tested in the survey.
The standard fonts (wide, pica, elite and condensed) are available in a nicely designed dot matrix with true desenders. The pica face looks very "dotty," due possibly to the very fine points of the pins. While these contribute to a fine graphics presentation, the pica font probably would not be good for business correspondence.
Two features of the Gemini are especially attractive: It has a "Paper-out" signal lamp, and it automatically goes off-line if it runs out of paper. Printing resumes at the same place when paper is loaded. The ribbon for the Gemini is standard, old fashioned, fabric typewriter ribbon on a spool. Considering the cost of ribbons for the highly-individualized machines that require cartridges, this is a real selling point.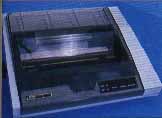 THE SPIRIT
Mannesrnann Tally
8301 SI 180th St.
Kent, WA 98232
(800) 447-4700
Mannesmann Tally is a name better known in business than in home computing. A European conglomerate, the company offers a range of printers for business-use; the Spirit is at the low end of this range. You might call it a "proffessional" printer. Its sleek design, sound-muffling lid, and crisp font all suggest it for office use. Still, it is inexpensive enough for home consideration as well.
The Spirit is a dot-matrix printer with nine pins in the print head - but the pins are square rather than round. This gives an authority to the printed letters that requires no apology, even when used in business correspondence. A carbon-film ribbon is available for an even sharper image. The impact of the pins is variable and can produce up to three carbon copies plus an original. Its paper-handling mechanism, like the NEC's, feeds forms stationary through tractors at the rear. As a result, a new sheet is always cued without waste.
The Spirit's character set of 228 symbols includes standard letters and italics, plus a selection of graphic elements that look to be useful for constructing charts and graphs. The Spirit is rated at 80 characters per second, and tested at 53 CPS in our benchtest. The Spirit responds as if it were an Epson when being driven by graphics programs. An audible alarm notifies the operator when the printer is out of paper.
All in all, The Spirit is a classy and very business-like printer.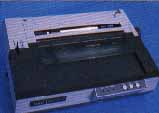 NEC PC-8023A
NEC Home Electronics, Inc,
1401 Estes Ave,
Elk Grove Village, IL, 60007
(800) 323-1728
At almost 20 pounds, this popular dot-matrix printer is a heavyweight. It's also a heavy-duty machine, and the head of a family of printers -- so far as control codes are concerned - that includes the C. Itoh Prowriter. This family difference distinguishes it from the Epson and the Centronics types. As a result, a NEC owner has to hunt a little harder for the utility programs, such as screen dumps, that make graphics-capable printers so attractive.
Otherwise, the NEC is a very desirable printer. lt is a well-designed, well- crafted, versatile and rugged workhorse. It accepts all kinds of paper, including carbon sets and rolls, and tractor-fed materials as narrow as 4 1/2". The tractors are in the rear, so paper waste is minmized and a new sheet is always cued for printing.
Many fonts are available, including Japanese "Katakana" symbols; selected characters from the Greek, German and Swedish alphabets; and an integral graphics character set that can be used to build images. Letter fonts can be printed in double-width, pica, elite, condensed and proportional faces. The NEC can underline and boldface, but has no subscripts or superscripts - a strange defiency in such a capable printer.
The NEC can print either bidirectionally or one way, and can detect short lines. Rated at 120 characters per second, the NEC produced only 61 CPS on our benchtest, a bit on the slow side. The graphics capabilities of the NEC are good, but it is not well supported by graphics utility programs as is the Epson. The PC-8023 has a 2K buffer, about enough to hold a full page of single spaced characters.
Two-toned styling and anguIar shapes distinguish the NEC's appearance, and its control and signal lamps are conveniently Iocated. It occupies a bit less space than the Epson, which can be an important difference on a crowded computer table. The manual is slim, but comprehensive; unfortunatly, it seems to have been written for technicians rather than home computerists.
This NEC is a little cheaper than the Epson FX-80, with which it competes most directly. The NEC seems to be built a little better, but it performs a little worse. The choice here is very much like that between cars -- which do you Iike, a Chevy or a Ford?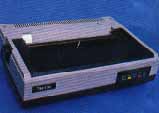 TRANSTAR
Transtar
P.O. Box C - 96975
Bellevue, WA 98009
(206) 454-9250
Many documents are reputed to require characters that look as if they were made by a typewriter. Business and professional correspondence, reports, theses and manuscripts are often cited as examples. This appearance is called "letter quality," and the computer industry has devised several ways to achieve it.
The Transtar 120 is a letter-quality printer that uses daisy-wheel technology, and it is the only such printer in our survey. Most daisywheel printers cost much more than the Transtar, so we are pleased to present it as an economical option for our readers.
If you get a daisywheel printer, you forfeit the graphics capability that many hobbyist find fascinating. You also forfeit speed. The Transtar 120 is rated at 14 characters per second and we tested it at 12 CPS. That's only about one fifth as fast as a dot-matrix printer of equal cost.
The Transtar 120 can print in l0-pitch (pica), 12-pitch (elite), or 15-pitch (condensed). A different wheel is required for each pitch and font, but only one wheel is supplied with the printer. Extra wheels cost about $20 each. Each wheel has 96 letters or symbols in the desired font, such as italics. You must change wheels to change fonts.
Paper is held by a friction roller and can advance in increments of 1/48". The platen is 13 inches long, so standard paper can be inserted sideways, which is sometimes convenient. Subscripts and superscripts can be printed, and both underlining and boldface (overstrike) are available. Ribbon cartridges, fabric or carbonized mylar, are the same as those used in some Olivetti machines. If the ribbon jams or runs out, the Transtar stops operating and a red light warns you of the problem.
An autoload feature brings each sheet of paper to a preset point, and an eject button quickly rolls the sheet out when printing is over.
PRINTER MODEL
ALPHACOM
ATARI 1027
AXIOM AT-100
EPSON FX-80
PRINTER TYPE
THERMAL
LETTER QUALITY
DOT MATRIX
DOT MATRIX
RETAIL PRICE
$99
$349
$299
$699
PAPER TYPE
THERMAL ROLL
SINGLE SHEET4
FAN FOLD
FAN, SINGLE
PAPER SIZE
41/2"
81/2"
4 1/2" -10"
9" -101/2"
FRICTION FEED
YES
YES
NO
YES
TRACTOR FEED
NO
NO
YES
YES12
MINIMUM PAPER ADVANCE
?
1/6"
1/18"
1/216"
FRONT PANEL CONTROLS
POWER
PAPER ADVANCE
POWER
ERROR LAMP
LF, TOF
SELECT PAPER EMPTY9
DIP SWITCH ACCESS
NO
NO
DIFFICULT
EASY
RATED CHAR.
PER SEC.
80
?
30
160
BENCHMARK* CHAR.
PER SEC.
80
8
17
69
BENCHMARK TIME
--
550 sec.
235 sec.
58 sec.
CHARACTERS
PER INCH
10
12
5 & 10
5,10,12,1610
PROPORTIONAL
FONT
NO
NO
NO
YES
DESCENDERS
1 dot
TRUE
NO
YES
SUPERSCRIPT/
SUBSCRIPT
NO
NO
NO
YES
OVERSTRIKE
NO
NO
NO
YES
UNDERLINE
NO
YES
NO
YES
SELF TEST
YES
NO
DIFFICULT2
YES
BIDIRECTIONAL
NO
YES5
NO
YES
SHORT LINE LOGIC
NO
YES5
NO
YES
GRAPHICS CAPABLE
YES1
NO
YES3
YES
RESOLUTION
(DOTS VERT/HORIZ)
?
NONE
63 x 60
40 x 24011
# OF PINS
IN PRINT HEAD
?
NOT APPLICABLE
7
9
RIBBON TYPE
NONE
PAD
FABRIC CART.
FABRIC CART.
COST
NONE
$2.20
$9.95
$9.00
ATARI CABLE
PROVIDED
YES
YES
YES
NO
BUFFER SIZE
NONE
NONE
90
80
850 INTERFACE
REQUIRED
NO
NO
NO
YES
INSTRUCTION
MANUAL
ADEQUATE
ADEQUATE
POOR
EXCELLENT
PRINTER MODEL
EPSON RX-80
GEMINI-10X
MANNESMANN- TALLY SPIRIT
NEC PC-8023A
PRINTER TYPE
DOT MATRIX
DOT MATRIX
DOT MATRIX
DOT MATRIX
RETAIL PRICE
$299
$399
$399
$645
PAPER TYPE
FAN FOLD
FAN, SIGLE, ROLL7
FAN, SINGLE
FAN, SINGLE
PAPER SIZE
4 1/2" -10"
2 1/2" -10"
4" -10"
4 1/2" -10"
FRICTION FEED
NO6
YES
YES
YES
TRACTOR FEED
YES
YES
YES
YES
MINIMUM PAPER ADVANCE
?
1/144"
1/216"
1/144"
FRONT PANEL CONTROLS
LINE FEED
TOP OF FORM
SELECT
LINE FEED
TOF-SELECT
PAPER EMPTY
LINE FEED
TOF-SELECT
PAPER EMPTY
LF, TOF
SELECT
PAPER EMPTY
DIP SWITCH ACCESS
?
DIFFICULT
DIFFICULT
EASY
RATED CHAR.
PER SEC.
100
120
80
120
BENCHMARK* CHAR.
PER SEC.
55
59
53
61
BENCHMARK TIME
73 sec.
68 sec.
75 sec.
66 sec.
CHARACTERS
PER INCH
5,10,12,16
5,10,12,16
5,10,16
5,10,12,16
PROPORTIONAL
FONT
NO
NO
NO
YES
DESCENDERS
2 dot
2 dot
2 dot
2 dot
SUPERSCRIPT/
SUBSCRIPT
YES
YES
YES
NO
OVERSTRIKE
YES
YES
YES
YES
UNDERLINE
YES
YES
YES
YES
SELF TEST
NOT TESTED
YES
YES
YES
BIDIRECTIONAL
YES
YES
YES
YES
SHORT LINE LOGIC
YES
YES
YES
YES
GRAPHICS CAPABLE
YES
YES
YES
YES
RESOLUTION
(DOTS VERT/HORIZ)
?
144x240
160x216
160x144
# OF PINS
IN PRINT HEAD
9
9
9
9
RIBBON TYPE
FABRIC CART.
FABRIC SPOOL
FILM OR FABRIC
FABRIC CART.
COST
$9.00
$2.49
CART $8.95
2 for $25.00
ATARI CABLE
PROVIDED
NO
NO
NO
NO
BUFFER SIZE
NONE
NONE
90
2K
850 INTERFACE
REQUIRED
YES
YES
YES
YES
INSTRUCTION
MANUAL
ADEQUATE
GOOD8
ADEQUATE
ADEQUATE
PRINTER MODEL
TRANSTAR 120
PRINTER TYPE
LETTER QUALITY
RETAIL PRICE
$599
PAPER TYPE
FAN, SINGLE
PAPER SIZE
0-13"
FRICTION FEED
YES
TRACTOR FEED
NO
MINIMUM
PAPER ADVANCE
1/48"
FRONT PANEL
CONTROLS
LINE FEED
AUTOLOAD
SELECT, ALERT
DIP SWITCH
ACCESS
EASY
RATED CHAR.
PER SEC.
14
BENCHMARK* CHAR.
PER SEC.
12
BENCHMARK TIME
340 sec.
CHARACTERS
PER INCH
10,12,15
PROPORTIONAL
FONT
NO
DESCENDERS
TRUE
SUPERSCRIPT/
SUBSCRIPT
NO
OVERSTRIKE
YES
UNDERLINE
YES
SELF TEST
YES
BIDIRECTIONAL
NO
SHORT LINE LOGIC
NO
GRAPHICS CAPABLE
NO
RESOLUTION
(DOTS VERT/HORIZ)
NONE
# OF PINS
IN PRINT HEAD
NOT APPLICABLE
RIBBON TYPE
FILM OR ABRIC
COST
CART $6.50
ATARI CABLE
PROVIDED
NO
BUFFER SIZE
NONE
850 INTERFACE
REQUIRED
YES
INSTRUCTION
MANUAL
GOOD
1 Atari character graphics only
2 Instructions inadequate
3 GraphAX cost $15 extra
4 Fan fold okay if tractor holes stripped
5 Only on last line of paragraph
6 Friction feed cost $150 extra
7 Roll holder provided
8 List of control codes provided
9 Audible "paper-empty" alarm
10 Custom fonts from computer also will print
11 Maintains true ratio of dimensions
12 Adjustable tractors cost extra

*The benchmark test we devised for these printers consisted of approximately 4,000 characters of English text in a Letter Perfect file.