microscreens
This month's microscreens were submitted by Guy Conrad, a very artistic fellow who paints, sculpts and does special-effects makeup for amateur films. The artist lives in Woodside, Calif., and works for Dynaloc Corp. He used his Atari and Micro-Painter (DataSoft) to create these microscreens.
Guy's portrait of Janet, with its bold outlines, cascading hair, and a very contented-looking cat, is a surprisingly realistic microscreen. Strong outlines and shadows seem to mark Guy's work.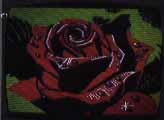 Rose also reveals Guy's knack for vividly recreating natural beauty. Again, bold outlines and a masterful use of shading and shaping are displayed.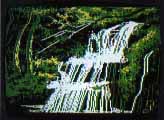 Falls shows another side of Guy's art. This scene's lush foliage and rushing water conjure up a sense of being enveloped by nature.
"Microscreens" is a monthly feature of ANTIC that provides a showcase for Atari-generated art created by our readers. Anyone who is interested is ecouraged to submit one or more microscreens (on disk) for consideration, along with a short biographic sketch and any necessary instructions on how to load or run the picture. Commercial graphics-utility programs may be used, but need not be. Please identify any utility programs that you use to create your microscreens. And keep those microscreens coming in. - ANTIC ED