INSIDE ATARI
Star Award Winner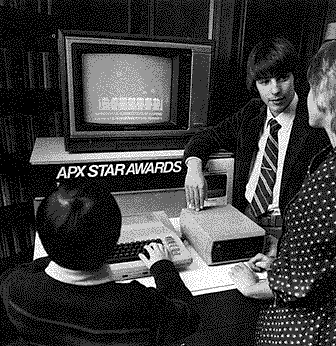 Star Award Winner, David Buehler, demonstrates his winning program, Typo Attack, at the Awards luncheon in New York last January
Seventeen-year-old David Buehler of St. Paul, Minnesota, has been awarded Atari, Inc.'s $25,000 Star Award for writing the best program of 1982 on his ATARI Home Computer. The high school junior won the first-place cash prize for his program called Typo Attack, a fast-paced educational game for learning the location of keys on the keyboard.
The Star Award is an annual prize given to the author of a home computer program judged the most outstanding entry in the Atari Program Exchange (APX) contest. APX awards $100,000 annually in ATARI products and cash for winning home computer programs, including the $25,000 grand prize given to the author of the year's best program.
The object of the game is to prevent animated letters from descending-in successively faster order-to the bottom of the screen and destroying "bases." The only way to stop them is to type the correct letter on the keyboard.
Twelve prize-winning programs vied for the Star Award in 1982. The choices were narrowed to four finalists, and the remaining three received Awards of Merit. They are:
Lee Actor of San Jose, California, created Advanced Music System, a program to create and listen to music and modify it at will. A former professional concert violinist and composer, Actor originally wrote this program to create and store his personal works.
Douglas Crockford of Sunnyvale, California, designed Galahad and the Holy Grail, a computer game that allows players to become Knights of the Round Table and overcome a variety of obstacles. Crockford is now a game designer for Atari.
Harry Koons and Art Prag of Los Angeles designed Astrology, a program which will prepare detailed astrological charts for the user, based on time and place of birth.
All entries accepted by the Atari Program Exchange are published in the quarterly APX Catalog and remain the property of their developers. Atari pays a royalty for each sale made.
Atari Information Center (408) 745-4636
Customer Service, toll free, inside California (800) 672-1404 outside California (800) 538-8543