Holiday Crossword
by Beth Kaplan
Crossword Magic is a program that will generate crossword puzzles using words and clues you provide. This program is easy, although it is not without its faults. At first glance, I found the instructions confusing; but after working with the program awhile, they became clear. As an example of Crossword Magic, I created this puzzle for ANTIC, around the seasonal theme of Christmas. Obviously, any theme can be developed.
The first option on the main menu asks for a choice of puzzle size. Grids of up to 20 by 20 squares are allowed. Typing a word and pressing [RETURN] will enter it in the puzzle grid. Crossword Magic will automatically interconnect and enter subsequent words. Any entry that does not fit immediately will be stored for later possible use. The latest entry is identified by flashing letters. This word can be relocated or deleted, but only while it remains the last entry. When all desired words are entered, clues can be written. There is no way to force a word to appear in a specific place. This would be a good option, as there were a few times a word would have fit nicely.
After completion, print the puzzle. Simply ready theprinter, chose the proper selection, and push [START]. The puzzle grid, clues, and a complete version are printed. The printout is nicely done, but sometimes the lines are not precise.
Solve the puzzle either on the computer, or on hard copy. Playing on the computer is somewhat awkward because the cursor doesn't necessarily go to the beginning of the next word, but it can be maneuvered using the space bar and the arrow keys. When you are finished, select the "answers" option to score and correct the puzzle.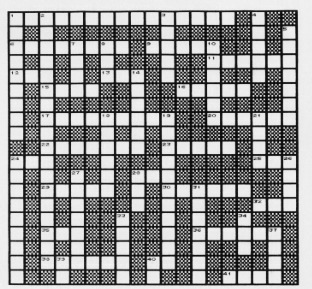 DOWN CLUES
1. SANTA'S HOME (2 WORDS)
2. WHERE A MIRACLE OCCURRED (2 WORDS)
3. DELIVERS GIFTS
4. HOT CHOCOLATE
S. LEAVE MlLK AND THESE FOR SANTA
7. WHAT A CHILD MIGHT PLAY WITH
8. HELPS SANTA CLAUS
10. PLACE TO PRAY
14. STOLE CHRISTMAS
18. NOT HARMONY
19. POPULAR ATARI GAME (2 WORDS)
21. BUY GIFTS
24. LITTLE TOWN, SUBJECT OF CHRISTMAS CAROL
26. WORD PROCESSOR EDITS THIS
27. STRING WITH CRANBERRIES
28. FELINE
31. ROPE-LIKE DECORATION
33. PLANT WITH RED BERRIES
34. DIMENSION
37 TRADITIONALLY USE A PINE
39. INPUT/OUTPUT
40. EXCLAMATION
ACROSS CLUES
1. CHRISTMAS BALLET (2 WORDS)
6. PULLS SANTA'S SLEIGH
9. THE ATARI RESOURCE
11. SANTA SAYS THIS
12. SPICY
13. PUDDING INGREDIENT (FRUIT)
15. CHRISTMAS EVE LOG
16. SEND GREETINGS WITH THESE
17. DECORATIONS
20. ALSO PULL SLEIGHS
22. RED-NOSED REINDEER
23. 400 AND 800 COMPANY
24. SMALLEST PIECE OF COMPUTER INFORMATION
25. COOKING UTENSIL
28. MODE OF TRANSPORTATION
29. WHITE
30. HALOS
32. PLACE (IN BASIC, USED WITH GET)
35. SELF CENTERED
36. COMMAND FOR PRINTER OUTPUT
38. SHIMMERING DECORATION
40. OPERATING SYSTEM
41. SMART
Crossward Magic
L&S Computerware
1589 Fraser Drive
Sunnyvale, CA 94087
40K Diskette
$49.95