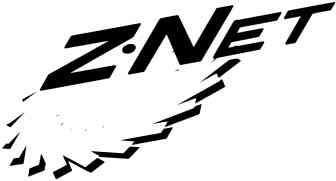 Atari At Fall Comdex 1990
By John Nagy
Fall Comdex (Las Vegas, Nov. 12-17) played host to over 120,000 dealers and developers on some 2.2 million square feet of exhibition space. The predominantly IBM show found the Atari booth away from the main traffic in the newly built Sands Exposition and Convention Center.
The Atari Booth
Atari's exhibit, their largest floor area ever for a Comdex, sported a mixed color scheme that clearly illustrated the differentiation of Atari personal/home computer products from Atari business products.
The Home Computing area of the Atari booth was accented by rainbow-colored banners, while the Business area was a dignified black and white. The Home Computing section comprised about 20 percent of the booth and was separated by a wide aisle of burgundy carpet. In keeping with the business flavor of Comdex, this section was intentionally small. From a marketing standpoint, it appears that the only computer that Atari considers a home unit is the 1040STE. Oddly, the MIDI area, featuring the Stacy portable, was attached to the Home Computing section.
Portfolios were all over the place, with hookups to a couple "alien" computers: an Apple Macintosh SE and an IBM PS/2. They were there to demonstrate connectivity with the palmtop Portfolio.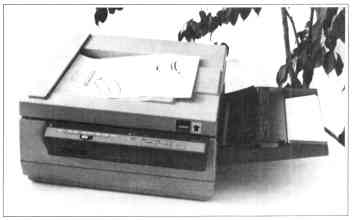 The new Atari SLM605 laser printer prints six pages
per minute, provides 300 x 300 dpi resolution and is
priced below $1,300.
The new Atari SLM605 laser printer produced some fast and flawless copies. Though the "605" prints six instead of eight copies per minute (as the old SLM804 was rated) the first copy is significantly faster.
Mega STE A Reality
The Mega STE is real (this report was written on one). The configuration is as predicted months ago: A casing identical to the TT, although in grey rather than off-white, with 4MB RAM, an internal 40MB hard disk, LAN and VME ports, a 16MHz clock speed and the new TT-style Desktop. The Mega STE is not in production yet, but may see distribution in early 1991 with retail base price of around $1,200. At least five Mega STEs were set up in the Atari booth along with several TTs.
All the Mega STEs on display were hooked to the new Phillips 14-inch color monitors, model SC1435. This is a large-screen unit that will replace the SC1224 monitors, and is expected to retail at around $399.
TT 030: Old News, Great Machine
Over a year has passed since the TT's introduction at Fall Comdex in 1989. The TTs on display this year ran the new TTC1434 color monitors that offer two of the new TT resolutions (suggested retail: $450). At least two TTs were displayed with the new TTM194 19-inch monochrome monitor (suggested retail: $995).
The latest TT configuration, running at 32 MHz with 4MB RAM, a 50MB hard disk and the new TOS and GEM Desktop, is expected to be priced at around $3,000, sans monitor. Many developers expressed concern that this price point is too high to compete with the Apple Macintosh Ilsi, available in similar (albeit slower) configurations for as little as $2,500. They feel that while the "street price" of the TT may well match or barely beat the Mac II there must be some additional incentive for buyers to select against the Mac name and software base.
The really bad news is that the TT did not pass FCC testing, and is therefore not ready for U.S. distribution. Atari had promised that the TT would ship right after Comdex. Atari is now making no promises as to when TT will ship.
New GDOS To Feature
Scalable And
Rotatable Fonts
Also at Fall Comdex, Atari debuted their Font Scaling Module (FSM) GDOS, to be released this winter, perhaps as a free-ware update, perhaps as a bundle with every new machine sold with a nominal fee to everyone else. This outline font technology updates the old and limited GDOS to provide completely scalable and rotatable GDOS fonts. The outlines will be standard Ultrascript outlines from the IBM family of fonts rather than the ST Ultrascript family. (The added interchangeability is worth the inconvenience to existing ST Ultrascript users.)
Third-Party Highlights
Third-party developers were again the focus of much of the Atari booth.
Gadgets by Small's Spectre, running version 3.0 software, "flies" on the TT030. Dave Small estimates that it runs about four times the speed of the GCR on a ST, clocking in right at about Mac II performance.
Goldleaf demoed the beta version of Wordflair 2, scheduled to ship at the end of 1990. Included in this latest version is an integrated spell checker. Word-flair 2 will be available as an upgrade to existing Word-Flair users for only $25, with a suggested retail of $149.95.
Gribnif of NeoDesk fame showed a new command line interpreter (still in beta testing) that will run any TOS program in a GEM window.
Zephyr showed the STeFax machine, a combination scanner, printer, fax and copier for under $1,000. Zephyr also showed their Sherlook optical character recognition software for the ST. Scheduled for a Christmas 1990 release, this German import examines an IMG file of text and in about a minute per page, will deliver an ASCII file at 95 percent or better interpretation. Two versions will be available: Sherlook Jr. ($189) will handle one font at a time; Sherlook Professional can interpret as many as seven fonts or sizes at one time ($789, software only).
Transport, a program that lets you move data from the Portfolio to the ST and back, was shown by Artisan Software.
PageStream 2.0 was almost there, with SoftLogik promising that the ST version will be out in January 1991. A beta version was offering fast, clean color desktop publishing on a TT. Suggested retail will be $299.
On hand was Migraph with a new version of Touch-Up that offers additional features such as grey-scale that saves in TIFF format. They also announced a new color hand scanner for the ST and TT. Scheduled for a first-quarter 1991 release, the color scanner requires at least 2MB RAM. Migraph is making color DTP a reality on the Atari, with full graphics, for $800 suggested retail.
Atari Announces ST
Hardware/Software Bundles
Atari Corp. at last approved hardware/software bundles for fourth-quarter 1990 distribution and promotion. At press time there were still several to be approved, mostly including games and leisure software, but the following are the ones that are a go so far. All prices listed are suggested retail.
520STFM Home Entertainment Pack ($579.85): 520STFM, Missile Command, Star Raiders, Crack'd, Moon Patrol, NEOChrome, Joust;
520STFM Communications Pack ($529.85): 520STFM, SX212 modem, Stalker and Steno telecommunications software;
1040STE Home Print-Shop Pack ($1,398.90): 1040STE, Migraph Hand Scanner, Touch-Up, Easy Draw 3.0;
1040STE Deluxe Paint Pack ($799.90): 1040STE, Electronic Arts Deluxe Paint Animator;
DIP Pack #1 ($2,099): Mega 2, SM124 monochrome monitor, Megafile 30 hard drive, SLM605 Laser Printer, Calamus;
DTP Pack #2 ($2,099): Mega 2, SM124 monochrome monitor, Megafile 30 hard drive, SLM605 Laser Printer, Deskset II;
Portfolio PC Traveler ($500): Portfolio, File Manager ROM card, PC Card Drive, 128K memory card.
Atari Re-Signs
With Marken
Communications
After a less-than-dramatic stay with the public-relations firm of Bob Thomas and Associates, Atari Corp. has re-signed with Marken Communications. Andy Marken was on hand at Fall Comdex throughout the show to promote the Atari product line. Marken Communications, 3600 Pruneridge Ave., Santa Clara, CA 95051 (408) 296-3600.