FOR THE FUN OF IT
OF PERIL, PULCHRITUDE,
PACING AND PUZZLES
In Which Perez Finds Success A Hairbreadth
Away, Knauss Finds Success Isn't Sexy and
Gregg Finds No Success

Bethesda Softworks' Damocles
Damocles
BY GREG PEREZ
The planet Eris has a problem. In less than three hours the comet Damocles will collide with the planet, unless, by some miracle, it is stopped.
That miracle will have to he you. In this sequel to Mercenary, the State President of Eris has called upon you, a traveling mercenary, to prevent that imminent collision. Delayed by another mission, you arrive on Eris after its inhabitants have evacuated and three hours before the comet hits. You are invited to the President's office, where the details of the dilemma are presented, and the game begins.
Endless Exploration
The Damocles environment is not set in just one city or planet. but an entire solar system! This vast play area contains nine planets and 19 moons, 37 cities, 3000 multiroom buildings and 200 moveable objects. The possibilities for exploration are nearly endless, but saving Eris from destruction keeps you from making trips to every city in the Gamma system. However. it you fail in your mission, you can still roam the system and search for hidden secrets on each planet.
The stunning graphics in Damocles scroll seamlessly, making the Gamma System brim with realism. Doors open for you Star Trek style. Windows overlook the outer landscapes. Street lamps and signs line the highways. The only thing missing from the total Damocles environment is people. (Of course, Eris is supposed to be deserted, but the other planets seem to be as well.) Each planet and city has its own charm. For instance, the moon of Bacchus contains working gambling halls where you can win and lose your money! I was held prisoner in a jail (at least until Mercenary III is published, said the message in the room).
There are vehicles which take you anywhere you want to go in Damocles. You begin with a VIP limosine which you drive to the President's house. Later you fly an Eagle spacecraft; each vehicle requires a key to use it. Just like real life, nothing is accomplished without the right tools.
Winning Objects
Objects like fax machines and memo pads all have uses to the game. I even found a functioning TV remote control. Everything can be handled, and, if put to good use, is essential to winning the game.
AT A GLANCE

Game:

Type:

Company:





Price:

Requirements:

Summary:


Damocles

Graphic adventure

Bethesda Softworks
15235 Shady Grove Road
Suite 100
Rockville, MD 20850
(301) 926-8300

$44.95

512K, joystick, color monitor

Realism and attention to
detail make this an innova-
tion in game design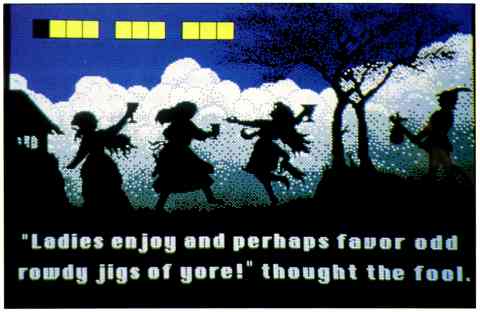 Miles Computing's The Fool's Errand
The game itself is intriguing. The road to success is marked by a series of well-placed clues which, if tackled correctly, will yield salvation for Eris. The manual states that although this scenario is gratifying to complete, there are at least five different methods of success, each with grander rewards than the first. But each has the same deciding factor for success: the decay of real time.
The massively-detailed environment that surrounds you in the Gamma system is an innovation in game design. Damocles is definitely a challenging race against time, to be tackled by all.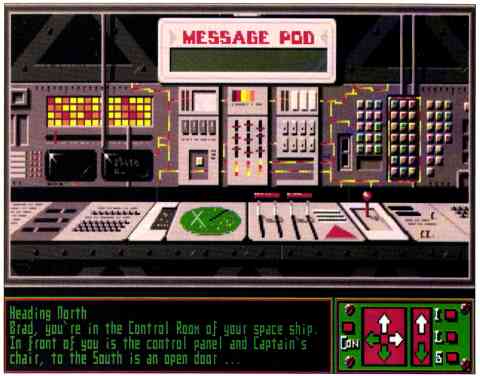 Free Spirit's Bride of the Robot
Bride of the Robot
BY GREG KNAUSS
Bride of the Robot, a mostly mouse-driven graphic adventure, isn't bad because it's sexist, or because it's immature, or because it's a 14-year-old's idea of a good time. Bride of the Robot is bad because its not fun to play; it's dumb, it's frustrating, it's just plain stupid.
In Bride, you play Brad Stallion, a galactic hero/playboy, who has been called on to rescue the new Miss Galaxy, Allura. It seems that she was kidnaped by the sex-crazed and unimaginatively named Robot, the first machine with a sex drive. As dramatic as that sounds, the program goes downhill from there.
The majority of the input for Bride is handled with the mouse, clicking on objects on the screen. However, the objects you can click on aren't distinguished in any way from the background clutter, so when you enter a room, you must slide the mouse around, pretty much randomly, until you happen across something with which the program will let you interact.
The sentence parser, if it can be called that, has trouble with the simplest input and doesn't even recognize the same verb when it's used with different objects. "Throw stone" works, "throw gloves" doesn't. If you don't type exactly what the program expects, it chokingly responds "Can't. . ." Most of the puzzles are simplistic, the difficult ones resulting not so much from clever situations as from sheer ridiculousness. Why do the doors suddenly unlock? Why is the ship's entrance blocked unless the note's been read? I finished Bride in a few hours, the majority of which was spent wrestling with totally illogical situations or trying to get the parser to understand what I wanted to do. Knowing all the puzzles, this exceptionally short program can be finished in under 10 minutes.
And the sex, the whole gimmick without which this program would never have been written? If this is someone's idea of exciting, they live a sad, sad existence. Interaction with Brad's conquests is - what fun! - with the mouse and the consummation of primal lust results in a disinterested "Ooh, Brad..." from the speaker.
If Bride of the Robot has -a saving grace, it's the graphics. Though they're not animated and only mediocre when compared to the rest of the ST commercial software market, next to the rest of the program the pictures are high art.
Interestingly enough, the executable file for Bride of the Robot is "BOR.PRG", which I pronounce as "bore program." How appropriate.
AT A GLANCE

Game:

Type:

Company:





Price:

Requirements:

Summary:


Bride of the Robot

Graphic adventure

Free Spirit Software
PO. Box 128
58 Noble St.
Kutztcwn, PA 19530
(215) 683-5609

$39.95

512K. any rez

I can't find enough words to
describe this: stupid, sexist,
sad, frustrating, immature.
Stryx
BY GREG PEREZ
Dateline: A.D. 4516
A race of rebel cyborg workers occupying the massive Dome Cities has been rampaging, destroying any and all human life. The keys to the Lifeforce, a device designed to shut down the robots, have been lost among the five domes. As Stryx, half man, half machine, you must enter the Dome Cities and survive long enough to end the reign of the murderous cyborgs.
Stryx seems to he a mixture of previous Psygnosis endeavors. The feel of the game is similar to that of Barbarian, while the dark, futuristic tone screams of Obliterator. And, of course, it incorporates the stunning graphics that are a hallmark of Psygnosis programs.
The action takes place on multi-level platforms within the Dome Cities. Scores of enemies, ranging from cyborg snipers to Robby the Robot, oppose you as your character moves through the complexes. Stryx is controlled with a joystick, and several function keys serve as take/drop object commands. Contrary to several other platform-type arcade games, Stryx lists the objects being carried. Items in the game are difficult to distinguish; only by experimenting could I determine their uses. Weapons, ammunition and bombs abound, yet the manual doesn't mention what the keys to the Lifeforce actually look like!
While the graphics in Stryx are, as mentioned before, stunning, the animation lags, and reaction time is essential. Several situations which call for quick trigger skills are frustratingly slow, and some actions that require a fast-paced change of arms are almost too complex to achieve.
But Stryx makes up for this shortcoming in variety. As Stryx charges onward, it is drawn into the Hive, where a mining craft (reminiscent of the old lunar lander) takes you through the catacombs beneath the Domes. Players are also jolted into the Travel Tubes, and a jet-biking Stryx must speed to the final challenge in the Central Dome City.
Stryx is a traditional Psygnosis adventure. But the somewhat pedestrian pace should be avoided by impatient gamers.
AT A GLANCE

Game:

Type:

Company:




Price:

Requirements:

Summary:


Stryx

Action adventure

Psygnosis
29 St. Mary's Court
Brookline, MA 02146
(617) 731-3553

$34.99

512K, color monitor

A traditional Psygnosis game
hampered by pedestrian
pacing.
The Fool's Errand
BY DAVE GREGG
Okay, I confess. I never finished this game. I'm close, very close, but I pooped out at the end. The brain teasers had tied my synapses into knots. I was tired. I felt like I'd just run, and lost, a mental marathon. The lure of a four-minute animated reward for untwisting the teasers was no match for a brain drained of ambition.
During my long, intense and ultimately futile quest, I wandered through the 80 chapters of The Fool's Errand, playing the Fool (and feeling like a fool when I discovered an obvious trick to a seemingly impossible puzzle) who searches for the 14 lost treasures. Along the way I gathered hints and clues from most of the Tarot's major arcane and the royalty in the minor.
I pieced together jigsaw puzzles. I searched for words within jumbles of letters. I stumbled through mazes. I played tarot poker. I unscrambled words three different ways.
But to no avail. It's all or nothing in this game. If you don't solve every part of this convoluted conundrum, you'll never know the whole story.
I'm close to winning. Only a few puzzle solutions hover beyond the grasp of my tired brain. If I wasn't so stubborn I'd send for the hint book.
AT A GLANCE

Game:

Type:

Company:





Price:

Requirements:

Summary:


The Fool's Errand

Brain teaser

Miles Computing
5115 Douglas Fir Road
Suite 1
Calabasas, CA 91302
(800) 245-4525

$49.95

512K, color monitor

Several days - no, make that
weeks - of pleasure for the
puzzle buff.
Former pedestrian Greg Perez is searching for his father's car keys. Former dorm rat Greg Knauss is searching for furniture to fill his barren apartment. Former S & L loan officer Dave Gregg is searching for more lucrative employment than that of game reviewer
---
FOUR MORE FOR THE LYNX COLLECTION
BY CLAYTON WALNUM
In the December 1990 issue, we peeled the plastic from 13 games for your Lynx. As you read this, Atari labors feverishly to push more and more titles out the door. Already four additional games - Rampage, Robo-Squash, Rygar and Shanghai - crowd the output queue. Let's take a look at 'em, shall we?
Rampage
Feeling a little moody? Rather than snapping at loved ones or kicking the dog, load your Lynx with Rampage. Then show the world what you really think of it.
In Rampage, you play a monster whose only purpose in life is to demolish every city on the map. As you climb buildings, punching in their walls and masticating fleshy treats (burp), watch for special items, such as money bags, safes and the all-important potion, which renders you invincible. Don' t eat everything, though. Some items are bad for your health. Televisions and light bulbs, for example, produce high-voltage zaps.
Unfortunately, a monster's life isn't all munching and smashing. The army's snipers, helicopters, tanks and bomb technicians have this crazy idea of ending your rampage. What a bunch of doinks.
Rampage plays great as a solo game, but once you get a few friends together, you can Comlynx your machines and take on the city as a group. Up to four can play, either competitively or cooperatively. Hand me that soldier and pass the salt, will you?
Unfortunately, a monster's
Life isn't all munching
and smashing.
Robo-Squash
What do you get when you mix Pong with Breakout, then whip in a generous helping of 3D graphics? You get Robo-Squash, a two- player ball-bouncing contest that'll delight even the most jaded gamer.
In Robo-Squash, you gain control of a 4x4 grid of globes by winning Robo-Squash rounds. In each round, you and your opponent (either the Lynx or another human player) bounce a ball hack and forth, knocking out obstacles between you. If you miss the ball, it splatters onto your screen, blocking your view and making returning your opponent's shots tougher than teaching a pig to sing.
Eagle-eyed players score extra powers by hitting special items, including the shooter, which creates shot-camouflaging explosions; the holder, which grabs the ball, giving you time to aim; the expander, which enlarges your paddle; and the spotter, which marks an incoming ball's destination, giving you a chance to position your paddle.
Robo-Squash is highly recommended for all players, hut especially for those who can Comlynx with friends.
Rygar
In this arcade contest, you play Rygar the Reclaimer, who hacks and slashes his way through 23 lands loaded with demonic denizens and tricky treasures. Each enemy has its own attack pattern and style, so you must learn to take advantage of enemies' weaknesses if you plan to complete your quest.
Treasures include 1-ups and weapons, as well as icons that, when snatched up, boost your score. Some treasure chests are visible; others may pop up from beneath the ground. Still others are deviously hidden. The lands through which Rygar must travel are rendered beautifully on the Lynx: cliffs, waterfalls, sunsets, temples and palm trees - nice place to visit! The simulated 3D display (as Rygar walks, the foreground moves faster than the background) creates a convincing sense of depth. Unfortunately, the sound is not on par with that in most other Lynx titles.
A simple game, Rygar is not recommended for serious adventurers, but rather for jump-and-shoot arcade enthusiasts.
Shanghai
Based on the oriental favorite Mah-Jongg, the object of Shanghai is to remove pairs of matching tiles in an attempt to clear all 144 tiles from the game board. The Lynx version boasts seven different puzzle formations from which the Mah-Jongg master can choose, each constructed from randomly placed tiles, assuring that a different puzzle is creted every time you play.
Although the tile graphics are cruder than on the computer versions of this game,an enlarged view of the currently selected tile is shown in the corner of the screen, making it possible to view all tiles clearly, even when they are almost obscured by nearby stacks. However, positioning the pointer in order to view a tile is a pain and slows gameplay.
Normally. Shanghai is a single-player game, but if you have a friend with another Lynx and a copy of Shanghai, you can choose from three additional playing modes: two-player alternating competitive, two-player simultaneous competitive and two-player cooperative. Two-player games require you to connect two Lynxes with the Comlynx cable.
AT A GLANCE

Game:

Type:

Price:

Summary:


Rampage

Arcade action

$34.95

You play a monster that goes
on a city-bashing rampage -
what could be more fun?
AT A GLANCE

Game:

Type:

Price:

Summary:


Robo-Squash

Arcade action

$34.95

Super-quick reflexes are all it
takes to win this excellent
challenge.
AT A GLANCE

Game:

Type:

Price:

Summary:


Rygar

Arcade action

$39.95

This awesome hack-and-slash
suffers only from less-than-
awesome sound.
AT A GLANCE

Game:

Type:

Price:

Summary:


Shanghai

Puzzle

$34.95

A challenging computer.
game classic with sluggish
controls.
Lynx maven Clayton Walnum is the former editor of the defunct STLog. He is writing a book of Lynx game hints.