The
YEAR
In
Reviews
A DOLLARWISE GUIDE TO THE
FRESH, THE FABULOUS
AND A FEW
FORGETTABLES
If you're going to plunk down big bucks on software and hardware, you want to know ahead of time what you're getting. This is why reviewing products is one of the most important services START magazine provides. In your hand is a guide to over 100 products, each reviewed in a 1990 issue of START. It's a great way to start the new year! Pick a category, pick a product, and see what the best-known writers in the business thought of it. For all the details. check out the full-length review; issue months are given at the end of each summary.
APPLICATIONS
Canvas
Canvas, Microdeal's 4,096color graphics program for the ST and STE. is a program that tries to do too much and falls short in the basic areas of simple design and user-friendliness.
It runs in all three resolutions and can use the STE's 4,096 available colors. By switching palettes during the horizontal blank period every fourth scanline, Canvas can switch color palettes 50 times a screen and display all 4,096 colors on screen in a single image. Think about it, however: if you want to display all 4,096 colors, you have to set the palette switchpoints and define up to 50 separate palettes for a single image. It takes planning and it takes labor and, frankly, the results are just not worth the effort.
Furthermore, there is no manual, only online help; Canvas creates a whole new set of filename extensions that are not used in any other program; I've wandered into modes where I have a cursor with no response to mouse or keyboard; and the 3D functions in Canvas do not include shading or rendering.
The bottom line is obvious: I don't like Canvas and 1 don't recommend it.
Andrew Reese, December
Canvas, $29.95. Microdeal, 3201 Drummond Plaza, Newark, DE 19711 (302)454-7946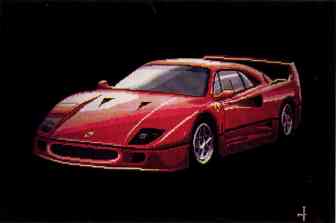 Canvas
Findex V
Findex V is an anomaly among today's popular ST databases. It's a free-form program that lets you store anything from names to whole pages of text; you retrieve your data by searching for words or parts of words contained within your file.
The author created the program originally for the Sinclair, then released versions for the IBM PC and the ST. Its command-line heritage shows up the instant you load Findex - the ST version doesn't use GEM. All commands are located within one of Findex's three menus. Many commands are confusing, nonmnemonic acronyms like "SDAT" and "SETC." (SDAT sets the date, and SETC sets foreground color.)
Findex is an interesting concept that didn't quite translate from DOS to the ST. It's fine for address files and recipe files, but its complicated commands make it difficult to use.
Karen Gordon, February
Findex V, $49.95. E. Arthur Brown Co., 3404 Pawnee Drive, Alexandria, VA 36308 (612)762-8847
Readpic
Readpic uses a very clever algorithm to implement optical character recognition on the ST for any compatible image file. Compatible image files inelude DEGAS screen files (32K), STAD (a European format, seen in Megamax's Sketch) and .IMG files.
The Readpic manual, though translated from German, is good, and suffers from little of the confusing phrasing common to such efforts. Readpic seems to work and could be quite a the saver for people with lots of text to get into their computer.
David Plolkin, December
Readpic, $89.95. Datel Computers, 3430 F. Tropicana Ave. #67, Las Vegas, NV 89121 (800)782-9110
Tracker/ST Version 2.0
Tracker/ST is a mailing list database that lets you compile a list of names, addresses. phone numbers and associated information, then use that list to generate form letters and mailing labels in an impressive variety of formats. It is menu-driven and employs on-screen buttons, but is hampered by a nonstandard interface and some functions do not work under TOS 1.4 (Editor's Note: This is fixed in version 2.03).
The problems with the interface are because it was written in compiled Superbase command language. This language is pretty fast and loose about the "rules" for programs on an ST. For example, many alert boxes do not have the heavy box around the default choice.
Making allowances for the interface, Tracker/ST is an excellent database for handling phone/address lists and simple mailmerge needs.
David Plolkin, November
Tracker/ST, $79.95. Step Ahead Software Inc., 496-A Hudson St. #:39F, New York, NY 10014 (212)627-5830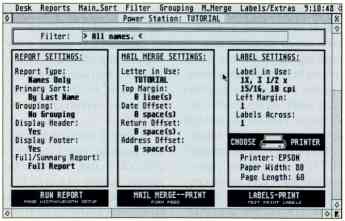 Tracker/ST

COMPUTER-AIDED DESIGN
Athena II Version 2.0
I tested a beta of Version 2.0. unfortunately, a manual did not accompany the program, so I had to rely on my own resources to find a solution anytime something appeared to be missing. Fortunately, the program is easy to learn.
Athena's user interface is reminiscent of a paint program. You're presented with a series of icons along the left side of the screen which select the major functions. Once a function is selected, a submenu pops up in the center of the screen that lets you set the specifics of the command. Since this type of interface is common to many GEM applications, ST users will feel at home with it. However. when working in a drafting environment, I find this to be slightly annoying. I prefer to have the graphics I am working on visible at all times. Having my design covered periodically tends to break my concentration.
There were many capabilities that I feel are necessary for professional drafting which are not available in Athena. It is, however, a good choice for home use, or where you have limited drafting needs and/or a tight budget.
Mario Perdue, November
Athena II version 2.0, $99.95. Iliad Software, 1470 S. Stale St., Orem, UT 84057 (801)226-3270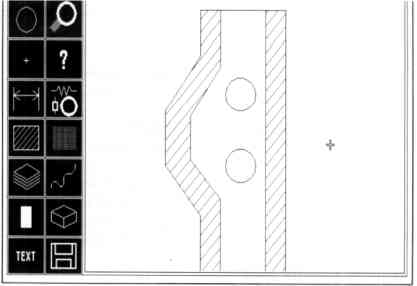 Athena
BeckerCAD ST
BeckerCAD is a German import and has a reasonable collection of features and performed well in timing tests. Abacus has done a competent job translating the manual into American (as opposed to English).
BeckerCAD comes with supporting libraries. These libraries include electronic schematic, hydraulic/pneumatic and architectural applications.
There is nothing about this package that I found difficult to use. The user interface is easy to learn. It won't take you long to draw that room addition or that model rocket you've been wanting to build for the last several months. For most personal and even some small-business uses Becker-CAD will suffice.
Dave Edwards, March; Mario Perdue, November
BeckerCAD ST $95.00. Abacus, 5370 52nd St. SE, GrandRapids, MI 4952 (616)698-0330
BetaCAD VERSION 1.0
(Editor's Note: Latest version is 2.0.) BetaCAD is a unique program in many ways, it takes a completely different approach to CAD. Many of the "normal" CAD commands were missing. It is the author's contention that you only need a few commands to get the job done and the problem with most CAD programs is the sheer number of commands that do exactly the same thing in slightly different ways.
I wholeheartedly agree. It is nice to see a CAD program that doesn't compete feature for feature with every other program. This streamlined approach makes BetaCAD very easy to learn.
I really enjoyed Beta-CAD because it had all the "power features of the more expensive programs, but left out many redundant commands that can get in the way. Nobody wants to be a slave to a CAD system. BetaCAD does a great job of giving the user just the commands needed without getting in the way of designing.
Dave Edwards. January
BetaCAD, $99.00. BetaCAD, 31 Millard Road, North Attleboro, MA 02760 (508)695-9175
CADjA
This import is so new that I only received a partially-disabled demo version to evaluate.
The user interface is somewhat like DEGAS in that the command menu fills the entire screen and is toggled with the right mouse button. I found this to be annoying; however, the icons are fairly well-designed and their arrangement on the screen is somewhat logical.
Some commands and modifiers are available only through keyboard entry. Again, I found this to he irritating.
I didn't encounter any problems with CADjA. It seems to be a fairly solid, bug-free product. Once the manual is completed, this program will be a strong contender in the mid-priced CAD arena.
Mario Perdue, November
CADjA. $395.00. Datel Computers 3430 E. Tropicana Ave. #67, Las Vegas. NV 89121 (800) 782-9110
Drafix
Drafix was ported from the IBM and as such does not use the standard GEM interface. However, the interface is easy to use so this doesn't cause any real problem. The only irritant is that it is assumed that you use a three-button mouse. As we all know, there aren't three buttons on an ST mouse. What you then must do is use the right button as the middle button and both buttons as the right button (the left button is, of course, the left button). A little bit confusing, but you get used to it.
Overall, Drafix is an excellent package for home and small-business use. Unfortunately, Foresight will not publish further upgrades or enhancements.
Mario Perdue, November
Drafix, $195.00. Foresight Resources Corp., 10725 Ambassador Drive, Kansas City, MO 64153 (800)231-8574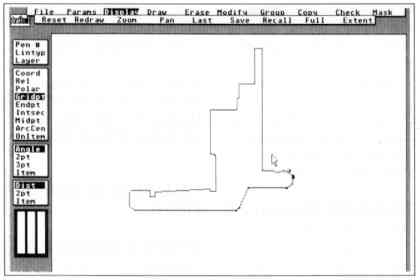 Drafix
DynaCADD
DynaCADD is. without a doubt, the best CAD program on the ST. It is also the best CAD program that I have seen running on any microcomputer. And it's fast. In many cases, faster than CADDS 4X, a very high-end drafting machine.
DynaCADD supports both 2D and 3D entity types, the only ST program to do so. This makes it possible to look at a part from any angle to help visualize its shape. Four different views of a 3D model can be displayed on the screen at any given time. These views can be mixed with 2D graphics for dimensioning.
The documentation supplied with DynaCADD is excellent. It includes both a 2D and 3D tutorial and a complete command reference. Each command includes a clear example of how it is used from the icon interface as well as from the command line.
DynaCADD is the only CAD program that I recommend for professional use (it's a bit expensive for home use). I have used it in a production environment on 3D applications and it performed beyond my expectations.
Mario Perdue, November
DynaCADD version 1.84. $995.00. ISD Marketing Inc., 2651 john St., Unit 3, Mark ham, Ontario L3R 2W5 (4l6) 479-1880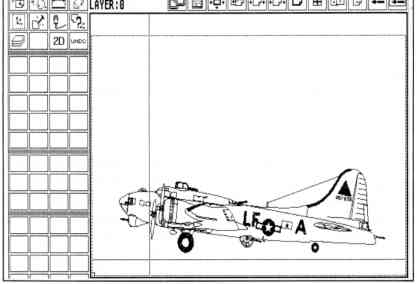 DynaCADD
DESKTOP PUBLISHING
Calamus
(Editor's Note: Current version is 1.09N.) There's no question that Calamus is the most powerful of the four DTP programs evaluated for this article. Quite simply, it contains more features and will perform more functions than the others. In fact, it could very well be the most powerful DTP program available right now for any popular computer system.
The question a would-be buyer needs to ask is "Do I need this much power?" For the novice user, Calamus can best be described as intimidating. Upon booting it up, new users will find themselves staring at no less than 35 icons, five menus and five alphanumeric fields.
Once you become familiar with the program, however, it operates with an elegant smoothness. After spending a few hours with Calamus, I began to appreciate the flexibility and total control provided by its command hierarchy. For the ST user interested in serious DTP, the investment will be well worth it.
Scott Wasser, April
Calamus. $299.95. ISD Marketing Inc., 2651 John St., Unit 3, Markham, Ontario L3R 2W5 (416)479-1880
Clip Art! Disks
Each disk contains over 100 high-resolution graphics saved in DEGAS (.P13) format. Each screen of data averaged about 10 graphics, resulting in fairly small pictures. As a result, they were unusable with a system using a laser printer but print out nicely on 9- and 21-pin printers. Virtually every subject matter is covered in these collections, including computers, medicine. religion, animals, food and holidays. This is by far the nicest collection I have seen with the widest variety.
Dan Fruchey, March
Clip Art! Disks. $19.95 each. Magnetic Images, P.O. Box 17422, Phoenix, AZ 85011 (602)435-2006
Desktop Publisher ST
Anyone who has used any other Timeworks program on the ST knows that they are generally characterized by ease of use, flawless operation and enough power to handle most tasks. Desktop Publisher ST fits right into that same mold.
Desktop Publisher ST comes with approximately 200 pictures and nine sample publications. You can use them as they are or modify them for your own documents.
Timeworks claims the novice user can be working within 60 minutes, thanks to the "Quick-Start Mini-Manual." Desktop Publisher ST's documentation is unquestionably the clearest, easiest to follow and most complete I've seen.
Desktop Publisher ST will work very well on the most basic 520ST with color or monochrome monitor and single-sided disk drive. Since disk access is somewhat slow and frequent, program operation improves dramatically with a hard drive.
Scott Wasser, April
Desktop Publisher ST, $129.95. Timeworks Inc., 444 Lake Cook Road, Deerfield, IL 60015 (708)948-9200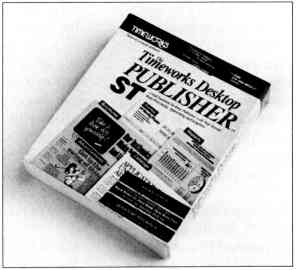 Desktop Publisher ST
Draw Art, Scan Art
Both collections are of the highest quality with a nice selection of subject matter. Draw Art is an original collection of 117 .GEM metafiles created by graphic artist Tom Ethan. The files are precise, clean and easy to work with. Scan Art is a collection of 114 bit-mapped graphics saved in .IMG format. The pictures were scanned from leading clip-art source books and cleaned up before being saved individually.
Dan Fruchey March
Draw Art. $69.95: Scan Art. $49.95. Migraph Inc., 200 S. 333rd SI., Suite 200, Federal Way. WA 98003 (206) 838-4677
Fleet Street Publisher
MichTron, one of the biggest software supporters of the ST, resurrected Fleet Street after the importer of the original version withdrew its support. Based on the performance of its version 2.1, MichTron made a wise move in reviving Fleet Street.
Fleet Street is a very capable performer whose assets include ease of use, good documentation, versatile text-editing functions, a nice collection of clip art and excellent print quality.
But it also lacks some sophisticated features that prevent it from being labeled a state-of-the-art DTP program. It will not support text flow from one page to another, can only import .IMG picture files and ASCII text files, and it lacks the ability to wrap text around graphics.
However, MichTron has released Fleet Street Publisher version 3.0 which supposedly addresses those shortcomings and adds some powerful new features.
Scott Wasser, April
Fleet Street Publisher, $149.95. MichTron, 3201 Drummond Plaza, Newark, DE 19711 (302)454-7946.
Image Cat
How many times have you searched for a particular graphic, knowing it exists in our software library only to give up after sifting through a dozen disks with no success? Well, there's help. Image Cat is a utility package from Wiz Works that locates your graphics files quickly with a minimum of fuss.
There are three main cataloging programs on the disk, comprising the bulk of the utilities. Image Cat is designed to print image (.IMG) graphics in catalog format. Pie Cat is identical to Image Cat except that it is designed to print DEGAS, NEOchrome and Tiny format pictures in all resolutions. For Spectre GCR owners, Mac Cat lets you print pictures designed for the Macintosh.
All of the programs in the Image Cat package are self explanatory and easy to use. My only wish is that the utilities be included in one program. On the whole, however, Image Cat is a godsend to any desktop publisher or graphic designer.
Dan Fruchey, December
Image Cal, $24.95. Wiz Works, P.O. Box 45, Cirard, OH 44420 (216)539-5623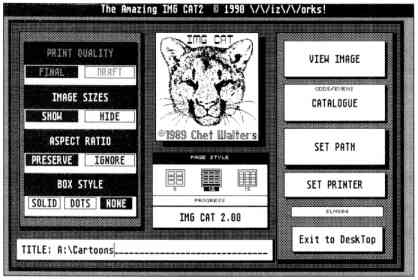 Image Cat
Outline Art
Outline Art is an incredibly powerful program designed to manipulate text and vector graphics through a variety of special effects. It adds flexibility to ST desktop publishing that rivals similar products on the IBM or Macintosh.
To start Outline Art define an area in which to place your text. In the dialog box that appears, type your message, specify a font and decide whether you want the text rotated, curved or traced upon a predefined path. Click on OK and within seconds your design will appear on the screen. It's that simple.
Outline does not include a print option. If you want to see how your work will look you have load your files into Calamus or convert them to Postscript format, which is a waste of time. A print option is mandatory.
Dan Fruchey October
Outline Art version 1.0, $289.95. ISD Marketing, 2651 John St., Unit 3, Markham, Ontario L3R 2W5 (416) 479-1880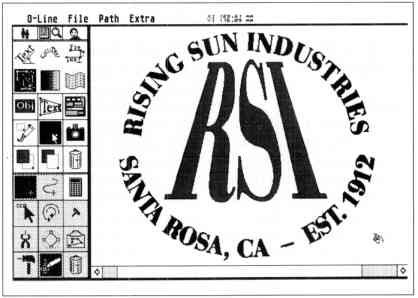 Outline Art
PageStream
(Editor's Note: Current version is 1.8.) PageStream is characterized by a very flexible and intuitive user interface, great versatility and tremendous power. Unfortunately, the version reviewed (1.52) is also characterized by some bugs and a tendency to bomb for no apparent reason.
During the many hours I evaluated the program, it bombed perhaps six times. There seemed to he no common denominator to the crashes, although all occurred while my Mega 2's blitter chip was on.
PageStream also displayed a few bugs that seemed to pop up whether the blitter was on or not. None of the few other quirks 1 encountered showed up more than once.
Despite these flaws, I love using PageStream. It is less rigid than other DTP programs available for the ST in that it doesn't require the user to first create frames or blocks to hold all of the various elements used in a document.
PageStream also offers a wide variety of print options, and - thanks to its own page-description language - print quality is outstanding. PageStream even lets documents he saved as PostScript-compatible files.
Scott Wasser, April
PageStream. $199.95. Soft-Logik Publishing Corp., 11131 S. Towne Square, Suite F, St. Louis, MO 63123 (314)894-8608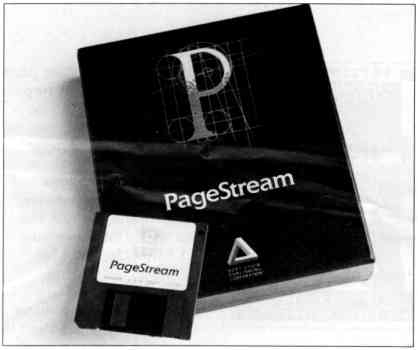 PageStream
People, Places & Things, Education Graphics, Signs & Slogans
Each of these clip-art collections is comprised of bit-mapped image graphics saved in .IMG format. The pictures were saved in medium resolution and as a result they require some manipulation to print properly. Images arc saved in groups so you need to cut and paste individual graphic components. The graphics are fairly simple in design: they lack the detail and finesse of some of the other collections but are still quite useable.
Dan Fruchey, March
Peoples Places & Things. Education Graphics, Synthols & Slogans. $39.95 each. Timeworks Inc., 444 Lake Cook Road, Deerrield. IL, 60013 (708) 948-9200

DESKTOP VIDEO
JRI Genlock
The JRI Genlock System lets you combine computer-generated images with an external video source such as a VCR or a video camera. What makes this board so special is that it accomplishes the genlocking process entirely through hardware. This means that all your software is automatically compatible with it. Furthermore, when genlocked to an external video signal, the board delivers a broadcast-quality RS170A NTSC signal for the first time on an ST.
JRls Genlock is perfect for professional video producers, who can now record on high-quality Beta-cam, 3/4- and 1-inch videotape for results as close to the original as possible.
Wilton A. Vargas P., November
JRI Genlock, $650.00. John Russell Innovations, P.O. Box 5277, Pittsburg, CA 94565 (413) 458-9577
TV Titles 2.0
In addition to scroll, TV Titles offers a nice fade, a vertical wipe, a shutter effect like a Venetian blind, a fairly coarse but workable spiral and a confetti-like effect called "Disolve" [sic]. You can elect to leave up the previous image and transition the new image over it or replace the old with the new. Because it's an image-based system, you can't scroll characters onto the screen one at a time.
Overall, I liked TV Titles 2.0. If your needs are modest and you have some other way of generating the text and images you'll use, then go with it. It's reliable and at the price, it's an excellent deal. TV Titles 2.0 is a product of the cottage programming industry and its support system is limited; you have to call the author in eastern Canada for support - and only between the hours of 7 p.m. and 9 p.m.
Andrew Reese, November
TV Titles 2.0, $39.00. J.P. Deziel, R.R. 1, Box 6, Chelsea, Quebec J0X 1N0 (819)827-0531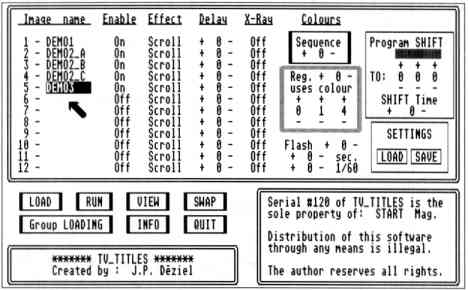 TV Titles 2.0
Videotext
If you use your ST for graphics that you pipe out to videotape, chances are that you have wished for an easy way to add titles and credits to your productions. Videotext makes adding titles and credits (almost) painless. This definitely isn't a program that you're going to master in one quick session. It takes a few hours of work until you understand how to control all the effects available.
There are some troubling aspects to Videotext. It crashed on me several times in ways that I was not able
to repeat. There's also a lack of consistency in the use of keys and mouse buttons in Videotext.
Videotext is full of nice features, like automatically starting on a black screen so that you can set up your video equipment and start your recorder. It's designed to work with the JRI Genlock and should produce some rather professional images with it.
Andrew Reese, July
Videotext, $125.00. Water Fountain Software, 13 E. 17th St., 3rd Floor, New York, NY 10003 (212)929-6204
Vidi-ST
Now, instantaneous captures of the fastest-moving subjects are possible on any ST or Mega. Captured shots are dramatically clear and black-and-white pictures are shaded in 16 tones or 16 colors in low resolution.
Vidi-ST is a snap. You can see every frame instantly as it is grabbed, in a flowing on-screen animation. A video camera is not required, since you are able to use any VCR and even some modern television sets as a video source. The included software is quite easy to learn, offering most commands both from drop-down menu bars and from mouse-click boxes along the screen bottom. The miniature manual should he read, though, since some of the controls (like the synchronization and the aspect ratio) are very simple, but only if you know what they're for. Most users will be capturing quality video within minutes of opening the box.
John Nagy, May
Vidi-ST. $199.00 Computer Games Plus, Box 6144, Orange CA 92667 (714)639-8189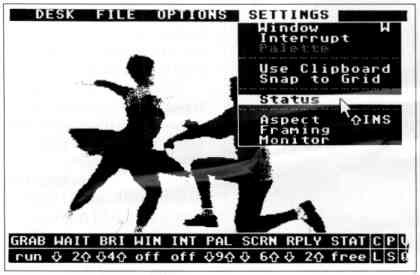 Vidi-ST
EDUCATION
Algebra I
This introduction to algebra presents linear equations to junior high schoolers. It covers theory, gives examples, then asks students to solve algebraic equations and word problems.
Algebra I has five levels of difficulty and teaches using real-world problems such as investments and motion. Its tutoring abilities are its best feature. The program walks students through problems, giving hints and facilitating conceptual understanding. Computer sessions can be printed.
Kerry Whelan, October
Algebra I. $29.93. MichTron, 3201 Drummond Plaza, Newark, DE 19711 (302)454-7946
First Letters And Words
First Letters and Words uses voice instructions to guide the young user through its four games. The parent or teacher can control the content and level of difficulty.
Non-readers can learn the alphabet, both upper-and lower-case letters, while beginning readers can learn the names of the parts of a dinosaur's body or puzzle out the answers to an animal riddle game.
Kerry Whelan, October
First Letters and Words. $29.95. First Byte Software, Clauset Center. 3100 S. Harbor Blvd. #150. Santa Ana, CA 92704 (714)432-1740
First Shapes
Mr. Ted F. Bear introduces the preschooler to shapes in this full-featured program from First Byte. The bear talks to your children, asking them to choose activities by pointing to large picture boxes and clicking the mouse. There are four games: a Concentration clone, changing shape sizes, designing toys out of shapes and choosing the right size shape.
Because of its many features, First Shapes is a good value. Best of all, reward messages can he personalized with your child's name.
Kerry Whelan, October
First Shapes, $29.95. First Byte Software, Clauset Center, 3100 S. Harbor Blvd. #150, Santa Ana. CA 92704 714:432-1740
French Verb Tutor, Spanish Verb Tutor
Beginning linguists can use the first of these programs' four levels to test themselves on regular verb conjugations. The advanced level provides fluent linguists with a reference dictionary of conjugations using all tenses and persons. The programs know conjugation rules for any verb, regular or irregular.
Kerry Whelan, October
French Verb Tutor, Spanish Verb tutor, $49.95 each. ASDE Inc.. 151 rue Jolicoeur. Hull, Quebec J8Z 1C8 (819)770-7681
Geography Tutor
Geography Tutor is quite good for what it does and is a solid educational package. The ability to update and modify the database is a strong point, as are the compare and quiz features.
Compared to the quality of maps found in an actual paper atlas, the maps in Geography Tutor are greatly inferior. This, however, is not the author's fault -he's limited by the computer screen resolution. More close-up maps of areas of the world with lots of small countries would have been an improvement. Some of the maps are quite distorted from what I am accustomed to, South America in particular. Also, close-up maps of Asia, Antarctica and Australia must be purchased at extra cost.
Ron Schaefer, November
Geography Tutor, $39.95. ASDE Inc., 131 rue Jolieoeur, Hull, Quebec J8Z 1C8 (819)770-7681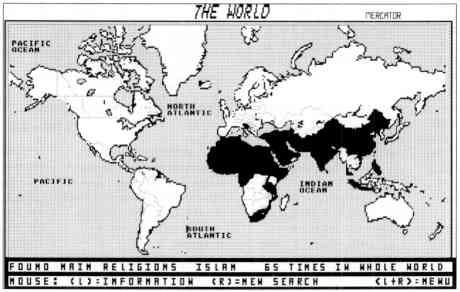 Geography Tutor
Kid's Stuff
Kid's Stuff offers three activities from a picture-style menu: counting, letter recognition and free-style typing. Its charming graphics and gentle pace will appeal to the typical pre-schooler. By counting correctly or typing the correct letters of a word, graphics on the screen come to life. The simple presentation of all three activities suits young children that are just beginning to figure out a keyboard and a mouse. To a limited extent, you can tailor the program to meet individual needs.
Kerry Whelan, October
Kid's Stuff, $39.95. Stone and Associates, 7910 Ivanhoe Ave, #319, La Jolla. CA 92037 (619)459-9173
Linkword - French
Dr. Michael M. Gruneberg designed this program to help students get a basic grasp of French quickly and easily - which it does very well. An audio disk and printed glossary help with pronunciation. The program covers basic grammar, leading to simple sentence translation.
The Linkword series is visually and phonetically based. For example, once I've imagined Mike Tyson carrying a deer on his shoulders, I'll remember that deer is masculine.
The program works like flash cards, giving students the option of a predefined lag time to visualize the word before it disappears. There is a lot of travel-oriented vocabulary in Link-word, which makes it appealing to the vacationer.
Kerry Whelan, October
Linkword - French, $29.95. Artworx Software Co. Inc., 1844 Penfield Road, Penfield, NY 14526 (716)385-6120
Magical Math I
In Magical Math 1, part of Atari Corp.'s Bentley Bear Series, a math question must be answered so Bentley can accomplish his task. The number of digits in the operation, type of operation and amount of time allowed to answer the question can be changed. It would be nice if there were more action on the screen and if input from the numeric pad or keyboard was allowed. But since so few educational programs will run in color and monochrome, it's a great resource for owners of monochrome systems.
Kerry Whelan, October
Magical Math I, $29.95. Atari Corp., 1196 Borregas Ave., Sunnyvale, CA 94086 (408)743.2000
MathBlaster Plus
Updated for the ST in 1989, MathBlaster Plus introduces kids to basic math facts. The program is nothing fancy, but with its solid drill and practice functions, MathBlaster Plus could be found in any elementary school's computer lab. The manual for the program is detailed and clearly explains the five options available. With its editor, parents can design and print test papers. MathBlaster Plus includes a record-keeping function for teachers.
Kerry Whelan, October
MathBlaster Plus, $29.95. Davidson and Associates, 3135 Kashiwa St., Torrance, CA 90505 (800)556-6141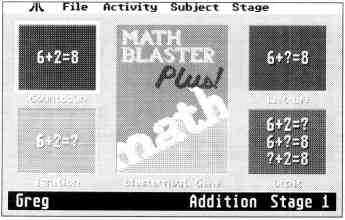 Mathblaster Plus
Math Talk
Professor Matt A. Matics leads his students through both drills and games in Math Talk.
The game Table Talk presents your child with addition, subtraction, multiplication and division questions. In Mystery Number, he or she has to figure out the missing numbers in math problems. Parents and teachers can customize the drills, print questions and record the results. Children who do well in math may lose patience with Math Talk's slow response time.
Kerry Whelan, October
Math Talk. $29.95. First Byte Software., Clauset Center, 3100 S. Harbor Blvd. #150, Santa Ann. CA 92704 (714)432-1740
Math Wizard
The imaginative graphics and liberal use of color make Math Wizard appealing to children and adults. Wizards, dragons, trolls and elves help players through four different drills disguised as games.
A warning to parents: dramatic sound effects follow both right and wrong answers. Children may enjoy making mistakes as much as they like getting the answers right! To prevent any problems, children may need some supervision when playing.
Kerry Whelan, October
Math Wizard, $39.95. Unicorn Software, 2950 F. Flamingo Road, Las Vegas, NV 89121 (702)737-8862
Read-A-Rama
Read-A-Rama teaches word recognition and spelling skills, using a colorful circus theme. Parents can customize the word lists.
First the child is presented with a picture and word (there are six different pictures in a number of different categories). To test reading, a memory game asks kids to find the objects from different categories. The child can be asked to type the name of the picture in the spaces provided.
Kerry Whelan, October
Read-A-Rama, $49.95. Unicorn Software, 2950 E. Flamingo Road, Las Vegas, NV 89121 (702)737-8862
Space Math
Space Math is an adaptation of the popular arcade game Lunar Lander. Players must answer math questions in order to safely land a space ship on the moon. Black holes, meteors and the effects of gravity are combined with math equations so the higher levels are a real challenge; by Level 8 players had better know their math!
Kerry Whelan, October
Space Math, $14.95. Intracorp Inc., 14160 SW 139th Court, Miami, FL 33186 (305)252-9040

EMULATION
PC Speed
At the current time, the only hardware PC emulator that works to my satisfaction is MichTron's PC Speed. It is fast, compatible. handles hard drives and is available now. The incomplete manual notwithstanding, this emulator works and works well. Soldering is required for installation.
David Plotkin, April
PC Speed, $199.95. Talon Technologies, 243 N. Highway 101 #11, Solana Beach, CA 92075 (619)792-6511
Spectre GCR
(Editor's Note: Current version is 3.0) Spectre GCR's emulation isn't perfect: there are some programs that won't run or that crash when you attempt to use certain features. However, most Mac software that "followed the rules" runs very well on Spectre. And with each version of the Spectre software, more programs run correctly.
Spectre GCR is a very large cartridge, the largest I've seen. The cartridge supposedly works best when it is at the end of the drive chain, although I have had no problem with it being in the middle.
If you're serious about running Mac software on your ST, this is for you.
David Plotkin, January
Spectre CCR, $299.95. Gadgets by Small Inc., 40 W Littleton Blvd. #210, Littleton, CO 80120 (303)791-6098
SuperCharger
The important questions about Supercharger are: does it work and is it fast? The answer to both is yes. It works, running all the PC software I tried. The Supercharger is also fast - it ran PC programs such as Lotus 1-2-3 and Microsoft Word quickly. Graphics-based software was very fast, although the text software had a somewhat slower screen-update speed.
Provided that Talon can handle the DMA chain problem with Supercharger, this is a product that can change your ST from a friendly, powerful computer to an unfriendly, powerful computer: a PC!
David Plotkin, January
SuperCharger, $450.00. Talon Technologies, 243 N. Highway 101 #11, Solana Beach, CA 92075 (619)792-6311

GAMES
Archipelagos
In the far future, Earth has been poisoned and it's up to you to purify the land.
Archipelagos' vivid and weird graphics capture the spirit of the game. The eerie landscape is a simple, clashing checkerboard of poisonous reds and bright greens set against a grey sky and crystal blue water, inhabited by twisted creatures drawn in creepy detail. Full of strange reverberations and eerie melodies, the sound also helps create an appropriate, ominous mood.
Overall, Archipelagos is one of the most original games I've seen, both in gameplay and in overall concept. Despite it's seek-and-destroy nature this is no shoot-em-up, but rather a futuristic fantasy strategy game.
Carolyn Cushman, January
Archipelagos, $39.95. Britannica Software, 345 Fourth St., San Francisco, CA 94107 (415)546-1866
Artura
Basically, Artura is a hack-and-slash game. There isn't much to this game, but you do have more challenges than chopping up barbarians and giant rats. Hidden somewhere along the way are the pieces to the sacred Runestones. When they're used separately or in combinations, they give you the power to use the wheel of Cerriddwen, which helps you on your quest to rescue Nimue.
Artura could be better in many ways. It's not too exciting in the way of play and it resembles at least a dozen other platform-style games on the market. But, the challenge of finding the Runestone did add some depth and gave me incentive to dig deeper.
Greg Perez, June
Artura, $14.99. Virgin Mastertronic, 18001 Cowan St., Suite A, Irvine, CA 92714 (714)833-8710
Batman, The Movie
Data East and Ocean have done an excellent job bringing the excitement of the Batman film to the ST.
The various sequences are all very enjoyable and well done. The Batmobile sequence (which uses a Pole Position-style perspective) is as good as many stand-alone driving games on the market. The graphics throughout the game are great and there are some nice still shots shown before each sequence.
The only weak point in Batman is the sound. You can choose between music (which didn't remind me much of the film's music) or sound effects (which are pretty standard stuff). Some digitized effects from the movie would have been a nice touch.
Clinton Smith, October
Batman, The Movie, $39.95. Data East, 1850 Little Orchard St., San Jose, CA 95125 (408)286-7074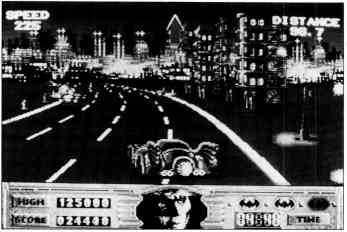 Batman, The Movie
Blockout
Just when you thought you had finally mastered Tetris, along comes Blockout from California Dreams. Like Tetris, the idea of Blockout is to fill an empty rectangular column with falling blocks. The difference is dimension; the Blockout screen is in 3D.
To further challenge you, the dimensions of the pit can change. You can select Custom Pit Dimensions and Rotation Speed for the blocks themselves. The ability to set up configurations makes Blockout endlessly challenging.
The graphics are sharp and the game has a bouncy sound track. You'll find yourself coming back again and again.
David Plotkin, August
Blockout, $39.95. California Dreams, 130 Knowles Drive, Los Gatos, CA 95030 (408)378-0340
Blue Angels
The U.S. Navy's Blue Angels are noted the world over as one of the best of the best when it comes to formation and single aircraft acrobatic flying. Accolade offers an excellent simulation of that and more in the program Blue Angels: Formation Flight Simulation.
The main attractions are, the F/A-18 Hornet and the Blue Angels' airshow flight routines.
After practicing in the simulator, put your skills on the line. Go for it. This is where the real thrill is. You'll be surprised how good it feels to make the pilots list.
Wolf Griffey, December
Blue Angels, $49.95. Accolade, 550 S. Winchester Blvd., Suite 200, San Jose, CA 95128 (800)245-7744
Chaos Strikes Back
The packaging for Chaos Strikes Back claims that Dungeon Master is required to run the program. This is not strictly true; you do not need your original Dungeon Master disk to play the game. However, Chaos Strikes Back is impossible to play if you don't know how to play Dungeon Master. Not only is there nothing in the manual telling you how to control your characters and move around, but to survive in Chaos Strikes Back you have to have gotten far enough in Dungeon Master to learn how to cast important spells and fight monsters.
START's editors have intermittently discussed using a rating system for game reviews. Such a system could use Siskell & Ebert-style "thumbs up" or "thumbs down"; or a small graphic showing a little man in a chair sleeping, applauding or cheering; or a standard one- to four-star rating. So to give you an idea of what to expect from this long-awaited sequel, I offer this objective assessment of Chaos Strikes Back: two thumbs - being bitten off. A little man - fleeing for his life. Four stars - all shooting fireballs at you. Heidi says, check it out.
Heidi Brumbaugh, June
Chaos Strikes Back, $39.95. FTL Games, 6160 Lusk Blvd., Suite C206, San Diego, CA 92121 (619)453-5711

Chaos Strikes Back
Clue Master Detective
In glancing over the notes I have been honored to gather during the course of my long relationship with Sherlock Holmes, I am struck by those pertaining to the murderous affair at Boddy Manor.
Holmes had been contacted the previous week by a gentleman with the unusual name of Virgin Mastertronic, who claimed to have made significant improvements to Charles Babbage's calculating machine, which he called a computer. In order to publicize his efforts, he proposed to test his invention's logical skills against those of the world's only consulting detective.
Alas, Mr. Mastertronic's invention was no match for Holmes' remarkable mental qualities. My friend had whispered the solution to me a full two turns before the machine deduced the murderer.
"So, Mr. Holmes, what do you think of our experiment?" the Parker brothers asked him as we begged our leave.
"An absorbing enough amusement for amateurs," he said, "but finely honed intellects like mine prefer a real chase that pits one human mind against another."
Dr John Watson, June
Clue Master Detective. $39.99. Virgin Mastertronic, 18001 Cowan St, Suite A, Irvine, CA 92714 (714) 833-8710
Day Of The Viper
Take one part classic maze-chase game (Pac Man will do); add two parts Dungeon Master; sprinkle with a modified dash of Tower Toppler; throw in a cup of hot, hip, happenin' shoot-em-up; sift in a bit of a moderately trite, but very atmospheric SF plot; top it all off with the very best features from the latest batch of action-adventure games; bake at the hottest action level and what have you got? Day of the Viper, the newest release from Accolade and probably one of their best to date.
The programmers have done just about everything right. Everything, from the look and feel of the buttons on your console to the interface, have been implemented exquisitely.
Matt Laurence, November
Day of the Viper, $49.95. Accolade Software, 550 S. Winchester Blvd., Suite 200, San Jose, CA 95128 (800)245-7744
Dragons Of Flame
A sequel to Heroes of the Lance, Dragons of Flame is Strategic Simulations' second attempt to translate the wildly popular Dungeons & Dragons Dragonlance module to a computer role-playing game. The result is more of an arcade hack-and-slash with fantasy elements than an intricate role-playing adventure.
As you progress in the game, you discover better weapons, potions and treasures, but other than looking for hidden doors and traps, there are no intricate puzzles to solve. The interaction with the creatures you encounter is pretty much limited to combat, although you run into townspeople who offer you clues and join your party.
The Dragons of Flame characters don't grow with experience and their attributes remain fixed, which leads me to my biggest problem with the game: It lacks the feeling of absolute control over an entire party of real characters, a hallmark of any good role-playing game.
Harvey Bernstein, May
Dragons of Flame. $14.95. Strategic Simulations Inc., 675 Al manor Ave., Sunnyvale, CA 94086 (408)737-6800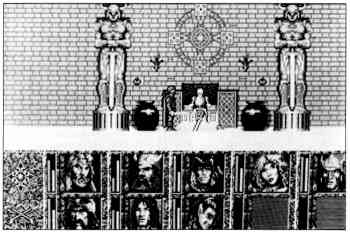 Dragons Of Flame
Empire
Empire, by Interstel Software, is an elaborate strategy game in which you try to spread our superior military forces over the world and thereby conquer it.
Since the size of the playing board is tremendous, a game can last several days, with fleets growing to contain hundreds of armies, fighters and ships. Fortunately, the program's excellent interface makes managing your forces practical.
I recommend Empire to anyone who prefers strategy games to arcade shoot-em-ups or games of chance. In this game, everyone begins with the same resources. Winning depends upon tactical skills, clear thinking and organization - not to mention knowing thy enemy.
Heidi Brumbaugh, June
Empire, $49.95. Interstel Corp., 17317 El Carnino Real, Houston, TX 77058 (713)486-4163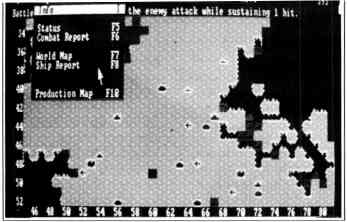 Empire
Eye Of Horus
Eye of Horus is a classy game. The characters, story and hieroglyphs are based on authentic Egyptian mythology. The music is very atmospheric, lending to the feel of the game, and the graphics are attractive and occasionally amusing.
It is also a long game, however, and there is no save-game feature (though there is a pause key). In addition, it is very easy to die without accomplishing much - don't expect to get very far in your first few games; the evil guys are sneaky until you know where to look for them and the amulets don't look much like the pictures in the manual.
Matt Laurence, November
Eye of Horus, $39.95. Britatinica Software 345 Fourth St., San Francisco, CA 94107 (415)546-1866
Falcon Mission Disk -Operation: Counter-strike
I soon discovered that my orders for Operation: Counterstrike were no picnic. These 12 jobs were linked. I could come back sometimes after a tough mission, only to find more of those tanks trying to tear up my runway. No more single-strike flights.
Fortunately, both aircraft systems and flight controls had been upgraded. But, as always, bad came with the good. My opponents were flying MIG-29A Fulcrums. Head to head we were about even.
After the mission I told my CO. a few things. I definitely like the improvements in systems and handling. The autoview alone is worth the new price tag. Absolutely, the new terrain and targets are a challenge I wouldn't miss trying.
Wolf Grlffey, February
Falcon Mission Disk - Operation: Counterstrike, $24.95. Spectrum Holobyte, 2061 Challenger Drive, Alameda, CA 94501 (415)522-3584
Future Wars
Future Wars begins with you washing windows, working "at what, believe it or not, is your full-time job." From this ignoble beginning you will travel thousands of years through time and circle the planet to save the Earth from alien invaders in this immensely enjoyable graphics adventure.
The emphasis in the last sentence should be on the word "graphics." This is the one area where the game easily outshines its adventuring competitors.
The thing most likely to annoy more seasoned adventurers is the immaturity of the puzzles, the sort of things that anyone can see are obviously puzzles: Why is there a monk's habit hanging on a tree branch? Why is there a rope lying in the forest?
Despite this minor point, Future Wars is a lot of fun.
Greg Knauss, December
Future Wars, $49.95. Interplay Productions, 3710 S. Susan St., Suite 100, Santa Ana, CA 92704 (714)549-2411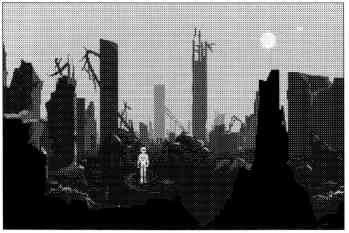 Future Wars
Hillsfar
Hillsfar is an adventure role-playing game that sports pretty good graphics, but is somewhat short on plot and long on frustrating "arcade" sequences.
The actual reason for you being in Hillsfar is never made clear. There's a vague reference to a despot and a merchant named Maalthiir, hut nothing definite: no royalty to rescue, no dragon to slay. The biggest challenge is trying to figure out what buildings are safe to enter and which ones put you into a mad race to escape the guards.
Within Hillsfar, you can recruit assistants, try to coax or buy information from the citizenry, practice your archery at the range and generally try to figure out why you are spending so much time playing this game.
David Plotkin, March
Hillsfar, $49.95. Strategic Simulations Inc., 675 Almanor Ave., Sunnyvale, CA 94086 (408)737-6800
Indiana Jones And The Last Crusade: The Action Game
Whoever designed Indiana Jones and the Last Crusade: The Action Game had to be, well, a sadist. I was hours and hours into gameplay and still hadn't made it through the first level. It would take another two weeks of sleepless nights before I'd finish the game. What were they trying to do to me?
Yet as I struggled through each level, died innumerable deaths and alternately cursed and praised the programmers, I realized that I wasn't just playfully addicted to Indy, I was obsessed.
If you're wondering how the game compares to the movie, I'll tell you: the movie's better, but that's mainly because it's shorter.
Tom Byron, February
Indiana Jones And The Last Crusade: The Action Came, $39.95. Lucasfilm Games, P.O. Box 10307, San Rafael, CA 94912 (4l5) 721-3300
Indiana Jones and the Last Crusade: The Graphic Adventure
Creating a graphic adventure based on a film is a tricky business. If you follow the plot too closely it won't be very fun or challenging for people who saw the movie. On the other hand, if the game has few or no ties to the picture, fans will he disappointed. With Indy: The Graphic Adventure Lucasfilm walks the tightrope perfectly.
One of the best features of Indy is that there are multiple solutions to many of the puzzles and you don't have to do things exactly the same way that they happened in the film. Another nice touch: While you can try to fight your way out of a confrontation, you can also choose to try to talk your way out by selecting a response from a group of onscreen choices.
Clinton Smith, October
Indiana Jones and the Last Crusade: The Graphic Adventure. $49.95. Lucasfilm Games, P.O. Box 10307, San Rafael, CA 94912 (415)721-3300
Maniac Mansion
Just as there are cult movies, so too are there cult games. One of those is Lucasfilm Games' Maniac Mansion, a crazy and funny adventure game filled with monsters and madness.
This is a game that's fun to play with three of your friends (or kids) hanging over your shoulder, telling you what to try next. Just be sure that you save the game often, as there's no telling when one of your team will meet an untimely demise - like just going to the kitchen for a snack!
If you like graphic adventure games, you'll want Maniac Mansion. Absolutely. It's not only a cult classic, but a fun way to spend (quite) a few hours.
Andrew Reese, April
Maniac Mansion. $19.95. Lucasfilm Gaines, P.O. Box 10307, San Rafael, CA 94912 (415)721-3300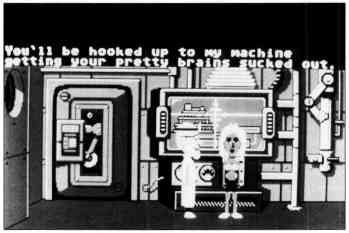 Maniac Mansion
Pipe Dream
Pipe Dream pits you against one of the most horrifying opponents imaginable -sewer sludge, or in this case, the dreaded flooz. As plumber in charge, you must pipe this gunk away as it flows from its source. You've got a well-filled pipe rack, with a variety of shapes (elbows, straights and cross pieces) to place on the gridded playing field. Unfortunately, you can only take the bottom piece in your dispenser.
Overall, I found the game addictive enough to keep me returning time and again to try for a higher score or a higher level. If not for its excessive cuteness and minor glitches, I'd rate this as a classic strategy game, right up there with Qix and Tetris.
Carolyn Cushman, August
Pipe Dream, $29.95. Lucasfilm Games, P.O. Box 10307, San Rafael, CA 94912 (415)721-330()
Pirates!
For anyone with fire in their souls and sharpened steel at their sides, 17th-century life as a pirate on the Spanish Main must have been glorious. ST owners can now get a taste of that glory, thanks to an award-winning program that is as special as the swashbuckling era it recreates.
Pirates! can't really be classified in any one software category, because it deftly blends the best elements of role-playing, arcade action, strategy and simulations into an engrossing adventure.
During the course of playing Pirates!, you'll have to trade with merchants, negotiate with politicians and scoundrels, sail and navigate the Caribbean, search for buried treasure, plunder towns and fight battles using cannons, swords and muskets. The drawings are rich in character and detail, although animation is a bit choppy and not overly impressive.
Scott Wasser, July
Pirates!, $44.95. MicroProse, 180 Lakefront Drive, Hunt Valley, MD 21030 (301)771-1151
Populous
The classic role-playing game lets a player assume a different persona to fight evil or find a hidden treasure. But the ultimate role to be played has to be that of a god. And Populous lets you take just that role.
There is only one goal in Populous: to defeat your rival god. As you move about the landscape creating lands for your followers and disrupting your rival's civilization, you'll see your opponent trying to do the same to you. When your population reaches a peak, you can call for the ultimate battle, Armageddon.
Populous is a fascinating, fun and challenging game. It's unlike any other computer game I've ever seen. Don't miss it, unless you're a dyed-in-the-wool arcade gamer who has no time for strategy.
Andrew Reese, January
Populous. $49.95. 1st Stop Computer Systems, P.O. Box 20038, Dayton, OH 45420 (800)252-2787
Powerdrome
Take the thrills of today's Grand Prix racing and high-speed jet piloting, integrate them with the excitement of future automotive technology and you've got Powerdrome, probably the hottest and the most imaginative racing simulation available for the ST. Just watching this game being played will send tingles down your spine.
To be totally honest, the graphics in Powerdrome are awesome! They truly have to be experienced to be appreciated. Sometimes I find myself unconsciously bobbing and weaving my head to avoid getting beaned by a low overhang that the racecar narrowly clears on the screen. Powerdrome pushes you and your ST to the limit.
Greg Perez, May
Powerdrone, $39.95. Microtyme, 4049 Marshall Road, Kettering, OH 45429 (800)255-3835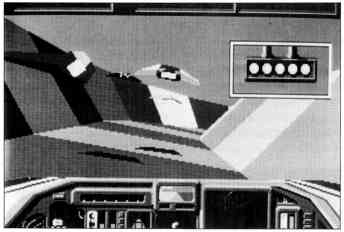 Powerdrome
Project Neptune
As Agent Rip Steel, you must destroy the undersea bases of the Yellow Shadow, who is mining uranium to sell to countries which would probably not make peaceful use of it. So begins Epyx's Project Neptune, a game which effectively combines strategy and action into a playable contest.
Project Neptune is lots of fun. Its arcade sequences are extremely well done, yet it is heavy with the need to make strategic choices.
There arc a few minor bugs with Project Neptune, and often in the heat of battle you end up in the wrong operating mode. The ending is anticlimactic, but you'll see what I mean when (if?) you get there.
Despite the minor complaints, Project Neptune is a rollicking good time.
David Plotkin, February
Project Neptune, $34.95. Epyx, 600 Allerton Drive, Redwood City, CA 94063 (415)368-3200
Quest For Glory
Quest For Glory, originally released by Sierra On-Line as Hero's Quest, seamlessly and entertainingly meshes the character development and skill building of role-playing games with the problem-solving framework of the traditional adventure. This is one of those rare games that has replay value upon completion.
As has been the case with Sierra's previous releases, the graphics are excellent, particularly the animated characters you meet along the way. Conversation with other characters is much more important in this game than previous titles; there is a pretty convoluted plot to unravel.
Aside from some minor quibbles, Quest For Glory is highly recommended. The humor, storyline and replay value make this a classic.
Harvey Bernstein, December
Quest for Glory, $59.95. Sierra On-line, P.O. Box 485, Coarsegold, CA 93614 (800)326-6654
Red Storm Rising
The manual is a veritable arsenal of information; it is, in fact, your best weapon. It consists of Operations, Captain's and Reference Manuals.
There are four Challenge levels. Introductory is recommended for the first few games. Normal is best for the casual players. Serious sees the enemy as up-to-speed, so you better be as well. The screen says it all for the Ultimate level: "Life can be brutal and short." On any level, however, Red Storm Rising is great strategic fun. Even if it is one of the last, it will rate as one of the best.
Wolf Griffey, June
Red Storm Rising, $44.95. MicroProse, 180 I Lakefront Drive, Hunt Valley, MD 21030 (301:771-1151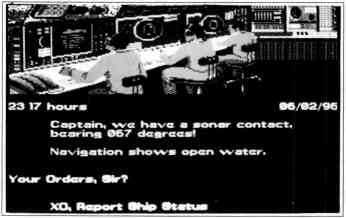 Red Storm Rising
Rick Davis' World Trophy Soccer
Based on the name alone, I had great expectations of Rick Davis' World Class Soccer. But unfortunately, it turns out to be more B class than World Class. As a pared down - almost arcade style - game, its fine, but as a true sports simulation, it's too limited.
The game is somewhat redeemed, however, by its simplicity. It's pleasant enough as an afternoon diversion. You can play it without the manual. But you don't need does for pinball either. If you're looking for some serious sport, better get your ball and head outside.
Scott Wasser, June
Rick Davis' World Trophy Soccer, $39.99. Virgin Mastertronic, 18001 Cowan St., Suite A, Irvine, CA 92714 (714)833-8710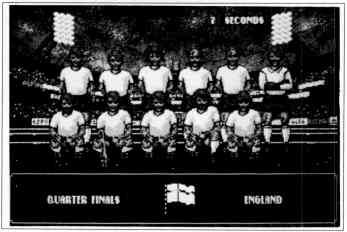 Rick Davis' World Trophy Soccer
Risk
Perhaps you, like myself, have fond memories of the Parker Brothers board game Risk. For those not familiar with it, simply put, each player starts out with armies stationed in countries around the world, then everyone tries to wipe out every other player's armies and conquer Earth.
This computer version is as good as the original board game. The interface is easy to learn and easy to use, but playing against another person means swapping seats in front of the computer. On the other hand, if the computer is your opponent, its almost ludicrously simple to out-strategize it since it always chooses Australia to defend.
Wolf Griffey, December
Risk, $39.99. Virgin Mastertronic, 18001 Cowan St., Suite A, Irvine, CA 92714 (714)833-8710
Robocop
It doesn't take long to figure out what Data East's Robocop is all about - just plug in a joystick, boot the game and start blasting away. That's all there is to it: no reading people their rights, no following "due course of the law."
Which is not to say that Robocop is a bad game. It certainly looks good, although the animated figures could be a little larger. There are nine levels and each one presents you with a different way to obliterate the opposition. Make sure you have a good joystick on hand - movement can be a little haphazard, especially when jumping.
Dave Gregg, June
Robocop, $39.95. Data East, 1850 Little Orchard St., San Jose, CA 95126 (408)286-7074
Shufflepuck Cafe
Shufflepuck Cafe is a fast-action game reminiscent of air hockey. It's fun to play, and as with most games of this type, adds some features that can't be found in the real-world counterpart.
Your opponents in Shufflepuck Cafe are a motley crew, each with a unique style of play. You can select
your opponent from the opening screen, or use the practice droid.
Shufflepuck Cafe has fast action so expect to feel it in your mouse-hand muscles after you play it for awhile. It's exciting and fun, with good graphics and sound. If you like air hockey, or any fast-pace game that requires nimble movement, check out this game.
David Plotkin, July
Shufflepuck Cafe, $39.95. Broderbund Software, 17 Paul Drive, San Rafael, CA 94903 (415)492-3200
Space Ace
Based on one of the most visually stunning coin-op arcade games of all time, this sci-fi follow-up to Dragon's Lair makes beautiful use of the ST's incredible 16-bit audio-visual capabilities.
While attempting to stop the evil Borf's plans of global conquest, Ace's sidekick, Kimberly, has been captured. Ace must make his way through Borf's evil traps so he can rescue her and put an end to Borf.
Space Ace features gorgeous background scenes and incredible, smoothly-animated characters cavorting within them. This is the best animation I've ever seen on the ST.
Unfortunately, many scenes from the arcade have been left out. The coin-op also featured multiple paths through the game so you could choose to go one way or another, and experience different storylines. To ease the flow of the home version (and lessen disk swapping), there is only one path through the game.
Clinton Smith, October
Space Ace. $59.95. ReadySoft Inc., 30 Wertheim Court, Unit 2, Richmond Hill. Ontario L4B 1B9 (416)731-4175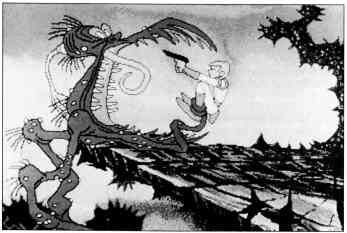 Space Ace
Space Quest III
Space Quest III: The Pirates of Pestulon is a playable, novice adventure particularly suitable for people getting their first taste of adventure gaming.
The graphics and animation are excellent. As you guide the hero, Roger Wilco, around the screen, he has a shadow in the lighted parts, and gets smaller if you move him towards the back of the room. The price you pay for all this is that each new room must be loaded from disk, an interminable process if you're using floppy disks.
All of the Space Quest series have had a touch of silliness, but Space Quest III is the most outrageous of them all. Everywhere you turn, there's off-the-wall humor. The Starship Enterprise makes an appearance, and Roger even does an imitation of the Honeymooners' Ralph Kramden.
David Plotkin, January
Space Quest III, $59.95. Sierra On-Line, P.O. Box 485, Coarsegold, CA 93614 (800)326-6654
Star Command
There are basically only two things that can happen in Star Command: communicating and fighting. Your encounters with other ships and beings are either friendly or hostile. If you have code-breaking skills, you can attempt communication, and try different tactics, like impersonating a deity or pleading for mercy. If you cannot achieve meaningful relations, fight.
The controls for Star Command are somewhat cumbersome. They consist of single-key commands, and question/answer interaction. A number of bugs showed up, and there are also some things I never did figure out, such as why a weapon sometimes showed up with an asterisk next to it.
Despite these small annoyances, Star Command is quite playable. Since different missions show up each time you start a new game, it remains a challenge.
David Plotkin, April
Star Command, $14.95. Strategic Simulations Inc., 675 Almanor Ave., Sunnyvale, CA 94086 (408) 737-6800
Stik-Gripper
The hand is not the steadiest of appendages, particularly for playing computer games. At the most critical times, a slip of the wrist can mean the difference between life and death. That's why a product like Stik Gripper is so handy. It's a joystick holder that keeps your game control rock solid. Flight simulation fans who often rely on both the keyboard and joystick will find Stik Gripper especially helpful. There appears to be a limit to the kinds of joystick it can accommodate. Know before you buy.
Dave Gregg October
Silk-Gripper. $18.95. Duggan DeZign Inc., 300 Quaker Lane, Suite 7, West Warwick, RI, 02886 (800)843-1223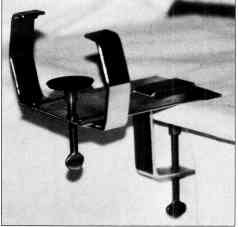 Stik-Gripper
Super Hang-On
I've never been much for car and motorcycle simulations - they all seem to do the same thing and once you've tried one, you've tried them all. Well, opinions can and do change.
Graphically, Super Hang-On is a treat - when you speed up, you really feel like you're speeding up. And the scenery even changes as you travel across the various continents. For instance, as you zip through North America, you see the hulking skyline of New York city change to the greenery of the northeast coast and the deserts of the southwest.
Dave Gregg June
Super Hang-On. $39.95. Data East, 1850 Little Orchard St., San Jose, CA 95125 (408)286-7074
Table Tennis
My first thought about a table tennis simulation was "Why bother? Haven't we evolved beyond Pong?" But Table Tennis is as far from Pong as the ST is from the old Atari 400. Its an excellent simulation of a serious, misunderstood, sport.
Game perspective is similar to what you see when you're actually playing table tennis (nobody who is serious about the game calls it ping pong); you look straight at your opponent across the table. Your opponent can be a friend or the computer. There are 20 fictitious computer foes to choose from, each possessing a different style and ability level.
About the only serious shortcoming in Table Tennis is you cannot practice serving. It takes a while to develop an effective serve, just as in real life. But then, that's why this is a real simulation.
Scott Wasser June
Table Tennis, $34.95. Digitech Software, 708 W Buffalo Ave, #200, Tampa, FL 33603 (813)222-0006
Targhan
The graphics and sound in Targhan are outstanding. The Targhan-character is big and animated in a very lifelike fashion. The backgrounds are often stunningly beautiful with little animated extras such as a browsing deer or a squirrel climbing up a tree.
I found Targhan to be a pleasing balance of adventurous exploring and arcade action, something that is not all that easy to find in computer games. And because of this balance, Targhan can be enjoyed on two levels: either as hack-and-slash arcade slaughter or as a role-playing quest. And the fact that it runs in monochrome as well as color will only heighten its appeal.
John S. Manor, March
Targhan. $29.95 Digitech Software, 708 W. Buffalo Ave. #200, Tampa, FL 33603 (813)222-0006
TV Sports: Football
The graphics in TV Sports: Football are fair. The players move quickly and change direction with every twitch of your joystick. Balls can be kicked or thrown as precisely as you can control the stick. It can, however, be difficult to see whether a ball is caught or dropped, and occasionally, a runner's progress is impeded by a blocker or stopped by a tackler even though there appears to be daylight between the two players.
Although TV Sports: Football has its drawbacks, it ranks far above most other sports simulations. Thanks to the responsive graphics and excellent user interface, it is a great deal of fun to play.
Scott Wasser, June
TV Sports: Football, $49.95. Cinemaware Corp., P.O. Box 5083, Westlake Village. CA 91359 (800)527-4391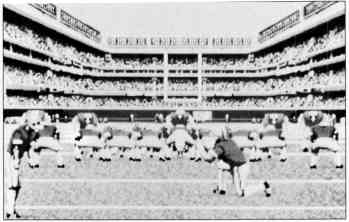 TV Sports Football
Wayne Gretzky Hockey
To some fans, ice hockey is a sport of power and violence. To others, it's a well-choreographed dance of finesse and precision. And to still others, it's a strategic battle of the wits; a chess game on ice. Wayne Gretzky Hockey is all of these. It's one of the most complete, realistic and engrossing computer sports simulations ever created for the ST.
Scott Wasser, June
Wayne Gretzky Hockey, $49.95. Bethesda Softworks, 13235 Shady Grove Road, Suite 100, Rockville, MD 20850 (800)677-0700

HARDWARE
Advanced Gravis MouseStick
The Advanced Gravis MouseStick is a controller for the ST that can replace your mouse, joystick or both. It consists of two units: the stick itself and the Gravis Mouse Processing Unit (GMPU). The stick is mounted on a wide, stable base with rubber feet, and is connected to the GMPU, which plugs into your joystick or mouse port. There are two fire buttons on the base and one on top of the stick.
The Gravis MouseStick is a powerful alternative controller that includes a whole lot of options - if you need them. But quite frankly, I find it much easier to simply manipulate my cursor with a regular old mouse and play games with an eight-position joystick. But you may feel differently. If you've been looking for these features, then you'll definitely want to check it out.
David Plotkin, August
Advanced Gravis MotiseStick, $99.95. Advanced Gravis, 1602 Carolina St., Unit D-12, Bellingham, WA 98226 (604)434~7274
FA.ST Tape Backup
The drive is fast, accurate and works very well. It isn't cheap, but it will pay for itself in peace-of-mind and in the ability to easily restore your precious data if you should ever need to.
Is the FAST Tape Backup for you? If you don't store lots of important data on your hard drive, or you really do backup to floppy on a regular basis, then I guess not. But if your livelihood depends on that data, or you value your peace of mind, then I highly recommend it. For just a few minutes a day, you can make sure your data is backed up and safe. And, the first time you have hard drive trouble, you'll be extremely glad you did buy one - I know, because it's already happened to me.
David Plotkin, May
FA.ST Tape Backup, $999.95. ICD Inc., 1220 Rock St., Rockford. IL 61101 (815)968-2228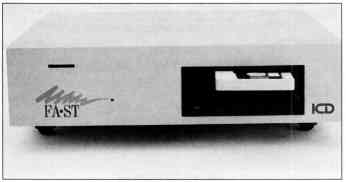 FA.ST Tape Backup
Lynx
All its hype is justified: The games available for the Lynx are some of the most addicting in years and overall the system blows Nintendo's GameBoy out of the water.
The 4MHz processor keeps the action fast paced and custom chips handle tasks normally done in software. The hardware allows for an infinite number of sprites, has a built-in scaling system to create realistic scenes as you approach or move away from objects and has collision detection. Internally, the joypad and buttons use switches with conductive rubber contacts that provide high reliability.
Atari's Lynx is a really high-quality game system. The action is very realistic, fast, and smooth. I have gone through three sets of batteries and several hours of AC power in only two weeks of use. Atari has a hit in their hands, literally.
Stephen Mortimer, April
Lynx, $179.95. Atari Corp., 1196 Borregas Ave., Sunnyvale, CA 94086 (408) 745-2000
MASTER-3S Disk Drive
The MASTER-3S from Konyo International looks very much like the Datel drive. The MASTER-3S, however, has a standard connector, so you can replace the cable if it fails. It also sports a daisy-chain connector, making it suitable as either an A: or B: drive. The MASTER-3SD, which sells for $20.00 more, displays the track number.
James Burton, December
Master-3S Disk Drive, $169.00. Konyo International, 1073 N. Batavia St., Suite B. Orange, CA 92667 (714)633-1026
MegaByte Disk Drive
The MegaByte drive from MegaByte Computers is almost the twin of the Datel RF3O2R. Approximately the same size as the Datel, it also lacks a removable cable and a daisy-chain connector, plus, it does not have a power switch.
The unique thing about the MegaByte drive is that it draws its five volts of power via a cable attached to the ST's joystick port. This arrangement leaves your joystick port unusable, unless you have a connector which allows you to plug two joysticks into one port. Another option is to buy the external power supply from MegaByte, which costs $19.95.
James Burton, December
MegaByte Disk Drive, $139.95. MegaByte Computers, 909 Melbourne, Hurst, TX 76053 (817)589-2950
Megafile 44
I've not opened up Atari's Megafile 44, so I don't know its internals. The case is much like a Megafile 30 case, with a hole cut in it for the hard disk to go through. I would guess Atari is using their standard ACSI-SCSI interfacc boards and power supplies. I have no idea why Atari, which can build things less expensively than anyone else, is charging more than its competition for this drive.
Atari, as usual, supplies their HDX software; you'll want HDX 3.01 (or later) to handle these drives, as special software is needed to handle changing hard disks in mid-session.
David Small and Doug Wheeler, March
Megafile 44. $l,195. Atari Corp., 1196 Borregas Ave., Sunnyvale, CA 94086 (408)745-2000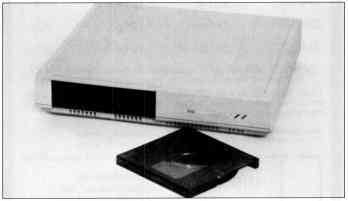 Megafile 44
SQ-44 ST
The drive's technology is based on the Syquest 44MB removable cartridge. In other words, the actual "platter," the place on the hard disk where data is stored, is portable between Syquest drives. The platter itself is protected by a very tough clear-plastic case.
The Carter Graphics case we saw is light, compact and very portable, about the size of a half-height hard disk and power supply; if you need to lug around a disk drive, this is ideal. It would easily fit in a briefcase.
Carter Graphics also offers a Syquest disk pack crammed full of Atari ST public-domain programs, pictures and so forth, for $15 over the cost of blank media. When I identified myself and asked some fairly technical questions, they had no trouble answering them.
David Small and Doug Wheeler; March
SQ-44 ST, $779.00 (base price). Carter Graphics, 914 W. Sunset Blvd., St. George, UT 84770 (801)628-6111
Toadfile 44
The Toadfile case is pretty big; it has room for another drive internally, which could be just the ticket if you'll plan to expand later. (Adding the drive would be a matter of extending the SCSI cable inside - a few hour's easy work at most).
The Toadfile 44 units are essentially the same component brew as the Megafile 44 and the SQ-44 ST: box; power supply (off-the-shelf stuff); ICD interface (excellent), which translates Atari's "ACSI" DMA to industry-standard SCSI; and the Syquest 44 meg SCSI drive. That's it. The ICD interface gives you a battery-backed-up clock as well, so your ST doesn't forget what time it is when you turn off the system.
Each drive connects through the ST's DMA port, and can be "daisy-chained" with other DMA equipment, such as the SLM-804 laser printer, other hard disks, CD-ROM players, etc.
David Small and Doug Wheeler; March
Toadflle 44, $799.00. Toad Computers, 556 Baltimore Annapolis Blvd., Severna Park, MD 21146 (301)544-6943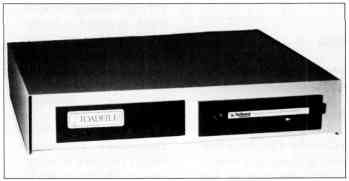 Toadfile 44
RF302R Disk Drive
The Datel RF302R is so small that its tan-colored metal case is barely larger than the drive mechanism. Like most drives, it has an On/Off switch in the back of the unit. But it does not have a daisy-chain port, which relegates it to being the B: drive in a two-drive system. Also, the data cable is permanently attached; a bad cable means sending the whole drive for service.
James Burton, December
RF302R Disk Drive, $129.95. Datel Computers, 3430 E. Tropicana Ave. #67, Las Vegas, NV 89121 (800)782-9110
SF314 Disk Drive
The largest drive available for the ST, the Atari SF314 has a plastic case styled to match the ST computer, a bonus to those concerned with aesthetics. The SF314 has everything that should be considered standard on an external drive, including a port for daisy chaining a second drive to the system.
James Burton, December
SF314 Disk Drive, $299.95. Atari Corp., 1196 Borregas Ave., Sunnyvale, CA 94086 (408)745-2000

MIDI
Cubase
Once you've laid hands on a product that makes your work faster or more intuitive, it's painful to go back to the old ways. That's my gut response to Cubase. Cubase combines the best of several sequencing styles into a logical and efficient graphical environment.
Cubase version 1.5 sports a number of enhancements over the original release version: a new editing window, a new quantization type, an Auto Save function, support for Moniterm's 19-inch monochrome monitors, built-in mouse accelerator and the list goes on. In addition, compatibility problems with GDOS and TOS 1.4 have been corrected (though it's still incompatible with the popular PinHead system accelerator program from CodeHead).
Any sequencer with this range of capabilities and such a friendly and efficient graphic environment is attractive. If you've got the bucks, Cubase is highly recommended.
David Snow, August
Cubase, S579.00. Steinberg/Jones, 17700 Raymer St. #1001, Northridge, CA 91325 (818)993-4091
Dr. T's T-BASIC
T-BASIC is the first programming language for the ST designed specifically to interface with a high-end MIDI sequencer. It's a superset of ST BASIC and runs either as a stand-alone program or under Dr. T's Multi-Programming Environment. In addition to the standard repertoire of BASIC statements and functions, it provides command and data-structure access to Dr. T's popular Keyboard Controlled Sequencer (KCS) and the sequence data files created by it. The manual shows you how to adapt standard BASIC programs to run under T-BASIC.
If you know standard BASIC and are looking for a way to do some MIDI programming without writing a lot of low-level code, T-BASIC may meet your needs, especially if you own KCS. If you're already a programmer and use a sophisticated editor you may feel a bit cramped in the T-BASIC environment.
Steve Johns, May
Dr. T's T-BASIC, $149.00. Dr. T's Music Software, 100 Crescent Road, Suite 1B, Needham, MA 02194 (617)455-1454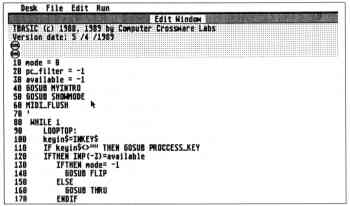 Dr. T's T-Basic
Final Cut
Final Cut has everything a musician needs in a software sequencer. Furthermore, it's designed to resemble a multitrack tape deck which makes it very easy for beginning musicians to learn MIDI, while still being useful to professionals.
The program makes good use of GEM, letting you use your mouse for all processing (though there are keyboard equivalents for most functions). One nice feature is the ability to set your own expertise level. When you're first learning, you get more help but, as you become familiar with the program, the help disappears and doesn't get in the way.
I put it to the test, playing complex pieces like Gershwin's "Rhapsody in Blue." It handled all four hands of fast piano without a lost note. Overall, Final Cut is simple enough that the beginner won't be lost, advanced enough that the professional will be comfortable and perfect for everyone in between.
Rick Duff, February
Final Cut. $89.95. Legend Software Systems, 3508 34A Ave., Edmoiiton, Alberta T6L 5E8 (403)450-0736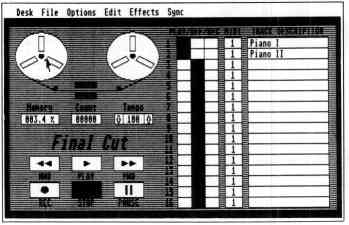 Final Cut
Pro MIDI Player
The basic function of the Pro MIDI Player is to access and play a large number of MIDI sequences without having to load from disk during a performance. Standard MIDI level 0 format files are supported (single stream, multichannel), as well as real-time recording of MIDI sequence and system exclusive data.
Unfortunately, there are absolutely no editing capabilities. Only record and playback are implemented, along with a couple of features such as a text file to accompany sequences and external display of song name and status messages to synthesizer alpha-numeric displays.
As is often the case with software designed for complex musical requirements, Pro MIDI Player offers some nice features while excluding others that many people may find necessary. For example, there is no way to automatically send a Start message at the beginning of playback to trigger a drum machine (or a Stop at the end!).
Should you base your performance system around the Pro MIDI Player? This depends largely on your budget. For the price, it offers a reliable performance system that will continue to grow as more updates become available.
Mibai Manoliu, October
Pro MIDI Player, $99.00. Pro MIDI Systems, Box 13, Laurier, WA 99146 (604)447-6264
Tiger Cub
Leave it to Dr. T's to bring MIDI to the novice user. Tiger Cub is a synthesis of several Dr T's programs: The MIDI Recording Studio, Keyboard Controlled Sequencer (for recording and playback), TIGER (graphical MIDI data editing) and The Copyist (scoring). It also includes The Multiple Program Environment (Dr. T's proprietary multi-application manager), which lets you switch between up to eight other Dr. T's programs, depending on your memory configuration.
The manual explains the basics of the programs in Tiger Cub, as well as general MIDI concepts, and includes a short tutorial, reference tables and index. But the program is so friendly that you'll soon use the manual as a reference rather than a crutch.
The folks at Dr. T's Software have clearly gone out of their way to make Tiger Cub intuitive and instructive. Once you understand the basic concepts of MIDI, you'll be making music with the best of 'em.
Robert Edson, November
Tiger Cub, $99.00. Dr. T's Music Software. 100 Crescent Road, Suite 1B, Needham, MA 02194 (617)455-1454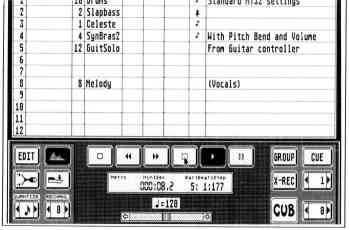 Dr. T's Tiger Cub
UTILITIES
DC Utilities
(Editor's Note: Current version is 2.0.) Every so often a utility comes along that's so valuable you wonder how you ever got along without it. Double-Click Software's DC Utilities is a package that includes seven (count 'em) such wonders.
DC Squish compresses executable programs, like .PRG, .TTP and accessories. DC Xtract is one of the fastest programs for extracting ARC files. DC Deskey lets you define your own menu equivalent keyboard commands. DC SEA takes an ARCed file and converts it into a self-extracting ARC file. DC Desk Organizer lets you customize your desktop; it creates a .PRG file that sets up the desktop exactly as you specified in the .INF file. DC Ramit lets you set up a RAM disk with any available drive.
Overall, DC Utilities is an outstanding buy. The programs are not copy protected and customer support is excellent, both by phone and BBS. This package definitely has my recommendation.
David Plotkin, August
DC Utilities. $39.95. Double Click Software, P.O. Box 741206, Houston, TX 77274 (713)977-6520
Diamond Back Version 1.0
(Editor's Note: Current version is 2.0.) The most unique feature of Diamond Back is that you can specify exactly what you want to back up. This program can back up your entire disk, perform an incremental backup, back up only selected directories or files, and compress and encrypt files.
The restore dialog box lets you restore to any drive partition, but you must tell the program if the files are compressed or encrypted. Oddly, the program doesn't code this information on the disk.
Diamond Back is a very powerful, flexible program that does the job it is intended to do and does it very well. It comes with an excellent manual and is highly recommended - especially for its incremental backup feature.
David Plotkin, January
Diamond Back. $39.95. Data Innovations inc., 127 N. Front St., Rising Sun, IN 47040 (812)438-3733
Hard Drive Turbo Kit
This package of hard-drive utilities includes a backup facility and an optimizer combined in one program called Toolkit. The other program in this package is called M-Cache, which provides a RAM cache for your hard drive.
Toolkit doesn't really have a manual. Oh, there's a bunch of paper stapled together and labeled "Manual," but it is absolutely worthless. None of the items in the drop-down menus are explained, nor why you might want to use some of the more arcane ones.
Fortunately the cache and optimizer programs aren't complicated enough to suffer from the poor documentation. All three pieces of the package are solid and useful, even if you aren't brave enough to experiment with the mystery functions.
David Plotkin, January
Hard Drive Turbo Kit, $59.95. MichTron, 3201 Drummond Plaza, Newark, DE 19711 (302)454-7946
Universal Item Selector III
The Universal Item Selector is probably one of the most popular products ever developed for the ST. It is an invaluable substitute for the inadequate file selector native to the ST's operating system.
With its many enhancements, it is well worth the price, and the upgrade policy ($5 with UIS II) is more than fair. The small manual is excellent and a great improvement over earlier versions as well. This is one of those pieces of software that, once you've tried it, you don't know how you ever lived without it.
David Plotkin, December
Universal Item Selector III, $24.95. Application and Design, 909 NW Slarlite Place, Crants Pass, OR 97526 (503)476-0071

WORD PROCESSING
1st Word Plus
The big brother of 1st Word, this document processor is a welcome relief to users who are still using the original program released in the early days of the ST. All files from the original program are completely compatible, but 1st Word Plus adds enough options to make it infinitely more valuable than its predecessor. It can import pictures and works with the fonts included with your printer.
A powerful mail-merge program and picture-conversion utilities are included within 1st Word Plus along with an intelligent spell checker that uses a 40,000-word dictionary. At this time, 1st Word Plus is the only program that incorporates graphics and still allows access to a spell checker.
Dan Fruchey April
1st Word Plus, $99.95. 1st Word Plus, P.O. Box 15008, Portland, ME 04101 (207)874-0702
Script
Script includes multiple fonts, graphics importation and an effective interface that make it an impressive product, until, that is, you try to print.
Installing Script is a snap. It is completely GEM-based, and very fast. It can display up to four documents in separate windows.
Script supports the usual word processing functions. It saves and imports ASCII text, but cannot read any other format.
The problems with Script are primarily in the printing. Margin settings are particularly frustrating. You cannot set the right or bottom margins, only the left and top. To add to the frustration, these margin settings don't get saved so you must set them every time you reload the file. Printing with the top margin set causes a document to run off the bottom of the page in normal printing mode, although not in draft mode.
David Plotkin, October
Script version 1.0, $79.95. Megamax Application Systems, 1200 E. Collins #214, Richardson, TX 75081 (214)699-7400
Tempus II
Tempus II is a slick text editor that provides almost any option a programmer could ever ask for. It includes a built-in RPN calculator, character-conversion tables, and a unique file-selector box with masking templates for locating source codes. It uses its own desktop that includes GEM-like icons such as a trash can, clip-board and disk drives.
I can only recommend Tempus II for programmers; it's too specific for those who only need to edit text on a casual basis. It takes sometime to understand the many modes available in this text editor, but learning time is much shorter than that required with a text processor.
Dan Fruchey, April
Tempus II, $79.95. MichTron, 3201 Drummond Plaza, Newark, DE 19711 (302)454-7946
Wordflair Version 1.0
(Editor's Vote: Current version is 1.12.) Goldlcaf has finally released Wordfiair, a unique document processor that at one time was to have been released under the Atari software label. Wordflair combines multiple GDOS fonts, math functions, a graph generator, database and graphic importation with text processing in an exciting way. The program creates everything internally except image and metafile graphics, which must be imported.
It's the closest thing I've seen yet to an all-in-one product. Wordflair is great for creating forms and form letters and will increase speed and flexibility in business settings. With Wordflair you can concentrate on creating a page, not the half a dozen additional programs you normally need to create a page that uses all of these page components.
Dan Fruchey, April and June
Wordflair, $99.95. Goldleaf Publishing Inc., 700 Larkspur Landing Circle, Larkspur, CA 94939 (415) 461-4552
WordPerfect
One of the most powerful text processors available on any system has made its way to the Atari market. While it's a little option heavy for many home users, it will cover any growing needs.
Learning to use the functions completely requires more time than most other products because of the many options available. The program is highly configurable and, once you have defined base page layouts and your own macros, much of the page-creation process is automated.
Product support is excellent, with regular upgrades and unlimited phone support from knowledgeable representatives. Atari owners who have used the program on PCs will have no problem running WordPerfect almost immediately.
Dan Fruchey, April
Word Perfect, $250.00. WordPerfect Corp., 1555 N. Technology Way, Orem, UT 84057 (801)225-5000
Word Writer
At the time of this writing, Word Writer is the most popular text processor available for the ST. Small wonder: It's well rounded, easy to use and logically organized. The program takes advantage of almost every standard word-processing function the average user requires.
The program includes document outliner, thesaurus and spell checker with a 90,000-word dictionary. The dictionary is not very intelligent, slowing the correction process, but it is adequate for most uses. The only major addition that can be made is a footnoting function. Timeworks has not released an upgrade in two years but they provide ongoing support by phone.
Dan Fruchey, April
Word Writer, $79.95. Timeworks Inc., 444 Lake Cook Road, Deerfield, IL 60015 (708)948-9200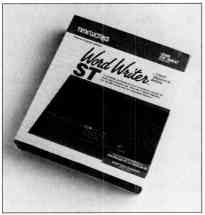 Word Writer ST