PRODUCTS UPDATE
SC1435 Stereo Color Monitor call for price
Atari Corp.
1196 Borregas Ave.
Sunnyvale, CA 94086
(408) 745-2000
Atari recently began shipping a new color monitor, boasting two stereo speakers which take advantage of the STE's eight-bit, digital, stereo sound. The monitor is a complete redesign of the SC1224.

Double-Sided Drive
$90.00
Data Base Computer
Systems
321 E. 100 South
Manti, UT 84642
(801) 835-8441
Data Base is selling Teac and Toshiba 3.5-inch, double-sided floppy drives as replacements for the ST and Mega. These drives have been modified to be "plug-and-play" units, will step easily to 83 tracks and come with templates and installation instructions.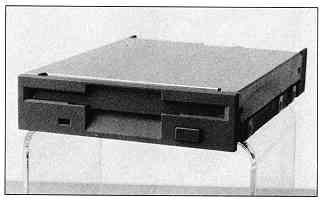 Data Base Computer Systems' Double-Sided Drive

The Keyboard X-Tender $74.95
Diverse Data Products
P.O. Box 695324
Miami, FL 33269
(305) 651-2393
Unhappy with the present ST keyboard? Plug in the Keyboard X- Tender and hook up an IBM AT-style keyboard to your ST, hassle free - no internal wiring, no soldering, no unscrewing.

"How Computers Work: A Journey Through The Walk-Through Computer" (Video) $19.95
The Computer Museum
Museum Wharf
300 Congress St.
Boston, MA 02210
(617) 426-2800
An educational videotape that explains how computers work by taking viewer.s inside a giant model of a desktop computer is now available. Produced by the Computer Museum in Boston with funding from the Intel Corporation Foundation, the 25-minute video uses the museum's new exhibit, the Giant Walk-Through Computer, to explain graphically and dramatically how computers work.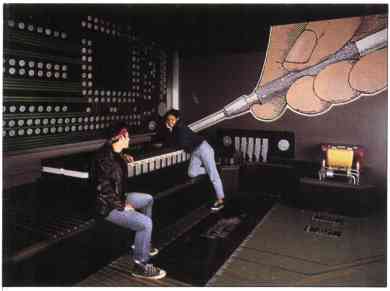 "How Computers Work: A Journey Through The Walk-Through Computer"

Special Edition Turbo Out Run $49.95
Sega
300 Sand Hill Road
Suite 180
Menlo Park, CA 94025
(415) 854-8290
More power, faster speeds, more choices, more strategy. That's what a brand-new special edition of Turbo Out Run has to offer sports car drivers. Each of 18 Cities represents one leg of a tire-screeching, head-to-head race against your key opponent, a Porsche 959.

Neural-Network Construction Set $49.95
Apprentice Software
Box 41277
Indianapolis, IN 46241
(317) 297-1552
Neural networks are an emerging artificial-intelligence technology that has been applied in many diverse fields such as image and pattern recognition, regression analysis, sales forecasting and music composition. The Neural-Network Construction Set is a full-featured neural-network simulator which facilitates the setting up, training and use of feedforward neuralnetworks.

Master 3SD Disk Drive $189.00
Konyo International Inc.
1073 N. Batavia St.
Suite B
Orange, CA 92667
(714) 633-1026
A new 3.5-inch, double-sided disk drive is available, featuring an LED track display, a cable and a separate power supply. Product comes with a one-year warranty.

Dragon's Lair II: Time Warp call for price
Readysoft Inc.
30 Wertheim Court, Unit 2
Richmond Hill, Ontario
L4B1B9
(416) 731-4175
Princess Daphne has been spirited away to a wrinkle in time by the evil wizard Modroc who plans to force her into marriage. Only you, Dirk the Daring, can save her.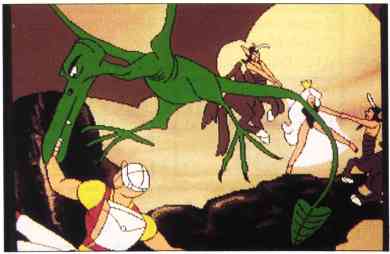 Dragon's Lair II: Time Warp

Dataken $49.95
GT Software
12114 Kirton Ave.
Cleveland, OH 44135-3612
(216) 252-8255
Dataken goes far beyond a word processor in that it edits any kind of data file whether it be ASCII, binary or mixed format. Display and edit one-, two- or four-byte scalars, unsigned scalars in decimal, hex, octal or binary format, and single and double precision floating point numbers. Contact GT Software for more details.

Lynx Accessories:
Carrying Case $14.95
Sun Visor $4.95
Cigarette-Lighter Adaptor $19.95
Atari Corp.
1196 Borregas Ave.
Sunnyvale, CA 94086
(408) 745-2000
Enjoy arcade-quality excitement anywhere with three new Lynx accessories. The customizeable nylon carrying case holds a Lynx, ComLynx cables, spare batteries and game cartridges. The sun visor guards against daylight glare and protects the screen from scratches. The cigarette-lighter adaptor allows two players to plug into any standard car lighter.

PDC Fax/Modem $129.95
PDC
4320-196th SW, Suite 140
Lynnwood, WA 98036-6721
(206) 745-5980
PDC announces an external modem that can be used to transmit computer data and send faxes. The modem is a Hayes-compatible, 2400-baud modem with 9600-baud fax-transmission capability. The PDC modem and fax work with Spectre GCR and all IBM emulators. Included in the PDC package are coupons worth $275.
Support Your Local Atari Dealer

Manufacturers' addresses and phone numbers are published for the convenience of our readers. We encourage anyone interested in these products to first check their local Atari dealer for availability before contacting a company directly.

Caveat

Products Update listings are compiled by the START staff from information provided by manufacturers. START welcomes new product announcements, but assumes no responsibility for the accuracy of these notices or the performance of the products listed. Please send all press releases to:

Products Update
START Magazine
544 Second St.
San Francisco, CA 94107