FOR THE FUN OF IT
OF RINGS, RESCUES
AND REALISM
In Which DeMunn Thanks Her Mouse, Futral Thanks His
Son And Knauss Says No Thanks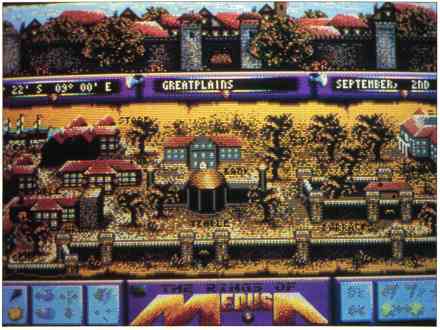 Rings of Medusa
Rings of Medusa
BY ELIZ.ABETH DEMUNN
The hype proclaims: You'll love this game - we guarantee it!" Love? Well, you'll definitely establish a long-term relationship with this German import, depending on your ability to cope with logistics, Statistics and linguistics.
Consider the language. In translation something is lost, including the player. The brief manual is frustratingly low-wattage and printed in minute italics. You're pretty much on your own to decode the stilted phrases and discover the complicated method of play. Rings of Medusa has a European flavor that takes some getting used to, as does warm beer.
I Know This Story
Does this scenario ring a bell? Evil goddess Medusa is trying to take over Morenor, a tranquil little kingdom on an backwater planet. She's out to conquer the world with her army from Hell. You, as young prince Cirion, must find five rings, place them in a temple, and call forth Medusa for the final and deciding battle. In the meantime, you must trade goods, build an army, buy cargo ships and battleships, establish mines, discover treasure, explore a continent and four islands, and generally keep busy. The year is 1432 and time goes by a day a second. It took me seventy years to snuff Medusa.
In Rings of Medusa, money is everything. Don't get serious until von have thirty or forty million at least. You start out with a small loan from the bank. Being a gambler, I headed right for a pub and started playing a bastardized version of blackjack. Soon I had enough money to buy some horses and wagons to begin trading.
Squint City
So much is going on at one time that the graphics are necessarily small. For example: A screen depicting a town contains a temple, a bank, a park, a store, a pub, an armory, a barracks, a jewelry store and a harbor if it's on a coast. Plus you have a top screen with a zoom-view of the buildings and a bottom screen with assorted action icons. It's a miniature miracle; take time to examine the remarkable detail of every scene.
AT A GLANCE

Game:

Type:

Company:


Price:

Requirements:

Summary:



Rings of Medusa

Role-playing game

Digitek Software
708 W. Buffalo Ave. #200
Tampa, FL 33603
(813) 222-0006

$39.95

512K, color monitor

Patience and a forgiving
mouse are the keys to winning
this absorbing adventure.
The game scrolls effortlessly screen by screen, with changing co-ordinates and dates always visible above the main screen. To find a treasure or a mine you send out scouts who report success or failure after several days. Then try to pinpoint its exact pixel with a trembling mouse. Frustration sets in. My first mouse ran away to join a research lab. His click quit. But other than an occasional [Return], Rings of Medusa depends on an agile, muscular mouse.
Rings of Medusa is cluttered with lists. Don't bother recording prices, quantities or populations. They change. There's a notice board in town to type in important facts. Use it. Mapping isn't necessary but I did sketch a rough map of the main continent with its 30-plus towns and castles.
Save, save, SAVE after the least little stroke of luck. Your pre-formatted save disk can hold at least thirty games.
Cirion To The Rescue
Rings of Medusa isn't for everybody. There are no sub-quests. There are no riddles or puzzles to solve, no never-ending mazes. I admit to spending happy hours shopping and exploring.
Many of my adventurers are long lost in dungeons too difficult to navigate. Rings of Medusa was an ego trip because I finally saved a lovely little kingdom from the forces of evil -forever?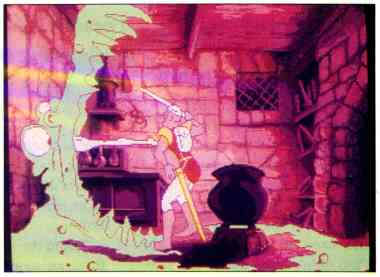 Dragon's Lair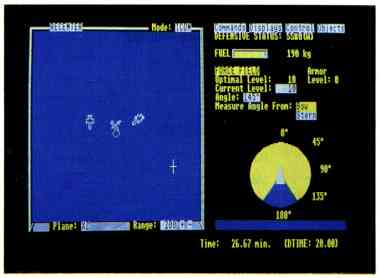 Just Another War In Space

Dragon's Lair
BY GARY FUTRAL
"Jump right ... now!" my coach said. The evil Black Knight's sword sparked and clanged against the floor. He chuckled as he watched Dirk dance. I pressed the appropriate key, causing Dirk the Daring to jump to an adjacent tile to avoid the crackling electrical jolt that raced from the sword tip. But it was too late. Dirk was dirt.
"No! No!" my coach yelled at me and threw his hands up in the air. "You didn't do as I said. You waited too long!"
"Hey, kid. Don't yell at me like that. I'm your father, remember?" My son quieted down and calmly resumed showing me what to do.
All right. I admit I can't play Dragon's Lair. In fact, I would say that if you are under 10 years old you may not want to buy this game. You may find it too easy! Actually, I'm only kidding. The only reason my son did so well is that another kid at his school already had it and told him what to do - at least that's what I kept telling myself.
For those who missed the original arcade version of Dragon's Lair, ReadySoft gives you a second chance to experience cartoon animation. The graphics are computer generated and a joy to watch, listen and play You really feel like you're watching a cartoon as you interact with it.
AT A GLANCE

Game:

Type:

Company:





Price:

Requirements:

Summary:



Dragon's Lair

Graphic adventure

ReadySoft
30 Wertheim Court, Unit 2
Richmond Hills, Ontario
L4B 1B9
(416) 731-4175

$59.95

512K, color monitor

Better than a Saturday-
morning cartoon, because
you're in the middle of it.
I pressed the appropriate key,
causing Dirk the Daring to jump,
but it was too late.
As Dirk the Daring, your objective in Dragon's Lair is to enter a castle, make your way past eleven scenes of traps and horrendous monsters to rescue the fair Princess Daphne.
I used the word "scenes" because those are exactly what you are presented. Each scene is predetermined. It is up to you to figure out the correct key combinations (up, down, left, right, swing sword) to get Dirk out of a particular predicament.
Dragon's Lair allows you to use either the joystick or the keyboard. I found that unless you have a joystick that can lock out the diagonal positions the keyboard gives you better control.
So, grab some popcorn, invite your friends and, if you have a pre-teen son, take my advice: keep him handy.

Just Another War In Space
BY GREG KNAUSS
Every once in a while, a reviewer finds a game he desperately wants to like. The program usually comes from a small company, maybe a start-up, and he admires their fortitude. The game usually has several features to respect - unique tricks performed by a sole programmer -and he can easily see how it came to be professionally published. Regretably, more often than not, the program also has a fatal flaw, something that is fundamentally wrong with it, something that prevents the reviewer from recommending the game. Just Another War In Space has such a flaw.
In J.A.W.S., the player commands the forces of either the Federation or the Empire, which are engaged in a space-borne civil war. You can play seven scenarios, ranging from a simple clean-up operation involving little more than launching a few missiles at enemy craft to a full-blown rebellion that takes place over an entire star cluster. J.A.W.S. is an incredibly complex program. It offers an impressive amount of realism, and has enough variables and options to thrill the tactics buff. Track speeds, measure angles, and, for the truly hardcore, the manual offers mathematical formulas to calculate acceleration and trajectory.
Unfortunately, all that impresive realism is lost while playing the game. The user interface J.A.W.S. employs is, in a word, horrible. Non-intuitive and slow, the interface (ignoring the sparse vector outlines of ships) is actually text-based! You almost could play this program on a teletype and not notice any difference. Pseudo-GEM menus and buttons are available, but they are a far stretch from the real thing.
AT A GLANCE

Game:

Type:

Company:





Price:

Requirements:


Summary:


Just Another War In Space

Strategy

Azeroth Publishing
3020 Issaquah-Pine Lake Rd.
Suite 341
lssaquah, WA 98027
(206) 392-9941

$49.95

1MB, color monitor,
double-sided drive

The interlace avoids GEM,
so avoid this game.
Just Another War In Space has the potential to be not just another computer game. It is a sophisticated program, a strategy game with a lot to offer those willing to muddle through its archaic interface. With a GEM front-end, I would easily recommend it to anyone looking for detailed space combat, but as it is, only the dedicated are likely to want to take the time.
Just Another War In Space
has the potential to be not
just another computer game.
Fire Brigade: The Battle for Kiev, 1943
REVIEWED BY WOLF GRIFFEY
In November 1943, the Russian and German armies met in what was to become the largest mobile battle ever to be found. It began with the movement of the elite Soviet 3rd Guards Tank Army and was countered by the German "Fire-Brigade," the 48th Panzer Korps.
That World War II battle is replayed in Fire Brigade. This is the type of simulation the hard-core player wants. The features - review staff plans, receive reports, rest troops, attack and detach units, send attack/defense orders, set mission limits -make it possible to act as a true top commander of troops would. You can play the computer, another person, or even a game networked via modem or cable.
AT A GLANCE

Game:

Type:

Company:


Price:

Requirements:



Summary:


Fire Brigade

War game

Panther Games
P.O. Box 5662
Derwood, MD 20855
(301) 977-3379

$50

512K for mono or two-color
version, 1MB for four-color
version

As close to the real thing
as you'll find in silicon.
The Battle for Kiev was a 50-day campaign, so take your time with this simulation and enjoy the challenge.
Actress Elizabeth DeMunn performs regularly in her hometown of Buffalo, N.Y. Chemical engineer Gary Futral lives with his wife and three children in South Carolina. Greg Knaaaaaauss can speak knowledgeably about the anti-Federalist stance of several members of the Continental Congress. Wolf Griffey is a former military pilot.