CYBORG
AT THE
CONSOLE
An Automated
Mixing Overview
BY PAUL M. KEEFE AND JIM PIERSON-PERRY Music/MIDI Editor
It's 4 a.m. and you want to die. You've spent the last 12 hours mixing the one song that will launch your career - and its sounding worse and worse by the minute. If only you had captured that great mix you did at 8 o'clock last night! Well, don't just sit there feeling sorry for yourself. Apply a little prevention at your next keyboard session. Put your ST to work for you: Automate the mixing process. With automated mixing, you can keep as many takes as you want, plus have the freedom to experiment for more creative effects.
MIDI mixers range from sequencer software to hardware MIDI controllers to fully automated consoles. The type you need depends on your budget and intended use.
Software Mixings
If you only use MIDI tracks in your songs (synthesizers, drum machines, etc., with no taped acoustic instruments), forget specialized hardware. All you need to be able to do is record, edit and play back continuous-controller messages - part of virtually all sequencer programs. You can mix the volume levels of the individual tracks in your song, changing them on the fly as often as needed to achieve the perfect balance. This assumes your instruments respond to MIDI volume commands (continuous controller #7 in the MIDI definition), common in today's gear, hut missing in some older pieces like the Casio CZ-101. If you can't change the volume through software, you'll need a hardware mixer.
Sequencers offer three approaches to controller editing: text, graphic and real-time. Most sequencer packages offer all three. Text editing works best to set starting volumes, step changes at defined times, or mute instruments. Creating fade-in/fade-out effects or altering the mix during the song is easiest with graphical editing. This can be done dynamically while the music plays, or any time afterward.
Different sequencers afford different degrees of editing sophistication. The MIDI-Track ST series provides control of a single MIDI channel at a time. You can choose or change the editing channel at will and, while replaying your sequenced song, move the screen fader with the mouse to change the volume. Cubase lets you do this with up to eight real-time screen faders; you get the full 16 MIDI channels with Crcator/Notator.
For best results with real-time mixing, your sequencer should "chase controllers" on the playback. This means if you start from any point other than the beginning, the sequencer searches for the last controller setting (if any) and applies it before playback begins. Otherwise, you may miss earlier changes and find gross inconsistencies in the final mix.
One trick is to set volumes to zero on a channel when its respective instrument isn't playing. This cuts down on background noise. Just remember to pop the volume back up a beat or two before the instrument kicks in again.
Hardware Controllers
What if your sequencer doesn't implement controller editing, or you prefer the feel of a real fader over a mouse? No problem. There are inexpensive hardware devices you can insert into the MIDI data stream to send out controller information. The basic design of these units is the same. To generate data for a specific controller on a specific MIDI channel, just assign it a knob, slider or other physical control.
The simplest of these - the Yamaha MCS2 (no longer in production) - controls a single channel. You can use a slider, foot controller or even breath controller to generate the MIDI volume data. This goes into your sequencer and is directly incorporated into the song. You can have individual sequencer tracks that contain nothing hut MIDI volume data - each one a different mix experiment.
Moving up the ladder is the MRC (MlDI Remote Control) from Lexicon. It provides four assignable faders for real-time control.
The top of the class is J.L. Cooper's FaderMaster, with eight fully-assignable faders to transmit any and all controller commands. Aptly described as the "Swiss army knife" of MIDI, it is easily configured to send volume controls, patch changes, note on/off, sysex commands or virtually anything else in the MIDI definition. It can follow and display incoming volume data from a sequence versus your current fader settings, so you can match them before making any change. Beyond mixing applications, it's incredibly handy for communicating with modern synths and signal-processing gear that lacks adequate front-panel controls. J.L. Cooper even offers editing software for the ST to simplify programming the FaderMaster.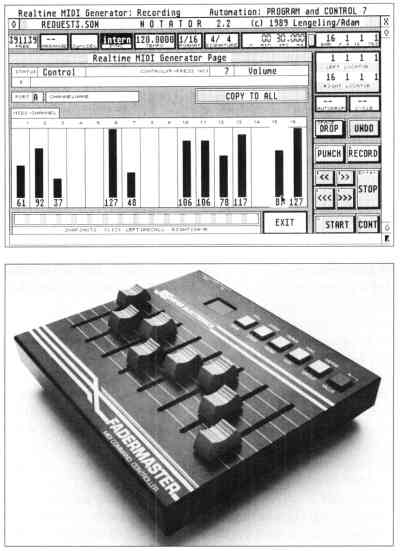 Top: Use Notator's Realtime MIDI Generator as a software
16-channel mixer. Changes made with the mouse are captured
in real time. Blank channels have MIDI volume set to zero.
Bottom: FoderMaster, from J.L. Cooper, is the "Swiss army knife"
of MIDI technology.
VCA-Based Mixing
To deal with both MIDI and taped tracks you need some form of MIDI-controlled mixing board. Either of two options responds to MIDI: the mixing board itself, or an intermediate device in the audio chain. We'll begin with the latter.
In general, intermediate devices are called VCAs - Voltage Controlled Amplifiers. Audio outputs from synths and tape decks feed into the VCAs and are attenuated in response to MIDI controls. Subsequent output feeds into your mixing board, where the faders should be left untouched and wide open (the balancing is already done). The best known of these VCA boxes are the JBL/Urei Twister Pac, Iota MIDI-Fader and J. L. Cooper MixMate. All provide eight input audio channels, with each usually controlled by a separate MDI channel.
The Twister Pac is a single-space rack-mount unit. It can take snapshots of the relative VGA settings and store them in 99 memory locations. Snapshot mixing leaves a lot to he desired, compared to dynamic control. About the best use for it is to save favorite reverb and effects settings for instant recall. Twister also offers real-time control via a front-panel knot) or eight on-screen faders under dedicated software control. The front-panel knob lets you adjust the audio level one channel at a time and save it to your sequencer (mixing a song one channel at a time is tedious at best and not recommended). The software faders are great for real-time control - except that if your computer is already playing a sequence, you need a second ST to control Twister. Right now, Twister is overpriced ($1,750) for only doing snapshots.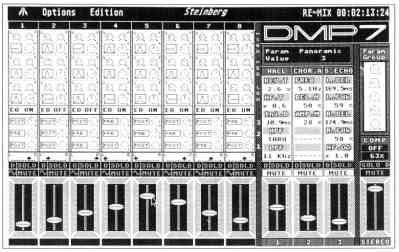 Typical main screen from the Desktop Mixing DMP7 program
by Steinberg/Jones. Click on individual graphics to call up
numerous secondary editing and control functions.
The Midi-Fader is also a snapshot mixer, hut much more reasonably priced. Combine it with a FaderMaster and you have a full, MIDI-controlled, automated mixer for about $800. Each MIDI-Fader channel has a solo and mute setting. A bar graph in the LCD window shows the approximate attenuation for all eight channels. You can save its 128 snapshot settings as sysex data into your sequencer or librarian software, something Twister can't do.
MixMate is a different breed. This little machine (similar in design to the FaderMaster) performs all of the above functions, includes a built-in sequencer and can sync to SMPTE and other time codes.
SMPTE stands for the Society of Motion Picture and Television Engineers and is the time-code standard of video and film industries. (Editor's Note: See "What Is SMPTE" in the November 1990 issue of START.) It is also the preferred timing base for most professional and many home-recording studios.
If your sequencer can generate SMPTE, you can easily lock MixMate into it. If not, MixMate can generate its own SMPTE time code, place it on your multitrack tape and send MIDI time code to lock into your sequencer. Rather than simply write controller data into your sequenced song, MixMate takes over as the brains of your system. It controls fader moves from its internal memory, synced to your tape deck, and acts as the timing base for your sequencer.
Then there's MixMate Plus, ancillary software to MixMate. It increases MixMate's onboard se memory from 4,400 events to 44,000 - more than enough memory for most applications. A screen mixer shows current fader settings and SMPTE time. You can't change mutes or move the faders with the mouse. Recorded fader settings in the current sequence memory are shown as solid white faders, while phantom faders depict the actual fader positions on the MixMates.
The newest member of the VCA group is the Audio Control Module from Steinberg/Jones. It's like the VCA devices but uses different electronics for a cleaner and quieter audio output, according to the manufacturer. It provides eight individual inputs and outputs, along with a stereo mix. The faders may he controlled by software such as Cubase. For a given MIDI channel, eight faders are governed by sequential continuous controllers (e.g., 13 through 19). This protocol allows up to 16 modules to be controlled simultaneously (one per MIDI channel) for a maximum of 128 faders.
Pro Solutions
VCA mixing is also popular in professional recording studios. Two major players are Mimix from Steinberg/Jones and MAGI II from the ubiquitous J.L. Cooper. Both can he configured to work with virtually any studio mixing console and synced with SMPTE or MDI time code. MAGI II internally generates time code; Mimix needs a separate interface unit such as the SMP-24. The same setup applies here as with the MixMate - your sequencer becomes a slave to the mixing unit, in turn synced with a tape deck.
Mimix can run as a stand-alone application or share a single ST with other programs (e.g., Cubase) under Steinberg/Jones' M-ROS multitasking system, which comes bundled with selected Steinberg/Jones software. It uses a sophisticated graphics interface to display and control audio signals for individual groups, effects reruns, and master output. A cue-list scheme manages mixing changes and can trigger any type of MIDI event. Each channel also has a programmable noise gate for enhanced control of audio dynamics.
MAGI II is similar to Mimix and handles from 16 to 64 channels. It can take on the entire mixing job, from generating SMPTE code to controlling your sequencer. A remote unit, similar to an expanded FaderMaster with 16 individual and four group-assignable faders and mutes, controls the mix - just like riding an actual console. Alternatively, you can retrofit MAGI II into almost any console to work directly from your existing faders. Other software features include the ability to generate MIDI events at any point in the cue list and "off-line" editing of a mix without tying up the console.
Another approach to professional mixing is to use a mixing hoard that directly responds to MIDI control, without any intermediate devices. Choices here run from memorized mute settings to full control of all parameters - you get what you pay for. For starters, the Tascam MM-1, a 20-channel rack-mount unit designed especially for synths, stores snapshots of the mute settings in its internal memory. You can send a MIDI-program change command to the MM-1, either manually or embedded in a sequence, to restore the associated mute settings.
At the top end, in both flexibility and price, is the Yamaha DMP7, a digital eight-channel console with complete MIDI implementation. It digitizes incoming audio at a 44.1KHz sampling rate with 16-bit resolution (CD quality) and can directly read/write to DAT (digital audio tape) for professional mixes at a reasonable cost. All mixer functions are controllable via MIDI commands, including level, pan, parametric equalization, mute and solo switching. The faders even move automatically to track your mixing program on the playback. Built-in signal processing effects, from delay lines to reverbs, occur in the digital realm to keep your work noise free.
For facile operation, Steinberg/Jones has teamed up with Yamaha Europe to release the Desktop Mixing DMP7 software package. It controls up to four I)MP7s at a time, with full graphic control of mixer functions and cue-list event triggering (optional SMPTE sync via the SMP-24 interface). Advanced functions let you perform audio-processing tricks such as ganging parameters across different channels to respond to a single group fader.
The newest member of the Yamaha mixer family is the DMPII, a rack-mount, eight-channel, younger brother of the DMP7. It offers more memory locations to save its settings and additional signal-processing effects, but less parametric equalizing and only two effects sends and no automated faders.
Final Mixdown
MIDI mixing is here to stay. But before you run out for an automated console, evaluate your needs. It makes little sense to buy new gear if your present sequencer can get the job done. On the other hand, if you've been thinking of cloning extra hands to run more faders, start looking at automated solutions.
Part-time musician Paul Keefe lives in Manchester, N.H.

Products Mentioned
Audio Control Module, $479; Cubase, $495; Desktop Mixing DMP7, $590; Mimix, starts at $5,995; SMP-24, $1,295. Steinberg! Jones, 17700 Raymer St., Suite 1001, Northridge, CA 91325 (818) 993-4091
Creator, $349; Notator, $649. Digidesign, 1360 Willow Road, Suite 101, Menlo Park, CA 94025 (415) 327-8811
DMP7 Digital Mixer, $3,995; DMP11 Digital Mixer, $2,395. Yamaha International, 6600 Orange-thorpe Ave., Buena Park, CA 90260 (714) 522-9011
FaderMaster, $299; FaderMaster Software, $29.95; MAGI II, starts at $3,950; MixMate, $995; MixMate Plus, $1,240. J.L. Cooper, 13478 Beach Ave Marina Del Rey, CA 90292 (213) 306-41 31
MIDI-Fader $499 Iota Systems Box 8987 Incline Village NV 89450 (702) 831 6302
MIDITrack ST series: EditTrack II, $99; SMPTETrack II, $499. Hybrid Arts 8522 National Blvd Culver City CA 90232 (213) 841-0340
MM-1 Keyboard Mixer, $1,095. Tascam/TEAC, Professional Division, 7733 Telegraph Road, Montebello, CA 90640 (213) 726-0303
MRC (MIDI Remote Control), $400. Lexicon, 100 Beaver St., Waltham, MA 02154 (617) 891-6790
Twister Pac, $1,950. JBL/Urei, 8500 Balboa Blvd., Northridge, CA 91329 (818) 893-8411