FOR THE FUN OF IT
OF AIRPLANES, ALIENS
AND ADVENTURES
In Which Bernstein Crosses Swords, Knauss Crosses Time And Griffey Crosses Space
Blue Angels: Formation Flight Simulation
REVIEWED BY WOLF GRIFFEY
The U.S. Navy's Blue Angels are noted the world over as one of the best of the best when it comes to formation and single aircraft acrobatic flying. Accolade offers an excellent simulation of that and more in the program Blue Angels: Formation Flight Simulation.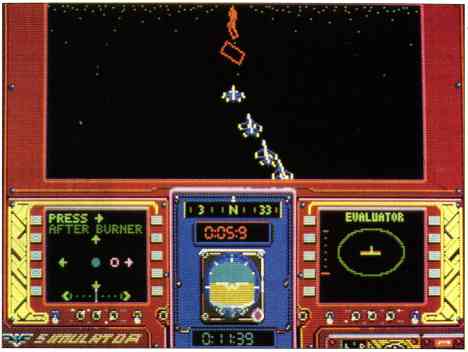 Accolade's Blue Angels
How about whipping a Diamond Roll from the slot position over the Boston skyline? Just take the seat in the number four aircraft, follow your lead bird to the entry point and be precise in your control inputs. Stay on the dime in power, turns, altitude and timing.
Take The Pilot's Seat
How do you get on the team's pilot list? Simply load the program, which comes on one disk, and pass the off-disk entrance exam, a code wheel included with the package.
The main attractions are the F/A-18 Hornet and the Blue Angels flight routines from three types of airshows: High, Low and Flat. You'll also find a Spectator mode, and Simulator, Practice Maneuvers, Simulate Airshow, Practice Airshow and Air-show (the real thing) options.
Inside the cockpit, three displays give you coordinates, performance evaluations, radar, or help. The evaluator screen has a red and green plane overlay; keep the green plane on top of the red and you're looking at an error-free flight. The help screen shows the keystrokes needed to perform the maneuvers, with time and position info, to make your flight picture perfect.
Outside, you get a view of the Blues at work, as you have never seen them before. Zoom in close or check it out from flight position.
Take Control
Now it's time to climb into the Simulator, pick the position and maneuver you want, and start practicing.
The ideal is to get the moves and timing down pat. Wire-frame flight-path boxes help keep you on target. You can run the autopilot awhile, watch a few times and memorize the instrument readings.
Later, when going through the paces by yourself, you will find that the Stop-Time Help feature is a big aide. Stop Time waits for you to give the correct control input. Take a couple circuits and you are ready to try it full blown. Else the third help option, Real-Time Help, and those moves begin to become natural. Half speed and quarter speed, are also available, so don't worry! As you progress, you can turn them all off and increase the difficulty.
After each completed maneuver, or, later, a completed show, you can get an evaluation of your airwork. That means error points and displays of the entire job, including replays to see what worked and didn't. Honest, hard work on these single maneuvers leads to putting them all together for an entire simulated airshow in the trainer.
Take A Real-Time Ride
Practice may make perfect, but sooner or later, you've got to put your skills on the line. Go for it. This where the real thrill is. You'll be surprised how good it feels to make the pilot's list.

AT A GLANCE

Game:


Type:

Company:





Price:

Requirements:

Summary:


Blue Angels Formation Flight
Simulation

Flight simulator

Accolade
550 S. Winchester Blvd.
Suite 200
San Jose, CA 95128
(408) 985-1700

$49.95

512K, color monitor

An excellent alternate to the
usual combat scenarios.
Quest For Glory
REVIEWED BY HARVEY BERNSTEIN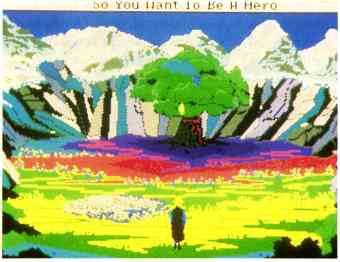 Sierra On-Line's Quest For Glory
Things are not going well for the sleepy town of Spielburg. Not only have monster attacks increased, but a roving band of brigands has made travel outside of town downright foolhardy. Even worse, the evil ogre Baba Yaga placed a curse on town patriarch Baron Stefan. Now his son has disappeared while fighting the brigands, and a who-knows-what has carried off his daughter. What the town needs desperately is a hero - and guess who gets to fill those shoes?
Quest For Glory, originally released by Sierra On-Line as Hero's Quest, seamlessly and entertainingly meshes the character development and skill building of role-playing games with the problem-solving framework of the traditional adventure. This is one of those rare games that has replay value.
At the start of the game, you choose a skill group: fighter, magic user or thief. What makes Quest for Glory unique is the way your profession determines what problems you face. For example, when confronted with an item hidden up a tree, a mage casts a fetch spell, a fighter throws rocks, while a thief uses climbing skills.
In addition, there are areas in the game, as well as characters, that are only accessible to certain professions. This variety makes you want to come back and play again as a different character. Even though the plot line and most of the challenges are constant, there are always surprises.
As has been the case with Sierra's previous releases, the graphics are excellent, particularly the animated characters you meet along the way. Conversation with other characters is much more important in this game than previous titles; there is a pretty convoluted plot to unravel.
This is not to suggest that Hero's Quest is a perfect game. I found the arrow-key controls used in combat sluggish. When playing as a thief, far too much time is spent running away from adversaries. Also, if you are playing with a single-drive system, be prepared to do a lot of disk swapping. Those graphics come at a price.
Aside from these minor quibbles, Quest For Glory is highly recommended. The humor, storyline and replay value make this a classic, particularly for fans of Sierra's other adventure series. A sequel is in the works, and I await it eagerly.

AT A GLANCE

Game:

Type:

Company:




Price:

Requirements:

Summary:



Quest For Glory

Role-playing adventure

Sierra On-Line
P.O. Box 485
Coarsegold, CA 93614
(800) 326-6654

$59.95

512K, color monitor

You'll enjoy it as much
the second time you play
it as the first.
Future Wars
REVIEWED BY GREG KNAUSS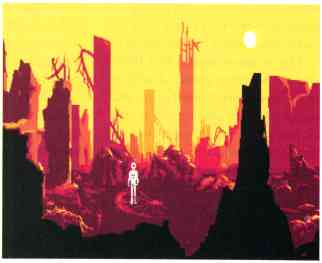 Interplay's Future Wars
Future Wars begins with you washing windows, working "at what, believe it or not, is your full-time job." From this ignoble beginning you will travel thousands of years through time and circle the planet to save the Earth from alien invaders in this immensely enjoyable graphics adventure, the first import from France's Delphine Software.
The emphasis in the last sentence should be on the word "graphics." Dark monasteries, destroyed cities and, in the opening scene, a glass skyscraper are all excellently drawn and occasionally breathtaking. This is the one area where the game easily outshines it's adventuring competitors.
Unfortunately, while the graphics in Future Wars are superb, they are also very, very small. An object you need at the beginning of the game - while obvious if you're looking for it - is incredibly easy to pass over if you're not paying attention: It's only two pixels wide.
I liked the game's interface. Future Wars uses a point-and-click system with enough prose for detailed explanations. By way of comparison, it is halfway between Lucas-film's mouse-intensive Indiana Jones style and Sierra On-Line's text-heavy King's Quest method.
Unfortunately, the text itself is often overly dramatic - multiple exclamation points abound - and the use of punctuation and quotation marks is sloppy and inconsistent. Furthermore, at any point you're limited to six verbs with which to communicate, resulting in fractured English ("Operate rubble" to dig in the rubble, for instance). However, overall communication with the program is easy.
Future Wars, of course, has a few other problems. The thing most likely to annoy more seasoned adventurers is the immaturity of the puzzles. While some situations are clever, others are nonsensical, the sort of things that anyone can see are obviously puzzles: Why is there a monks habit hanging on a tree branch? Why is there a rope lying in the forest? Why is there a faucet on the wall? These jarring instances removed me from the game and made me think "Oh, well, how can I use that?"
Despite these minor points Future Wars is a lot of fun. It smoothly combines excellent graphics with a simple-to-use interface. If some of the prose is less than elegant and some of the puzzles are less than well-integrated, chalk it up to inexperience and accept Future Wars for what it is: an enjoyable way to spend a few days and an excellent omen of things to come.

AT A GLANCE

Game:

Type:

Company:




Price:

Requirements:


Summary:



Future Wars

Graphics adventure

Interplay Productions
3710 S. Susan, Suite 100
Santa Ana, CA 92704
(714) 549~2411

$49.95

512K, color monitor,
double-sided drive

This maiden offering is a
winner; expect more and
better in the future.
Risk
REVIEWED BY WOLF GRIFFEY
Perhaps some of you, like myself, have fond memories of the Parker Brothers board game Risk. For those not familiar with it, simply put, each player starts out with armies stationed in countries around the world, then everyone tries to wipe out every other player's armies and conquer Earth. Dice rolls determine your success or failure, so luck, plus some strategic planning are needed.
This computer version is as good as the original board game. The interface is easy to learn and easy to use, but playing against another person means swapping seats in front of the computer, a common irritation with board-game conversions. On the other hand, if the computer is your opponent, it's almost ludicrously simple to out-strategizc it since it always chooses Australia to defend.

AT A GLANCE

Game:

Type:

Company:




Price:

Requirements:

Summary:



Risk

Board-game conversion

Virgin Mastertronic
18001 Cowan, Suite A
Irvine, CA 92714
(714) 833-8710

$39.99

512K, color monitor

Competent translation with a
few irritations introduced
in the process.
Harvey Bernstein lives in San Francisco. Wolf Griffey is a former military pilot. Greg Knauss is trying hard not to grow up.