NEW PRODUCTS
BY MARTA DEIKE, START ASSISTANT EDITOR
Utilizing Your ST
If you're in the market for utilities, look no further. START has received word of several major releases for your ST. MicroMiser has entered the family of ST databases with Ultrabase FBC, a high-speed, high-capacity database designed for small businesses and laypeople, with powerful functions such as autobackup, modem transfer and user-defined menus. Ultrabase FBC, $249. MicroMiser Software, 31413 Westward Ho, Sorrento, FL 32776, (904) 383-0745.
If you need an indexing tool, take a look at CardFile (current version 1.41), GT Software's electronic answer to the Rolodex. It lets you instantly add cards, dial the phone, address envelopes and merge data with your favorite word processor. CardFile, $25. GT Software, 12114 Kirton Ave., Cleveland, OH 44135-3612, (216) 826-5308.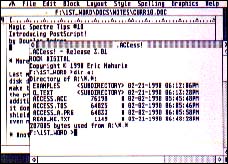 With Access!, from Rock Digital, a CLI win-
dow can be called up within any program.
Have you envied your buddy's ability to delete all his IBM batch files with a simple "del *.bat"? Well, no need to covet IBM functionality; command-line interpreters are here. TUI, from Silicon Mountain Systems and .ACCess!, from Rock Digital bring CLI to GEM. TUI (pronounced Too-ey), $29.95. Silicon Mountain Systems, 5989 Ohio River Road, Huntington, WV 25702, (302) 525-0164. .ACCess! $29.95. Rock Digital, 2901 Kenmore Ave., Dayton, OH 45420, (513) 2543160.
Forecaster III, by Randall Kopchak, predicts the weather, analyzes current atmospheric conditions, and displays a weather almanac for the day. You can also use it to calculate heating and cooling degrees, and windchill factor. Forecaster III,$25. Randall Kopchak, 2233 Keeven Lane, Florissant, MO 63031, (314) 8319482; Compuserve (70357,2312); GEnie (GREG); Delphi (GREG).
Desktop Accessories
Technical wizards interested in consulting will want to check out The Guide to High-Tech Consulting and Contracting, recently published by HighTech Consulting Research Inc. The book includes advice for beginners and pros, with tips ranging from interviews to taxes. The Guide to High-Tech Consulting and Contracting, $29.95. High-Tech Consulting Research Inc., 2039-F Civic Center Drive, N. Las Vegas, NV 89030, (703) 378-3618.
Organize your workstation with these three accessories. Label Logic, from AMT Communications, is a kit of 144 labels to identify ports, cables, drives, expansion slots and peripherals. The Archive Disk File Modulator Cube, from Weber & Sons Inc., is a cubic-foot of disk storage, with four drawers that hold up to 600 disks. The Anderson Disk Box holds 200 disks in 10 different compartments. Label Logic, $6.95. AMT Communications, 2741 Plaza del Amo, #201, Torrance, CA 90503, (213) 320-7757. Archive Disk Cube, $32.95. Weber & Sons Inc., 3468 Hwy. 9, Freehold, NJ 07728, (201) 431-1128. Anderson Disk Box, $7.95 (plus $1.95 shp/hnd). Anderson's, 9435 Leo Road, #25, Ft. Wayne, IN 46825.
Publisher's RoundTable
GEnie Information Services has just added an online RoundTable devoted to desktop publishing. The Design To Print RoundTable is open to anyone interested in graphic design, electronic editorial communication, or production technology and publishing systems. For further information on price and service call GE Information Services, 401 N. Washington St., Rockville, MD 20850, (800) 638-9636.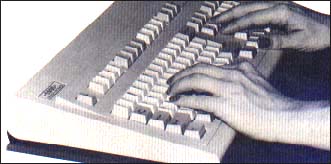 Prevent repetive strain injuries with Fournier & Co.'s Wristonics
support pad.
Prevent The Body Blues
If you work long hours at your computer, you could be seriously jeopardizing your health. Fournier & Co. has come out with Wristonics, a thick, durable pad to support your wrists and prevent strained tendons. Wristronics, $14.95. Fournier & Co., c/o Marcus Franklin & Associates Inc., 6507 E. Circulo Dali, Anaheim Hills, CA 92807, (714) 921-1810.
Games, Glorious Games
Fasten your jet-pack belt--Psygnosis has released the ST version of Blood Money, the burnin' battle arcade game. Under the banner of "World's Fastest Shoot 'Em Up For ST," Anarchy runs at 50 frames a second. And if that won't satisfy your stimulation quota, enter their 3D racing game, Matrix Marauders, which includes a built-in talking navigator.
The biggest scoop du jour, however, is that Psygnosis has finally formed a U.S. distribution base (headed by our favorite Antic veteran, Jerry Wolosenko). Blood Money, $39.95. Anarchy, $39.99. Matrix Marauders, $39.99. Psygnosis, Ltd., 29 St. Mary's Court, Brookline, MA 02146, (617) 731-3553.
Dive into an undersea adventure in Miles Computing's Aquanaut, where you must fend off horrific marine life, liberate the captive population and meet the master alien race in a final showdown. Interplay helps suspend your disbelief in Future Wars, an adventure game that incorporates a new cinematique graphics system. Based on Greek mythology, Olympus, from Olympian Software, includes over 600 digitalized locations, 17 animated characters and a whole slew of hydra-headed puzzles. Moose Enterprises makes its debut with Xe-bec, a high-seas strategy game, written by Sam Gueydan, for you and up to four of your buddies. Check it out.
Aquanaut, $39.95. Miles Computing Inc., c/o Electronic Arts, 1810 Gateway Drive, San Mateo, CA 94404, (800) 245-4525 (U.S.); (415) 5717171(Canada). Future Wars, $49.95. Interplay Productions,1575 Corporate Drive, Costa Mesa, CA 92626, (714) 545-9001. Olympus, Call for price. Olympian Software, c/o Paradise Bay, 28 Normanside Drive, Albany, NY 12208, (518) 482-7149. Xe-bec, $19.95. Moose Enterprises, c/o BRE Software, 352 W. Bedford Ave., Suite 104, Fresno, CA 93711, (209) 432-2159.
Rhapsody in Electric Blue
MIDI musician Jeffrey Reid Baker has teamed up with the New York Choral Society (conducted by Robert DeCormier) to record the world's first harmonically synthesized version of Carmina Burana. Check out his CD, produced by orchestral giant John McClure.
And while you're at it, pick up Reid's other MIDI oeuvres, which he created using Dr. T's KCS line and his own Tempo Master. Rhapsody In Electric Blue, as well as the collection Everyone's Favorite Synthesizer Pieces, are produced by Newport Classic; all CDs are available at Tower Records or in your local record stores.
Shakespeare On Disk
You've heard of books on tape; now the Complete Works Publishing Company brings you books on disk. The Complete Works of William Shakespeare is available in a 50-plus disk set, with approximately one to three plays per disk, as well as comprehensive references. The work is written in 1st Word and Protext formats.
Scheduled future releases include works from Oscar Wilde and Dante. Order a catalog for more. Shakespeare's plays range between $11 and $15 per disk (including U.S. Air Mail delivery). The Complete Works Publishing Company, Capons Farm, Cowfold Horsham, West Sussex RH13 ODE, Great Britain, (011-44) 403-864-386.