SUMMER GRAB BAG
BY JIM PIERSON-PERRY
One of the most exciting new synthesizers these days is the Yamaha SY77, which integrates second-generation FM synthesis with sample playback. The first program for any computer to support it is Offspring For The SY77, from Command Development. This is a librarian and intelligent patch generation program (not a patch editor), using the "genetic" creation process featured in earlier releases for the M1 and D50 synths in the Offspring series.
Musicode announced an upgrade to their entire line of Voice Development System patch editors. The VDS 2.0 now supports up to four active banks simultaneously, copy/delete of parameter groups, generation of new patches from two parents and is compatible with the Soft Link multi-application manager. The integrated sequencer has also been updated to record/playback sysex data, load/save standard MIDI files and remap controllers. The latest addition to the line is VDS for the Yamaha V50.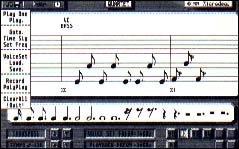 Song writing screen from Quartet, By Michtron/
Microdeal.
Rounding out the patch editors is Synthworks Proteus from Steinberg/Jones, supporting both the original and new XR Proteus/1 models. Like other Synthworks editors, it features exceptionally strong graphical editing, a stand-alone patch library with database queries, integrated sequencer, on-line help and runs under the M-ROS multi-application manager.
Not a patch editor, but patch banks. That's what Sound Source Unlimited offers, in great abundance and on ST-compatible "Downloader" librarian disks. Multiple libraries are offered for the Yamaha DX7/ DX7II/DX11, Roland D50/D10, Korg M1/M3r, Kawai K1/K4, Ensoniq VFX and E-mu Proteus families. I have tried several of these selections and am very pleased with their quality.
Quartet from Microdeal (distributed through MichTron), turns your ST into a four-voice polyphonic sample playback system. It works along the lines of Music Studio; the difference is it uses digitized samples rather than playing the internal sound chip. You assign different samples (drums, synths, acoustic instruments, noise effects, etc.) to voices and write a song using standard music notation. Playback is through the ST monitor speaker, or the Replay D/A cartridge for better fidelity (no MIDI output). This program is capable of producing impressive music that can be integrated within your own software.
Synthesizer hardware manufacturers are starting to cross over into the software market. Korg Canada has released two sophisticated programs targeted at the high-end user. Multi is a "do all" sequencer with built-in notation capabilities similar to Notator. It runs with a resolution of 796 ppqn and is compatible with the Atari laser printer for score output. Impact is a generic MIDI processing environment that you can configure to act as a generic patch/sample editor, mixer, light controller, etc. Each setup (e.g., M1 editor) is a self-contained "console," and up to eight different consoles can be active on screen at the same time.
New for the bookshelf is Power Sequencing with Master Tracks Pro/Pro 4 by Craig Anderton, musician, writer and founding editor of Electronic Musician magazine. Although geared to the Master Tracks program, the book contains much information and many useful tips that apply to working with any sequencer program. Highly recommended.
For those who haven't found out yet, virtually any book that deals with MIDI, music and related subjects can be found at the Mix Bookshelf (from the people who bring you Electronic Musician and Mix magazines). They also carry software, patch and sample libraries, videos and CDs. Check out their free catalog for more info.
MIDI For The Masses
As prices continue to drop on MIDI hardware, manufacturers are offering units aimed at the home-consumer market. Though low cost, many of these synths are quite impressive and offer abilities equal or beyond professional models of only a few years past. Some popular examples are the Roland MT-32, Yamaha TXB1Z and Kawai PH50. These are (relatively) inexpensive enough that home users might consider them an extension of the family stereo system. These are being used now for enhanced computer game soundtracks (e.g., Sierra On - Line). The growing availability of prerecorded sequences fits well with such home MIDI systems. A proposed CD + MIDI format would let specially designed CD players send MIDI data to the home synth while playing the audio tracks.
Roland recently released three new synth modules aimed at home MIDI users. The multitimbral CM - 32L module is based on LA synthesis, similar to the MT- 32 but with double the onboard sounds. The CM- 32P is a multitimbral sample playback unit which also accepts new sounds from ROM cards. Can't decide? No problem, the CM-64 combines both units in a single module for 63-voice polyphony across 15 multitimbral channels. Along with these is Tentracks, a companion ST software sequencer designed for novice users.
Veteran MIDI developer Passport Designs has expanded into the prerecorded sequence market and released the first set of 12 Music Data disks. Each disk holds three songs of a particular style (e.g., hits of the 50s, country, big band and classical), orchestrated for the MT- 32 (although readily adaptable for other synths). The songs are in standard MIDI file format, compatible with virtually all sequencer programs. An expanded catalog with over 300 selections is expected before summer.
One of the slickest products I've seen in a while is the FM Melody Maker from Hybrid Arts. This combines a beginner sequencing program with an actual FM synthesizer, supplied on a hardware cartridge unit, in one ideal starter package. Simply plug in the cartridge, connect it to your stereo, start up the sequencer and make music. The synth cartridge supports multitimbral play, (one melody plus four accompaniments, a bass and drums) with 78 hardwired melody sounds.
Bug Reports
They're not pretty, but they happen. Here is a rundown of some of the problems we have come across. The developers are all aware of these problems. First, neither the START Selector nor its popular shareware upgrade LGFSEL are compatible with Master Tracks Pro or Jr. UIS II/III work fine, as does the standard Atari file selector.
Cubase, and other M-ROS based software from Steinberg/Jones, now works with GDOS and TOS 1.4 without a hitch but bombs with varying degrees of entertainment if used with PinHead, the shareware program-load accelerator.
Lastly, MIDI file importing is still a bit of an art form. Both Creator and Notator can have a problem if the incoming MIDI file uses a different time base from Creator's, and results in tracks being out of synch with each other. Dr. T's' Tiger Cub occasionally runs into conflicts between the MIDI file and its own conductor track implementation. The file is imported correctly but with song length set to zero measures. Changing the song length manually corrects the problem. All of these problems have been reported to the developers. Corrections at least for the MIDI file bugs have been promised with upcoming releases.
Intelligent Update
Intelligent Music has left the software market. Dr. T's has obtained distribution rights and technical support for IM's ST and other products, including M and RealTime. A planned maintenance update of RealTime (version 1.2) is still planned for this summer.
This news is of additional importance as Intelligent Music is the developer of the Atari MIDI-Tasking software. Plans are to continue full steam ahead with MIDI-Tasking. The change may benefit acceptance of MIDI-Tasking by other MIDI developers as it removes a potential conflict of interest from Intelligent Music's own products.
Stacatto Notes
Passport has renamed their Master Tracks Jr. program to Trax and dropped the price as well. Band-In-A-Box from PG Music, the intelligent accompaniment generator program, has been upgraded to version 2.1. No sooner do I recommend it, thanMusic Technology magazine folds. It's been incorporated into its sister magazineHome and Studio Recording.
The continuing Sonus saga rolls on. Software distribution and technical support for all of Sonus's products have been picked up by Sentech Electronics. SuperScore version 2, with bug fixes and support for the Atari laser printer, is due out any day.
Some great new products are on the horizon from Germany. These include updates to the powerhouse sequencers Cubase (version 2.0) and Notator (version 3.0), as well as junior versions of each--Cubeat and Notator Alpha, respectively. C-Lab also plans a set of music and MIDI educational programs. No date yet on availability.
Also on the planning board is a collaborative project between Digidesign and C-Lab to integrate Creator/Notator with the recently introduced Sound Tools for the Atari. This move will let you combine digitized audio tracks (e.g., vocals, acoustic instrument, sound effects) with sequencer MIDI tracks all under one roof. A similar venture is ongoing in the Macintosh world between Digidesign and Opcode (with the Vision sequencer).
Finally, anyone interested in a public-domain MIDI file player can have a great one for the cost of a download. MIDIMOVR, a truncated version of Hybrid Arts' EditTrack sequencer, has been available on most BBSs for a while and loads/plays standard MIDI files (formats 0 and 1) along with a whole lot more.
Products Mentioned
Power Sequencing With Master Tracks Pro/Pro 4 by Craig Anderton, $19.95. Amsco Publications/Music Sales Corp., 225 Park Ave., S., New York, NY 10003, 212/254 -2100.
Offspring For The SY77, $150. Command Development, 11846 Balboa Blvd., Suite 135, Granada Hills, CA 91344, 818/362-3550.
Creator (version 2.2), $349. Notator (version 2.2), $649. Sound Tools For The Atari, $2,995. Digidesign, 1360 Willow Run, Suite 101, Menlo Park, CA 94025, 415/327-8811.
M, $199. RealTime (version 1.11), $349. Tiger Cub, $99. Dr. T's Music Software, 220 Boylston St., Suite 306, Chestnut Hill, MA 02167, 617/244-6954.
Edit Track II, $199. FM Melody Maker, $149. Hybrid Arts, Inc., 8522 National Blvd., Culver City, CA 90232, 213/841-0340.
Multi, $495. Impact, $295. Korg Canada, 378 Rue Isabey, St. Laurent, Quebec, Canada H4T 1W1.
Quartet, $59.95. MichTron, 576 S. Telegraph, Pontiac, MI 48053, 313/334-5700.
Mix Bookshelf, 6400 Hollis St., #12, Emeryville, CA 94608, 800/233-9604.
V50 Voice Development System (version 2.0), $109. Musicode, 5575 Baltimore Drive, Suite 105-27, La Mesa, CA 92042, 619/469-7194.
Master Tracks Pro (version 3.52), $395. MIDI Data Disks, $39.95 per disk. Trax, $129.95. Passport Designs, Inc., 625 Miramontes St., Half Moon Bay, CA 94019, 415/726-0280.
Band-In-A-Box (version 2.1), $59. PG Music, 266 Elmwood Ave., Suite 111, Buffalo, NY 14222, 416/528-2368.
CM-32L, $650. CM-32P, $795. CM-64, Call for price. Roland Corp. U.S., 7200 Dominion Circle, Los Angeles, CA 30040, 213/685-5141.
SuperScore (version 2.0), Call for price. SenTech Electronics, 21416 Chase St., Suite 1, Canoga Park, CA 91304, 818/709-4020.
Atari Downloader Disks, $19.95 - $99.95. Sound Source Unlimited, 20825 1/2 Roscoe Blvd., Canoga Park, CA 91306, 800/877-4778.
Cubase (version 1.5), $495. Steinberg/Jones, 17700 Raymer St., Suite 1001, Northridge, CA 91325, 818/993-4091.