Products Update
COMPILED BY MARTA DEIKE, START JUNIOR EDITOR
Networking on the ST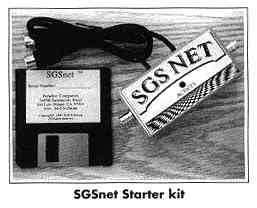 Paradise Computer Systems and SGS Software have teamed up to develop the first complete networking system for the ST. SGSnet lets you share data stored on other hard drives. Up to 32 STs can he connected and tied together through one file server. This non-dedicated file server lets you run other programs and access files during networking operations with minimal reduction in speed. SGSnet utilizes the ST's MIDI ports, transferring data at 31,500 baud and is GEM and TOS compatible. Hardware installation is as simple as plugging MIDI cables into your system. Up to 500 feet of coax cabling may be used to connect the network.
The SGSnet Starter Kit - to net- SGSnet Starter kit work two STs - includes server software with manual, node software with manual, two SGSnet connector boxes and six feet of coax cable. There are add-on kits for additional systems that include add-on node software with manual, a connector box and six more feet of cable. SGSnet (Starter Kit), $159.95. Paradise Computer Systems, 3485 B Sacramento Street, San Luis Obispo, CA 93401, (805) 544-7130
Elements Reference Display
Now chemists and science afficianados everywhere can save time. Instead of tediously referencing the periodic chart time after time, Elemental? Software offers you the Elements Reference Display (E.R.D.). E.R.D. is a database for information pertaining to the chemical elements. With the click of your mouse, your elemental selection and all its mystery is instantaneouly revealed on you ST.
The E.R.D. package contains two programs: the main E.RD. program and an editor that lets you create or modify the existing elements' data files, a large assortment of data files and the user's manual. It requires at least 512K of memory and a color monitor in medium resolution. Elements Reference Display, $30. Elemental? Software, 10 Gaslight Court, Willowdale, Ontario, Canada M2M 4G1, (416) 224-5288.
New Heights for DTP
The Mega has just reached a new resolution with the Agfa/Compugraphic's 8000 series typesetters. TDO: Deskset II Typesetter Driver Option from G.O. Graphics is a professional desktop publisher with a high-resolution output - 2400 DPI high. TDO employs a proprietary software/ hardware interface which lets you push aside the primitive Agfa/ Compugraphic front-end system and go on-line directly to the typesetter with the Mega and a compatible font family.
What once took hours or perhaps could never be done on traditional typesetter front-end systems, is now a simple task. The TDO package includes integrated software designed to specifically work in conjunction with Mega computers and Agfa/ Compugraphic's 8000 series, I/O controller for Mega internal bus slot and a 20-foot typesetter interface cable. TDO, call for price. G.O. Graphics, Inc., 18 Ray Avenue, Burlington, MA 01803-4721, (617) 229-8900
BBS Bible
The 1990 BBS directory. The BBS Bible, is now available through Bubeck Publishing. The directory includes more than 5,600 BBS phone numbers listed by area code and by subject interest. It also features an informational guide to BBSs what computer types and noncomputer interests they cater to - as well as how to access BBSs and low-cost telecommunications service for BBSing. The BBS Bible, $26.95. Bubeck Publishing, P.O. Box 104, Collegevilie, PA 19426, (215) 287-6356.
New Games for the ST
Marvel Comics returns to the ST! X-Men: Madness In Murderworld is the latest release from Medalist International. You're the leader of the X-Men, six heroic mutant superhumans, the world's elite crime-fighters. Your telepathic mentor, Professor Xavier, has been captured by the twisted Magneto and his psychopathic cohort, Arcade, and is being held in their amusement park of terror, Murderworld. Your goal is to rescue him. X-Men, call for price. Medalist International, 180 lakefront Dr., Hunt Valley, MD 21030 (301) 771-1151.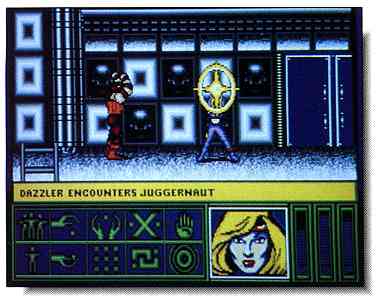 Can you save Professor X from the hands of the evil Magneto?
You can at least give it a try in Medalist International's X-Men:
Madness in Murderworld based on the famous Marvel Comics
super-hero team.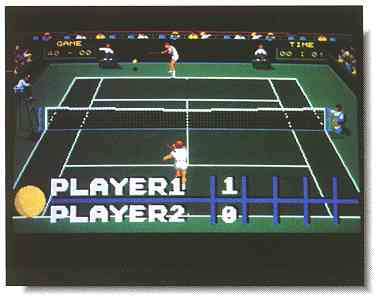 New from Electronic Arts is Pro Tennis Tour, a tennis-simulation
that has you playing with some of the best from Wimbledon to
the U.S. Open.
Tennis anyone? The ultimate simulation, Pro Tennis Tour, is now available for the ST. Ranked 64th in the world, you enter such championships as the Australian Open, French Open, U.S. Open and Wimbledon. There are six training programs and a 3D instant-replay feature to help improve your strokes. On-screen scoring display, realistic sound effects and a two-player option promise to give Pro Tennis Tour the look and feel of an actual game. But remember, it's a ruthless racket; "in tennis, love means nothing." Pro Tennis Tour, $39.95. Electronic Arts, 1810 Gateway Drive, San Mateo, CA 94404, (415) 571-7171.
Devpac Goes Professional
DevpacST, the popular assembly-language development system from MichTron, has just been expanded to appeal to professional programmers and their need for more extraordinary features. Devpac Developer includes all the features of ordinary Devpac, but also offers advanced flexibility, sophisticated assembler features and speed. The program is fully source-code compatible with DevpacST. Devpac 1)eveloper, call MichTron for price. MichTron, 576 S Telegraph, Pontiac, MI 48053 (313) 334-5700.
---
If you have a new product for the ST, we'd like to hear from you. Please send press releases and product photos to Products Update, START Magazine, 544 Second Street, San Francisco, CA 94107
Alert Box
And Mono Makes Two
In the November 1989 issue, Products Update included new games by Sierra On-Line and indicated that they require a color monitor. They don't; Sierra's games run in high resolution on a monochrome monitor as well.
Blame It on the Earthquake
We were so rattled when preparing the January issue that we let a big one get by us: the Mystic Realm source code was not included with the game as the article claimed. We're sorry for any inconvenience this might have caused and are trying hard to place the fault somewhere else. The source is being published in this issue.