Disk Contents
Programs on Side 1 of Your START Disk

PICTURE THIS!
CAD-3Dversion 1.0 headlines our annual graphics issue. This is the original version of Tom Hudson's sophisitcated modeler for the ST, found in CAD3D.ARC. It features multiple light sources, solid or wire frame option and four perspectives of the object. See your creations zoom, spin and travel with CAD-3D Animator, the companion to CAD-3D version 1.0. The file ANIM_3D.ARC contains the program and a high and low resolution example.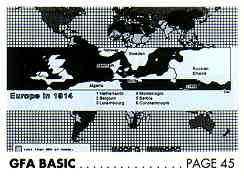 GFA BASIC 2.0 is anything but basic, thanks to graphics programmer Carlos Tirado. His code for GFA BASIC Wipes & Dissolves offers a way for anyone to create sophisticated special effects when switching pictures. The new image can unroll, be filled in like a jigsaw puzzle, appear in sections as if painted on venetian blinds or slide in from the sides of the screen. The file WIPES.ARC contains source code to include in your programs, and a demo of the wipes and dissolves.
Two gears, one pencil. Combine that simple concept with superb C programming, and you get SpinWheel. Ian Lepore and Pete Ewing wrote this classy drawing program, found in SPINWEEL.ARC.
This month's game is Mountain Solitaire, by Michael C. Gilbert. Try to reach the summit before your deck of cards runs out. To play, you'll need sticky-soled shoes, a rope, a harness, chalk for your sweaty hands ... oh, all right, everything you need is in MOUNTAIN.ARC.
In the Business Applications column, Christoph Herd discusses investing for your children's college education. This College Spreadsheet, which runs under LDW Power, is found in COLLEGE.ARC.
NOTE: We have a new, easy way to replace damaged START Disks for subscribers only. Call our distributor at (619) 485-7754. They will verify that you're a subscriber and ship a replacement to you within a day. No need to mail back the bad disk. Newsstand readers still must send the damaged disk to 544 Second St., San Francisco, CA 94107.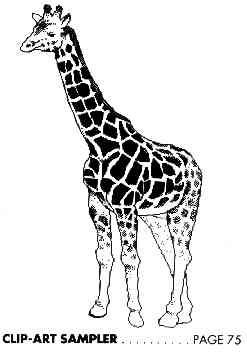 Programs on Side 2 of Your START Disk
ST ART FROM START
We're proud to present a small, but comprehensive, Clip-Art Sampler to accompany Dan Fruchey's review on page 75. In the old days (the years between Gutenberg and Postscript), art directors bought these pictures in big books and cut out what they wanted to use. "Hard copy!?!" gasp horrified desktop publishers. Have no fear! For your digitized delight - CLIPART.ARC.
As we mentioned in the Alert Box, the forgotten code to Mystic Realm, START's game for the January 1990 issue, is being published this month. John Lince's Mystic Realm Source Code was written in GFA BASIC 2.0. You'll find the ASCII version in MYSTIC.ARC.
If you like this month's feature, CAD-3D version 1.0, check out the Sopwith Camel Demo, in the file SCAMEL.ARC. Designed with Antic Software's Cyber Paint, the demo show off the remarkable detail and 360 degree imaging for which both CAD products are praised.
And for you hard-core code hounds Side 2 contains Mountain Solitaire Source Code, in MTN_SRC.ARC, the Laser C version 1.0 source to Michael C. Gilbert's great card game. SpinWheel also was written in C, Sozobon C, to be exact, a public domain compiler written by SpinWheel's author, Ian Lepore. SpinWheel Source Code is compatible with the Laser and Alcyon C compilers. You'll find it in SPINSRC ARC.
Last month we published Howard MacOdrum's automation software for the X-10 Controller. This month we have an X-10 Controller Update. It's the same great software, except now it also runs in medium, as well as high, resolution. Just replace your current files with the ones in X10_MED.ARC.