Dialog Box
If It Ain't Broke
After several years of successful operation, you come out with something called a Heidi disk. Is the START disk single-sided or double- sided? Where is side two and how do I access it? There has been such a high standard of quality emanating from your organization in the past, it is a surprise to have this difficulty. Why can we not continue to use Twister formatting and ARCX.TTP I saw no problems. Why change something that is working? If it ain't broke, why fix it?
Hollis Hunt
Aurora. Colorado
We introduced the Heidi format because we felt our readers would appreciate the extra programs. The response to it has been mixed, with complaints stemming mostly from confusion about what, exactly, it is.
The new format is double-sided: however, Side 2 is transparent from the desktop. The only way to access it is by running the START.PRG program and following its backup instructions. The double-sided to double-sided backup routine is buggy, and so is greyed out. As soon as it is solid, we will publish it. Untill then, douhle-sided drive owners must back up each side separately.
The Side 2 "invisibility" was deliberately built into the Heidi format to allow single-sided drive owners to access all of the major programs, which we will place on Side 1. We admit that this is a compromise, but one we felt necessary in order that none of our readers be left out. - START Editor.
Small-Business Accounting
First I'd like to say that I didn't truly realize the power and versatility of my 1040ST until I subscribed to START. Your articles, reviews and program disks have provided me with hours of great computing.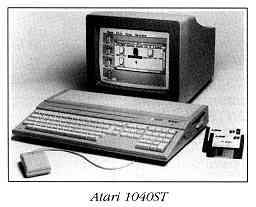 I am currently beginning a small one-man business and I'd like an accounting package to help me out. I will only have to maintain a file of all clients, their addresses, fees paid, business expenses and dates. I won't have an inventory to keep track of or invoices to worry about. Do I need an accounting package, or will my database/spreadsheet be sufficient?
Robert Jamerson
San Diego, California
Any personal accounting program such as Antic Software's PHA$AR v. 4.0 or ISD's STAccounts will sufficiently fill your needs. Each of these programs will track your income, costs and tax schedules - things a simple database or spreadsheet can 't necessarily do. Both products were reviewed in the April 1989 issue of START. (Note: we plan to run an early version of PHA$AR in a future issue of START). - START Editor.
Composite Video for the ST
In order to get into video work, I need a device to convert an RGB computer signal into a composite video signal. Could you tell me where I could get a converter, as I have had no luck in Australia. If I get one, will I need a color monitor or will I be able to route the signal through a VCR and into a color television?
PW Bunn
Tumbarumba, Australia
There are two products that you might want to check out. The first is VideoKey from Practical Solutions ($119.95, 1930 East Grant Road, Tucson, AZ 851 79, 602-884-9612). It's an external hardware unit that lets you have high-quality composite video output for recording animations - or just to play a computer game on your television. It works on all STs and Megas.
The second product sounds more like what you're looking for. The Genlock System from John Russell Innovations ($650, P.O. Box 5277. Pittsburg, CA 94565, 415-458-9577) is designed specifically for the Mega, and combines any low or medium resolution drawing or animation program with an external video source, such as a VCR. It's great for combining computer graphics to any video production. - START Editor.
RezRender Kudos
Richard Parker and Phillip Burgess [authors of RezRender in the November 1988 issue of START] are to be commended for producing such a valuable program for ST graphic artists or anybody who wants to explore the ST's graphic capabilities. I immediately produced a stunning animation with my own CAD-3D2 files. This program doesn't stand out just because of its graphic power, but because of the ease in which it takes to operate as well. Could somebody explain why this program was offered on the START disk instead of being sold commercially? I think it's that good.
I just found out this week that LFP has dropped Analog magazine due to low profits. Any chance that START could absorb some of these writers who will need another outlet for ST reporting?
Rick Keene
West Roxbury, MA
RezRender was very well received by our readers - its quality was obviously appreciated. We applaud the efforts of Richard Parker and Philip Burgess for a job well done.
Believe it or not, we were also saddened by the passing of ST Log and Analog. Both publications have been respected institutions in the Atari community for many years. And yes, we have been approached by some of those authors to do work for START, but as to exactly which ones, we'll leave that as a surprise. - START Editor.

SUBMISSION INFORMATION
START welcomes submissions. Please include both hard copy printouts of articles and program listings as well as disk files on ST compatible disks. Media will be returned if self-addressed, stamped mailer is supplied. START assumes no responsibility for unsolicited editorial materials.
Do you have questions about using your ST? Is there something you're not clear about? Every issue, START's editors listen to your comments and answer your questions in Dialog Box. Let us hear from you! Our address is:
Dialog Box
START
544 Second Street
San Francisco, CA 94107
Or leave us a message on CompuServe using the Antic Online Mailbox - just log on and type GO ANTIC.