Disk Contents
---
Programs on Side 1 of Your START Disk
X-10 CONTROLLER. . . . . . . . PAGE 72

SCIENCE ON YOUR ST

Turn your ST into an industrial-strength workhorse with Howard MacOdrum's X-10 Controller. Use this GFA BASIC 3.0 program to control a simple hardware interface connected to the serial port, and let your ST do all the hard work you once did by hand. File X10CTRL.ARC; runs in medium or high resolution.

The Super Bowl is almost upon us, marking the end of gridiron season. But you can play Crunch Time Football, by Poppy and Jesse Kocher, all year long. Choose the play when quarterbacking, or your formation on defense, and wait for the snap. This game is so realistic you'll discover grass stains on your joystick! File FOOTBALL.ARC; runs in low resolution.

Chaos on your ST, by Stephen Clark, demonstrates how complex forms arise from simple beginnings. Based on the hottest mathematical theories of the decade, this program generates intricate, sophisticated patterns using your choice of starting points. File CHAOS.ARC; runs in all three resolutions.

Has your child got a cough? Does your car make a mysterious whir-rattle-ping sound? Need a diagnosis? The doctor is in--A.I. Doctor!, that is. Ron Schaefer's exercise in artificial intelligence analyzes a problem based on rules stored in a separate knowledge file. Change the knowledge file and change A.I. Doctor!'s area of expertise. File AIDOCTOR.ARC; runs in medium or high resolution.





A.I. DOCTOR. . . . . . . . . . . . PAGE 78

CRUNCH TIME FOOTBALL. . . PAGE 60
LOGIC LAB on Side 2 of your START disk
AND THERE'S MORE. . .
Side Two
---
Programs on Side 2 of Your START Disk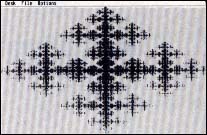 CHAOS ON YOUR ST. . . . PAGE 84
CHOCK FULL 0' SOURCE
We've dubbed Side 2 of this month's START disk "Chock Full O' Source." When we introduced the Heidi format, we promised you a bonus side of special programs, intriguing demos, and, most of all, source to the great programs on Side 1, past and present. So in addition to giving you code to this month's programs, we've dug through past issues and found three worthy sets of source that just couldn't be fit on disk when originally published.
We've got something old and something new for this month's bonus programs. We're republishing Pixel-Pro, Matt Loveless' image processing program from the Fall 1987 issue. You'll find it in the file PIXELPRO.ARC. And the something new is Joe Reiss' Logic Lab, which creates the logic puzzles you sweated over in seventh grade. You remember: five men wear five different color ties, live in five separate houses, have five different pets and eat five different foods. Match each man with his house, pet, food and tie. The program in LOGIC.ARC creates the puzzle.
Headlining our "Chock Full O' Source" disk is the Mark Williams C code to Chaos, one of this month's special science programs. Written by molecular biologist Stephen Clark, it shows the mathematics that creates order out of apparent randomness. You'll find it in the file CHAOSSRC.ARC.
In the file CALC_SRC.ARC is the C source to Alex Leavens' programmable scientific calculator, START Calc, published in the Fall 1987 issue. This feature-packed desk accessory handles trig functions and floating point math, and can accept programs of up to 1000 steps.
Spencer the Snake, star of the popular game Slither, returns once again to your START disk. The source that creates this apple-chomping reptile is included in file SLITHSRC.ARC. The compiled version of this Personal Pascal 1.1 program ran in the January 1989 issue.
And, bonus! bonus! we're also giving you the code to the Slither Screen Editor. Written in Laser C, and published in the September 1989 issue, this is the program that allows you to create your own Slither levels, making them as hard or as easy as you want. You'll find the source in file SSED_SRC.ARC.
GET YOUR START DISK
CALL 1 (800) 234-7001