Products Update
---
New ST Software & Hardware
Compiled by Marta Deike
Scattered
somewhere
throughout the
burial chamber
are your father's
body parts.
With the Eye of
Horus, you must
find them before
the evil Set finds
you. The game
runs on a color
system only.
New Games from Broderbund, ReadySoft and Britannica Software
Sure to be next in the line of addictive games, Sufflepuck Cafe, is Broderbund's latest release. In this simulated air-hockey game, you're pitted against nine different opponents, all of whom are regulars at the "Shufflepuck Cafe, a seedy saloon reminiscent of the bar in "Star Wars." Each of the nine opponents has a distinctive appearance, personality and style of play. Their abilities cover a wide range, from the easy-to-beat Wimp, Skip Feeney, to the murderous General, and their tactics also change as they play. Sufflepuck Cafe, $39.95. Broderbund Software, 17 Paul Dr., San Rafael, CA 94903-2101, (415) 492-3200.
In Space Ace, the
latest hit from
ReadySoft, you
must survive
treacherous
obstacles to
destroy the
dreaded Infanto
Ray, save the
Earth and rescue
Kimberly.
Following up last year's hit, Dragon's Lair, ReadySoft brings you Space Ace, another Don Bluth adventure. The evil Borf has just kidnapped the beautiful Kimberly, and is plotting to take over the planet with the help of his dreaded weapon--the Infanto Ray. Only you can guide the heroic Ace through treacherous battles to destroy the Infanto Ray, save Earth and rescue Kimberly. Space Ace,$59.95. ReadySoft, 30 Wertheim Ct., Unit 2, Richmond Hill, Ontario, Canada L4B 1B9 (416) 731-4175.
Experience the power of the gods with Eye of Horus, Britannica Software's new arcade game. As Horus, son of King Osiris and Queen Isis and god of all that is light and good, you must conquer Set, god of evil and night, who takes the form of a dragon. Set has slain your father and scattered his body throughout the burial chamber. Inside the confines of this maze, you must recover and reconstruct your father and, pitting your skill and magic against his, destroy Set once and for all. Eye of Horus, $39.95. Brittanica Software, 345 - 4th St., San Francisco, CA 94107, (800) 572-2272.
PC Speed from MichTron
If you have taken advantage of your ST's ability to emulate other computers like the Mac and IBM, you know that sometimes the software requires the patience of Job; it's grindingly slow. MichTron has just released their answer to this problem, PC Speed.
PC Speed gives your ST the ability to emulate an IBM PC through hardware. It runs with a Norton factor of 4, which is 33 percent faster than the advertised Norton factor of 3 of pc ditto II. In the real world, this means that PC Speed is nearly three times faster than an IBM XT, comparable to an IBM AT. PC Speed runs on a monochrome monitor, emulating Hercules graphics or on your color monitor in CGA mode. PC Speed, $399.95. MichTron, 576 S. Telegraph, Pontiac, MI 48053, (313) 334-5700.
If you survive
the trek through
ever-increasingly
dangerous
lands you must
then lead your
companions to
the evil Dragons
of Flame and
emancipate their
slaves.
SSI RPGs
If you like role-playing games, Strategic Simulations has been thinking of you. Three new adventures have just been released for the ST.
Hillsfar and Dragons of Flame are episodes in SSI's popular Advanced Dungeons & Dragons series. In Hillsfar, each character is sent on several quests, which the game automatically modified depending on the class of character you've chosen. You're put to a number of tests on these quests to earn valuable items. Hillsfar is the first AD&D game in the series, while Dragons of Flame takes you and your ten Companions on a mission to rescue slaves held by Dragonarmies. Of course, you'll be lucky even to reach your destination in this world of Giant Wasps, Griffins, Wraiths and Zombies.
Star Command is an SF roleplaying game created by Doug Wood, author of the Phantasie trilogy. In Star Command, you control a crew of eight star troopers, traveling through the galaxy on an assignment from the Star Command. The earth has been annihilated and your mission is to rescue the remaining inhabitants of the galaxy from pirates and aliens. They could be anywhere. Hillsfar, $39.95. Dragons of Flame, $39.95. Star Command, $49.95. Strategic Simulations, Inc., 675 Almanor Ave., Sunnyvale, CA 94086, (408) 737-6800.
GFA BASIC 3.0 Compiler Ships
Antic Software has announced that the long-awaited GFA BASIC 3.0 Compiler is ready to ship. The Compiler converts GFA BASIC 3.0 code into high speed, stand-alone programs and also can generate Desk Accessories. Antic is packaging the Compiler with the latest version of the Interpreter, GFA BASIC version 3.07, which promises faster disk access within programs and improved TAB functions in the Editor, as well as a new command to draw Bezier curves from four control points.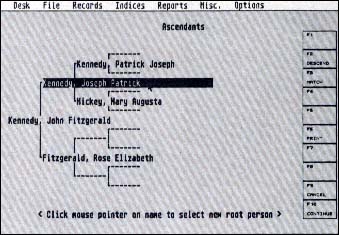 Plot your family line! Family Research Manager is a new genealogy
program for the ST from Data Horizons. With it you can chart your
ancestry as far back as you wish.
Owners of GFA BASIC can upgrade by sending their original disk to Antic Software; upgrades from GFA BASIC 3.0 are $29.95, and from 2.0 $69.94. The upgrades include both the Compiler and the new Interpreter version 3.07. GFA BASIC 3.0 Compiler/3.07 Interpreter, $139.95. Antic Software, 544 Second St., San Francisco, CA 94107, (800) 234-7001.
Family Data
Ever want to give your family roots? A new genealogy program for the ST called Family Research Manager has just been released from Data Horizons. The program includes a GEDCOM interface that reads and writes files compatible with PAF 2.1 and Roots III. Intuitive record selection functions display ancestral charts or descendant lists of names on screen. It allows up to 65,000 individuals and 65,000 marriages per database with up to 65K of text per database with up to 65K of text per individual. Extensive reports, indices and on-line help are also included. It runs on all STs with TOS in ROM and 512K of memory. Family Research Manager, $74.95. Data Horizons, 2991 Stillmeadow Drive, Dublin, OH 43017, (614) 792-9029.
If you have a new product for the ST, we'd like to hear from you. Please send press releases and product photos to Products Update, START Magazine, 544 Second Street, San Francisco, CA 94107.