The ST/MIDI
Connection
Moore Nights at the Roundtable (and Other MIDI News)
BY JIM PIERSON-PERRY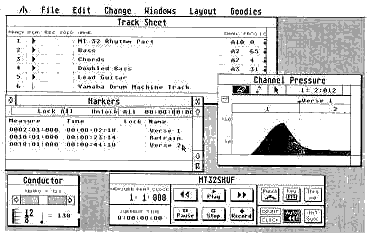 Workscreen from TIGER, Dr. T's phenomenal new graphic
editing program that works with standard MIDI files as well
as the KCS sequencer.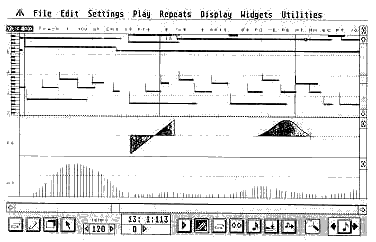 Typical screen from Master Tracks Pro ver 3.4, the pro level
sequencer from Passport Designs. It sports an extremely
intuitive user interface and one of the best GEM implementations
of any application program for the ST/Mega.
As I write this month's column, the summer music show reports have just come out in the music trade magazines. Atari had a major presence with numerous software developers, plus their STACY laptop - named best computer of the show by Keyboard magazine.
ST/MIDI Connection Goes On-Line
Yep, that's right, START's "ST/MIDI Connection" now has a home in the MIDI Roundtable on the GEnie bulletin-board system. The MIDI RT is run by Robert Moore, former head of Hybrid Arts and recently profiled in the April 1989 issue of START.
Moore manages many bulletin-board topic areas, addressing all aspects of music making and enjoyment from the pro to hobbyist levels. These range from lively discussions on software performance to practical hints for getting the most out of your musical instruments and even includes a section for want ads. Moore has been actively recruiting software and instrument developers and retailers to maintain topic areas. Among those currently on-line are Passport, Steinberg/Jones, Johnsware, E-mu and Everything Audio. The library also includes demos of commercial programs, patch and sample files, public-domain editors and utilities, text help files on MIDI and song files.
My hope is to encourage reader feedback on the types of MIDI/music features we present in START. What aspects do you like or dislike? What programs or ideas should we cover in months to come? It also will give me a place to provide timely information on new products. More globally, I hope to hear from users of various MIDI products for the ST-both good and bad experiences. This topic area could become a focus point for ST MIDI software in general.
To reach the MIDI Roundtable, just type "midi" from any main prompt on GEnie. Once at the RT, use menu option 1 to enter the bulletin board. The ST/MIDI Connection is Category 29. Stop by and visit I'll be looking for you.
Keeping Up With the Steinberg/Jones's
There are several new developments from Steinberg/Jones. Cubase and Avalon, the first programs to run under the new M-ROS MIDI multitasking system, are now shipping. Cubase is a 64-track sequencer that picks up where the Pro 24 III leaves off. Virtually all edit commands work in real time as the music plays. It provides multiple methods to view edit your music: track list, event list, piano-roll graphics and traditional score. A companion desk accessory, Satellite, comes with Cubase to send and receive patch banks from your instruments while the sequencer is running.
Avalon is a new generic sample-editor program that includes support for stereo samples and resynthesis and manages a network of up to 10 sampler instruments. You can take samples from one instrument, adjust them for playback speed and pitch, then send them to another sampler. A hardware D/A board is expected to ship in December that will accept stereo AES/EBU-format digital input (sample from a CD) and play back sound samples with 12-bit resolution. Support for the board is already built into Avalon. An earlier sampler-type project, the Lynex, has been cancelled.
Passport is shipping version 3.2 of Master Tracks Pro.
---
If you want to run multiple Steinberg/Jones programs under M-ROS, you need to be able to install all the cartridge copy-protection keys. A solution is Steinberg/Jones' new MIDEX interface box which plugs into the ST/Mega cartridge port and can hold up to three Steinberg/Jones keys plus one other of any type (Spectre 128 or GCR, for example). It also sports multiple MIDI In/Out ports.
C-Lab Happenings
Over at C-Lab, things have been busy as well. Notator version 2.1 is now shipping, and a free update is available to registered owners. One of Notator's many new features is support for the Atari laser printer. CLab's version of a multitasking system is called Soft Link and is expected to ship before the end of the year.
A particularly neat product from C-Lab is the new Human Touch interface which lets you drive sequencer tempo for Creator or Notator from an external audio source and all you have to do is make noise (snap your fingers, yell out a word-whatever!). On the "straight software" side, C-Lab's X-Alyzer has finally been released. Not only is this a good DX7II/TX802 patch editor, it also can derive a sound-sample file from the patch data to send to a sampler. These products are distributed in the United States by Digidesign.
Intelligent Choices
Remember MlDIDraw, the program that creates/performs music from pictures you've drawn? Well, Intelligent Music has just released MIDIDraw's big brother: Diablo. It's billed as a "performance controller" in which the mouse controls pitch and velocity while computer keys control other parameters (e.g., pitch bend, scales, etc.).
Due out in early 1990 is MTA, the MIDI Transit Authority (previously known as Cartographer version 2.0). This is a full software emulation of the Axcess Mapper hardware device; the earlier Cartographer program was a patch editor for the Mapper.
Multitasking at Intelligent Music takes the form of ST RAM, short for the ST Realtime Applications Manager. Currently configured as a desk accessory, ST RAM can run up to six GEM programs at the same time, whether you're using MIDI or not.
House Calls
Another month, another crop of new titles from Dr. T-do these guys ever sleep?
Those of you who started with the text-only KCS won't believe your eyes when you see TIGER, possibly the most powerful graphical sequence editor available for any computer. It can display up to three tracks on screen at once, with multiple daughter windows per track of MIDI data. You can cut and paste controller envelopes, draw your own data - just about anything. TIGER will run under the MPE or can be used as a stand-alone editor with MIDI file-sequence data.
X-OR is now shipping. This is a generic patch editor program that lets you use one program to manage/edit your synthesizers rather than dealing with a number of instrument-specific programs. It comes initially configured for the Casio CZ-I/10l; Ensoniq ESQ-1/SQ-80; Kawai Ki; Korg Ml; Oberheim Matrix 6/1000; Roland D10/20/1 10, D50/550, MT32 and GM7O; Yamaha DX7(II) and TX81Z; Cooper MSB+; Digitech DSP 128 and ART Multiverb. More instrument configurations are in development and a configuration editor may be released at a later date for users to write their own. X-OR is fully compatible with patch bank files created by earlier Caged Artist editor programs. Nor is that line finished, as shown with the release of the Proteus patch editor.
Staccato Notes
In the "A rose by any other name ..." category, Drumware is now Interval Music Systems with the same managment, address and telephone number. Their latest program is Genwave/16, an upgrade of their popular Genwave/12 generic sample-editing program. Genwave/16 handles mono and stereo samples, supporting both time- and frequency-based editing. Five looping algorithms are provided along with a host of digital signal processing options and intuitive mouse-based editing.
Passport is shipping version 3.4 of their popular Master Tracks Pro sequencer. Some of its new capabilities include controller chasing, sync to SMPTE and support for a hit list to cue musical events at defined times. If used with their companion MIDI Transport hardware interface, you can playback on up to 32 MIDI channels (16 each over two MIDI Outs). Master Tracks Pro is possibly the most ubiquitous sequencer on the MIDI market, with implementations for the Mac, Amiga, C1 and IBM and, of course, the ST. A scaled-down version, Master Tracks Jr., is available for those who don't need all the pro level features.
Jam Master, from Alpha Systems turns your ST and any MIDI keyboard into a sampler instrument. Used with any of the current 8-bit ST sound-digitizer cartridge, Jam Master lets you play back samples with four-voice polyphony. It includes a four-track sequencer and up to 32 samples may be mapped to a keyboard.
START Music/MIDI Editor Jim Pierson-Perry is a research chemist and semiprofessional musician. He lives in Elkton, Maryland.
PRODUCTS MENTIONED
C-Lab Notator version 2.1, $595; Human Touch, $249. X-Alyzer, call for price. Digidesign, 1360 Willow Run, Suite 101, Menlo Park, CA 94025, (415) 327-8811
CIRCLE 159 ON READER SERVICE CARD
Proteus Patch Editor/Librarian, $129; TIGER, $149. X-OR, $299 Dr. T's Music Software, 220 Boylston Street, Suite 306, Chestnut Hill, MA 02167, (617) 244-6954.
CIRCLE 160 ON READER SERVICE CARD
Jam Master, call for price. Alpha Systems, 1012 Skyand Drive, Macedoria, OH 44056, 216) 467-5665.
CIRCLE 158 ON READER SERVICE CARD
Cartographer, $100; Diablo, $1 50; MIDIDraw, $95; MTA version 2.0, $250. Intelligent Music, P. O. Box 8748, Albany, NY 12208, (518) 434-4110.
CIRCLE 161 ON READER SERVICE CARD
Genwave/16, call for price. Interval Music Systems, 1 2077 Wilshire Blvd, #515, Los Angeles, CA 90025, (213) 478-3956.
CIRCLE 162 ON READER SERVICE CARD
Master Tracks Pro version 3.4, $395: Master Tracks, Jr., $129.95; MIDI Transport, $395. Passport Designs, Inc., 625 Miramonles Street, Hall Moon Bay, CA 94019, (415) 726-0280.
CIRCLE 163 ON READER SERVICE CARD
Avalon, $349; Cubase, $495; MIDEX, call for price. Steinberg/Jones, 17700 Roymer Street, Suite 1001, Northridge, CA 91325, (818)993-4091.
CIRCLE 164 ON READER SERVICE CARD