Products Update
New ST Software and Hardware
COMPILED BY MARTA DEIKE
START EDITORIAL COORDINATOR
New Games
Can you face the skeletons in your closet? Do you recover from Freudian slips? In Weird Dreams, Medalist International drops you into the subconscious mind of a hospital patient undergoing surgery. Your ability to confront the demons in the patient's mental underworld-psychopathic lawn mowers, little girls who aren't all sugar and spice-affects his health on the operating table. Interpretations of this game are welcome but, according to the authors, are entirely subjective (a sort of high-tech Rorschach test). Weird Dreams, $39.95. Medalist International, 180 Lakefront Drive, Hunt Valley, MD 21030, (301) 771-1151.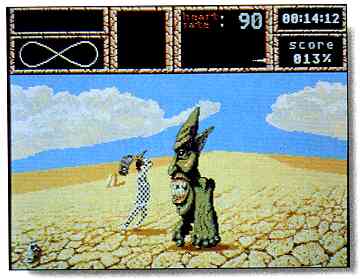 Welcome to the subconscious zone! A patient's life or
death depends on your interpretation of his Weird Dreams.
Deliver papers to subscribers (and smash the windows of non-subscribers) in Paperboy, Mindscape's long-awaited ST adaptation of the arcade hit. Among other obstacles on your route, you'll face cars, bicycles, irate housewives, cats and lawnmowers. You can earn extra points on the "Paperboy Training Grounds," but be prepared for the unexpected. Paperboy, $49.95. Mindscape, 3444 Dundee Road, Northbrook, IL 60062, (312) 480-7667.
Accessories from MaxWell
MaxWell Computer Products introduces two new products for the ST, GoGo>ST and MegSTender. GoGo>ST is a quick-start tool, designed to make running a program fast and simple. With GoGo>ST, you can create a list of programs that automatically appear when you boot your computer, then all you have to do is select one and go! And GoGo>ST gives you full access to the ST's desktop functions, including desk accessories.
Also new from Maxwell is MegSTender, a keyboard extension cord for the Mega. Now you can move your keyboard around the room-great for MIDI applications and computer games. MegSTender comes in lengths of six, eight, 12 and 25 feet. GoGo>ST, $34.95; MegSTender, $16.95 to $24.95 (depending on length). MaxWell Computer Products Unlimited, 507 W. Baseline, Lafayette, CO 80026, (303) 665-4849.

---
If you have a new product for the ST, we'd like to hear from you. Please send press releases and product photos to Products Update, START Magazine, 544 Second Street, San Francisco, CA 94107.