Review
Of Mice and STs
New Mice from Practical Solutions, Best and Datel
BY STEPHEN MORTIMER

The Cordless Mouse from Practical Solutions: infrared technology
is what lets the mouse go "tall-less."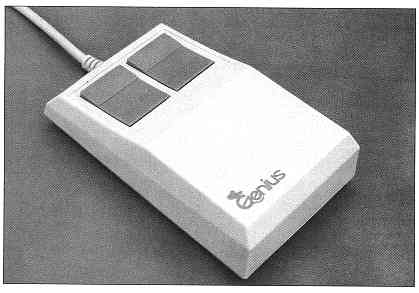 The Genius Mouse from Datel, has large buttons that offer a softer
response than the Atari mouse.
For most ST owners, the mouse is just one of those components that they take for granted. It came with the computer, it's there and it always works. But now that early STs are getting on in years, some owners are finding that their mice are getting a bit crotchety. Other owners just want a better-or different feeling- mouse.
Until recently, the only solution to a dead or glitchy mouse has been to replace it with another from Atari, a $25 proposition. Now you have a choice: Datel and Best have two new direct replacement ST mice and Practical Solutions has announced a radically different mouse, one without a tail. If you need or want a new mouse, read on.
CORDLESS MOUSE FROM PRACTICAL SOLUTIONS
Once again, Practical Solutions has created a useful hardware add-on to add to its already impressive product line. This time, it's a cordless mouse. Dubbed, appropriately, the Cordless Mouse, it utilizes infrared technology for wirefree operation.
A small receiver unit on a cable plugs into the ST's mouse port and receives commands from the Cordless Mouse. While you must maintain a clear line of sight between the receiver and the light-emitting diode (LED) on the Mouse's nose, it is useable at an angle of up to 45 degrees and up to 5 1/2 feet away.
Smooth Operation
The ergonomically designed Cordless Mouse is very comfortable to use. The two buttons on top of the unit use high-quality switches with excellent tactile response. They're much more responsive than the stock ST mouse.
Movement is very smooth. The Cordless Mouse uses a smaller ball than its Atari counterpart and, like Atari's, it's removable for easy maintenance. TeflonTM pads on the bottom of the unit also contribute to its slick operation. In fact, it's so fluid that it takes a little time to get used to after using an Atari mouse.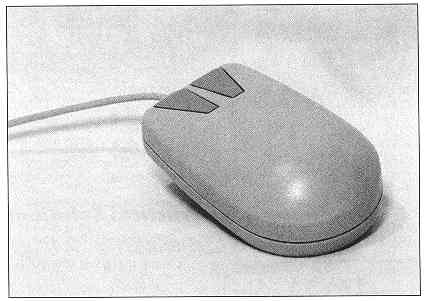 Ergonomically designed, the Best Mouse fits snugly in the palm of
the hand-a comfortable alternative to the ST's stock unit.
Practical Solutions' Mouse also increased the resolution to 200 cpi (counts per inch), which contributes to faster mouse operation. (Software-based "mouse accelerators" provide similar results.) You only have to move the Cordless Mouse half as far as an Atari mouse for the same cursor movement. This is especially nice if your desk space is limited.
---
Datel supplies a
six-foot-long cord
with its mouse-
a godsend for
left-handers.
---
You can adjust the Cordless Mouse's speed to the application. If you hold the side button in while moving the mouse slowly, the cursor will move slowly; it's great for pixel-by-pixel editing in a paint program, for example. For faster movement, say, for moving from one side of a Moniterm 20-inch monitor to the other, you just hold the side button in and move the mouse more rapidly. In effect, the Cordless Mouse has three operating speeds: slow, normal and fast.
Two AAA batteries (not included) power the Cordless Mouse. Practical Solutions estimates that battery life will be about 125 hours in continuous use. For the average ST user, this should be almost three months! The Mouse also has two battery-saving "sleep" modes. After a few minutes, the Mouse will automatically go into its first sleep mode; just move the mouse to "wake" it. After 10 minutes of inactivity the Mouse will shut itself off; you just press the side button to turn it back on.
No More "Down in Front!"
After using the Cordless Mouse for some time now, I've had no problems with it. The obnoxious but necessary cable of the "normal" mouse is just gone and no mouse accelerators are needed. The fact that you can use the mouse at some distance from the computer means that for anyone who uses an ST for demonstrations can now move far enough back to stay out of the way of the monitor screen!
The Cordless Mouse I reviewed was a pre-production unit. It's scheduled for release in late 1989, so it should be available by the time you read this. Practical Solutions caps its product with a full one-year warranty and stocks all parts. They have gained an excellent reputation for their ST hardware and the Cordless Mouse will only add to it. I highly recommend this product.
MICE FROM DATEL AND BEST
If you're looking for a lower-cost and slightly more traditional alternative to the stock ST mouse, Best Electronics and Datel Computers offer two new choices.
---
Practical Solution's Cordless Mouse
utilizes infrared technology.
---
Bringing You the "Best"
The Best mouse has an ergonomic, bulbous shape that fits comfortably in the palm of the hand. Though it operates smoothly on a mouse pad, Best suggests you use the unit on a harder surface because it has only three teflon feet and tends to dig into soft mouse pads. The mouse's two narrow, soft buttons have reassuring tactile feedback and are very responsive. A five-foot-long cord is supplied with the Best mouse.
A general problem with mechanical mice is removing the dirt that accumulates on the mouse's ball rollers. By the time you read this, Best says that Teflon (TM) rollers will be standard to make them easier to clean. Best provides a 90-day warranty and stocks all parts.
The Datel Genius
Datel's mouse, called the Genius, has a slightly boxy design with large, square buttons on top and Teflon (TM) feet. The large, soft buttons are pleasant to use and much more responsive than those on Atari's mouse, but I found that the cursor tends to make sudden jerky jumps, particularly when the mouse was moved fairly quickly. Datel supplies a six-foot-long cable-a godsend for left-handed ST users. Like the Best mouse, it also has a 90-day warranty.
Final Thoughts
Both mice are claimed to have a 200-cpi resolution. In actual use, their operation turns out to be quite different, The Best mouse moves the cursor exactly like the Atari mouse; on the other hand, the Genius mouse needs only half the distance to accomplish the same operation, making software mouse accelerators unnecessary. After using both mice for some time, I found the shape of the Best mouse to be very comfortable, while the Genius mouse did not fit my hand quite as well and became tiring after several hours of use.
Overall, I would rate the Best mouse slightly better than the Genius mouse. This is a personal preference and your own preferences may differ. If you can, try them both out before you make your choice.
Stephen Mortimer is a Contributing Editor for START and authors "News, Notes & Quotes" on a regular basis.
PRODUCTS MENTIONED
Atari STM-1 Mouse, $25.00 exchange or $49.95 without exchange. Atari Corp., 1196 Borregas Ave., Sunnyvale, CA 94086, (408) 745-5759.
CIRCLE 171 ON READER SERVICE CARD
Best Mouse, $49.95. Best Electronics, 2021 The Alameda, Suite 290, San Jose, CA 95126, (408) 243-6950.
CIRCLE 172 ON READER SERVICE CARD
Genius Mouse, $44.99. Datel Computers, 3430 E. Tropicana,- #67, Las Vegas, NV 89121, (800) 782-9110.
CIRCLE 173 ON READER SERVICE CARD
Cordless Mouse, $129.95. PracticaI Solutions, 1135 North Jones Blvd., Tucson, Arizona 85716, (602) 322-6100.
CIRCLE 174 ON READER SERVICE CARD