News, Notes & Quotes
---
What's Happening in the Atari World
by Stephen Mortimer, Marshall M. Rosenthal
and the START Staff
Atari Advertising
According to sources at Atari Corp., the company has recently signed with two new ad agencies. Chiat/Day/Mojo of Los Angeles will handle advertising for the Entertainment Division and Stamford, Connecticut-based Anderson & Lemke will handle Computer Division ads. Both agencies will work from their San Francisco offices.
Both firms have excellent reputations and handle major accounts. Chiat/Day/Mojo's accounts have included Nissan, California Coolers, National Car Rental and Oracle, while Anderson & Lemke's clients have included Phillips Europe, OCE Worldwide, Burlington Air Express and Intel.
The total ad budget is reported to be in the neighborhood of $20 million with the lions share going to the Computer Division. As of this writing, the media plan has not been set, but you'll probably have already seen new Atari ads by the time you read this.
Hacking to Disaster
by Marshal M. Rosenthal
A group of young men in West Germany recently paid a high price for their computer hacking. Hannover has long been the scene of some of the worst software piracy in Europe, but these men, aged 25 to 35, went quite a bit beyond piracy--they put their computer skills to work for the KGB, the USSR's state security and intelligence service.
The purpose of this hackers network was to acquire Western technology from military and civilian installations and then pass it on to the KGB operating out of East Germany. Through diligence, information supplied by U.S. intelligence sources and a bit of luck, the BFV (the German equivalent of our FBI) was able to tap into the network. West German Intelligence spread their net over 18 months and were finally able to grab all of the culprits.
The hackers claimed in their defense that they were the victims of blackmail and drug-induced coercion. In fact, they were paid a total of under $200,000 for their treason as well, but at the relatively paltry rate of about $2,000 per disk. Apparently, most of them found the excitement of their deeds as intoxicating as the financial rewards. They may have a long time to sober up, however, as they face long prison terms for their actions.
On a bizarre final note, the body of 24-year-old hacker Karl Kock was found in the woods near Hannover, apparently a victim of suicide by self-immolation. Though Kock had originally been a part of the hackers group--he supplied codewords for gaining entry into sensitive computer networks--the 24-year-old had turned informer to the BFV.
Spectre 2.0 Closer to Perfection
With Spectre GCR version 2.0, Gadgets by Small's Apple Macintosh emulator has reached the plug-and-play stage. It can read Mac disks directly and has improved in many other areas. Version 2.0 will also feature UltraScript support that, according to Gadgets owner Dave Small, brings it to the "pull down Print and it goes" stage. Negotiations are currently underway at press time to bring UltraScript support to Spectre.
Spectre GCR emulation is now that of a true Mac Plus rather than a Mac 512E. This means it should operate under System 7.0 when it's released by Apple next year. (System 7.0 is a revolutionary step for the Mac operating system, featuring non-PostScript outline fonts, increased printer support and a special language for communications between applications.) Small points out that floppy disk operation in Spectre GCR Mac mode is faster than it was with Spectre-formatted disks. Hard disks also operate faster and sound support has been solidified.
The Moniterm large-screen monitor is now supported by Spectre version 2.0. Lastly, it has been proven that Spectre GCR works with Atari's STACY laptop ST, meaning that a Mac laptop may soon be available--even if it's not from Apple!
For more information, contact Gadgets by Small at 40 West Littleton Blvd., #210-211, Littleton, CO 80120, (303) 791-6098.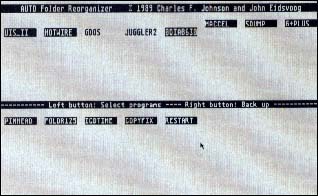 One of the best of CodeHead's Utilities is the AUTO Folder
Reorganizer by Charles F. Johnson and John Eldsvoog. It lets
you change the order in which programs run in your AUTO
folder, just the thing to let you solve those AUTO programs
conflicts problems.
Fat Bits
• A total of five accelerator boards have been announced for the ST. Early last year, Strange Systems was the first to announce an accelerator, but it has yet to appear. JRI's JATO board is shipping. CMI's accelerator with a math coprocessor and blitter socket is also shipping. Fast Technology's T16 and Datafree's board were not yet available at press time. It appears that a fierce competition is brewing in this high-speed market.
• On its way to the Dearborn, Michigan World of Atari show, the Atari STACY prototype was severely damaged. Atari called on Gadgets by Small's Dave and Sandy Small to resurrect the portable ST, using tape and glue. As a thanks to the Smalls, Atari let them display the STACY with the Spectre GCR Mac emulator.
• WordPerfect has reduced the list price of their popular word processor to $250. As of press time, however, the up-date announced in early summer had not yet been shipped.
• Atari sponsored several small World of Atari shows for dealers and users. The shows were designed to increase dealer coverage for Atari in the South eastern pan of the United States. Several dealers have decided to carry the Atari line as a result of these shows.
• CodeHead Software has done it again with CodeHead Utilities. It contains many useful utilities and the most recent versions of Charles F. Johnson's shareware software with a retail price of $29.95.
• Atari hard-disk utilities (HDX) version 3.01 is now available and allow the creation of partitions up to one gigabyte in size. Check with Atari Customer Service for availability.
Stephen Mortimer's a contributing editor for START. He lives in Binghamton, New York. Marshal M. Rosenthal is a New York-based writer and photographer.
If you have a hot Atari news item, let us know at News, Notes & Quotes, START Magazine, 544 Second Street, San Francisco, CA 94107.