Products Update
New ST Software and Hardware
Compiled By Marta Deike
Start Editorial Coordinator
Hand Scanner from Migraph
Migraph announces the release of their Hand Scanner (introduced at Spring '89 COMDEX). Now you control the scanning, recreating only the images and parts of images that you want in your DTP projects. The new instrument (which plugs into your ST's cartridge port) scans a four-inch width at 100 to 400 dots per inch. You can choose among such options as half-tone; line art or contrast scanning and then watch your work through a window on the unit itself. Migraph includes a "light" version of their bit-image editor, Touch- Up, in the Hand Scanner package. Hand Scanner, $499. Migraph, 200 S. 333rd Street, Federal Way, WA 98003, (800) 223-3729.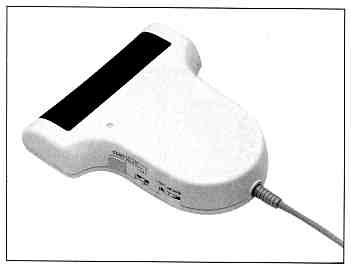 Migraph's new Hand Scanner allows you to selectively
scan images for your DIP projects. Plug it into your ST's
cartridge port and go!
---
Switchable Operating System
Did you just buy your new TOS 1.4 ROMs only to discover that some software won't work with them? Now there's help for those compatibility blues. From Bill's Designs comes a product that will let you run your original TOS in ROM or switch to the new TOS version 1.4 (or any other TOS for that matter), and go! The S.O.S. (for Switchable Operating System), consists of a socketed board with an external switch. S.O.S., $70 (price does not include ROMs). Bill's Designs, 1246-A Nike Street, Huntsville; AL 35808, (205) 837-4018.
---
New CAD Package for the ST
Beta-CAD brings you a CAD package that requires just your 520ST and a monochrome monitor. It runs entirely from RAM, with over 1,700 entities and 500 levels available. In order to speed common functions, keyboard commands and mouse control are used to execute such functions as stretch, duplicate; rotate and auto-intersect. "Auto-dimensioning" places leader lines, arrowheads and repositionable dimensions or text anywhere on the screen with a quick click of your mouse. There's also instant online help with a list of commands and functions. Beta-CAD, $89.99, Beta-CAD, 31 Millard Road, North Attleboro, MA 02760, (508) 695-9175.
---
Hard Drive Boost
Keep your ST Hard Drive performing at its peak with MichTron's Hard Drive Turbo Kit, a multi-utility package that caches, optimizes and backs up your hard drive. The package includes two programs, MichTron's Toolkit and M Cache. Toolkit not only backs up but also optimizes your hard drive, restoring its speed. Toolkit also lets you check disk statistics and run a consistency check. M Cache increases the speed and efficiency of your drive by holding recently accessed disk sectors in your computer's memory, thus eliminating the time-consuming step of rereading information. Hard Drive Turbo Kit, $59.95. MichTron, 576 S. Telegraph, Pontiac, MI 48053, (313) 334-5700.
---
Hard Drives from Future Systems
Future Systems recently released its family of hard disks for the ST. The new FS series of hard drives offer the ST user both high performance and large storage capacity at an affordable price.
The FS series includes three configurations: 30, 50 and 80 megabytes. All three models are self-contained, external units with their own internal power supply, cooling fan and controller/interface. A second DMA channel for daisy chaining additional peripherals is provided with each drive. FS-30, $749; FS-50, $849; FS-80, $1199. Future Systems, Inc., 21634 Lassen Street, Chatsworth, CA 91311, (818) 407-1674.
---
Games
Broadway comes to your ST with Cinemaware's extravaganza of sight and sound, The Kristal, a 3D-adventure game based on the original stage musical, The Kristal of Kronos. You are Dancis Frake, a space pirate who seeks the long-lost Kristal of Kronos. Emerging from a timeless dream with no memory of who you are or where you're from, you must discover the secrets of your past. There are scores of interesting characters-all carefully crafted to express personality- who provide you with vital clues, but you're not without enemies, and they're on a steadfast course to obliterate you and your quest. Sixty different colorful scenes promise to keep this production engaging. The Kristal, $49.95. Cinemaware, 4165 Thousand Oaks Blvd., Westlake Village, CA 91362, (805) 495-6515.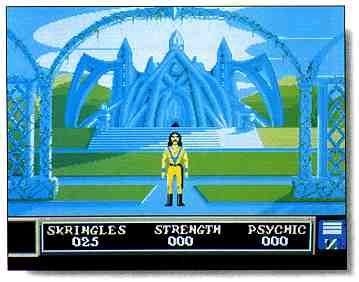 High drama and humor abound in Cinemaware's The
Kristal. The fate of the universe is in your hands, but
how will you save the world when you can't even
remember your name?
Based on the popular but deceased television series, Miami Vice by IntraCorp puts you in the Ferrari's driver's seat as the slick crime fighter, Crockett. Your chase will take you through the land of the palm trees, racing your Ferrari through the Art Deco district and your speedboat to Stiltsville. There are eight levels of difficulty to challenge you and the colorful graphics accentuate the titillating dangers of fighting crime; Miami-style. Miami Vice, $39.95. Intracorp, 14160 SW. 139th Court, Miami, FL 33186, (305) 252-9040.
Hustle your friends or computer in the new billiards program, World Snooker by Artworx. In each of the six different versions, you can zoom in for precise shot alignment, take back missed shots, set the table for trick shots and even watch an instant replay of the last shot. The computer will give you a demonstration and then let you have a practice session.
Also from Artworx, Colossus Chess X pits your strategic mind against a computer that grows more cunning with each game. The unique feature of this chess simulation is its ability to learn new lines of play based on its experience playing against you. Colossus understands all the rules including under-promotion, the fifty-move rule and "all draws by repetition." It also handles all the standard mates including the very difficult King, Bishop and Knight versus King. There are four different sets of chess pieces and six different playing modes. World Snooker, $24.95; Colossus Chess X, $34.95. Artworx Software, 1844 Penfield Road, Penfield, NY 14526, (716) 385-6120.
---
If you have anew product for the ST, we'd like to hear from you. Please send press release and product photos to Product Update, START Magazine, 544 Second Street, San Francisco, CA 94107.