The ST/MIDI Connection
Sometimes You Can Get What You Want!
BY JIM PIERSON-PERRY
START MUSIC/MIDI EDITOR
Hello, campers! Time to catch up on some new MIDI software while you're soaking in the rays. We will also look at some of Atari's new hardware and promotional activities that should boost its already commanding position in the MIDI market even higher.
Beggar's Banquet?
Not by a long shot. My database shows well over 225 MIDI programs and hardware components for the ST, with more arriving every week. And that's not even counting the upgrades as developers improve their programs' capabilities.
Speaking of upgrades. the new version of Notator from C-Lab (distributed in the United States by Digidesign) supports the Atari SLM804 laser printer and HP Deskjet. Their most recent releases are patch editors for the Korg M1 and Matrix 6 synthesizers.
Copyist DTP (version 1.6) from Dr. T also works with the SLM804 and is the only ST scoring program that directly supports Ultrascript and the Imagen Crescendo music fonts. The latest from the Doctor is Guitaristics, a guitar training program that also provides a good bit of music theory.
Not an upgrade; but advancing the state of the art is ADAP II from Hybrid Arts. This long-awaited direct-to-disk digital recording and editing package is now shipping and, word has it, performance is fantastic.
Following on the success of their TX81Z patch editor Musicode has released two more patch editors: the DX21/27/100 and K1 Voice Development Systems. Those looking for a solid first sequencer should look at Final Cut from Legend Software, currently shipping version 2.3. As many sequencers pass the one-meg memory requirement, it's reassuring to find good ones that still run on the 520ST.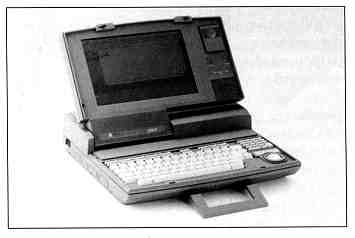 Atari's new ST laptop computer, the Stacy, will
be a hot item for MIDI enthusiasts. It's portable,
inexpensive (under $1,500) and can handle
everything a 1040ST can- including MIDI.
Another sequencer that likes the 520ST just fine is Twelve from Steinberg/ Jones. Basically a stripped-down version of their Pro 24 III (from 24 to 12 tracks), Twelve is admirably suited for live performing where memory can be stuffed with your sequences rather than program code. On the horizon is Avalon, a generic sample editing program.
MIDImouse announces Ultra MIDI, which combines the functions of a sysex librarian, MIDI mapper playback sequencer and more into a total music performance workstation. They have also entered the music education field with three programs in the MIDI Music Lessons series: Note Wizard, Scale Master and Chord Magic.
We have first releases from two new ST MIDI developers. The first is MIDIMAX from Codehead Software; well known for their ST utility programs. MIDIMAX is a real-time MIDI message processor that provides event filtering, controller remapping, modal harmonizing, multiple keyboard splits and macros to set up customized MIDI environments. Equally impressive is Beethoven, a new scoring program distributed by Samson Technologies. This combines sequencing with real-time notation, then adds advanced editing features to provide a total musical DTP system. (Editor's note: At presstime, Samson Technologies was planning to rename Beethoven, but no new name, or price, had been set.)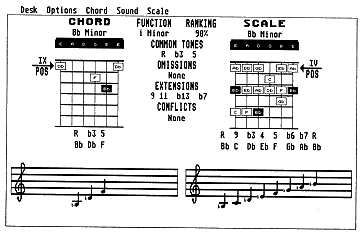 Sample display from Guitaristics, the new
guitar/keyboard fingering and music theory
educational program from Dr. T.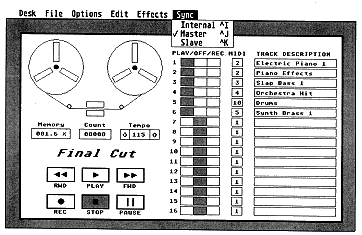 Main workscreen from Final Cut, the sequencer
program from Legend Software. As many
sequencers pass the one-meg memory
requirement, it's reassuring to find good
ones that still run on the 520ST.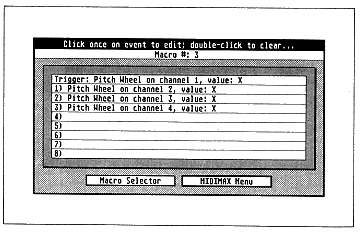 Sample MIDI macro created with MIDI-MAXfrom
Codehead Software. This example watches for
pitch bend events on channel 1 and echoes them
on channels 2-4.
Jumpin' Jack's Flash
Not to be outdone by all the great software, Atari is kicking out the jams on the hardware side with new products having lots of appeal to musicians.
Probably the biggest news is the debut of Stacy, the Atari laptop. If you have been following STARTs coverage, you should know that Stacy is the portable equivalent of a 1040ST with several nice, convenient features. The basic model runs about $1,495 and provides one megabyte of memory with a double-sided disk drive and a 640-by-400-pixel monitor. A trackball replaces the mouse.
Did you know that Stacy has a big sister Stacy Pro? (Come on Atari, how about a better name?) This version will be available about two months after Stacy starts shipping (this is currently pegged for June in time for the NAMM show) and starts with two megabytes of memory, expandable up to four meg. Stacy should be ideal for performing musicians: all the MIDI power of the ST in a form suited for the road and stage.
Another hot item is the Atari CD-ROM player. Eagerly awaited since its preview a couple of years ago in Antic, it is finally ready to go. The estimated price tag of $599 is close to jack Tramiel's original goal of $500 (allow for inflation). One of the first releases for the Atari CD-ROM player will be a collection of sampled sounds in Sound Designer format from Optical Media. And yes, it works as a regular CD player when you're done computing for the day.
The ST continues to gamer new users from the ranks of established professional musicians. Some of the newest "celebrity users," covering a wide range of styles, are Eddie Van Halen, the Beach Boys and Debbie Gibson.
Finally, I hope many of you were able to attend the MIDI show put on during the April "World Of Atari" at Disneyland. Co-sponsored by START and Keyboard magazines, it was hosted by Michael Pinder of Moody Blues fame with appearances by Mick Fleetwood, Jimmy Hotz and, not surprisingly, Sam Tramiel.
START Music/MIDI Editor Jim Pierson-Perry is a research chemist and semiprofessional musician living in Elkton, Maryland.
PRODUCTS/COMPANIES MENTIONED:
MIDIMAX, $49.95. Codehead Software, P.O. Box 74090, Los Angeles, CA 90004, (213) 386-5735.
CIRCLE 153 ON READER SERVICE CARD
Matrix 6 EdItor, M1 Editor, no price set; Notator, $595. Digidesign (U.S. distributors for C-lab), 1360 Willow Run, Suite 101, Menlo Park, CA 94025, (415) 327-8811.
CIRCLE 154 ON READER SERVICE CARD
Copyist DTP, $399; Guitaristics, $79. Dr. T's Music Software, 220 Boylston Street, Suite 306, Chestnut Hill, MA 02167, (617) 244-6954.
CIRCLE 150 ON READER SERVICE CARD
ADAP II, $3,495. Hybrid Arts, Inc., 11920 West Olympic Blvd., Los Angeles, CA 90064, (213) 826-3777.
CIRCLE 151 ON READER SERVICE CARD
Final Cut, $89.95. Legend Software, 3508 34A Avenue, Edmonton, Alberta T6L 5E8, Canada, (403) 450-0736.
CIRCLE 155 ON READER SERVICE CARD
Chord Magic, $69.95;
Note Wizard, $69.95;
Scale Master, $69.95;
Ultra MIDI, $229.95.
MlDlmouse Music, P.O. Box 877, Welches, OR 97067, (503) 622-4034.
CIRCLE 156 ON READER SERVICE CARD
DX21 /27/100 Voice Development System, $69; K1 Voice Development System, $89. Musicode, 5575 Baltimore Drive, Suite 105-127, La Mesa, CA 92042, (619) 469-7194.
CIRCLE 157 ON READER SERVICE CARD
Optical Media International, 485 Alberto Way, Los Gatos, CA 95032, (408) 395-4332.
CIRCLE 158 ON READER SERVICE CARD
Beethoven, no price set. Samson Technologies Corp., 485-19 South Broadway, Hicksville, NY 11801, (516) 932-3810.
CIRCLE 159 ON READER SERVICE CARD
Avalon, no price set; Twelve, $89.95, Steinberg/Jones, 17700 Raymer Street, Suite 1001, Northridge, CA 91325, (818) 993-4091.
CIRCLE 160 ON READER SERYI(E CARD