Products Update
---
COMPILED BY MARTA DEIKE, START JUNIOR EDITOR
NeoDesk Accessory
Gribnif Software has released its command line interpreter, NeoDesk CLI, an accessory to the popular NeoDesk 2.0 - The Desktop Alternative. The CLI interpreter is completely GEM based and supports MS/DOS and UNIX-style commands. Owners of NeoDesk 2.0 can use the interpreter to create powerful batch files and pop-up menus, and automate multiple-file housekeeping. Along with a detailed manual, the CLI package includes several sample batch files. NeoDesk 2.0 works with all machines, ROM versions and displays. NeoDesk CLI, $29.95. Gribnif Software, P.O. Box 350, Hadley, MA 01035, (413) 5847887.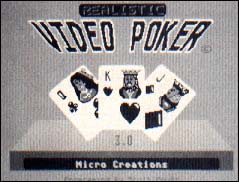 Hit me, you say? Micro Creations gives you this
hit game in their gambling simulation, Realistic
Video Poker.
Simulated Gambling
If you've ever been seduced by the casino lights of Atlantic City or Las Vegas, you probably know about those addictive little slot-type machines that play poker. Now you don't have to leave your home or lose your money to gamble. Micro Creations brings Realistic Video Poker to your ST. Designed to be as close to the casino game as possible in both play and graphics, the game is keyboard controlled: M alots your money, C deposits a coin, the spacebar deals cards and the number keys mark the cards to hold. There are also control-key combinations for options such as Double Down, New Machine and Payout Report. In a very short time, you won't even have to look away from the screen to play. Realistic Video Poker lets you think about your strategy. Realistic Video Poker, call for price. Micro Creations, 4609 Millbrook Way., Bakersfield, CA 93313, (805) 397-9414.
Mapping Chaos
Have you lost your way in the dungeon? If you have descended into FTL's wildly popular Dungeon Master (and its sequel, Chaos Strikes Back), you know what it's like to wade through the labyrinth of tunnels comprising the dungeon. Well, Dream Park has come through with the ultimate Dungeon Master utility, The Cartographer. This map generator displays the current state of the dungeon, which varies for each player. There are color graphic maps of all dungeon levels, which can be saved to disk in DEGAS uncompressed format. Also included is a spell list with symbols and complete descriptions. The Cartographer works on all machines with a color monitor in low resolution. The Cartographer, $9.95. Dream Park, 2469 E. Fort Union Blvd., Suite 100, Salt Lake City, UT 84121, (801) 943-4370.
ALERT BOX
The correct address for Twilight Zone Software (mentioned in Products Update, May 1990 issue) is P.O. Box 7264, Louisville, KY 40257.
The phone number for ISD Marketing (distributor of Calamus) is (416)479-1880. The number listed in the Desktop Publishing overview by Scott Wasser in the April 1990 issue is ISD's FAX number.
If you have a new product for the ST, we'd like to hear from you. Please send press releases and product photos toProducts Update, START Magazine, 544 Second St., San Francisco, CA 94107