Review
WORDFLAIR
One Package, Five Programs
BY DAN FRUCHEY
AT A GLANCE

Program:

Type:

Company:





Price:

Requirements:

Wordflair

Document processor

Goldleaf Publishing, Inc.
7700 Larkspur Landing Circle,
Suite 199
Larkspur, CA 94939
415/381-7717

$99.95

ST with at least 1MB of RAM
Double-sided disk drive
What if I offer you a unique new product that can process text, mathematical formulas and database information all at once? Interested? What if that same program also correlates the data and generates graphs and charts that express the results? Intrigued?
I'll add multiple fonts, graphics importing and options to create lines and boxes in a variety of styles. I'll throw in the most commonly requested desktop publishing functions, processing speeds that equal or exceed other word processors and outstanding print quality. Sounds too good to he true, doesn't it?
Let me introduce you to Wordflair, the unique new word processor/dataIabase spreadsheet/graph generator/desktop publishing program from Goldleaf Publishing, Inc. (formerly Blue Chip International). It's one of the products I've been waiting for since the day my computer arrived. And it's almost worth the wait.
Up and Running
Wordflair runs in medium or high resolution on any ST or Mega with 1MB of RAM and a double-sided disk drive. Printing on a 24-pin or laser printer requires a second disk drive and the manufacturer recommends a hard disk and monochrome monitor.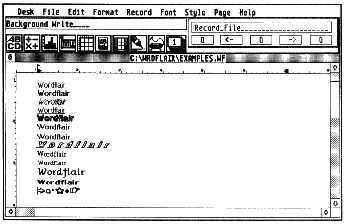 Goldleaf's Wordflair is a true WYSIWYG document processor
that allows multiple typefaces and point sizes.
The 223-page manual is clearly written and easy to read. Hints, tutorials and helpful ideas abound in a format that won't strain your eyes or comprehension. Sample documents and page templates are on disk.
Wordflair uses GDOS fonts and drivers to produce high quality screen and printer output. Since each monitor and printer requires a different configuration, you need to customize a working disk. The onetime installation procedure takes approximately 10-15 minutes.
As a bonus, the disk includes a customized version of Codehead Software's G+Plus, a GDOS substitute that's faster and less error prone.
Word Processing
Wordflair acts primarily as a word processor with desktop publishing capabilities. It has all the standard word-processing options: search and replace, block copy, cut and paste, headers and footers, page number placement, adjustable margins, format rulers and predefined U.S. and European page sizes. You can type in your documents directly or load imported ASCII files.
The latest version of Wordflair does not include a spell checker or thesaurus, but commercial products that are currently available work well with the program. Goldleaf plans to publish a set of their own and offer them at a substantial discount to registered owners.
Desktop Publishing
Wordflair performs many basic publishing functions. You can create multicolumn page layouts, define automatic paragraph indentation, frame regions with round- or square-cornered boxes of variable thickness and create freely adjustable columns and grids.
Graphics can be imported in metafile (.GEM) and image (.IMG) formats. You can move, stretch, align, group and copy graphics at any time. A snap option and a handy T-bar alignment tool are always available to aid in placement of graphics or regions.
---
Wordflair's five functions work together.
---
Database
The database accepts user defined parameters. Data field length is freely adjustable. Mail merge is easy. The data can be printed or used with the graph and calc functions.
Calc
Calc functions retrieve information from the database, perform computations, then send the results to be used in graphs or for further calculations. You can create simple spreadsheets, prepare income reports and more. Many formulas are predefined, including those for averaging, exponentiation, rounding, square root and standard deviation. All you need to do is select a formula and plug in the numbers.
Graph
Wordflair creates bar, pie and line graphs. It uses data entered through the graph function, or imported from the database and/or calc functions.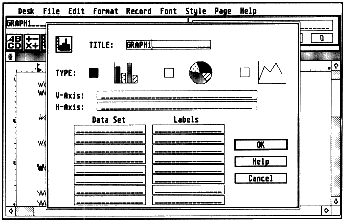 Wordflair processes more than words. The integrated
package includes a database, calculator and a graphing
function (shown here). An upgrade, due out soon, will
include a thesaurus and spell checker.
Up to eight different pieces of data are displayed at once. Horizontal and vertical axis titles can he changed at will and explanatory display labels are allowed on each piece of data used.
Wordflair will automatically assign grey scales to differentiate pieces of data, and generate a legend.
Printing & Extras
Wordflair lets you configure your printing preferences: margins, tabs, paragraph indentation, columns, rulers, fonts, frames, lines and grids. Next time you run Wordflair, everything is set to your liking.
Drivers and fonts for common 9-and 24-pin printers are included with Wordflair and more are being written. The program works great with Atari's laser printer; pages normally print in less than 30 seconds.
If a document is too large to print (too many fonts or graphics, etc.) Wordflair will deactivate the printer driver to free up RAM. This gives you room to save your document before the session ends. Some programs simply lock up or bomb when this happens; Wordflair provides a safer alternative.
The Ultimate Program?
Wordflair delivers what it promises, but it's not the ultimate program. If you need a word processor, you'll be extremely pleased with Wordflair. It's fast, flexible and easy to use. But in desktop publishing, data processing, graphs and spreadsheets, its abilities are limited.
Wordflair meets my math needs quite handily, but I would never recommend it for corporate finances. It's fantastic for creating simple newsletters, but a publisher would be dismayed by its limited layout capabilities.
Wordflair is ideal for the small business or individual who needs the abilities of several products and doesn't want to spend the time and money buying and learning multiple programs.
Yes, there are products that perform individual functions equally well or better. Wordflair's strength is that its functions work together, in one program, instead of five.
Dan Fruchey is a paramedic and clip-art entrepreneur who lives in Santa Rosa, Calif. He wrote the word processor comparison/or the April 1990 issue of START.