Prodocts Update
K4 Voice Development System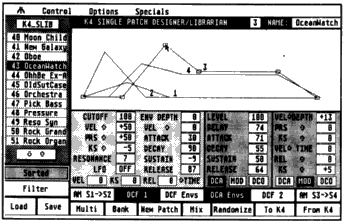 The K4 Voice Development System from Musicode
integrates an editor, librarian and sequencer to support
all areas of the Kawai K4 synthesizer.
The K4 Voice Development System from Musicode lets ST users obtain the maximum from their Kawai K synthesizer. The K4 VDS integrates an editor, librarian and sequencer to support all areas of the K4 instrument.
Users may edit single- and multi-patches, and the effects, output and drum sections of the K4. The program has quick, clear displays, click-and-drag graphic-envelope editing and provides for easy organization of your patches within libraries and banks where you may use sort, filter, copy, swap and delete functions. And the powerful sequencer is always available from any point in the program.
K4 Voice Development System, 599. Musicode, 5575 Baltimore Drive, Suite 105-127, La Mesa, CA 92042.

---
Federation
Spotlight Software and Electronic Arts have teamed up to bring you Federation, a strategic space trading and combat adventure game for the ST.
Federation combines a challenging starship flight simulator with a sophisticated free-market system to create a unique blend of action and strategy. The player controls a ship equipped with a flexible flight control console, weaponry and a vital communication system. Use the ship's guidance system to dock with space stations or actually land on alien planets. Money buys power and more advanced weapons and shields, so savvy players will wheel and deal with the local populations to get the best possible price for their cargo. The player sets the goal: advance to the rank of Admiral of the Federation of Free Traders or amass the greatest fortune possible.
Federation, $49.95. Electronic Arts, 1810 Gateway Drive, San Mateo, CA 94404, 800/245-4525.

---
Harmony
Accolade announced the release of The Game of Harmony, an arcade game for the new age in which players must use a combination of strategy and concentration not to annihilate objects on the screen, but to keep them from blowing up. Accompanied by randomly generated musical scores, players control a single sphere on a screen filled with constantly moving, multicolored orbs. Your task is to gather together like-colored orbs.
The Game of Harmony, $44.95. Accolade, 550 South Winchester Boulevard, Suite 200, San Jose, CA, 95128, 408/985-1700.

---
ST SCSI Hard Disk Kits
Microvision announces ST/Mega SCSI hard disk kits. The MV325 and the MV650 provide 325 million bytes or 650 million bytes of disk storage. Desktop publishing, server and MIDI applications now use this much capacity.
The external chassis matches the ST/Mega style and color. The MV series drives are designed to save desk space with dimensions of 9.5 x 10 x 4.47 inches. The chassis includes a power supply, a rear-mounted micro-cooling fan, one SCSI ID and write protect. Changing the SCSI ID lets drives move easily between systems or daisy chain on a single system.
The MV325 and MV650 use Maxtor mechanisms which couple maximum reliability with ultra-fast 1-million byte/sec transfer rate and an l8ms average access time. Maxtor drives have proven their reliability in mainframe, minicomputer and server systems. The MV series drives are thoroughly tested and come preformatted so they just plug in and run.
MV325, $1,995. MV650, $2,995. Microvislon, 18180 Cornell Road, Suite E, Beaverton, OR 97006, 503/690-6639.

---
Latouche
Latouche, from Psychologi Logiciel, lets users design, load and save keyboard configurations from within their favorite program. It also lets users type accented characters by first typing the accent, then the desired character. All characters in the ST character set can be used. The program can load a default keyboard at boot time and includes sample keyboards.
Latouche, $14.95. Psychologi Logiciel Software, C.P. 1522, Embrun, Ontario, K0A 1W0, 613/443-2435.
---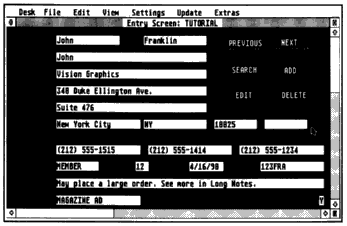 Maintaining mailing lists is easier than ever using
Tracker/ ST's integrated functions.
Tracker/ST
Step Ahead Software has released Tracker/ST, an exciting new productivity package designed specifically for the ST.
Tracker/ST is a fully GEM-based program that combines mailing list, mail merge and person-tracking features in a single integrated solution. Tracker/ ST's mailing list functions include multiple separate mailing lists, the ability to print labels for all names or for names that meet certain criteria, 10 preset label formats (including one for Rolodex cards), the ability to edit, add and save new label sizes and full support for label printing on the Atari laser printer.
Tracker/ST, $79.95. Step Ahead Software, 496A Hudson Street, Suite F39, New York, NY 10014, 212/627-5830.

---
G.I.M.E. Telecommunications
A new type of telecommunications program and a BBS, which have been in the conceptual and development stages for almost two years, are now available from Micro Creations. These unique applications - G.I.M.E. Term and G.I.M.E. BBS - boast a method of graphic image transmission that does not suffer from the long and drawn out transfer time of conventional methods such as Vid-Text graphics. Both programs have achieved an object-oriented system that is fast enough to be used routinely in daily on-line messages without becoming tiresome. Because the escape codes the system uses are VT-52 compatible (the ST's native screen protocol), the terminal will be completely compatible with ST BBSs that do not support this new extended graphic format. Sysops should be delighted to hear that the BBS is designed to take advantage of the GEM interface, making the job of running a board much less of an effort and more of a delight. Even the initial starting up of the BBS is a breeze due to the click and drag configuration program.
G.I.M.E. Term, $30. G.I.M.E. BBS, $40. Micro Creations, 4609 Millbrook Way, Bakersfield, CA 93313, 805/397-9414.
---
If you have a new product for the ST, we'd like to hear from you. Please send press releases and product photos to Products Update, START Magazine. 544 Second Street, San Francisco, CA 94107