News, Notes & Quotes
BY STEPHEN MORTIMER, START CONTRIBUTING EDITOR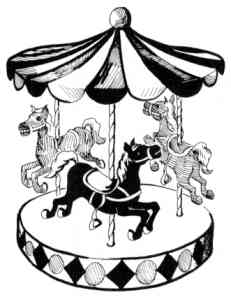 Inside Atari
Mead Ames-Klein has been named new president of Atari Corp., replacing David Harris in that position. Harris' appointment, which was announced in April's "News, Notes and Quotes," now appears to have been intended as temporary only, until a permanent successor to Mike Morand could be found. Ames-Klein comes from the Koala Springs beverage company and is noted for his marketing skills (this is reminiscent of John Sculley coming to Apple from Pepsi). Ames-Klein will oversee both Atari Computer (U.S.) and the entertainment division.
Also riding the merry-go-round is Bob Thomas and Associates, which replaces Marken Communications as Atari's public relations firm. Their address and phone number are 228 Manhattan Beach Blvd., Manhattan Beach, CA 90266, 213/376-6978. Bob Thomas and Associates is a subsidiary of the San Francisco advertising firm Chiat/Day.
The good news from Atari is that the Laser Brain Epson-printer emulator has been released as freeware. Laser Brain is an improvement on the buggy Diablo emulator, which was incompatible with many software packages. Written by Germany's DMC, Laser Brain works with a monochrome system and multiple, user-installed fonts. Since it's freeware, Atari won't guarantee its compatibility or future upgrades.
Still waiting for release are MIDI-Tasking, Cookie Jar, Expandable Control Panel and the new GDOS that supports scaleable outline fonts.
Wireless Data Network
Motorola and IBM announced a new wireless data network that will give portable computers across the country access to their fixed counterparts. A Motorola terminal is needed to use the network, which is expected to be fully operational later this year. You can either use the terminal as if you were a remote site linked by telephone lines, or it can serve as a modem for other computers, such as the Stacy or Portfolio. Atari has reportedly demonstrated a system using the Motorola terminal's modem function.
Fat Bits
Advertisements for the Stacy, which received Class-B FCC certification allowing non-consumer sales, appeared in the March issues of Keyboard and Electronic Musician magazines (most recent issues at press time).


IBM and the West German conglomerate Siemens have agreed to jointly develop the next generation of memory chips. Research on the 64-megabit chip will take place at IBM's Advanced Semiconductor Technology Center in New York, another facility in Vermont and in Munich. The companies plan to ship a finished product by the mid-1990s.


Calamus Outline, a $289.95 art package similar to the Mac's Adobe Illustrator, was released recently to an enthusiastic public. In order to establish Outline as the standard in illustration software, ISD bundled an Outline-to-Postscript conversion program with it.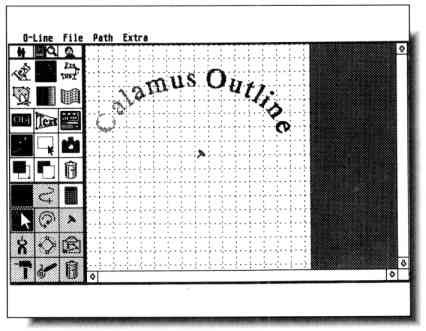 ISD is now shipping Calamus Outline.
If you have a hot tip let us know at News, Notes & Quotes, START Magazine, 544 Second Street, San Francisco, CA 94107
European Report
BY DONALD MAPLE, REPORTING FROM WEST GERMANY
Racist Games Spread
Along with the resurgence of the extreme right in the political arena, a disturbing number of racial and neo-Nazi computer games have spread throughout Europe, especially in Germany and Great Britain. These games - "Concentration Camp Manager", "The Anti-Turk Test" and "Paki-bashing" - can he found in schools, where the youth seem to he titillated by the games' forbidden nature and not fully aware of their implications. Some of these programs are original and some mimic commercial software; obviously people have spent a lot of time creating this "entertainment."
Computer Spies Convicted
German citizens Dirk Brzesinski, Peter Karl and Markus Hess were convicted of espionage Feb. 15 for cracking American military computers and selling their telephone numbers and access codes to the KGB. They received $54,500 for the secrets from their Soviet contact, "Serge." although Brzesinski claims their main motivation was to help the Soviets raise their technology to the level of the West. The three were sentenced to between 20 and 24 months in prison. The fourth member of the group, Karl Koch, allegedly committed suicide before the trial by setting himself on fire in a forest near Hannover. (Editor's Note: This was the group hunted by astronomer-turned-spycatcher Clifford Stoll, who told his story in The Cuckoo's Egg, reviewed in the February 1990 issue of START.)
Sex!
And now that I have your attention - a serious subject. The Organisation Against Sexism In Software (OASIS) is a London-based group founded to fight sexual stereotyping in software. For example, how many times have you seen a game advertisement featuring a macho hero decorated with scantily clad female-oids? Oasis is concerned with the attitudes that produce such work, and how they apply to and affect both sexes. For more information and a bimonthly magazine send a U.S. equivalent of five British pounds to:
Sandra Vogel, OASIS
3 Alden Court, Stanley Road
Wimbledon, London SW19 8RD
Great Britain
Computer Court
Great Britain's courts will soon automate their summonses, giving the job to a 16MB Data General Eclipse computer. The system is expected to send out an average of 3,000 letters per day, but is capable of generating up to 10,000. The computer will handle only cases involving fixed amount payments such as utility or credit card debts.
First Apples, Now Broccoli?
The Systems Exchange, a London-based computer company, announced plans to build an "ecologically-sound" machine. The casing for this IBM-compatible is made from a mix of polyurethane (vegetable oil) and coal ash and is sold with a radiation-free monitor. Now that the technology is available, will we soon see a "green" ST?