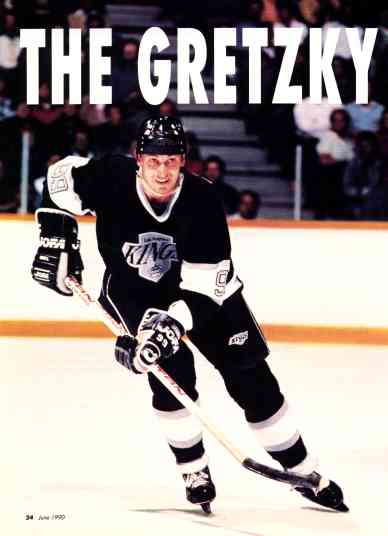 THE GRETZKEY CHALLENGE
Hockey Great
Becomes Software
Consultant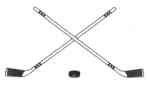 BY SCOTT WASSER
Sure, programmers have developed hundreds of sports simulations for the home computer, but how many can claim a legend as one of their consultants? Bethesda Softworks teamed up with Wayne Gretzky, star of the Los Angeles Kings, and other hockey experts to bring to the ST what may be the best hockey simulation ever.
You can hear the excitement in Chris Weaver's voice when he talks about Wayne Gretzky Hockey, an ice hockey simulation that he flatly states will be "the biggest entertainment program of the year for the ST."
Bolstering his claim is the Software Publishers Association award for Best Sports Simulation of 1989. And the game ought to be the best, considering who he had helping his development team - one of the National Hockey League's best players, superstar Wayne Gretzky.
Weaver says Gretzky contributed more than just his name to the simulation. Although playing hockey 10 months a year - first in Edmonton and now in Los Angeles - made it difficult for Gretzky to visit company headquarters in Maryland, he corresponded with the folks at Bethesda Softworks by phone and mail.
"And whenever he was here in the (Washington, D.C.) area, he came to the lab," Weaver says. "When Wayne wasn't available and we needed something, we used the Washington Capitals as our experts.
"The Capitals went way beyond the call. They deserve a lot of recognition for their involvement. They let us come and study their games, talk to their players and helped us any way we asked. And they received absolutely nothing for their services, other than our undying gratitude."
Weaver also is grateful to Doug Carpenter, who currently coaches the Toronto Maple Leafs. Carpenter led a team of three NHL coaches who rated the skills of real-life hockey players So that they could be programmed into Wayne Gretzky Hockey.
Understanding the Game
To understand the various players' and coaches' involvement, it's necessary to understand a little about Wayne Gretzky Hockey.
Wayne Gretzky Hockey was an ambitious project for Bethesda Softworks, which is a division of the engineering research and development firm Media Technology, Ltd. Weaver initiated the project with a simple goal in mind: he wanted to create the most realistic sports simulation ever produced for a computer.
"One of the very reasons we chose hockey," Weaver says, "is because it was one of the most difficult sports simulations we could do. In hockey, unlike football or baseball, the computer doesn't have time to think between plays. If you can program a good hockey simulation, you can program anything.
Weaver explains his philosophy: "Graphics do not make a good game any more than storyline makes a good game. They are an intrinsic part of it, but only a part. What we really want to do in our sports simulations is create a model of the sport we're simulating. Graphics is only part of that model."
Wayne Gretzky Hockey typifies that attitude. At first glance, the initial impact is underwhelming. It lacks the dramatic 3D, on-the-field perspective offered by some other sports simulations.
But playing the program for a few minutes leads to a new appreciation. The great strength of Bethesda's program is the faithful way it translates ice hockey, with all its subtle nuances, to the ST.
"I'd Never Do That"
"We took the time to sit down with literally three or four dozen hockey owners, players and general managers," Weaver says. "That included the time we spent with actual players looking over our shoulders at the game and saying things like, 'No, I'd never do that in that situation.'
"The culmination of that is the players in the game have their own artificial intelligence. If you're playing the game, and a defenseman with the puck has opposing players coming at him, instead of just passing to an open man he'll try to go around the other players to retain control of the puck."
Weaver continues, "That's what a real hockey player would do. And that's something that's not programmed into the game. It's not a canned move. The player does that because it would be the most logical thing to do in a real hockey game."
The computer-generated players who make those moves in Wayne Gretzky Hockey are based on real-life athletes. Maple Leafs coach Carpenter and two other NHL coaches rated current and former players in 11 different skill categories (nine for goalies) for the simulation.
"By using skill categories for the players, we can actually create a signature of that particular player," Weaver explains. "The game is realistic enough that if a player is not rated properly, he's not going to play the game the right way - the way he would in real life."
True-to-Life Simulation
Weaver chuckles as he tells the story of Gretzky's most recent visit to Bethesda Softworks headquarters in Rockville, Maryland. Gretzky, who was accompanied by then-Los Angeles Kings teammates Bernie Nichols and Marty McSorely, stopped by to check out the final version of the game.
While Weaver was showing off the simulation, McSorely pulled a chair up to the computer and leaned over so that his nose was only inches from the screen. The hulking defenseman's head rotated back and forth for 10 minutes while his puzzled teammates and Weaver watched.
According to Weaver, McSorley finally jumped up and proclaimed, "It's amazing. He [an on-screen player] did exactly what I would have done if I were on the ice."
Scott Wasser is a freelance writer who lives in Shavertown, Penn. He wrote the desktop publishers comparison in the April 1990 issue of START.
WAYNE GRETZKEY HOCKEY
REVIEWED BY SCOTT WASSER
AT A GLANCE
Game:

Company:





Price:

Summary:

Wayne Gretzkey Hockey

Bethesda Softworks
P.O. Box 7877
Gaithersburg, MD 20898
(800) 677-0700
or (301) 926-8300

$49.95

Engrossing and realistic
To some fans, ice hockey is a sport of power and violence. To others, it's a wellchoreographed dance of finesse and precision. And to still others, it's a strategic battle of wits; a chess game on ice. Bethesda Softworks' Wayne Gretzky Hockey is all of these. It is one of the most complete, realistic and engrossing computer sports simulations ever created for the Atari ST.
Six different 20-man teams are provided in Wayne Gretzky Hockey, but you can also create your own with the roster editing function. Each player is rated in categories such as quickness, power, puck control and shooting. The program lets you study the rosters to set up forward lines and defensive pairings and select a starting goalie. Gretzky's own suggested line combinations are included as default settings.
Virtually every aspect of pre-game set-up is handled through menus. By simply highlighting items, you select either mouse or joystick control, the length of periods (the game is played in real-time) and speed (normal, slow or novice).
You can coach and skate, coach only or skate only. As a coach, you set up the lines (including power play and penalty killing units), decide when to make substitutions and dictate team strategy. As a player, you can decide what position to play and then make all the moves associated with it. You control the speed, positioning, shooting and checking of any of the skaters. You can even demand a pass from your teammates or grab an opponent to slow him down.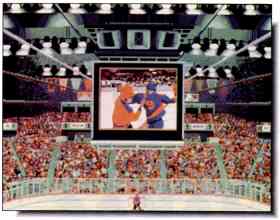 Are you skating on thin ice? Wayne Gretzky
Hockey can fix that. Pick your puck against
the class champ in this ultimate simulation
from Bethesda Softworks.
Player control is surprisingly easy. The skater you control is distinguished by a different color helmet and follows an on-screen cursor. To shoot or pass the puck, you move the cursor quickly over your target, then press the mouse or fire button.

---
Gretzky's own suggested line combinations
are included as default settings.
---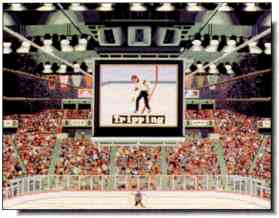 Created with consultation from the superstar
himself, Wayne Gretzky Hockey is so realistic,
you'd better don a parka and gloves to play.
About the only limitation you face as a coach is that your repertoire consists of five basic plays and you cannot draw up your own. As a player you cannot play goalie or decide what type of shot your on-screen persona will take.
The most significant attribute of Wayne Gretzky Hockey is the realism. Penalties are called and fights break out. The puck skitters over the ice, which changes as it becomes skateworn. Digitized sound effects report the pucks caromming off the boards and the players ramming each other.
You have an aerial view of the rink. A little more than two-thirds of it is showing at all times on a horizontally scrolling screen. While you see the action from a distance, however, the animation is so smooth that you quickly get caught up in the game.
In fact, Wayne Gretzky Hockey ranks in my library as one of the most engrossing sports simulations ever made. With its astounding realism, depth of play and attention to detail, the game is as big a winner as Gretzky himself.