The ST/MIDI Connection
WINTER NAMM
SHOW REPORT
Atari Unveils Multitasking TOS
BY JIM PIERSON-PERRY, START CONTRIBUTING EDITOR
For three days last January, the eyes of the music world locked onto Anaheim, Calif., for the annual Winter NAMM show (National Association of Music Merchants). "Suits," "punks" and all varieties in between descended on the convention in a technolust feeding frenzy to view, test and snap up the latest crop of music equipment and software.
Atari again showed its commanding position as the "musician's computer" (in fact, virtually the only computer company present) between its own booth and the numerous developers of Atari-related products, many with Stacy portables running their wares. This must have been particular galling to Apple, whose Mac laptop suffers from a serial-port design problem, preventing it from running current MIDI applications without software patching. Even better than hardware, Atari finally unveiled its selection of a true multitasking system, now endorsed as the official standard for software developers.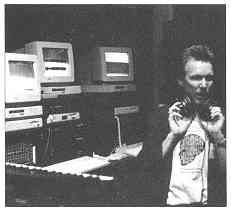 Power was in the port at the NAMM
show. MIDI demonstrations showed
Atari's commitment to music.
The Atari "Studio"
Far from the madding crowd, Atari was located in a suite overlooking the convention floor. Efficiently managed by special projects director Frank Foster, Atari featured demos of the Hotz controller, computer and mass storage hardware (including third-party rackmount versions of the Mega 2 and 4), film sound-editing techniques and even the wildly popular Lynx game unit. Also making its debut was the MIDI Magazine quarterly from Atari, more evidence of its commitment to this important niche market. As with past NAMM shows, Atari co-sponsored a concert event; this time featuring Jack Bruce and Ginger Baker, two thirds of the former superband Cream.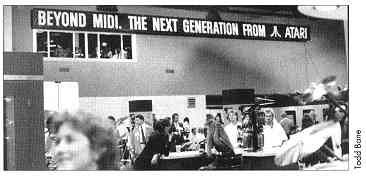 Atari made an impressive showing at the Winter NAMM
show in Anaheim, Calif.
Stacy is a reality - at least for musicians. While the FCC has yet to approve it for home use, 2MB and 4MB versions with internal hard drives have been approved for sale as professional equipment. These will be sold exclusively through music stores.
The production version of the "Hotz Box" was demoed by Jimmy Hotz and Mick Fleetwood to visitors who were encouraged to try it for themselves. This combines novel touch-sensitive controller pads with easily programmable software, mapping the pads to send any desired MIDI information (notes, volume, modulation, panning, etc.) within defined constraints. The controller maps can change while tracking real-time input (e.g. chord progressions for a song) so a performer never plays out of key, yet maintains exquisite command of expression.
Atari showed its commanding position as the "musician's computer."
---
Opinion seems split on the Hotz Box - many are highly impressed by the controller's responsiveness while others condemn it as potentially crippling to musicianship. At least one other manufacturer is offering a similar unit (the Thunder controller from Buchla and Associates), which may confirm the concept. The initial Hotz Box configuration is targeted for professional musicians with a price tag of $7,000 and contains one central controller, two auxiliary wing units and a Stacy to drive it. Additional configurations, including a consumer unit, are planned to flesh out an entire product line. The Hotz Box will be used during the coming Fleetwood Mac world tour, which Atari will sponsor.
Another impressive demo was given by Scott Gershin on the techniques he used to mate sound to film for the recent hit movie "Born On The Fourth Of July." This was done with Atari equipment, including the Atari MegaFile 44 removable hard drive and Hybrid Arts ADAP II direct-to-disk digital audio workstation. (Editor's Note: See story elsewhere in this issue.)
Multitasking At Last
A head count last summer showed at least five different proprietary variations of "multitasking" systems from MIDI software developers alone, ranging from simple data sharing to simultaneous multiple-program execution. Unfortunately, none of these were compatible with each other and some crashed easily. Obviously some decision had to be made by Atari on a sanctioned approach to prevent total chaos.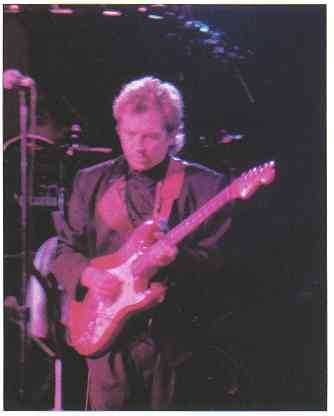 In addtion to the hardware presentations, live
performances underscored Atari's strong standing in
the music community.
The results of a series of product evaluations and developer summit meetings finally came to fruition when Atari decided to license the offering from Intelligent Music as its official multitasking system software. Previously called ST RAM, the software will be known as MIDI-Tasking (reflecting the tremendous impetus from MIDI users). Don't let the "MIDI" fool you, however, this handles full multitasking across all types of application software written to take advantage of it.
Still in beta-test stage, the system works through the desk accessory pipeline, with each application (up to six) running in its own window. Not only do all open programs run simultaneously but interprogram links can he used between applications to exchange data in real time. A non-music example that comes to mind would be a link between spreadsheet and word processor, with changes to financial calculations automatically updated in a summary report. MIDI applications, which live and die by real-time interaction, can have their inputs and outputs routed between windows and the actual hardware input/output ports as the user desires. Run the output of an algorithmic composing program into a sequencer, while you play along and edit, with the combined output going into software controlled mixer. The possibilities are staggering. We'll keep you up to date on the MIDI-tasking system as it approaches commercial release (expected later this year).
In the Trenches
And what of the new products, surfacing among the logjams of humanity on the main floor? For starters, Intelligent Music (of MIDI-Tasking fame above) showed version 1.2 of their RealTime sequencer. This is a maintenance upgrade which provides faster screen response, improved timing, and a memory use indicator, and supports the extra MIDI out ports of C-Lab's Export module or Dr. T's Phantom. Code size has been reduced so it can now run on 520STs and, for additional sweetening, the price was cut from $350 to $249.
Digidesign made some shock waves by porting its Macintosh Sound Tools digital audio editing system to the Atari. This is a strong show of support as Sound Tools is a premiere professional application, involving dedicated hardware as well as software components. The package retails for under $3,000 and consists of an external AD and D/A converter, a hardware card for the Atari (Mega 2 or 4 only) and software. Stacy, not supported currently, would require a new computer card, but is a future possibility. Sound Tools provides the digital equivalent of a two-track tape recorder, with CD for better fidelity.
Yet another developer has leaped into the hot generic patch-editor fray. These programs employ device-specific templates along with a common editing/librarian kernel, letting one program take the place of a host of individual patch-editor programs. Previous entrants are X-OR from Dr. T's (currently shipping version 1.1) and GenEdit from Hybrid Arts. The newest is Synergy from Sound Quest, building on their previous Master line of patch editors, with versions available for the Atari, IBM, Mac and Amiga. Presumably patch files created on one computer may be used on any other.
Passport has made good on an earlier promise by porting their Encore professional-level scoring program from the Mac to Atari and IBM. Encore reads Master Tracks native format files as well as standard MIDI files, or you can write a score from scratch (includes playback capability). They have also launched a prerecorded sequence operation called MIDI Data. These are earmarked for the performing or home musician that wants professionally arranged versions of today's songs -without having to do their own sequencing.
Finally, some upgrades have come in from old friends. Dr. T's has released version 3.0 of his flagship KCS sequencer (regular and Level II configurations). New features include a QuickScore MPE module (included) for rapid transcription and display/printing of sequences, significantly improved cueing and controller/synch chasing and the ability to directly read/write MIDI files. From Steinberg/Jones comes Cubase version 1.5. Besides correcting GDOS and TOS 1.4 incompatibilities, it adds a new mixing page edit module. You can use this to define screen faders and controls mapped to sysex parameters or realtime MIDI messages. They also released a patch editor for the E-mu Proteus.
Summer NAMM is scheduled for June in Chicago.