Review
VIDI ST REAL-TIME FRAME GRABBER
Video Digitizer for the ST
BY JOHN NAGY
Lights - camera - and finally, action! If you're like many ST users, you've wanted to capture live or videotape action as digitized screens on your computer. A number of devices have been produced for this purpose and several can give excellent results. But most share a single major drawback: clear pictures require long motionless exposures of seven to 60 seconds. The smallest vibrations can destroy a good shot. And almost no VCR "freeze frame" is up to the job.
Enter the Vidi-ST Real-Time Frame Grabber from ROMBO Productions of Scotland. Now true, instantaneous captures of the fastest moving subjects are possible on any ST or Mega. Captured shots are dramatically clear and black-and-white pictures are shaded in 16 tones or colors in low resolution. Best of all, a series of pictures can be collected at once (at up to 15 frames per second, half of the 30 pictures actually presented each second in standard U.S. television). The number of images that can be held at once varies with memory, from seven on a 520ST up to well over 100 in 4MB machine. The series can he saved and merged into a live-action animation or individual pictures can be saved in DEGAS or Neochrome format. A host of editing and printing features round out the software supplied with VIDI-ST.
The hardware unit itself is an unassuming black box that plugs into the ST's cartridge port. It is larger than most cartridges, making it necessary to remove MIDI cables if you have any hooked up. The box itself sports a single knob (a contrast control), a phono-type jack for the video input and a pair of recessed controls (synchronization and brightness range).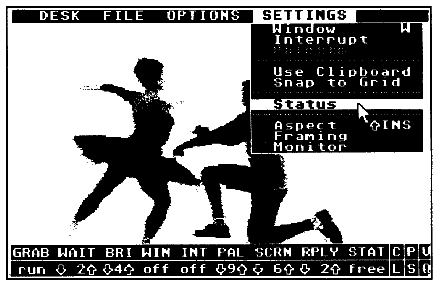 Freeze frame video action on your screen with Vidi-ST. The process
is controlled through the Vidi-ST software which offers the familiar
dropdown menu bars and boxes.
Using Vidi-ST
Vidi-ST is a snap to use. You can see every frame instantly as it is grabbed, in a flowing on-screen animation. A video camera is not required, since you are able to use any VCR and even some modern television sets as a video source. The included software is quite easy to learn, offering most commands both from drop-down menu bars and from mouse-click boxes along the screen bottom. The miniature manual should be read, though, since some of the controls (like the synchronization and the aspect ratio) are very simple, but only if you know what they're for. Most users will be capturing quality video within minutes of opening the box.
Brightness, sample and playback speed, and selected palette are software controlled. No matter what the sampling rate (delay between grabs) is set to, each capture is instantaneous. Since the image is 16-shade monochrome and the ST palette only contains seven true grey tones, a variety of color-toned palettes are included from which to choose. Users can create, save and load palettes of their choice as well. Additionally, the Vidi-ST software allows "quantizing" an image to reduce the number of shades used. This can occasionally improve the appearance of an image, but is most useful for freeing up some colors for use elsewhere in the picture (titles or what have you), or for displaying two edited vidi-pix at once with different color schemes. Taken further, the quantizing can create "poster art" type high-contrast images, which might make great backgrounds for title screens on home videos.
Special effects are provided in the software. Cut and paste any size box from one screen to another or collect a group of cuts on a "clipboard" to save for later pastes. Load in any DEGAS or Neochrome picture for a background and open a window on it for a live video capture (the old sideshow "put your face on the fat woman/muscle man cutout" comes to mind). A sequence can be displayed, sped up for dramatic or comedic effect, or slowed down for study of each motion it reveals. An interrupt feature lets a live capture be periodically replaced with a screen of choice, which can be useful for an advertising display or for checking the position of live objects against an earlier shot.
Updated Features
The latest software update (version 1.28) for Vidi-ST adds two big features: group save and load, and hardcopy printing control. A series of frames can be saved to disk automatically, with the filenames, including the sequence number of each. Similarly, they can all be loaded back into the Vidi-ST software with a single selection. Some clever disk checking and-file operations alert the user if there will be room for only part of the set or if the set is incomplete, allowing a selectable range to be loaded alone. The pictures are saved as individual PI1 or NEO files, which makes them easy to load into an animation system like CyberPaint where they can be edited further, have titles superimposed and be saved as SEQ or DLT format animation files. But be warned: the files will be big.
---
Spedal effects are provided in the software.
---
Vidi-ST now supports printing with Epson-standard 9- and 24-pin printers. The full screen or any selected part of it can be printed with your choice of density, aspect ratio and size, horizontally or vertically. Output quality is remarkable in all settings, which encourages you to print a set of full-page "tiles" from a picture, assembling a wall-size finished image. Naturally, the larger you blow up part of a picture, the "blockier" it gets. Similarly, reducing a full picture to a one-inch print will lose detail, but the image remains as true as the size and printer resolution allows. The print quality of the video pictures is more than adequate for use in newsletters and such and looks great on the Epson-emulating DeskJet or laser printers too. The new printer options are almost enough fun by themselves to be worth the price of Vidi-ST. Remember, you can load and manipulate anystandard picture for printing.
What about color pictures? Vidi-ST does not support Digispec or similar systems based on raw data files generated by Computer Eyes, a competing digitizer. Vidi-ST achieves its speed by sampling and constructing images in its own hardware, delivering only finished pictures into your ST. Some users have written utilities and systems that should let you combine three color-filtered shots of the same scene into Spectrum format, but not a lot has been finished in this area.
Monochrome monitor support is marginal at this time. A feature-stripped mono version of Vidi-ST software comes on the disk, but its performance is very slow and not really adjustable. Also on the disk are several programs and routines of interest to programmers who may want to tie Vidi-ST input into their own creations.
The strong suit of the Vidi-ST is the instant pictures, plus the available collection of animation shots. Even if you only want one picture, imagine being able to select exactly the moment you want from a range of pictures! A feature of Vidi-ST shows 16 mini-screens at a time, letting you mouse-select any one for viewing or manipulation.
Summed Up
Vidi-ST is the most enjoyable computer accessory I have ever used. It eliminates the major drawbacks of other digitizers, adds the new dimension of animations and does it fast and well.
John Nagy is a freelance writer who lives in Panorama, Calif. This is his first review for START.
PRODUCTS MENTIONED
Vidi-ST Real-Time Frame Grabber, $199. Computer Games Plus, Box ¢144, Orange, CA 92667, (714) 639-8189.