The ST/MIDI
Connection
Saturday Night's All Right
For Downloads
BY JIM PIERSON-PERRY
START MUSIC/MIDI EDITOR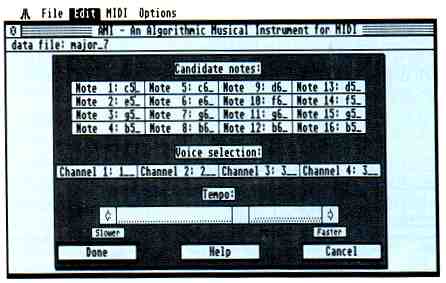 AMI, the four-part musical composer, set up to play in a major seventh
motif. Of the four voices generated, one each goes to MIDI channels
1 and 2 while the last two are played on channel 3.
This month we will take a look at some of the better MIDI application programs that can be found on most bulletin boards. They run the gamut of uses from sequencing to music composition at different levels of sophistication. But first, some news items of interest.
Hybrid Arts Comes Through
With the newest versions (January 1989) of their MIDI Track sequencers, Hybrid Arts has made good on their promise to provide MIDI file capability Their sequencers can now load and save MIDI files directly (formats 0 and 1)- they can even handle those created on a Mac that have a MacBinary file header. Also, a public domain version (MIDIMOVER.ARC) has been released to bulletin boards everywhere that converts between MIDI file and Hybrid Arts file formats (.SNG) and includes simple playback abilities. This opens up the Hybrid Arts family of MIDI applications (such as EZ-Score Plus for scoring and Ludwig for composition) to musicians who use sequencers from other companies.
New Players
Two more established Mac MID! software developers have turned their attentions to Atari. Kurzweil will port its Object Mover editor/librarian for the K1000 and compatible sound modules. Opcode Systems will release a patch editor for the new Proteus instrument from E-mu, a big hit at the Winter NAMM show.
Reversing this trend, two ST developers have begun porting their programs to other computers. Dt Ts Keyboard Controlled Sequencer (KCS) has been released for the Mac and Amiga, while Midisoft has taken their Midisoft Studio sequencer to the IBM (under GEM, naturally).
Higher Education
Looking for a break into the electronic music instrument service job market? The NRI School of Electronics offers a home study course on electronic music technology. It includes an Atari 520ST and Casio CZ-101 as part of the course materials. The course covers electronic and music theory, MIDI, microprocessors, sampling, recording techniques and more - even to actually building your own four-input mixer.
BBS MIDI Programs
What can you find on bulletin board systems for MIDI? Quite a lot, actually, ranging from song and sound data files to educational efforts, composing tools and indispensable utilities.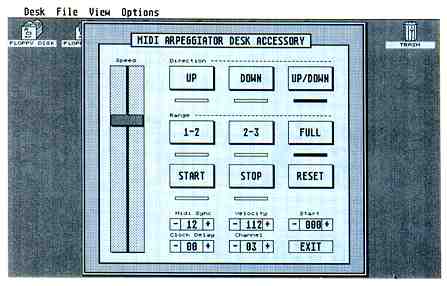 The desk accessory arpeggiator. This example is for a large note
series being played in up and down cycles. The playing speed is fast
enough to make even Keith Emerson breathless but my ST won't
even break a sweat.
There are also many demo versions of commercial programs. Given the cost and complexity of some of these applications, it is especially valuable to be able to look them over at your leisure using your own MIDI system. Often all features are functional except file saving. Examples include virtually all of the Hybrid Arts product line, M and Real-Time from Intelligent Music, Tunesmith from Dr. T, Master Track Pro from Passport Designs, Pro 24 III from Steinberg/Jones, Tweak It! from Savant Audio and Super Score from Sonus.
Listed below are descriptions of several particularly good programs I found on CompuServe, GEnie and PAN. Unless otherwise noted, they are all ARC files and work with all ST/Mega models using medium or high resolution. These were chosen to represent different types of applications at different levels of user ability. I deliberately avoided instrument-specific librarians/editors to make the examples as general as possible For those interested, I quickly found librarian/editor programs that handle DX7, DX21/27/100, TX81Z, FB01, MT32, ESQ-1, K1, DW8000 and CZ-101 synthesizers.
POLKSEQ: This is a very simple one-track sequencer-record and playback. It's a solid first program for the MIDI novice. Even more useful is that the source code was written in GFA BASIC and is available (from MichTron's RoundTable on GEnie) to study. It was designed for a color system and the screen looks odd in monochrome, but the program itself works.
STMIDIEX: This is the public domain librarian program of choice. It can receive any sysex data your equipment can send (such as patch data or drum machine patterns) and save it to a file. You can save multiple data sets in a single file which you can send over MIDI to configure your entire instrument setup in one shot. The files use the MIDIEX format originally developed for IBM computers and are completely cross-compatible. Many MIDIEX patch files are on bulletin boards, particularly for the DX7. This program was also designed for a color system, so the screen layout looks odd in mono.
AMI: Moving from the pragmatic to the esoteric, AMI is an introduction to algorithmic music generation. Working from a set of 16 notes, it generates four-part harmonies that can be on up to four different MIDI channels. The nature of the music depends on your choice of notes; several different example data files are included to get you started. This program is highly addictive, simple to use but capable of very pleasing results. It is reminiscent of the old Stereo Chord Egg that PaIA Electronics used to offer.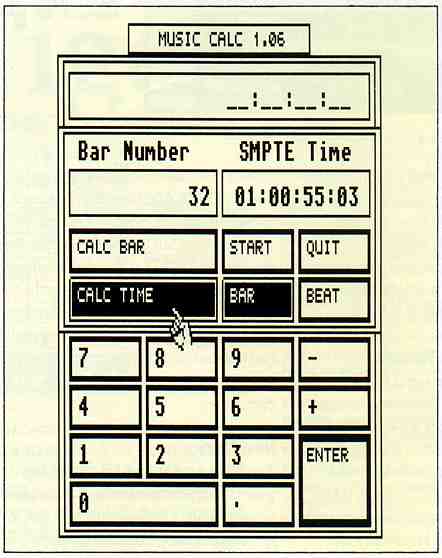 The music/time calculator shown computing the SMPTE time
corresponding to measure 32 of piece with a preset tempo and
time signature.
ARPEG: Here is another addictive diversion, a desk accessory arpeggiator. You enter a set of notes from the MIDI keyboard and it runs through them over and over again. Variations are to cycle up and down the keyboard or to go in only one direction. The playback rate is variable over a wide range and can synch to an external clock. If you have access to a hardware sequencer, such as those built into many of the newer instruments, you can capture the notes' data and replay them into your favorite ST sequencer (this also works with AMI).
MIDITALK: One of the most important utility applications is to monitor the MIDI data stream, especially when some equipment is not responding properly. MIDITALK does that and also lets you send MIDI messages from your ST keyboard. This lets you use the program for several purposes: educational, troubleshooting and even as a generic librarian. You can define strings of MIDI messages as macros for more efficient operation.
MUSICALC: Ranking high on the specialty utility list is this gem for dealing with several time-related music problems. Given the tempo and time signature, it can convert between bar or beat number and the corresponding SMPTE time (all four SMPTE versions are supported). You can enter tempo directly as beats per minute, or it can be determined by the rate at which you tap the spacebar Delay times for common note durations can be displayed for the given tempo. Other functions include stopwatch mode, 24-hour clock time calculations, metronome and even basic math calculations.
EARTRAIN: Okay, this is general music and not MIDI, but it's so good that I have to mention it. It trains you to recognize note pitches from the major, minor, chromatic or pentatonic scales using an arcade game approach. The use of graphics, sound and overall screen layouts are excellent- even down to the use of a cartoon Mr. T as your instructor! Several levels of difficulty are provided. Note: the program only runs in low resolution.
Music/MIDI Editor Jim Pierson-Perry is a research chemist and semi-professional musician who lives in Elkton, Maryland.
PRODUCTS MENTIONED
Keyboard Controlled Sequencer, $249; Tunesmith, $149. Dr. T's Music Software, 220 Boylston Street, Suite 306, Chestnut Hill, MA 02167. (617) 244-6954.
CIRCLE 164 ON READER SERVICE CARD
EditTrack, $199; EZ-Score Plus, $149.95; Ludwig, $149; SMPTE Track, $575; Sync Track, $375. Hybrid Arts, Inc., 11920 West Olympic Blvd., Los Angeles, CA 90064, (213) 826-3777
CIRCLE 165 ON READER SERVICE CARD
M, $200; RealTime, $350. Intelligent Computer Music Systems, Inc.P.O. Box 8748, Albany, NY 12208, (518) 434-4110.
CIRCLE 166 ON READER SERVICE CARD
Pro 24 III, $295. Steinberg/Jones, 17700 Raymer Street, Suite 1001, Northridge, CA 91325, (818) 993-4091.
CIRCLE 167 ON READER SERVICE CARD
Object Mover $49.95. Kurzweil Music Systems, Inc., 411 Waverly Oaks Road, Waltham, MA 02154, (617) 893-5900.
CIRCLE 171 OH READER SERVICE CARD
Midisoft Studio: Advanced Edition, $149. Midisoft Corp., P.O. Box 1000, Bellevue, WA 98009, (206) 827-0750.
CIRCLE 172 ON READER SERVICE CARD
NRI School Of Electronics, McGraw-Hill Continuing Education Center, 4401 Connedicut Avenue NW., Washington, DC 20008.
CIRCLE 173 ON READER SERVICE CARD
Opcode Systems, Inc., 1024 Hamilton Court, Menlo Park, CA 94025, (415) 321-8977.
CIRCLE 174 ON READER SERVICE CARD
Master Tracks Pro, $349.95. Passport Designs, Inc., 625 Miramontes Street, Half Moon Bay, CA 94019, (415) 726-0280.
CIRCLE 175 ON READER SERVICE CARD
Tweak It!, $50. Savant Audio, 2140 Bellmore Avenue, Bellmore, NY 11710, (516) 826-6336.
CIRCLE 176 ON READER SERVICE CARD
Super Score, $299. Sonus Corp., 21430 Stnathem Street, Suite H, Canaoga Park, CA 91304, (818) 702-0992.
CIRCLE 177 ON READER SERVICE CARD