News, Notes & Quotes

What's New in the ST World

by Stephen Mortime, START Contributing Editor
And The START Staff
pc-ditto II Shipping
In a surprise announcement, Avant-Garde Systems revealed that their new PC-XT emulator, pc-ditto II, will run at a speed equivalent to a 10-megahertz XT clone. Using the Norton SI benchmark, the IBM PC-XT and PS/2 Model 30 have a rating of 1 and 1.8, respectively. In comparison, pc-ditto II has a rating of 3, indicative of superior performance.
According to Avant-Garde partner William Teal, pc-ditto II was developed because with the original software emulation, "the operation of some programs was very slow, and thus very painful to use. We have always been researching ways to increase the performance of pcditto, but we felt we should eliminate as many errors as possible before speeding it up. To us, no one would ever trust our product if we had delivered a very fast emulator with severe errors. It would only get you to the crash point quicker. Instead, we decided that the right way to develop this product was to make it error-free, then speed it up. The results of our efforts is pc-ditto II." pc-ditto II supports up to 640K of memory monochrome and color monitors, the Atari mouse, hard and floppy disk drives and the serial and parallel ports.
Enhancements planned for pc-ditto II include extended memory support, EGA, Atari Laser support and Roland MIDI chip support. The retail price is $299.95. For more information, contact Avant-Garde Systems at 381 Pablo Point Drive, Jacksonville, FL 32225, (904) 221-2904.
---
Atari Aids Academy Award Winner
Dave Grusin, winner for best original score at this year's Academy Awards ceremony, is an Atari computer user. The jazz composer and musician used a 1040ST to create the score for The Milagro Beanfield War. Grusin recently upgraded to a Mega 2 and considers it the third member in his band. "I'm sold on the ST," Grusin said. "With this system, I can take the film home on video and can actually write, record and store music on the ST and then play back what I've recorded with the picture" He also uses an Atari SLM804 laser to print music scores.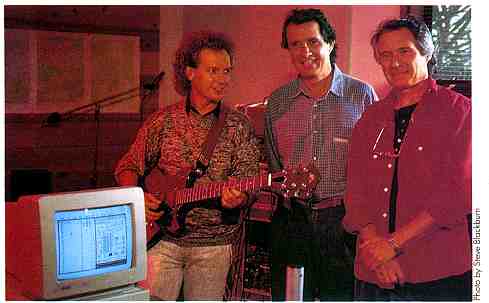 Jazz musician Dave Grusin (far right) refers to his ST as a member of his band.
He composed his Oscar-winning musical score for The Milagro Beanfield War
with his ST. Grusin and fellow musicians Lee Ritenour (left) and Don Grusin
(center) use ST's both in studio sessions and on the road.
---
Fat Bits
Atari has closed 15 stores in the Federated chain of electronic retailers. Headquarters staff was reduced by 30 percent and will be moved to Sunnyvale, California from the present location in Texas. The staff reductions and store closings are part of a restructuring of the company. As of 1989, Atari is considering Federated a discontinued operation so that it will not financially drain Atari. At the World of Atari show in Anaheim in April, Michael Dendo, Vice President of Sales for Atari, announced a "drop-dead" date of June 30, 1989 for the Federated situation.


Check with your local PBS affiliate this summer for a rerun of show number 619 of Computer Chronicles, called "Atari ST Update."
---

Spring COMDEX Report
by Tom Byron, START Associate Editor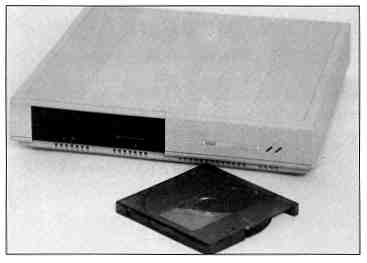 Atari introduced their Megafile 44 at Spring COMDEX
in Chicago. This new hard drive has a removable cartridge
to multiply hard-disk capacity.
Over 60,000 dealers and developers attended the Spring Computer Dealer's Exposition (COMDEX) trade show held in Chicago's famous McCormick Place, April 10 through 13. Atari's booth was predictably small, but conspicuously placed next to IBM. Twenty-eight third-party developers were on hand to show off the latest in ST software and hardware.
Atari president Sam Tramiel sounded an upbeat note about the future of Atari Corp. in the United States. At a dealer's party held in Atari's suite at the Barclay Hotel, Tramiel cited 1989 as "a year of rebuilding in the U.S."
After mention of Atari wares being shown at COMDEX (see below), Tramiel talked about the new TOS ROMs and the long-awaited 68030-based TT. TOS version 1.4 is available now, but in limited quantity in order to clear out old inventory. The TT, Atari's entry into the 32-bit arena, will be shipping before the end of the year. When pressed for specifics about their new machine, Tramiel kept quiet. Atari did, however, show the TT to developers behind closed doors. The machine is rumored to have a color resolution of 640-by-480 and 206,000 colors in its pallette. It will run both TOS and Unix software, use a VME bus system and support industry standard networking hardware. Keep an eye on future News, Notes & Quotes for more TT info. Tramiel also mentioned another machine being developed by Atari that will be "based on a Motorola chip." He declined further comment.
Atari Highlights
To the predominantly IBM-PC show, the hit of the Atari booth was the glass-encased Portfolio. Formerly known as Folio, Atari's "pocket PC" attracted attention from national newspapers and television. As discussed in the July News, Notes & Quotes, Portfolio is a hand-held computer that is fully MSDOS (ver. 2.11) compatible. It is scheduled for a July release at a retail price of $399.
For Atari dealers the real star of the show was the Stacy, the ST laptop, also shown under glass. Featuring a double-sided disk drive and one megabyte of internal RAM, the Stacy is a fully functional desktop system. According to Joe Mendolia, head of marketing at Atari, the best way to conceptualize the Stacy is as "the laptop version of a 1040ST with a monochrome monitor" Atari is looking at a June release with a suggested retail price of $1,495. Watch for a review of the Stacy and the Portfolio in a future issue of START.
Atari also showed their DeskSet II, Wordflair, the Megafile 44 removable hard disk and the 80286-based PC4. DeskSet II is Atari's GEM version of DeskSet, a desktop-publishing program that uses CompuGraphic fonts and can be interfaced with CompuGraphic typesetting machines. Wordflair, developed for Atari by Blue Chip Software, is a GDOS-based document processor that integrates spreadsheet, database, charting and word-processing functions. It is scheduled for release in June at a price of $149.95.
COMDEX was the first public viewing of the Megafile 44 in the United States. It is a 44-megabyte removable cartridge hard disk that will sell for under $1,200. Cartridges will be priced at $150.
Not to be left behind in the huge PC market, Atari has developed the PC4, an 8- to 12-mHz clone based on Intel's 80286 microprocessor. The machine is slated for a July release pending FCC approval.
Third-Party Highlights
Genuine LAN for the ST: Biodata from West Germany was on hand to demonstrate its BioNet networking system. It's an incredibly fast system that will support up to 100 machines. Tan Siekmann, president of Biodata, is currently looking for a U.S. distributor.
DP Computer Specialties was at the Atari booth to display ViewTouch. This new business product requires a special monitor that senses touch. One of ViewTouch's main applications is as a cash register. To "ring up" merchandise, the user simply touches the desired item on the screen and the program automatically makes all calculations.
When the transaction is complete, a receipt can be printed out.
COMDEX saw the premiere of Migraph's hand scanner, which lets you add hand-scanned images to all your DTP projects. Migraph is awaiting FCC approval, so no release date has been set.
Taito showed off some new releases for 1989. Plans for the ST are as follows: Bubble Bobble, Operation Wolf and Renegade, April; Sky Shark, May; Qix, June; and Rastan, Fall.
Computer Avenue demonstrated its new hard drive backup program called Mirror Image.
Abacus, publisher of popular books and software for the ST, introduced a new CAD program called BeckerCAD. It should be available by the time you read this.
---
World of Atari News
by Dan Fruchey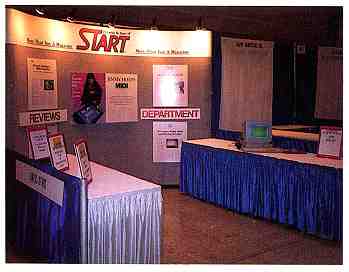 The START booth at the World of Atari show in Anaheim,
California. START co-sponsored a MlDl event that Featured
the Moody Blues and Mick Fleetwood of Fleetwood Mac.
California Atari enthusiasts got a chance to show support for their favorite computer at the World of Atari show in Anaheim on April 22-23.


Gadgets By Small gave users a glimpse of Spectre GCR. the new hardware and software combination that lets ST users run Macintosh software directly from Mac format disks on a standard Atari drive. Look for release in August.


Atari hosted a booth showing Desk-set II and an exciting new product called Wordflair, a unique combination of word processor, database, spreadsheet, and desktop publishing program rolled into one. Their hardware lineup included a fully functioning STACY laptop ST which is scheduled for release in July or August.


On Saturday night Atari gave a show sponsored by ST World, Kawai, START and Keyboard Magazines. The 1,500 attendees got a chance to meet Mick Fleetwood, Michael Pinder and other musicians while seeing the Hotz Instrument in action (see the April and May 1989 issues of START).


Bill Teal introduced pc-ditto II, a superb update of pc-ditto that is installed internally. The best news is that pc-ditto II achieves AT speed for $299.


Imagen Corp. showed off the latest version of UltraScript. New drivers now make dot matrix and Hewlett-Packard Deskjet printers Postscript-compatible. (See the review elsewhere in this issue.)


Keep your eyes open for DVT by Seymor/Radix, a hardware interface that lets you back up your hard disk using a VCR with storage of up to 360 Mb on a standard video tape.


A conference held by Atari's Sig Hartmann, Joe Mendolia and Mike Dendo gave users a glimpse into Atari's future. The SRO audience was told that in 1989 all new products will reach the U.S. first to support the home market.


TOS 1.4 programmer Ken Badertscher stated the faster new OS will only be available in a ROM version. It is currently in production and should be available in limited quantities shortly.


Migraph attracted a lot of attention with their new low-cost hand scanner and Touch-Up. The scanner will be available this summer.


Enthusiasm, exciting new products, and an upbeat approach by Atari made the Anaheim show a resounding success.