THE NEW TOS ROM ERRORS
by David Plotkin
START Contributing Editor
Just what do the new TOS ROMs have that the old ones don't? Well, among other things, they eliminate the infamous "underline" crash and let you "move" files more quickly from one directory. But most importantly, the new TOS ROMs have new explanations for new and horrible system crashes.
The new TOS ROMs have been widely heralded for increased speed and fixes of bugs which have existed in the operating system since it crawled up out of the swamps in Pacific Grove, California, home of DRI (inventors of GEM). What is not as well known is that a series of new error codes has been added as well. You've undoubtedly seen errors of this type before: an alert box pops up saying something like TOS ERROR 35. If you were really interested, you dug out a book and looked up what the error meant, but usually you didn't, because the only result produced by clicking on "OK" was that you crashed to the Desktop, losing all your work.
Crashes could manifest themselves in any number of ways, but the most common results were a frozen keyboard, a frozen mouse and perhaps a line of bombs marching across the screen (the most I've seen is 11). In the original ROMs, these were little mushroom clouds, but in the current ROMs they are the standard anarchist bombs. I wonder why they changed them to the "standard" (as used in the Macintosh). I also wonder why Apple didn't sue them for "look and feel" violations. Now that would be a hot one: can you just imagine the Apple attorney telling the judge that Apple was sore because the look and feel of an ST system failure was just like a Mac's?
Anyway, the new TOS error codes are poorly documented, but extensive observations by the author have ferreted out their meanings. Each TOS error code I've found is listed here with its number, the explanatory text, the conditions under which the error occurs, what happens when you click on OK and any hints on how to avoid the error conditions. Look out for these errors!
TOS ERROR 251: IT WILL TAKE TOO LONG TO MOVE THE SPECIFIED DISTANCE.
Occurs: Attempting to move more than 100 cells when using a slow-scrolling spreadsheet.
Click on OK: Changes mouse to bee, then scrolls 200 cells.
Hint: Get a faster spreadsheet.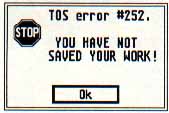 TOS ERROR 252: YOU HAVE NOT SAVED YOUR WORK!
Occurs: Randomly, but only after more than two hours of keyboard entry with no disk activity.
Click on OK: Crash to desktop (eight bombs).
Hint: Save your work.
TOS ERROR 253: INSTRUCTIONS TOO BRIEF.
Occurs: When you try to play a game whose instructions are inadequate (primarily European imports and notably English games). The purpose of this error is to keep you from becoming too frustrated by all the things on the screen which aren't explained in the half-page, three-language manual.
Click on OK: Lets you play Pong, which anyone can master.
Hint: Pressure publishers to give adequate instructions.
TOS ERROR 254: YOU HAVE BEEN WARNED!
Occurs: When you boot a game that has been trashed by every reviewer.
Click on OK: Goes into an endless loop which keeps asking "Are you sure?"
Hint: Reboot with a different game.
TOS ERROR 255: YOU'VE GOT TO BE KIDDING!
Occurs: Randomly, but only when you try to run ST BASIC.
Click on OK: Lets you run ST BASIC, but many of your old programs won't work. (NO, wait, that's a feature of the new version of ST BASIC).
Hint: Buy a real programming language.
TOS ERROR 256: GOOD FOR YOU!
Occurs: Randomly, but only when you try to boot a "structured" programming language, such as Pascal or Modula 2. The frequency of this error seems to be related to how recently you read one of David Small's tirades against structured programming techniques.
Click on OK: Shows a small graphic of the logo for "Gadgets by Small" being smashed by a giant rabbit, then runs your language.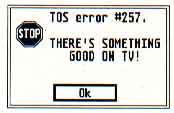 TOS ERROR 257: THERE'S SOMETHING GOOD ON TV!
Occurs: Randomly, but only after something you want to watch comes on the tube. Due to the ST's tremendous interference with nearby TVs and VCRs, this error will warn you that you really can't have the TV and the ST on at the same time.
Click on OK: Shuts off the TV (requires special attachment, available Real Soon-Now).
Hint: Turn off ST before turning on TV. This works most of the time.
TOS ERROR 258: GO DO SOMETHING ELSE!
Occurs: Many ST owners tend to sit at their computers to the exclusion of exercise, eating, household chores, interfacing (oops, I mean talking) with spouse and children. This TOS error occurs when urgent matters call (i.e. the dog wants out, the baby needs changing, the house is on fire, etc.)
Click on OK: Crash to Desktop.
Hint: Go do something else.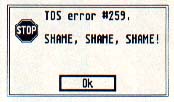 TOS ERROR 259: SHAME, SHAME, SHAME!
Occurs: When booting pirated software.
Click on OK: Erases the disk, then smoke starts pouring out of the ST's vent ports. It's not damaged, but it scares the hell out of you. (I've only heard of this error, never actually seen it. . . )
Hint: Don't steal software.
TOS ERROR 260: WARNING!
Occurs: When your spouse is approaching and you are using your ST for something he or she wouldn't approve of (i.e betting on the ponies, playing Strip Poker. . . )
Click on OK: Puts a fake spreadsheet (titled Our Hawaiian Vacation) on the screen.
Hint: Lock the door.
TOS ERROR 261: WHATTA WASTE
Occurs: When doing something totally worthless with your ST, like writing this article.
Click on OK: Crash to Desktop.
David Plotkin was born in a thermos just outside of Angmagssalik, Greenland, where he learned to speak fluent Beetle by the time he was seven minutes old. His webbed toes, all 14 of them, make him a curiosity at home and at work, but his major claim to fame, aside from being a START Contributing Editor, is his world-record for mucilage consumption.