Products Update
New ST Software and Hardware
Compiled by Tom Byron
START Assistant Editor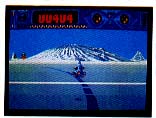 Space Racer
New Games from Broderbund, Taito and Datasoft
It's the 25th Century and the Olympics are passe--welcome to the age of Space Racer! Space Racer brings the excitement of arcade-style graphics and animation to the ST. The game is a full-featured racing simulation with a program depth that's extraordinary: three planets, three different racetracks and a never-ending stream of hard-riding opponents. Space Racer, $29.95. Broderbund Software, Inc., 17 Paul Drive, San Rafael, CA 94903, (800) 527-6263.
Nonstop action thrusts you into a do-or-die battle for survival and thrills you through 33 screens of challenge and excitement in Arkanoid, the first game Taito has ever developed for the ST.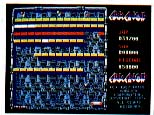 Arkanoid
As the defender of the galactic cruiser Arkanoid, you must use fast thinking and quick reflexes to control a vaus (paddle) to keep your energy balls in play. Gameplay involves chipping away at increasingly difficult layers and patterns of bricks. The 33 exciting levels have notorious twists that test the skill of even the most experienced gamester. Special capsules drop into play, giving the vaus a variety of extra powers. Arkanoid, $34.95. Taito Software Inc., 267 West Esplanade, North Vancouver, BC V7M 1A5, (604) 984-3344.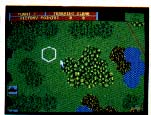 Firezone
Firezone from Intellicreations (distributed by Datasoft) is a one- or two-player game that provides countless possibilities. It's the year 2160, and Earth has fragmented into four hostile Power Blocs. Battles between these Blocs are fought in close support campaigns called Firezones which involve the latest propulsion systems, beam weapons and energy shields.
Firezone features nine separate campaigns of varying difficulty and length. Combat takes place over realistic terrain that includes urban areas, marshes, ruins and woods. Firezone also has a Scenario Generator that lets you invent new combat campaigns. Firezone, $34.95. Intellicreations (distributed by Datasoft), 19808 Nordhoff Place, Chatsworth, CA 91311, (818) 886-5922.
Signum 2
Signum 2 is more than a word processor, it's a document processor that allows the preparation of high-quality, high-accuracy documents to be produced on 9-pin, 24-pin and laser printers. No longer are you restricted by a line format: Signum 2 allows for the exact positioning of every character on a page. Signum 2 comes with eight different fonts, including several text variations, a Greek font and the best math font available for the ST.
Signum 2, $449.95. Scan-Tech Business Systems, Ltd., Box 9, P.O. Sub #11, Edmonton, Alberta T6E 2G0, (403) 446-1337.
Horse-Racing Simulations for the ST
If you enjoy going to the tracks and betting on your favorite thoroughbred, you'll like these two horse-racing simulations now available: A Day at the Races from Team Software and Daily Double Horse Racing from Artworx.
A Day at the Races combines the thrill and excitement of horse racing in a realistic and exciting software package. It includes a comprehensive horse race-track simulation; a database that tracks up to 500 horses, 50 jockeys and 15 players; a separate database that maintains past performances of the various horses; and complete statistical histories of all the horses and jockeys. A Day at the Races also lets you buy and sell horses, select jockeys, place bets and receive payoffs. A Day at the Races, $39.95. Team Software, P.O. Box 7332, Washington, DC 20044, (703) 533-2132.
Spend a day at the track with a full card of 10 races when you play Daily Double Horse Racing from Artworx. This simulation provides you with a racing form that includes past race histories of 180 horses and 12 jockeys competing in nearly 400 races. With this information you can handicap races, taking into account the horse, jockey and track conditions. All types of bets are acceptable--straight wagers, parlays, quinellas, exactas and, of course, daily doubles. The races are run with spectacular animated 3D scrolling graphics. Daily Double Horse Racing, $29.95. Artworx Software Company, Inc., 1844 Penfield Road, Penfield, NY 14526, (716) 385-1603.
Up to 90 players
can enjoy Aussie
Joker Poker, the
popular Australian
computerized card
game now avail-
able in the United
States from
Mindscape.
Aussie Joker Poker
Aussie Joker Poker, the popular Australian computerized card game, has made its way to the United States. In Joker Poker, the computer acts as both dealer and croupier, and distributes the winnings at the end of play. Up to 90 players can compete against one another, and can tailor deck sizes and hands per player.
Aussie Joker Poker was developed by Joker Software International and is distributed in the United States by Mindscape $49.95. Mindscape, Inc., 3444 Dundee Road, Northbrook, IL 60062, (312) 480-7667.
Prospero C
Prospero Software has released Prospero C, one of the first full implementations of the proposed C standard for the ST. The package includes a workbench for easy programming; four-window programmer's editor; a C syntax checker; a C compiler; a linker to build .PRG files; a command line operation support; a cross-reference program; a symbolic debugger; complete GEM AES and VDI bindings; and over a thousand pages of documentation.
Prospero C's output can be mixed with object modules produced by Prospero's Pascal and Fortran compilers. This implementation of C is exactly that of the new ANSI specification, with no exceptions or restrictions. A complete GEM-based programmer's environment makes the use of the editor, compiler and other utilities quick and easy. Prospero C, $149. Prospero Software, Inc., 100 Commercial Street, Suite 306, Portland, ME 04101, (207) 874-0382.
Do you have a new ST product? If so, we'd like to hear from you. Please send any press releases and product photos toProducts Update, START, 544 Second Street, San Francisco, CA 94107.