Special April Edition
Products Update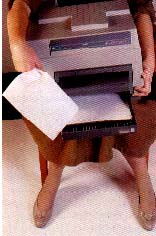 If you're waiting for the laptop
ST, you'll love the idea of At-
ari's new $2,000 Laptop Laser
printer. It fits comfortably on
almost any (large) lap.
You Heard It Here First
Rumors? You want rumors? Well, rumors we got. START's usually reliable grapevine has turned up several amazing new Atari products (although Atari hasn't actually confirmed the existence of any of them).
Atari's long-awaited LLP805 Laptop Laser Printer was displayed for the first time at a private soiree in the home of a high-ranking Atari official. The new LLP805 operates with any ST or Mega computer with at least a megabyte of memory. Resolution is an outstanding 300 dots per inch and power consumption is a modest 650 watts. Due out in June, 1989, the price is tentatively set at an amazing $999.95; the 242-pound power pack, however, will list at $1,399.95.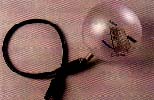 The new Expandable Memory
Storage Unit (EMSU) is Atari's
latest breakthrough. Now you
can see your data, too.
Atari's new Cray Supercomputer Simulator (CraSS) lets you turn your 520ST into a working replica of one of the computer industry's most impressive beasts. The CraSS will be shown at the May 1989 PUXFUT Show. The CraSS is reasonably priced at $129.95, but before ordering, you should make prior arrangements for installation of the required air-conditioning units (approximately nine tons, $62,999) and 27 two-inch tape drives ($3,999 each). The interface cable will be available at $9.98, as soon as Atari receives some more connectors.
In another amazing breakthrough, one that could completely revolutionize the computer industry, Atari's Expandable Memory Storage Unit (EMSU) lets you see your data as you save it. No more "Disk Full" error messages--just peek through the EMSU's custom translucent Data Housing to see if there's still space for your file. The only shortcoming of the EMSU has been sudden decompression data loss, but Atari's engineers are working on the problem. Due out "in six weeks," the price still has not been determined for the EMSU.
The Worst of Times
Just released, A Tale of Two Cities is the third in LitWare's "Extremely Minor Characters in Major Classics" graphics adventure series. Tale puts you in the dainty, high-button shoes of Miss Pross, companion to Lucy Manette, as you try to throw a monkey wrench into the French Revolution. Written for literature buffs, LitWare's newest game lets you enjoy Dickens' turgid prose, while your character does virtually nothing to advance the plot. In LitWare's earlier releases, you took the role of the royal busybody, Osric, in Hamlet, and the role of Cupcake the policeman in Compromising Positions. Comes on 52 single-sided or 26 double-sided disks.
Tale of Two Cities, $49.95. LitWare, a division of Oedisoft, Inc., 1 Schplimper Way, Fetid Brook, TX 78901-7878, (800) 391-3855.