The European
Report
Games, Games
And More Games
by Andre Willey
At this writing, Christmas 1988 is looming large on the horizon. Naturally for this time of year, new entertainment software is the order of the day on the European computer scene.
One company that seems to be generating a lot of interest at the moment is UBISoft of France. Established in March 1986, UBISoft has experienced rapid growth and expects to make $10 million in 1989 alone. Their first game Zombi, received both critical and popular acclaim, and also introduced the world to the then novel icon-driven adventure game.
UBISoft recently unveiled seven new titles for the ST at an extravaganza held at their Brittany headquarters, a converted 19th century chateau. Company manager Michael Guilemont explained that the chateau provides an ideal location for product development, and programmers are welcome to stay for as long as they wish--often working through the night then spending their days relaxing, canoeing and water skiing at the 700-acre estate.
British and American versions of the games are being developed. Epyx has secured the U.S. distribution rights for all of the UBISoft titles.
As for the Games Themselves . .
Among UBISofts latest releases is Iron Lord, a three-tiered adventure game that combines arcade action, strategy and maze solving, Also in release is a game called Puffy's Saga which is a Pac-Man takeoff with plenty of action and detailed graphics to keep the most ardent game player happy. Skateball is something of an oddity--a cross between football and ice hockey. Vampire is based on the Dracula legend and brings the Count's on-going battle with Van Helsing up to date.
Soon to be released is another graphic adventure called Final Command. It's set in a future time where a mysterious alien force has destroyed a space station. You have the unenviable task of finding out just what is going on. Following this will be BAT (Bureau des Affaires Temporelles), a mouse-driven graphic adventure located in a futuristic detective setting. And finally, Fer et Flamme is the working title of UBISofts latest pending project which should be available in the U.S. in spring 1989.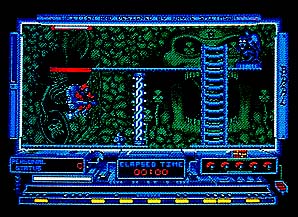 In the latest release from Psygnosis, the terrible BAAL has
hidden the components of the War Machine and it's up to you
and your band of Time Warriors to find them and save the
world. Your task is hindered by the usual hoards of demons
and beasts.
More Games
UBISoft isn't alone in the new entertainment-software arena. Psygnosis, for instance, has just released BAAL. As with many of their previous titles (like Bratacus and Barbarian), there is a strong strategy and mapping element hidden under a thin arcade veneer. The 250 screens, ultra-smooth scrolling and great graphics and sound effects will no doubt please the "if it moves, zap it" brigade. The Psygnosis press release promises that BAAL will include at least 100 types of monsters and 400 traps.
BAALs plot revolves around an elite group of "Time Warriors" who are searching for the component parts of a dreaded War Machine that BAAL has hidden throughout the first two levels of the game. Your task is hindered by the usual hoards of demonic beasts, and should you be lucky enough to acquire all of the parts of the weapon you'll then be allowed onto the third level to do battle with BAAL himself. It is here that the fate of the earth will be decided.
Gremlin Graphics, part of the massive US Gold group of companies, has announced two new games for the ST. First is Motor Massacre, for which the scenario sounds more like a film trailer than a computer game:
"The holocaust has come, plunging civilization into the depths of the murkiest hell on earth imaginable. Out of this devastation emerges a breed of survivors merciless in their greed for simple possessions...
Butcher Hill, Gremlin Graphics' other release, sounds like a quiet romp through the forest compared to Motor Massacre. In it you must negotiate past mines, flak from enemy aircraft, soldiers and a whole host of other obstacles. Both games should be available in the US. by the time you read this.
French software house Coktel Vision has obtained the rights to publish computer game versions of Walt Disney's The jungle Book and Peter Pan, amongst others. They are also planning a game based on the Emanuelle series.
Novagen Software, home of such classics as Encounter, Mercenary and Backlash, have just announced their new game Hellbent. According to the press release, the game "previewed at the PC show, where it generated lots of interest" and was due for a pre-Christmas release in Britain.
Novagen's games are rarely disappointing--and Hellbent is likely to be no exception. Written by newcomer Donovan Prince, along with talented computer artist Mo Warden, the game is a superfast-scrolling, arcade-style creation and will be Novagen's third 16-bit release. The fourth, developed by their main author Paul Woakes, will be entitled Damocles. A release date was not available at this writing.
Euro-Shoptalk
MicroProse, the U.S. software publisher best known for its flight simulations, has just acquired West German software house Axxiom. This follows their recent acquisition of Hi-Tech, a company known for its low-priced PC software. Axxiom's ST software line consists mainly of fast arcade-type games, which have sold well in their native Germany.
GST has just released version 3.0 of its popular 1ST Word Plus word-processing package. It's still not the most powerful word processor on the market, but the new version does address most of the criticisms made against the previous version. 1ST Word Plus is still priced at about $148; upgrade disk and manual are available for about $55.
New features include keyboard alternatives for most of the menu options, improved speed during spell check and block manipulation and the ability to print the current document directly, rather than having to save it to the disk first. Support is also provided for halfline and proportional spacing on compatible printers.
Kempston, based in Milton-Keynes (England) and mainly known for its line of joysticks, has just announced a brand new, hand-held image scanner. The DAATAfax which comes complete with GEM-based software and interface, allows an image to be scanned, saved to disk in a number of formats and printed out on standard Epson-compatible printers.
Images produced by the approximately $500 unit can be incorporated into many painting and desktop publishing programs, or included in Kempston's own DAATAfax computer-based personal organizer software. The total scan width is a tiny 105 millimeters (about six inches) with a resolution of 200 dots per inch and a scanning rate of two centimeters per second.
Next Month
Next month I'll bring you a full report on the Christmas 1988 Atari User Show in London. There should be plenty to tell you about as the event is rapidly becoming the leading Atari-specific show in Europe--typically attracting some 20,000 visitors over its three-day run.
Andre Willey is the Technical Editor for Atari User, the United Kingdom's leading publication devoted to Atari computers.