News, Notes & Quotes
What's Happening in the Atari World
by Stephen Mortimer
and the START Staff
Falcon Flies!
By the time you read this, Spectrum Holobyte will have released Falcon in a superlative ST version. Tell your Mac and PC-using friends that they should take a look at your new super flight simulator. Falcon combines the features of the Mac version with the color and some of the advanced F16A avionics of the Falcon AT version. You can fly together with another pilot right next to your ST or in another city--even if they are flying PC or Mac Falcons! This is an absolutely spectacular program and we'll review it next issue.
Spectrum Holobyte's
award-winning
Falcon flight simula-
tor has come to
the ST.
Stereo ST!
Practical Solutions debuted Tweety Board at a recent Atari Fest in Glendale, California. Tweety Board is a solderless upgrade that enables any ST to produce stereo sound. A hardware adaptor with three RCA phono jacks connects to the RS-232 port on the ST; you can add two speakers for conventional stereo sound or three for full surround-sound capability. The adaptor also includes a pass-through that lets you connect other RS-232 devices to your ST. Tweety Board is expected to cost $49.95. Contact Practical Solutions at 1930 East Grant Road, Tucson, AZ 85719, (602) 884-9612.
Multi-Resolution Monitor
You need two monitors to display all three resolutions on your ST, right? Not necessarily, thanks to OmniMON and OmniSpect from Wuztek. OmniMON is a NEC Multisync, 12-inch, dark tint, non-glare, paper-white monochrome monitor. An adaptor box that comes with OmniMON allows you to switch from monochrome to color on the same monitor! In high resolution, OmniMON resembles the Atari SM124's monochrome screen. In low or medium resolution, OmniMON represents colors as true shades of gray, 16 in low resolution, four in medium.
OmniSpect is based on a color NEC Multisync monitor that displays all three ST resolutions in up to 512 colors. High-resolution picture quality with OmniSPECT isn't as crisp as a true monochrome monitor, but low- and medium-resolution displays are very similar to those of the Atari SC1224 monitor. Both OmniMON and OmniSpect feature a tilt display.
According to Paul Wu of Wuztek, both monitors achieve their results in hardware logic only, so there should be no problems with software compatibility. OmniMON and OmniSPECT retail for $299.95 and $499, respectively. For more information, contact Wuztek at 4521 Campus Drive, Suite 400, Irvine, CA 92715, (714) 733-0189.
Six Desk Accessories?
That's right. MultiDesk, a new program from CodeHead Software, lets you use more than six desk accessories at the same time. In its basic configuration, MultiDesk is a desk accessory that can load an infinite number of utilities contained within its structure. You can configure the program to load certain accessories automatically upon boot-up and to look for others stored in a folder. MultiDesk occupies only 25K of memory itself, but you must define a buffer in memory for the accessories. However, in order to conserve memory, you can reduce the buffer to the size of the current accessories.
According to Johnson, CodeHead has tested MultiDesk with over 200 different desk accessories. Generally, if an accessory is incompatible with MultiDesk, it can be installed in one of the other five accessory slots. A .PRG version of MultiDesk lets you load and operate desk accessories without allocating memory for them at boot-up.
MultiDesk retails for $29.95. For more information, contact CodeHead Software at P.O. Box 4336, North Hollywood, CA 91607.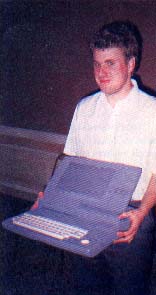 Daryl May is shown holding the
foam mack-up of the ST Laptop
at the Fall COMDEX Develop-
er's Party. The keyboard in the
mock-up is a standard ST key-
board with the keypad, function
and cursor keys redesigned and
reduced in size.
Sam Tramiel in Conference
On October 3, 1988 Atari Corporation president Sam Tramiel was the guest speaker at a formal conference on CompuServe. He made no major announcements, but he did say that Atari was working on a portable ST and hoped to show the 32-bit TT and new ST computers in early 1989. Regarding the shortage of STs in the United States, he stated that Atari had "just signed a major deal with a big DRAM supplier and the situation will get better, I hope, in early 1989."
ST Laptop Makes 1st US. Appearance
Atari's ST Laptop computer was unveiled to ST Developers at the Fall Computer Dealers Exposition (COMDEX) in Las Vegas, November 17, 1988. Originally slated to be displayed in the Gold Room as a part of the Atari exhibit, its U.S. debut was delayed until the Atari Developer's Party halfway through the show.
The ST Laptop, code-named STACEY after the custom screen driver chip designed by Atari, includes all of the features of a standard ST in a portable, battery-powered machine. It uses a backlit, supertwist LCD screen with 640 X 400 resolution, similar to the ST monochrome monitor. The Laptop will be equipped with one double-sided drive standard and have available either a second DS floppy or a 20-Megabyte hard drive.
The littlest ST will come equipped with serial, parallel, DMA, disk drive, MIDI and monitor ports just like its bigger brothers. In place of a mouse, the Laptop uses a miniature trackball in the right-front corner of the keyboard.
Although a working prototype of the Laptop was shown at COMDEX using a Mega motherboard, an actual production prototype was not available. According to Atari officials, it was in tooling during the period of the show. A foam plastic mock-up was shown, however, and gave observers a good idea of the "shape of things to come."
The Laptop is expected to make its debut on the market in the late first or early second quarter of 1989. While a price was not announced at COMDEX, rumor has it that the Laptop has a $1500 target price. How much memory will be included in that price was also unclear, although the most likely figure seems to be one megabyte.
TD Helps Atari's MIDI Push
Tangetine Dream, the pioneer synch group profiled in the October 1988 issue of START, has been spending a great deal of time at Atari recently. Pictured with Frank Foster, Atari's Director of MIDI Marketing is Paul Haslinger, one of the superlative keyboard artists using STs to create Tangerine Dream's unique music.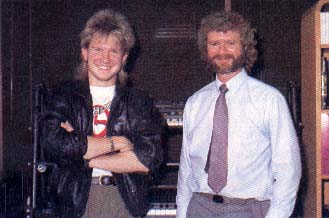 Tangerine Dream keyboardist Paul Haslinger and Atari music
marketer Frank Foster.
"We're gratified that Atari cares enough about musicians to consult with them about the design of their computers," Haslinger said. "It's not often that hardware people will listen to musicians."
Atari is determined to make their new laptop ST the premiere MIDI performance machine and avoid the mistakes other computer makers have made. Listening to the consumer--the musician--is a big step toward making that happen.
Ferrari Leaves Atari
Joe Ferrari, long in charge of software development at Atari, has resigned from the company effective in early November 1988. Ferrari will be moving back to his home, Canada, to pursue a private software venture.
Dot Dot Dot. . .
WordPerfect Corporation has decided to halt development of new products for the ST because of a depressed market in the United States; until the situation changes, there will be no new ST products from the company. Support for WordPerfect 4.1 will continue (the latest update was released August 1, 1988) and future updates to the product will still be available. This may include features that were planned for version 5.0, which has also been halted . . . Version 2.0 of NeoDesk, Gribnif Software's replacement desktop, now has a master shell feature that allows NeoDesk to occupy as little as 24K while a program is being executed. Other major enhancements include the ability to display files as text instead of icons, a utility that analyzes system crashes and a move file feature. Gribnif Software, PO. Box 350, Hadley, MA 01035 . . . Microtyme has released three volumes of IMG clip art and laser printer fonts. Called the Printer's Devil, each volume costs $29.95. For more information, call Microtyme at (800) 255-5835 or write to P.O. Box 369, Kettering, OH 45409 . . . Soft-Logik Publishing has renamed its Publishing Partner Professional as Page Stream and Publishing Partner has become Page Stream Jr. . . . In an attempt to prevent possible foreign imitations of some of its products, Atari is suing Suncom, Inc. for illegally copying its "video game control unit," or joystick. Papers filed in a Federal District Court in San Jose allege that the Wheeling, Illinois-based company knowingly imported and distributed counterfeit Atari joysticks in the United States. Suncom claims no wrongdoing.
If you have a hot tip or interesting product news about the ST, let us know at News, Notes & Quotes, START Magazine, 544 Second Street, San Francisco, CA 94107.