The ST/MIDI Connection
New Releases
by Jim Pierson-Perry
Patch editors for the popular Kawai K1 synthesizer are appearing right and left. The two newest are Synthview K1/K1m by Synergy Resources and K1 Editor/Librarian by Drumware. For its big brother, Dr. T offers the K5 Editor/Librarian in the Caged Artist series. The new S900 Pro Sample Editor is Dr. T's first dedicated sample editor for the ST. It has the added ability to convert an S900 sample loop into harmonic waveform data for the K5 or Prophet VS synthesizers.
Frank Foster,
Director of Music
Markets for Atari, is
the former president
of Hybrid Arts.
Educational efforts got a boost this month. Three programs were released from Pocket Meadow Software focusing on note recognition and rhythm skills: Meadow Rhythms, Pocket Melodies and Note Pocket II. Another in this vein is Take Note, distributed by Thinkware, which works on ear training.
Player Software has released the first dedicated librarian program for the Alesis HR-16 drum machine. Get Zoned, also from Player, is a new breed of program which turns any keyboard synth into a master controller. You can specify note ranges to drive up to 16 slave synths, each on its own MIDI channel, with additional control for transposition, octaves, velocity, program change and controllers. This is a dynamite tool for live performance.
Another hot item is the imminent release of the Lynex, distributed in the United States by the Russ Jones Marketing Group. It's a 16-bit stereo sampler that acts as a desk accessory. Its RAM (1Mb to 32 Mb) is self-contained and doesn't tie up the ST, so you can use it along with a sequencer. Other features include a 50 kHz sampling rate, eight or 16 voices, an eight-channel digital mixer with eight separate audio outs and sample editing software.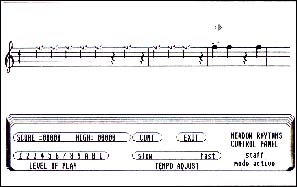 Meadow Rhythms from Pocket Meadow Software is a music
educatian program that uses MIDI input to teach students
note recognition.
Sequences to Go
Even with a great sequencer program, it's hard work to record versions of popular songs that sound authentic. This is particularly important for performing musicians who use their sequencers in place of a backup band. Several companies are capitalizing on this by offering pre-recorded songs for a variety of sequencers.
Golden MIDI Music and Software is one of the best of these companies, boasting over 130 songs in their library by artists ranging from The Police and INXS to the Glen Miller Orchestra and Sergio Mendes. The tracks are well-orchestrated and sound great. The company will customize the drum parts to fit your drum machine note assignments at no charge. Virtually every pro-level Atari sequencer is covered in its native format. On the legal side, Golden MIDI has obtained a license for each song they offer and pay the appropriate royalties for their use.
Trycho Tunes also offers songs for ST sequencers. They have over 300 songs available, mostly from pop and oldie categories. Sequences are supplied in MIDI-standard file format for use by Dr. T, Passport, Sonus and Steinberg/Jones sequencers; Hybrid Arts is working on a MIDI file conversion program which may be ready by the time you read this. A demo cassette is available that shows off several songs in a live performance context. Other companies which provide ST-compatible song files are Tran Tracks and Future Music.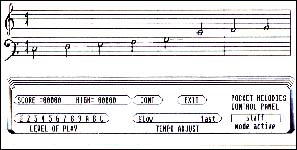 Pocket Melodies from Pocket Meadow Software teaches
rhythm while coordinating with the MIDI input.
Atari and MIDI
Almost ready from Atari is a video on applications of STs and Megas for performing, composing and studio work featuring various celebrity musicians. A book on MIDI, musicians and the ST is due out early next year. At the summer NAMM music show Atari announced a joint promotional campaign with Yamaha for a starter MIDI system consisting of a 5205T with monochrome monitor, PSS-480 keyboard and Master Tracks Jr. sequencer program. Aimed at the mass merchant market, the package retails for $999.
Atari is taking its MIDI market quite seriously, to the point of recruiting Frank Foster from Hybrid Arts to head corporate MIDI-related activities. Atari has been active at national and international music shows and has also launched an agressive advertising campaign in the trade magazines. The recent Tangerine Dream North Amencan tour was sponsored solely by Atari, and more will follow next year.
Jim Pierson-Perry is a research chemist and semiprofessional musician living in Elkton, Maryland. He is also a contributing editor for START.
PRODUCTS MENTIONED
K1 Editor/Librarian $119. Drumware, 12077 Wilshire Blvd. #515, Los Angeles, CA 90025, (213) 478-3956.
K5 ST Editor, $175; S900 Pro Sample Editor, $249. Dr. T's Music Software, 220 Boylston Street, Suite 306, Chestnut Hill, MA 02167, (617) 244-6954.
Song Files, $59.95 per volume of 10. Future Music, P.O. Box 1090, 489 East Plumb Lane, P.O. Box 1090, Reno, NV 89504, (800) 367-6434.
Song Files, $19.95 per sequence. Golden MIDI Music & Software, 1020 15th Street, Suite 29K, Denver, C0 80202, (303) 534-4055.
Master Tracks Jr., $129.95. Passport Designs Inc., 925 Miramontes Street, Half Moon Bay, CA 94019 (415) 726-0280.
HR-16 Librarian $29.95; Get Zoned, $89.95. Player Software, 199 North El Camino Real Suite F323, Encinitas, CA 92024, (619) 753-1498.
Meadow Rhythms, Notepocket II, prices not available; Pocket Melodies, $99.99. Pocket Meadow Software, 1325 Imola Avenue West, Suite 123, Napa, CA 94559.
Lynex, price not available. Russ Jones Marketing Group, 17700 Raymer Street, Suite 1001, Northridge, CA 91325, (818) 993-4091.
Synthview K1, $69.95. Synergy Resources, 754 North Bolton Avenue, Indiananoplis, IN 46219, (317) 356-6946.
Take Note, $79.95. Thinkware, Box 31613, San Francisco, CA 94131, (415) 665-0324.
Song Files, $20 per sequence. Tran Tracks, 133 West 72nd Street, Suite 601 New York, NY 10023, (212) 595-5956.
Sequences, $17.95; Backing Track Tapes, $19.95. Trycho Tunes, 2166 West Broadway #330, Anaheim, CA 92804, (714) 938-9616.