Products Update
New ST Software and Hardware
compiled by Tom Byron,
START Assistant Editor
Final Assault
Climb every mountain with Final Assault, the newest addition to Epyx's popular Sports line. As you scale the world's most treacherous peaks, you learn the terminology and techniques of this often dangerous sport. With design input from renowned mountain climber Eric Escoffier, Final Assault pits "mountaineers" against the ever-present hazards of Europe's Alps. You must conquer snowy slopes and deadly glaciers in order to plant your flag at the summit of an Alpine giant. Final Assault, $49.95. Epyx, Inc., 600 Galveston Drive, P.O. Box 8020, Redwood City CA 94063, (415) 368-3200.
CIRCLE 165 ON READER SERVICE CARD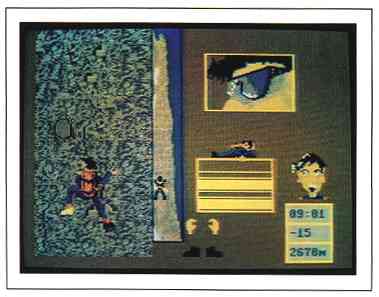 Experience the fun and adventure of scaling the world's most
treacherous peaks with Final Assault from Epyx.
CADD Level 1
Generic Software's CADD Level 1 is significantly faster than its predecessor, FirstCADD. The speed increase also applies to the program's built-in DotPlot printer interface, which lets you print with over 100 brands of dot matrix and laser printers.
Text commands in CADD Level 1 have been completely rewritten for the ST. New commands include Aspect, Slant, Insert, Delete and Replace. The program runs on all versions of the ST and a hard drive is recommended. CADD Level 1, $49.95. Generic Software, Inc., 11911 North Creek Parkway South, Bothell, WA 98011, (800) 228-3601.
CIRCLE 64 ON READER SERVICE CARD
DrawArt Professional ScanArt Touch-Up
Add effective, eye-catching graphics to all your publishing projects with one of two graphics collections from Migraph. DrawArt Professional contains over 150 illustrations in a variety of themes such as office, sports, transportation and more. ScanArt contains over 100 liustrations. DrawArt graphics are saved in GEM format while ScanArt graphics use standard compressed .IMG format.
Touch-Up is a new comprehensive image-design tool for producing high-resolution bit-mapped graphics on the ST. It combines a wide range of drawing tools with special effects, outline font technology and screen editing functions and makes them accessible to all levels of users. It will also run on Moniterm's large Viking 2400 monitors.
Migraph also announced recently that EZ-Draw with Supercharger has been modified to use the Moniterm monitors. Contact Migraph for update policies. DrawArt Professional, $69.95; ScanArt, $49.95, Touch-Up (price not available). Migraph, Inc., 720 South 333rd, Suite 201, Federal Way, WA 98003, (800) 223-3729.
CIRCLE 167 ON READER SERVICE CARD
Copyist DTP Tunesmith
Two new music programs are now available from Dr. T's.
Copyist DTP is a desktop music publishing, score editing and transcription program that supports both mouse and keyboard input. The program features a complete set of musical symbols and lets you create your own. An extensive manual includes easy-to-follow tutorials and a comprehensive index.
Tunesmith, a second-generation version of Phrase (the program made famous by Jan Hammer), is an algorithmic composition program that supports up to six voices of MIDI output and is completely controllable in real-time. The output from Tunesmith is recorded continuously in a form suitable for use on any sequencer that supports the MIDI file format.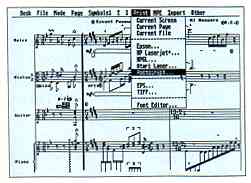 Copyist, from Dr. T's software, is a desktop
music publishing, score editing and
transcription program. It provides a
complete set of musical symbols and
even lets you create your own.
Copyist DTP, Tunesmith, $399, $149. Dr. T's Music Software, 220 Boylston Street, Chestnut Hill, MA 02167, (617) 244-6954.
CIRCLE 56 ON READER SERVICE CARD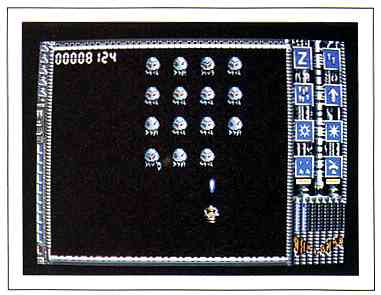 Better Dead Than Alien, from Discovery Software is an ST
version of Space Invaders with a bit more humor and a lot
better graphics than the old 8-bit cartridge.
Better Dead Than Alien
In Better Dead Than Alien, a comical, fast-paced arcade game from Discovery Software you're the galactic hero Brad Zoom and your mission is to battle wave after wave of aliens slithering and crawling down the screen. Some aliens are easily destroyed, while others are deadly. By shooting aliens with glowing green eyes, you can win extra combat powers and, the ability to move around the entire battle screen during Master Alien Waves.
Better Dead Than Alien is reminiscent of the classic Atari game Space Invaders and will provide hours of alien-blasting fun. A color monitor is required. Better Dead Than Alien, $34.95. Electra Software, Imported by Discovery Software, 163 Conduit Street, Annapolis, MD 21401, (301) 268-9877.
CIRCLE 68 ON READER SERVICE CARD
ST Scan Image Scanner
Navarone's new ST Scan Image Scanner can transfer your line art, photographs, logos and other graphics to your computer You can capture any image with a resolution up to 300 dots per inch and with 32 shades of gray. ST Scan allows scanning in both line art and halftone mode.
The GEM-based ST Scan features easy-to-use click-on menus and takes only 15 seconds to scan an image. Once the image is digitized, you can use graphics programs like DEGAS Elite and EZ-Draw to edit and crop it. The ST Scan package includes a Canon Scanner, high-speed interface, cable, software and manual. ST Scan Image Scanner, S1,779 (flatbed); $1,239 (sheet fed). Navarone Industries, Inc., 454 Kenneth Ave., Campbell, CA 95008, (408) 378-8177.
CIRCLE 166 ON READER SERVICE CARD
Do you have a new ST product? if so, we'd like to hear about it. Please send your press releases and product photos to Product Update, START, 544 Second Street, San Francisco, CA 94107