The ST/MIDI Connection
Music Upgrades, Music Fests and Music Online
by Jim Pierson-Perry
Welcome to the ST/MIDI Connection, START's column for news of the ST in the MIDI market. The focus is on industry news affecting the ST, new products or upgrades and topics of general interest.
We will cover MIDI applications, rather than programming tricks or teaching MIDI basics. For background information, I strongly recommend the book "Music Through MIDI" by Michael Boom ($19.95, Microsoft Press) which covers MIDI from start to advanced applications in a clear and comprehensive style.
What's New?
Upgrade seems to be the word of the day with five companies having released improved versions of existing programs. These are: EZ-Track Plus and EZ-Score ver. 1.1 (Hybrid Arts), MIDIsoft Studio Advanced Edition (MIDIsoft Corporation), Pro 24111 (Steinberg/Jones), Master Tracks Pro 3.0 (Passport) and Music Studio '88 (Audio Light). More good news for Steinberg/ Jones fans: the Pro 24 III manual (Creative Input) is now available. Written by product specialist Geoff Ryle, it is full of information and tips on using the sequencer. (Editor's note: The back of the latest Tangerine Dream album, Optical Race, contains the following line: "This album has been produced on the Atari ST using Steinberg/Jones software" Tangerine Dream is a West German group, and Steinberg Software is a major ST software force in West Germany. The software is distributed in the U.S. by the Russ Jones Marketing Group. An interview with Tangerine Dream appeared in the October issue of START.)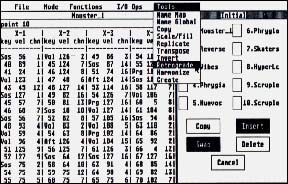 Mouseterpiece from MIDImouse uses the mouse to control
a three-dimensional network of notes, patterns and control-
ler effects to create compositions or just play in real-time.
Dr. T has released several programs designed to work either as standalone applications or integrated with the Keyboard Controlled Sequencer under their Multi-Program Environment shell. These include Fingers and Tunesmith, tools for algorithmic composing and real-time performance, along with updated versions of Caged Artist patch editors (DX- Heaven, Matrix 6 Tricks, etc.). (See the Matrix 6 Tricks review in this issue.) They are also distributing Sample Maker (from Virtual Sounds), an extremely versatile sound synthesis and sample editing package.
MIDImouse has added two new programs to their Sonicflight series. These are patch editor/librarians for the Ensoniq ESQ-1/M/SQ-80 and Roland D10/110 synthesizers. Sound Designer, the top-rated Macintosh sample editor, has been ported to the ST by Digidesign.
On the flip side, Hybrid Arts has withdrawn their Oasis Mirage sample editor from the ST market and Steinberg/Jones has acquired the Beam Team software line. No word yet on their plans for release of the long awaited sequencer and scoring modules (Transform X-Note and X-Track) or regarding customer support for current owners of Beam Team programs. (Editor's note: For reviews of Beam Team's X-Syn series of patch editors, see START Special issue #2-Music and Graphics. )
Show Time
Several major music trade shows took place during spring and summer, all featuring many new applications for the ST. The largest was the Musik Messe in Frankfurt, West Germany which high-lighted European products. One of the newer ST uses is driving mixer boards; to this end, Jellinghaus Musik Systeme and Syrinx showed dedicated systems. Steinberg demonstrated software to control the Yamaha DMP7 digital mixer along with the Timelock interface (which fits on the ST parallel port) and provides SMPTE compatibility for their sequencing and mixing software. Also on the hardware front, Commander showed an ST-based 16-bit stereo sampler that runs as a desk accessory and can be used at the same time as a sequencer. Akai introduced an upgrade to their popular S900 sampler that lets it interface with ST-compatible hard drives.
Nor was software overlooked: C-Lab showed the Notator program which adds transcription capabilities to their top-ranked Creator sequencer. (A review of both of these is scheduled for an upcoming issue of START.) Digidesign will be distributing these and other C-Lab programs in the U.S. Big Band by Digigram is an algorithmic composing tool designed to work with music files created by Steinberg's Pro 24 III sequencer.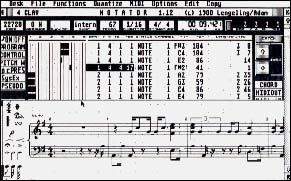 C-Lab's Notator adds transcription capabilities to their
Creator sequencer. Notatar provides so many tools that it's
like using DEGAS Elite to manipulate your music and
graphics!
Back in the the U.S., the summer NAMM show (National Association of Music Merchants) was held in Adanta. Although most of the big guns tend to be saved for the winter NAMM meetings, there were still several new ST applications shown. Hybrid Arts previewed Ludwig and ADAP II. Ludwig is a program for real-time algorithmic composing and musical editing that works with their MIDI Track sequencer line. ADAP II is the second generation of their 16-bit stereo sampler, built around an ST, that now offers direct to disk digital recording.
Two new programs provide alternative ways to create music. Mouseterpiece from MIDImouse uses the mouse to control a three-dimensional network of notes, patterns and controller effects to create compositions or just play in real-time. It comes with an integrated sequencer that can record or play while still creating music with the mouse. In the same vein, MIDI Draw by Intelligent Music also uses the mouse as the playing controller. It transforms a graphic display of mouse movements into musical patterns. A variety of editable effects and tonality changes are provided. Resulting music files can be saved in standard MIDI file format to use with a sequencer or their composing program M. (Editor's note: For listings of software prices and manufacturers mentioned in this article, see Jim Pierson-Perry's "The Professional MIDI Machine" in the November 1988 issue of START.)
Hot Numbers
We'll wrap up this month with mention of two good BBS's of special interest to ST users. These are East Coast MIDI at (516) 928-4986 and the MIDI & ST Information Exchange at (614) 848-5947. East Coast boasts a tremendous number of ST-compatible synthesizer patch files and programs. It also hosts a Steinberg/Jones forum featuring messages, files and new product information (headed by product specialist Geoff Ryle). The M&S exchange also has a large number of program files and represents the ST branch of the International Electronic Musicians' User Group (IEMUG), founder of the MIDI-NET message base.
Got new info on MIDI and music software and hardware for the ST? Jim Pierson-Perry wants to hear about it. You can write to him in care of START, 544 Second Street, San Francisco, CA 94107, or you can reach him online at PAN (PIERSONPERRY), CompuServe (73637,1300) and GEnie (REMO).
Jim Pierson-Perry is a research chemist and semi-professional musician. He lives in Elkton, Maryland.