Products Update
New ST Software and Hardware
Jet
Jet from SubLogic puts you at the controls of one of the most advanced tactical fighter aircraft in the world: an F-16 Fighting Falcon. Or you can climb into the cockpit of a carrier-based F-18 Hornet the Navy's newest multi-role jet fighter. Both jets use fly-by-wire flight systems for fast, accurate response to your control input.
Jet includes a free-flight non-combat mode and offers a variety of target-strike or aerial dogfight options to test your skills under different combat conditions. Optional scenery disks expand your flying environment and let you explore the world. With the multi-player option, you and a friend can fly together or engage in aerial combat via your STs modem ports. Jet, $49.95. SubLogic Corporation, 713 Edgebrook Drive, Champaign, IL 61820, (217) 359-8482.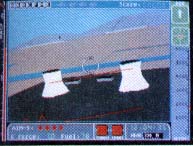 SubLogic's new program Jet puts you
at the controls of one of the most
advanced tactical fighter aircraft in the
world: an F-16 Fighting Falcon.
MT-240 Keyboard
The MT-240, the latest keyboard in Casio's "Tone Bank" series, is a 49-key, 10-note polyphonic keyboard including dual speakers with built-in stereo effects. Other features include the new 12-bit PCM instrument sound generator and 20 PCM instrument sounds with Tone Bank capability, giving you 210 possible sound combinations. The MT-240 has 20 rhythms that use 46 PCM sound sources and the Casio chord system chat uses 16 sounds.
The MT-240 keyboard has a demo song built in and operates on either AA batteries (included) or an AC outlet. MT-240, $199.50. Casio, Inc., 570 Mt. Pleasant Avenue, P.O. Bax 7000, Dover, NJ 07801, (201) 361-5400.
Fax/Modem Switches
High-Tech Resources has introduced three new automated fax/modem switches which are designed to prune phone costs by eliminating dedicated line installation and monthly charges--as much as $600 per year for each line.
Model V/F/M allows a fax machine or modem to share a voice line with exclusion that prevents barge-in. Features include a 24-hour auto-answer with preset rings. The Model F/M/A fax/modem switch listens for incoming fax tones. It's ideal for single-line or multi-line installations. Finally, the Model M/F fax/modem switch deciphers the incoming tones and connects the appropriate receiving device.
Each switch is completely compatible with all fax machines, dial modems and push-button phones. V/F/M, approximate retail $100-125; F/M/A, M/F FAX/Modem Switches, approximate retail $300-350. High-Tech Resources, 4225 Glendale, #102, Phoenix, AZ 85051, (800) 422-2832.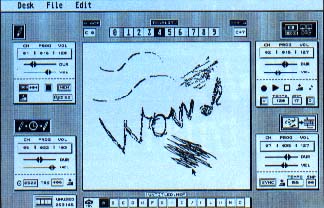 MidiDraw
Intelligent Music, which brought you the interactive music package M, has released MidiDraw, a new program for the ST that combines drawing and music-making in one package.
MidiDraw lets you compose and perform music by drawing on the computer's monitor. The program offers professionals a gestural approach to performance, yet it is instantly accessible and fun to use. With MidiDraw, you can perform on the ST as if you were playing a musical instrument. It can run on either a 520, a 1040 or a Mega. A MIDI synthesizer is required. MidiDraw, $95. Intelligent Computer Music Systems, Inc., P.O. Box 8748, Albany, NY 12208, (518) 434-4110.
Heroes of the Lance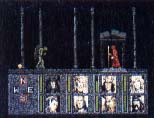 SSI's Heroes of the Lance, the first Advanced Dungeons and Dragons computer action game for the ST, re-creates the epic battle between good and evil on the world of Krynn. You control eight characters, each with different specialized attributes and skills, and guide them through the treacherous ruins of the temple Xak Tsaroth to retrieve the precious Disks of Mishakal.
As your party descends into the Abyss, you must defeat the monstrous Draconians in hand-to-hand combat, deal with powerful magic and survive the onslaught of attacks from giant spiders, skeletal undead and countless other terrors. Ultimately, you must find the key to destroy Khisanth, the ancient black dragon who guards the platinum disks. Heroes of the Lance, $39.95. Strategic Simulations, 1046 N. Rengstorff Ave, Mountain View, CA 94043, (415) 9641353. For ordering call Electronic Arts, (800) 245-4525.
Do you have a new ST product? If so, we'd like to hear about it. Please send your press releases and product photos to Product Update, START, 544 Second Street, San Francisco, CA 94107