News, Notes & Quotes
What's Happening in the Atari World
by Stephen Mortimer
and the START Staff
X*PRESS Delivers Affordable News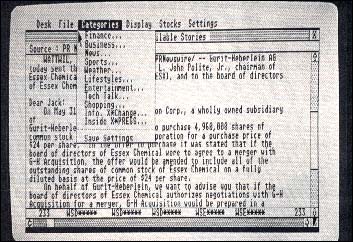 X*PRESS is an electronic information service that has no hourly fees and does not tie up telephone lines. Delivered to your ST via an ordinary television cable, X*PRESS brings up-to-date news, weather and stock quotes 24 hours a day. A data receiver connects to the ST's RS-232 serial connector and converts the signals on the television cable into information that the X*PRESS software can understand.
Two services are offered to X*PRESS customers: X*Change and Executive. X*Change is the basic service that requires no fees except the initial purchase of X*PRESS. It offers news from agencies across the world, including AP, Canadian Press and even the Soviet TASS. Sports information ranges from box scores, lineups and schedules to feature stories. Current weather reports, TV listings and syndicated columns can be found on X*Change. Byte Magazine offers Microbytes, Best of BIX (Byte Information Exchange) and one-way conferences. A personal stock portfolio is updated three times per day
The Executive service offers business and financial news at the monthly price of $19.95 in addition to the basic kit. Stock quotes from both U.S. and Canadian stock exchanges are updated all day. Standard & Poor's, Business Week and McGraw-Hill provide extensive coverage of the business and financial world. Business Wire and PR Newswire press releases are available on the Executive service, in addition to foreign exchange and interest rates, commodities, precious metals, and mutual fund prices. Executive subscribers also have access to X*Change.
The X*PRESS software, written by Alan Page of Flash! fame, lets you select certain categories that you want placed automatically in a clippings folder that can be read or printed out at your leisure. You can specify keywords to search through all incoming stories. The software can operate in the background while another program is being used on the ST.
X*PRESS X*Change retails for $125 and the Executive service is $225 plus the $19.95 monthly fee. Both services include the TV cable to serial adapter. The X*PRESS information service is only available if your cable company carries it.
For more information, contact X*PRESS Information Services, Ltd. at 4643 South Ulster Street, Suite 340, Denver, CO 80237, (800) 772-6397 (7PC-NEWS).
Atari Goes Vertical with DynaCADD
The Atari Mega is entering the vertical market arena in earnest with the advent of DynaCADD, a professional CADD application from ISD Marketing. Atari Canada is actively promoting the Mega and DynaCADD as a cost-effective CADD solution to value added resellers (VARs) and specialty retailers. The promotion uses the slogan "Birth of a New Breed."
One VAR, Geodetic Software Systems, is packaging the Mega and DynaCADD as a Logical Surveying Software package. It is being used in 85 land surveying offices in the province of Ontario, Canada. Many of the systems were sold before DynaCADD was even available. (Editor's note: A preview of DynaCADD appears elsewhere in this issue.)
Math Coprocessor for Megas
Atari has released the SFP004 Floating Point Coprocessor to developers. The card is available for the Mega's internal 68000 bus. Contained on the card is a 16 MHz Motorola 68881 floating point coprocessor (a 20 MHz chip is offered as an option). Applications are not affected by the coprocessor unless they are specially modified to take advantage of its capability. Before an application can use the SFP004, the language used to develop the application must be modified to handle object code compatible with the 68881. Performance of modified applications may be increased up to 20 times. Atari is working closely with suppliers of programming languages to ensure that they support the SFP004.
Moniterm, makers of large computer monitors, has included a 68881 socket on their high resolution monitor interface card which is installed within the Mega and is compatible with Atari's design. No date has been set for an official public release of the SFP004.
Fat Bits . . .
Hewlett-Packard has charged Apple Computer with antitrust violations and unfair business practices in a countersuit filed in San Jose, California. The suit is HP's response to a lawsuit filed by Apple against Microsoft and HP. Apple contends that HP's NewWave and Microsoft's Windows 2.03 windowing environments infringe on Apple copyrights and resemble the Mac too closely. HP seeks to have the Apple suit dismissed and the Apple copyrights revoked. They charge that Apple was not the originator of windowing environments and that they misled the U.S. Copyright office into believing that Apple was in fact the sole creator. . .
All new Atari 520 STFM computers are now equipped with built-in double-sided disk drives. . .
The existence of a laptop ST, previously just a rumor, has been acknowledged by an Atari U.K. official in a British magazine. Supposedly it will be available by the end of the year and will use a trackball in place of a mouse. A price of under $1,500 has been rumored.
Practical Solutions, maker of Monitor Master and Video Key, is considering producing MIDI Master if demand warrants. This device would switch between two sets of MIDI cables at the touch of a button and provide a MIDI Thru port. . .
In addition to the 1280-by-960 monitor interface from Moniterm, a similar board is available from both France and Germany Software drivers for the cards allow a detached menu bar to be called up anywhere on the screen. . .
Atari's PCF-554 5 1/4-inch floppy disk drive for their PC clones also works with the ST. With a slight software modification, the drive will let the ST read and write IBM disks. . .
Another upgrade to WordPerfect is available, dated August 1, 1988. It offers greatly increased scrolling speed and more bug fixes, according to Steve Reiser of WordPerfect Corporation. . .
The Diablo 630 emulator for the Atari Laser has been updated and is now more compatible with third-party software. An Epson emulator is available from DMC in Germany and can be found at some dealers in the United States.
Stephen Mortimer is a high school junior and a member of the National Honor Society.
If you've got a hot tip or an interesting product for the ST, we'd like to hear from you. Let us know at News, Notes & Quotes, START, 544 Second Street, San Francisco, CA 94107.