Products Update
New ST Software and Hardware
New Fantasy From SSI
From Strategic Simulations, Inc. comes Heroes of the Lance, first in a series of the official TSR Hobbies Dungeons & Dragons computer games. In this single-player game, set in the DragonLance game world, you can control up to eight characters. The game uses both text and graphics and is similar to other ST fantasy games. Pick your characters, decide on their strengths and weaknesses and set them out on a quest! Heroes of the Lance, $39.95. Strategic Simulations, Inc., 1046 Rengstorff Ave, Mountain View, CA 94043, (415) 964-1353.
Supra's Megadrive
Supra Corporation has released their MegaDrive ST, a 40-megabyte hard disk drive that mounts inside the Atari Mega computer case. The drive connects to the internal DMA port (on the Mega's motherboard) and leaves the external DMA port available for the Atari laser printer or other peripherals. There is no external power supply; power comes directly from the Mega. Supra also furnishes formatting software that lets you partition the MegaDrive ST into as many as 12 drives. MegaDrive ST, $995. Supra Corporation, 1133 Commercial Way, Albany, OR 97321, (503) 967-9075.
Captain Blood
Captain Blood,
Mindscape's stun-
ning new space ar-
cade game with
real fractal imagery
and simulated vec-
tor graphics.
Captain Blood is a stunning new space arcade game from Mindscape. In it you play the title character, a cyborg looking for six clones who are draining your energy. Your mission? Hunt them down and ice them! You can choose to explore up to 32,768 planets; picking your choices through the colorful screen icons. Incredible landscapes (both real fractal and simulated vector graphic), digitized sound, music and fast-moving flight sequences add to the fun. Could this be the next Dungeon Master? Captain Blood, $49.95. Mindscape, Inc., 3444 Dundee Rd., Northbrook, IL 60062, (312) 480-7667; (800) 221-9884.
A Question Of Scruples
One of the most provocative board games today is Scruples, a game that demands its players make difficult decisions on moral dilemmas. A Question of Scruples is the computer version of this game--a game that asks tough questions and reveals the personalities, honesty and ethics of its players. In Scruples you can play with up to nine other human players, or against computer players chosen from 64 different personality types. A Question of Scruples, $39.95. Virgin Games, distributed by Electronic Arts, 1820 Gateway Drive, San Mateo, CA 94404, (415) 571-7171.
DynaCADD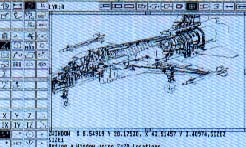 ISD, Inc., has just released DynaCADD, a professional-level CADD program that's compatible with their high-end desktop publishing program Calamus. DynaCADD lets you create both 2D drawings and 3D objects for electrical, mechanical, architectural or civil applications. DynaCADD features an amazing variety and number of features, all available through multiple levels of icon menus. The program offers considerable power: automatic dimensioning (both European and North American standards) and the ability to alter any part of a 3D object, with the program automatically updating the orthographic views of the object. DynaCADD can send its output to a wide assortment of printers (laser, dot-matrix) and pen plotters and supports the Postscript page description language. Requires a minimum of one megabyte of RAM, a one megabyte disk drive and a monochrome monitor DynaCADD, $695. ISD Marketing, Inc., 2651 St.John Street, Unit #3, Markham, Ontario, Canada, L3R 2W5, (416) 479-1880.
Off Shore Warrior
Titus Software has released Off Shore Warrior, a fantasy arcade action game in which you compete in speedboat battles. In the future, an alien race has imposed peace on planet earth and has banned all warfare and armed conflict. As one of the boating warriors, you satisfy human desires for aggression as you jump waves, avoid rocks, fire at your opponents or force them onto rocks. Off Shore Warrior, $39.95. Titus, 20432 Corisco Street, Chatsworth, CA 91311, (818) 709-3693.