Making Tracks With MIDI
A Profile of Tangerine Dream
By Mard Naman
Twenty years is a long time, especially in the music world. How many bands that were playing in 1968 are still playing today? Score one for Tangerine Dream, the pioneering electronic music trio that celebrates its 20th birthday this year. And like a fine wine, the public's appreciation of this West German band seems only to increase with time.
Today, even people who have never heard of Tangerine Dream have probably heard their outstanding sound in many memorable film scores. From early films like Sorcerer and Thief to Risky Business , Firestarter, the award winning Shy People and the just-released Miracle Mile, Tangerine Dream's sound seems tailor-made for the movies. Their music can be at once relaxing, otherworldly and totally absorbing. Listening to the interweaving textures and rhythms of a Tangerine Dream album can lift the spirit and energize the body.
As one of the very first bands to embrace electronic music and utilize its potential, the group remains on the cutting edge of technology. Today, the hypnotic, mesmerizing rhythms for which the group is famous are created in large part with the help of the Atari ST.
No Complaints
Edgar Froese is the band's founder and remains its only original member. He first decided to go with the ST because he didn't like the software that was available for the Macintosh. "We found we could do much better with Steinberg and C-Lab software, so we went with Atari," says Froese. He bought his first ST despite protests from other musicians. "Everyone said the Macintosh was the reliable unit. Everyone told us to stay away from Atari because they're unreliable and the hardware breaks down. But we've found the opposite to be true. We've worked with Atari systems for over three years with no problems. Any failures we've had have been human failures."
In fact, Froese likes Atari STs so much, the band now has 11 of them. "I could afford to hook up 11 Mac systems, but it would be stupid to do so when I can easily hook up 11 ST systems," he says.
The band will be using STs for the first time on the road during their U.S. concert tour this summer and fall. "We've got six Atari's for the tour," says Froese, "two for each of us." (Editor's note: The cover of Tangerine Dream's latest album "LiveMiles" shows the group on stage. At the bottom left of the album cover is an ST next to some of the band's mixing equipment.)
Is It Live Or Tape?
Many people think of Tangerine Dream strictly as an electronic band, but in fact they play live instruments in concen as well. About 40% of what they play will be sequenced and the rest will be live. Froese will play electric guitar and acoustic piano, and fellow band member Paul Haslinger will also play electric guitar.
"Whatever we can play with six hands we'll play," says Froese. Everything else will be sequenced. "If you have a very complex composition, you can't play everything live," he notes. "You have to decide what's possible to play and what isn't. If a sequence runs four or five minutes, it would be absolutely stupid to start playing it with the left hand and trying to figure out what chord really fits in with your right hand. Therefore, all the more or less automatic stuff will be sequenced. The other important thing we want to change--the color of the sound--will be programmed so that at a certain time a program change will be activated and we can concentrate on the other work."
Techno-Sounds
When Froese started Tangerine Dream in 1968, he says he "had this crazy dream about using technology in the most advanced way possible. I'm still on that adventurous tnp." Along with Keith Emerson and the Moody Blues, Tangerine Dream was among the first bands to use electronics. "At first we used the Moog synthesizer," says Froese. "We thought how wonderful it would be to store all these sounds--you couldn't store anything with the Moog, but you could create sounds never heard before. Then the first memory systems came on the market, but you still couldn't link instruments together. That was the next big advance. When we first heard of MIDI we started jumping around in circles. We said, 'Okay, this is it!"'
Tangenne Dream uses electronic equipment because they've found it's the best way to get the sound they want--they're not just using computer technology for its own sake. As former band member Chris Franke says, "A lot of groups using electronics got into it because of a fascination with the technical equipment. We got into it the other way around. We were looking for specific experiences and electronic instruments were the only things around that could do the things we wanted to do."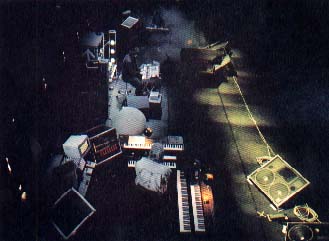 Tangerine Dream, the 20-year-old electronic band. Note the ST in
the lower left of the photo.
Music To Go . . .
Which isn't to say the group isn't interested in the latest advances. Froese says the next big advance that excites him is the removable hard disk cartridge "Up to 20 megabytes can be stored on a removable cartridge," says Froese. "You can store all your sound and music data--whatever you compose can be stored on one cartridge, and you can put that in your pocket and take it on the road with you."
But Froese's love of the latest technology doesn't mean that he buys every high-priced piece of equipment that comes on the market--far from it. "We decided about four years ago to stop buying expensive equipment," he says. "And that's one piece of advice I would give anyone just jumping into MIDI: The expensive equipment is not necessarily better if you know what you want to create. If you know how to compose and have a deep desire to create a certain type of music, you should go for the cheaper stuff, or something you can discard in six months and not worry about it. That's the way we work. We take our units as far as we can today. They may be out of the race tomorrow, but it doesn't matter because they didn't cost that much.
"The ST is a good example. We've never had any trouble with an Atari, but even if one breaks, I can easily get a new one. But if the Synclavier breaks, I'm in deep trouble--I might be out a quarter million dollars. So for the huge number of young people who just want to hear the sounds they've got in their heads, they should step into the ST. For them it's good to know they don't have to spend millions to create good songs and a good sound.
"I don't want to overwhelm Atari with compliments, but the only advice I would give people is, 'If you want to spend your money right, start with a normal ST. If you want to use sound data and song data at the same time, step into the Mega ST.' That's it."
The Bionic Band
Having 11 STs certainly helps Tangerine Dream create its original sounds quickly. The three members all work together. "We don't use a lot of switchers; we work parallel," says Froese "One person will start printing sheet music. At the same time somebody else will be composing new sounds and loading it into the working memory. Someone else will start writing comments about it. We're a real human processing unit." Froese then notes that some of the band's STs are connected together so that "each unit can be transferred into another one by MIDI and by mixing consoles. "
Tangerine Dream uses mostly Steinberg software, primarily because in Germany Steinberg provides very strong support and because "the Main Page is just beautiful," says Froese "It's just fabulous for us."
In explaining the type of sound Tangerine Dream strives for, Froese says, "The idea is not to use electronic machines to duplicate a flute or a violin--you could go out and buy the real thing for much less. What we do is use those instruments' characteristics and play in other registers, which gives us a violin or a flute that hasn't been heard before. When we want real, natural sounds, we ask friends and they easily deliver what we're asking for." Froese says he likes to create new sounds by "creating different layers and putting them on top of each other, then changing the envelope curves."
The Good Old Days
In the early years, Tangerine Dream was famous for improvising. But that's changed.
"Call those years the good old days," says Froese. "We can't improvise in the same way any more. The big change was in the late '70s when the hardware situation changed 100 percent. You have to have a more or less concrete picture of what you want to do. So we compose in a very old-fashioned way. We've switched from improvising in the area of melody lines and rhythm into improvising with sounds. So, for instance, if we've got a rhythm line stored as data, then we start playing around, changing the envelopes and the character of the sounds by adding or cutting a bit. We're trying to find the best color."
Froese says there is no set way the creative process works. "Once the data is stored, we just play around with it," he says. Or as Paul Haslinger puts it, "People think making electronic music is so serious. But we often love to just have fun. We love to act crazy, freak out and just fool around in the studio. And the computers make it easy to do that. They are our instruments. We're not programmers; we're musicians and these are the instruments of our times."
Songwriting is often a collaborative process for Tangerine Dream. "Sometimes one of us has a concrete idea from the beginning and it sounds good and everyone agrees to it," says Froese. "Sometimes none of us is sure what to do but once the data is stored, we spend the rest of the day finding ways to make it sound more interesting."
The Wages Of Sync
Since they created the eerie, tension-filled soundtrack for William Friedkin's Sorcerer in 1976, Tangerine Dream has been in constant demand to do film soundtracks. For Sorcerer, they had the luxury of creating their music just from the script, and then the film was shot around their music. But that rarely happens. Most often they work from a "rough cut" of the film and sync their music to video using SMPTE time code. According to Froese, the kind of last-minute changes that soundtrack work requires wouldn't be possible without MIDI, because "with film people, everything has to be done in a day." But with the ST, it's easy to make changes to satisfy the director. "We run the original sound for the director and change whatever needs to be changed. It's very easy because everything is in sync and you just go through it and change sounds while he's looking at video.
"We've done film work with the Synclavier, we've used every expensive system that exists. But the funny thing is--and no one wants to believe this--we always fall back on the little systems. Because we can change sounds and use so many different libraries from one moment to the next. It's easy because we have so many systems hooked up. That's why we use STs."
On The Road Again
But taking the computers on the road will be a big challenge. Even though they had five STs hooked up while recording their current "LiveMiles" album in East Berlin, they have never put a computer through the rigors of a long tour. As Froese says, "To set everything up in the studio is one thing--to bang computers on a bumpy road is another. The test is to keep the monitor working. The keyboard is fine. But if you shake the monitor for awhile, the graphics get a bit strange and you never know if it'll stay that way. But we had a German company build a flat screen for us--a travel unit." Tangerine Dream will be crisscrossing the United States this summer and fall, starting August 25 in Chicago. It will be an unusual opportunity to see these true electronic music pioneers in concert--and with half-a-dozen STs.
Mard Naman is a freelance writer who specialiees in personality profiles. His work first appeared in START Special Issue #2 (Graphics and Music).
Companies Mentioned
Steinberg Software, distributed by the Russ Jones Marketing Group, 17700 Raymer St., Suite 1001, Northridge, CA 91325, (818) 993-4091.
C-Lab Software, distributed by Digi-design, 1360 Willow Run, Suite 101, Menlo Park, CA 94025, (415) 327-8811.