Products Update
Starglider II
Rainbird Software has just released Starglider II, the sequel to their bestselling ST game of 1986. Like the original, Starglider II features digitized sound effects, punchy music and smooth, vector-graphic-type animation. The new game lets you rescue colonies under alien attack, with multiple planet scenanios giving a unique feel to your missions. Rainbird is also re-releasing the original Starglider for only $24.95. Starglider II, $44.95. Rainbird Software, 3885 Bohannan Drive, Menlo Park, CA 94025, (415) 322-0412.
Kuma's Scientific ST
English computer software and hardware company Kuma has just released two ST products for scientific uses: K-Scope and K-Spect. K-Scope turns your ST into an audio-frequency oscilloscope; K-Spect turns your ST into a low-frequency, dual channel spectrum analyzer. Both products consist of interface boxes that plug into the cartridge port of your ST, along with GEM-based software for the data analysis. Prices were not available at presstime; for more information, contact Kuma Computers Ltd., 12 Horseshoe Park, Pangbourne, Berkshire, RG8 7JW, England, telephone 07-357-4335.
Accolade's Bubble
Ghost. In this light-
hearted fantasy
game you must
blow a bubble
through a danger-
ous maze of castle
rooms.
Casper Is Phosphor
From Accolade Inc. comes Bubble Ghost, a cute, multi-level arcade game with a non-violent theme. In the game you are a ghost blowing a soap bubble through the maze-like rooms of a castle. You must maneuver the bubble through 35 different rooms, each filled with sharp-edged hazards more dangerous than the last. You'll blow out candles, dodge spinning fan blades and evade champing scissors in your perilous journey; secret passageways help you skip the more difficult levels. Bubble Ghost, $34.95. Accolade, Inc., 550 Winchester Blvd., Suite 20O, San Jose, CA 95128, (408) 985-1700.
Helpful Hints Book
Helpful Hints for the Atari ST or Mega User is a new book for both beginner and advanced ST users. The book contains useful tricks and tips and assumes the user has no prior familianty with the ST. Author Bill Skurski has been an ST users group president for over two years and has compiled a list of answers to the most-often asked ST questions; the book also includes tips on how to get the most out of popular ST programs such as DEGAS Elite, 1st Word and Publishing Partner. Helpful Hints, $16.95 plus $3 shipping and handling. You can order it directly from Bill Skurski Enterprises, 10732 Lawler Street, Suite #1, Los Angeles, CA 90034.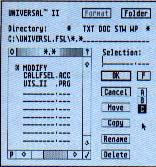 Universal Item Selector II
Oregon-based Application and Design Software is shipping its Universal Item Selector II (version 2.01), a unique tool for manipulating disk files and folders. When placed into an AUTO folder, the UIS II will function with any applications that use the standard GEM file selector. With UIS II you can rename, move, copy, delete and create folders, protect and format disks, and change and save drive paths. UIS II also will let you search for files (including wildcards), print directories, check file sizes and hold six extenders in memory. Universal Item Selector II, version 2.01, $19.95. Applications and Design Software, 226 N.W. "F" Street, Grants Pass, OR 97526, (503) 476-0071.
More From Microdeal
From Microdeal comes the arcade game Goldrunner II and its companion Scenery Disks. Goldrunner II is the sequel to the original, smooth-scrolling shoot-em-up game. In Goldrunner II you must protect your defenseless planet from marauding robot fighters. The Scenery Disks let you change the standard game backgrounds--just insert the new disk into your ST drive instead of the regular data disk, and you'll find yourself flying over new terrain.
On a more down-to-earth note, International Soccer features flashy graphics and the following user-definable options: length of game, day or night play, team colors, team formations, wind and wet or dry conditions. You can also play against your ST or against a friend. Goldrunner II, $39.95; Scenery Disks 1 and 2, $14.95 each; International Soccer, $39.95. All games require color monitor and joystick(s). Microdeal, distributed by MichTron, Inc., 576 S. Telegraph, Pontiac, MI 48053, (313) 334-5700.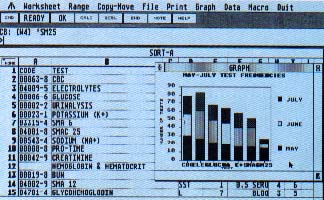 LDW'S New Spreadsheet
Logical Design Works, makers of the LDW BASIC Compiler 2.0 has just released LDW Power, an advanced spreadsheet that offers ST owners Lotus 1-2-3 compatibility. Transfer files back and forth between Lotus and Power; create presentation graphics and even print them sideways on your dot-matrix printer. LDW Power features almost 300 commands and over 80 functions, a macro recorder that lets you record keystrokes and simultaneous operation of up to four workscreen windows (including a graph window). A review of this program is scheduled for an upcoming issue of START. LDW Power, $149.95. Logical Design Works, Inc., 780 Montague Expressway, #403, San Jose, CA 95131, (408) 435-1445.
Do you have a new ST product? If so, we'd like to hear about it. Please send your press releases and product photos to Product Update, START, 544 Second Street, San Francisco, CA 94107