News, Notes & Quotes
An Easing Of The Chip Shortage
Industry sources have reported that the DRAM (dynamic RAM) shortage is easing. Those are the memory chips that fill your ST or Mega and account for a good part of its price. While 256-Kbit chips are still in short supply (and this situation is expected to worsen), prices on 1-Mbit chips have already started to decline as 256-Kbit production lines are converted to the larger chips.
Merrill Lynch Research Capital Markets has estimated that worldwide production of 1-Mbit DRAMs will more than double over the next few months to approximately 35 million units per month in December, 1988. In contrast, 256-Kbit chips are being produced at 66 million units per month and this is expected to decline to about 50 million units. But spot prices of the 256-Kbit chips, the price that a company pays for immediate delivery, have still declined from their peak of $10-12 for volume orders.
According to Dataquest, the latest DRAM prices at presstime show a range for 256-Kbit DRAMs of $2.70 to $4 if purchased directly from a semiconductor company, $6 to $9 if purchased from an authorized distributor and $9.50 to $15 if purchased on the "gray market." For 1-megabit DRAMs, the price ranges are: $15 to $18, $20 to $30 and $35 to $40, respectively.
Atari Wheels And Deals
Atari is making some sweet deals on ST and Mega packages. For instance, Atari is selling a Mega 4 with monochrome monitor, an SLM804 laser printer, a Megafile 20 20-Mb hard disk, Timeworks Desktop Publisher ST, VIP Professional and VT-100 Terminal Emulator for $3995 ($5615.70 suggested retail pnce). Other deals are a $2995 Mega 2 package (with laser printer, VIP Professional, Microsoft Write and the Terminal Emulator) and a 520STFM monochrome system with the Arrakis Scholastic Series package, Missile Command, Battlezone, Atari Planetanum and Microsoft Write for $699.
Atari also has announced a new joint promotion with Yamaha to be carried in the Lechmere chain in the East and the Federated chain in the West. For under $1,000 suggested retail price, a buyer can purchase a 520STFM, Yamaha PSS-480 keyboard and Passport Mastertracks Jr. software. This system is billed as the "first under-$1,000 home music system developed around the MIDI standard."
Paine Webber Bullish On Atari
In an investment advisory bulletin directed at the customers of brokerage house Paine Webber, Lee Isgur made a strong "buy" recommendation for Atari stock and revealed some details of Atari's upcoming products.
"We find it hard to conceive that the sheer momentum of revenues and operating profit will go unnoticed for very long. We recommend buying [Atari stock] now and think existing holders could double up," said Isgur. He also reported a 61% surge in profits from the computer division, but noted that DRAM price increases added about $4.5 million to first quarter costs and that component shortages helped to curtail Atari sales.
Demand for Atari products (primarily computers), according to Isgur's estimates, exceeds supply by at least 50% and that computer and game revenues should hit $550-700 million this year, up 50-100% from last year. Atari's goal, according to Isgur, is to have 50% of its computer sales come from the U.S. in 1990. While Isgur doubts this possibility, he does think it feasible in 1991.
On the product front, Isgur predicts a laptop ST with a built-in hard drive "this year" and a $199 68000-based game machine in January, 1989. Because there have been no official product announcements by Atari of these products, the official Atari position as of this writing is "no comment."
Atari is only making a few thousand of its PC clones per month, but "later this year" Atari will start turning out its PC-5 model (80286 clone).
Atari Games At CES
The Summer Consumer Electronics Show has traditionally been the occasion when manufacturers show their wares for the next Christmas season. It's not aimed at the business professional (as COMDEX is), but at the distributor and retailer looking for the hot product for under the Christmas tree. Atari made a strong appearance in June at this year's Chicago Summer CES, but not the way we would have expected.
The Atari pavilion was the first thing a visitor saw while riding down the escalator onto the main computer/electronics show floor. Dressed all in black like Johnny Cash, the pavilion was sponsored by the Electronic Entertainment Division of Atari--the video games division. While not as large as the 20,000-square-foot Nintendo arena, Atari had an active and well-attended area. But the only STs in evidence at the booth were several in a small area "grafted" onto the back and dedicated to MIDI.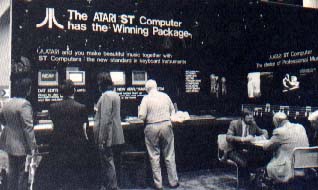 There were few STs in Atari's Summer CES pavilian and all of
them were running MIDI software an the pavilion's "back porch."
But all over the show, STs were in evidence--in the booths of almost every software publisher. Mindscape, Epyx, Taito, Rainbird, Capcom, Sierra OnLine, UBI, 360 Software, LDW, First Row and more all had new products for the 16-bit Atari computers. On final count, there were at least one hundred new ST products in evidence and all of the products looked to be real, not vaporware. As one publisher explained it, because of the large installed base of STs in Europe, much of the 68000 development there is being done on STs rather than Amigas or Macs. U.S. software houses are being presented with the almost unheard-of situation of having finished ST products that they are having to port to those other machines.
As the months pass and this stream of software hits the market, we'll review the best of it in START.
Atari And Micron Settle
As we reported in Special Issue Number 3, Atari filed a lawsuit against Micron Technology, Inc. alleging a breach of an oral agreement for Micron to supply 256-Kbit DRAMs to Atari at $3.75 each. Now, Atari and Micron have settled their lawsuit and Atari is once again buying chips from Micron, according to Neil Harris of Atari. Micron is one of the last two U.S. makers of such chips. Specific terms of the settlement were not disclosed.
Word Perfect Approaches Perfection
Since we last reported on WordPerfect for the ST in the Summer 1988 News, Notes & Quotes, WordPerfect Corp. has released a new version with many of the bugs fixed. This version, dated April 15, 1988, now performs as it should. Keyboard response is still slower than some word processors, but the major bugs with the installation and the speller have been fixed. The speller is now a joy to use, but the "freebie" conversion program still doesn't convert ST Writer files to WordPerfect format. WordPerfect has publicly reiterated their commitment to remain in the ST market and admitted they were premature in bringing out the first version of the software for the ST. Kudos to WP for their support of a fine product. If you have a hot tip or an interesting product for the ST, we'd like to hear from you. Let us know at News, Notes, & Quotes, START, 544 Second Street, San Francisco, CA 94017.