Review
Timeworks Desktop Publisher ST
In a Word, Incredible!
by Jerry McBride
As the editor of an ST club newsletter for two years, I've been anxiously awaiting a "second-generation" desktop publishing (DTP) program. My dream DTP program would support multi-page documents, import word processor files with all bold characters, underlining, etc. and import a wide range of graphics easily. Timeworks Desktop Publisher ST does these things extremely well and much, much more.
In a word, Publisher ST is incredible--it's extremely easy to use and very powerful. Publisher ST lets you import a "tagged" word processor file and produce a finished document instantly. I'm talking font sizes, headings, subheadings, bullets, the whole enchilada. And Publisher ST provides excellent dot matrix and laser printouts, as well as letter, legal, note card and landscape layouts.
Using Timeworks Publisher ST
When you run the installation program (and you must run it), Publisher ST creates working disks (or hard disk folders) specifically for your system. It's exceptionally easy to use and prompts you at every step. Once you tell Publisher ST your system configuration, it tailors the installation to fit. Your system configuration affects the number of font sizes available.
The Tool Box in the upper left-hand corner of the work screen has icons to switch among the four major modes of operation: Frame mode is used to set up frames to hold pictures or text, Paragraph mode lets you change the style of a single paragraph instantly, Text mode lets you modify or add text and Graphics mode has tools to draw lines, squares, circles, etc.
The Library window is under the Toolbox on the left side of the screen. Depending upon which mode you're in, the Library window will display the name of any text or graphic file you've loaded, paragraph styles or graphics tool icons.
The Page Indicator is in the lower left corner of the screen; here, you can click on the left arrow to go back one page or the right arrow to go forward one page. The dog-ear drawing of the icon tells you whether it's a left- or right-hand page.
You can save your page layout, master pages and user-defined paragraph styles in a "style sheet," and create different style sheets for various types of documents. When you're ready to create a new document, you just load the desired style sheet and you're ready to "fill in the blanks" with text and graphics.
Text Features
Publisher ST can accept 1st Word, 1st Word Plus, Word Writer ST and WordPerfect ST files directly, retaining all formatting. You can even exchange files with its sister program, Timeworks' IBM Publisher; the files are 100 percent compatible. Existing text automatically flows around new text/graphic frames--and does this feature save time!
When you load a text file it's immediately stored in the Library and poured into any selected frame--and then will pour into subsequent frames. If no frame is selected, the file remains in the Library for later use, unless you choose to delete it. This is a very convenient way to create a document: you can delete text from your work area, but it will remain in the Library for placement elsewhere.
You can create specific combinations of paragraph format attributes and you can save different formats (bold, etc.), point size, justification, tab/indent and bullet style under a name of your choosing. When you want to change a paragraph, just click on the paragraph and then the new style. Zap! The change takes place instantly.
Any text paragraph can be "tagged" for style, font or size--even bullets while still in your word processor. When imported, the paragraph will appear in the desired font size and format. What a time saver! (However, when you place a tag at the beginning of a paragraph, make sure the previous paragraph has no trailing spaces or else the tag may not work.) Publisher ST does lose your document's tabs during import, but the tag feature can compensate for this by letting you define tabs and indents at the beginning of a paragraph.
Pictures And Graphics
As with text files, pictures are loaded into the Library as well as any selected frame. If you haven't selected a frame, most picture types will simply go into the Library until you need them. The only exception seems to be image files, which won't load unless you select a frame. Pictures become a permanent part of the document, which means you won't have to mess with any separate files. Cropping one picture from a group is easy and you can restore cropped pictures to their original aspect ratio instantly.
Publisher ST supports several graphic types, including DEGAS, NEOchrome, GEM Draw, Easy Draw and GEM Paint/Scanned (.IMG) files. (Sorry, TINY pies are not supported.) The built-in pixel editor lets you touch up your pictures at the last minute and you can crop an imported picture by selecting any portion of it.
Selecting the pencil icon selects the Graphics mode and brings up the drawing toolbox. The drawing tools are standard fare: circles, ellipses, free-hand lines, polylines, round- and sharp-cornered boxes. Standard GEM fill patterns are available (you cannot create your own) and you can make a frame and fill clear or opaque.
You can have a box drawn around the perimeter of a selected frame automatically; several line types are offered. But you can only draw within a frame, not on the bare work area. However, this problem is easily solved by making a huge full-page frame and placing separate text or picture frames inside it.
Other Features
There are almost too many features to discuss in a single review, but some of the features that were important to me are the following.
Publisher ST is primarily mouse-driven, but Timeworks has provided keyboard equivalents for many functions, plus you can define the function keys for instant change of specific paragraph styles. Help is available merely by selecting Help from the menu bar, similar to Timeworks' other packages.
The main work area lets you view pages at half size, actual size, double size, size to fit (full page), or two pages at once. Although full page and two page displays allow you to see your document's overall layout, like all small-screen DTP programs, it's impossible to read small point size text when displayed at less than actual size.
Left, center, right and decimal tabs add great versatility to tabular text or financial reports and you can instantly place leader dots, making indexes and tables of contents a snap:
Multiphasic Variances in Doppler Cycles..................39, 57,108
On the Author's Correctness of Thought...................5, 16
Fallacies of my Rivals........................................2, 61
You can make headers and footers different on left and right pages: if you set one up on a master page, it's placed on all document pages automatically. Page numbering is also automatic. Onscreen precision rulers--very handy for laying out custom columns--show the exact position of the mouse pointer and can display inches/tenths, inches/ eighths, picas/points or centimeters.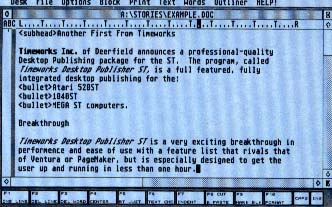 Timeworks Desktop Publisher ST. This screen shows a word
processor file tagged with subheads and bullets.
Other features include snap-to-guides, left and right master pages, precision placement feature accurate to 1/100 of an inch, leading (line spacing), kerning (character spacing), six high-quality fonts and a set of bullets.
Finally, you can add a blank page before or after the current page and new pages automatically reflect layout information from the appropriate master page.
Printing
Publisher ST's dot-matrix print quality is very good. Floppy-based systems take about four minutes to load fonts and six-and-a-half minutes to print one page. Publisher ST, like Migraph's Easy Draw, uses the powerful but cumbersome GDOS printing utility. GDOS laser printer fonts consume large amounts of disk space. You need a hard disk to hold all the available Publisher ST font sizes; a floppy-based system just can't.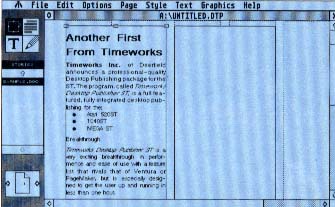 This screen shows the result after the file is imported into the
program.
To support floppies, Publisher ST does two things: it reduces the number of available font sizes, creating the larger font sizes by mathematically enlarging smaller ones. This makes large laser fonts jaggy on a floppy system. I'm not sure how much of a problem this presents: many ST users (like me) print documents at a local Atari "print shop." If the print shop has a hard drive, you're in business. For those of you who "roll your own"--is there anyone who owns a Mega 2 and a laser printer who couldn't scrape up $550 for a hard disk?
Another potential printing "problem" is a potential 1/4-inch error in horizontal or vertical page alignment on laser printouts due to differences between laser printers. However Timeworks provides the file TESTCARD.DTP as an alignment test file. Print it out and if shows an alignment problem on your laser printer, change your master pages to compensate.
The Manual
I've been a technical writer for almost six years now and Publisher ST has one of the best manuals I've ever seen. (Ironically, it's typeset.) Besides having an excellent tutorial and reference section, the manual contains sample document styles and a picture Library of the 200 clip art pictures provided. The manual comes in a small three-ring binder and slipcase; since this program is one you will definitely want to keep around for quite a while, the manual should survive as long as you use the program.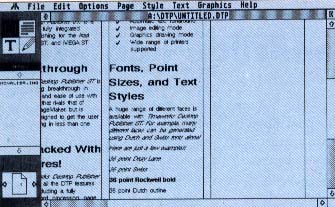 This screen shows a Publisher ST page without a graphic.
Easy Draw And Publishing Partner
Over the last two years, I've had extensive experience with ST DTP programs as editor of the ST-ACE newsletter. Comparing Timeworks' Publisher ST with these programs doesn't take long, since there are so few.
To begin, a history of fatal bugs makes SoftLogik's original Publishing Partner a poor contender. I have lost many hours of work using this program. If you can avoid the bugs or are extremely lucky, Publishing Partner is a useful, full-featured multi-page DTP program. (I'm interested in seeing how much SoftLogik has improved their product with the release of Publishing Partner Professional.)
Better yet is Migraph's Easy Draw, a top-quality drawing program with DTP features. You can use it for multi-page documents, but you must store each page as a separate file. Easy Draw does not merge pictures into the document file; you must place them on the document disk yourself. Easy Draw remembers which disk drive and folder the picture came from when it was imported--and that's where the file had better be when you print. That's great for a hard disk, but not for floppies. Another problem is that all text in a given frame (text box) must have exactly the same format, font type and point size. If you want to boldface a word or enlarge a heading line, you have to create a separate text box for it.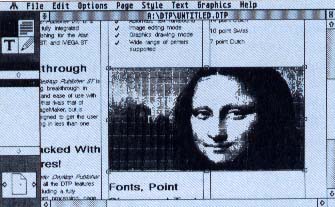 This screen straws how the program flows your text when you
import a picture.
As a full-featured DTP program though, Publisher ST is your best bet. It supports all Atari systems, although you need a hard disk to use all the available font sizes. Oddly, the program accesses the disk almost every time you change the mode of operation (say, from text mode to frame mode). This slows its operation a little, but is a minor inconvenience. The only software bug I know of occurs when you try to make more than one copy of the same page: Publisher ST only prints text on the first copy. Timeworks says that the bug will be fixed on the next major revision, however.
Overall, Publisher ST stands toe to toe with big-name DTP programs on other personal computers. I know many ST owners who have waited a long time for a real desktop publishing program. Timeworks Desktop Publisher ST is worth the wait.
Jerry McBride is a technical writer and newsletter editor for ST-ACE in Santa Rosa, CA.
Products Mentioned
Desktop Publisher ST, $129.95. Timeworks, Inc., 444 Lake Cook Rd., Deerfield, IL 60015, (312) 948-9200, (800) 535-9497.
Easy Draw, $99.95. Migraph Inc., 720 S. 33rd St., Suite 201, Federal Way, WA 98003, (206) 838-4677.
Publishing Partner, $89.95, Publishing Partner Professional, $199.95. SoftLogik Corp., PO. Box 290071, St. Louis, MO 63129, (314) 894-8608.
Desktop Publisher ST Hints
by Stephen Mortimer and the START Staff
• When you install Publisher, make sure your current ASSIGN.SYS file is in a safe place. Publisher creates its own ASSIGN.SYS file and overwrites any that it may find in the root directory of your installation disk, destroying your previous configuration. Similarly, any program that creates an ASSIGN.SYS file that you install after you have installed Publisher ST will overwrite Publisher ST's ASSIGN.SYS file and you will then have to re-install Publisher ST. You may want to create a folder of ASSIGN.SYS files with file names keyed to their associated programs, such as ASSIGN.TIM or ASSIGN.DEG. Then when you wish to run a particular program, you can exchange the locations of your current ASSIGN.SYS file and the appropriate ASSIGN.XXX file and run your new application. Don't forget to rename your new file from ASSIGN.XXX to ASSIGN.SYS.
• The undocumented hyphenation exception dictionary in the file PUBLISH.HYP is an ASCII file that may be edited with any word processor having a text (ASCII) output. To be safe first make a copy of this file and change the name of the original to something like PUBLISH.BAK. Load the copy of the file into your word processor and insert your new words in proper alphabetical order. Place a hyphen wherever acceptable; you may want to consult a good dictionary for acceptable locations. Save this new file under the name PUBLISH.HYP and then test it by using your new words in Publisher ST. If everything works properly, you may delete the original .BAK file. Publisher ST will now follow the rules you have prescribed and not apply its own general hyphenation algorithm.
• Timework's Publisher can use GDOS fonts other than its own. To do this, rewrite your ASSIGN.SYS file using a text editor or the Atari Install program. Re-boot your system with the new ASSIGN.SYS and run FONTWID.PRG, provided with Publisher ST Publisher, which uses up to eight fonts, will now recognize the fonts specified in the ASSIGN.SYS. Fonts included with Publisher can be mixed with your own, if the corresponding screen and printer point sizes are correctly identified and installed in your new ASSIGN.SYS file. You must, however, include the Publisher ST Swiss font, as these fonts are necessary for screen displays and as the default font.
• If you own a 520ST and have experienced difficulties while in text entry mode, Timeworks has a fix for you. The symptoms of this difficulty are that the program asks you repeatedly to "Insert the Overlay Disk," even though it's already in the drive. Then the program crashes with an internal system error message. This occurs because certain versions of the 520ST ROMs require 512 bytes of memory more than others. Solution: Call Timeworks Customer Support Help Line at (312) 948-9208. They will arrange with you to exchange your Version 1.10 for Version 1.11 at no charge. Remember, this only occurs in certain 520ST's and the only difference between the two versions is this obscure bug fix.
• The most common questions asked on Timeworks' Customer Support Help Line concern paragraph styles and style sheets. A paragraph style is a pre-defined combination of font, point size, bullets and justification. When you single-click on the Paragraph icon, Publisher ST will display its current Library of paragraph styles, either the default definitions or ones you may have created; if you wish to define others or change the default styles, a double-click on a paragraph style name (such as Body Text) will bring up a dialog box through which you can redefine any of the current style characteristics. You may use this new definition in place of the default style or give it a new name.
• Every paragraph of text has a paragraph style "tag" for the entire paragraph that can be changed in the Paragraph mode; if you wish to change the font, point size or style of part of a paragraph, do not use the Paragraph mode. Instead, while in the Text mode, highlight that part of the text you wish to change and choose its new style from the Fonts/Size or Style menu.
• A style sheet is a file that includes the page format, Master Page layout (including any text, frames or graphics on it) and your paragraph styles. Every document you save from Publisher ST saves its style sheet with it; when you load it in, its style sheet will replace your current one, so be sure to save your current document or style sheet before loading in a new one.